Hartford Public Library will join public libraries and other institutions in five states — Connecticut, Illinois, Iowa, Missouri, and Nebraska – and the District of Columbia  in the DASH for the STASH investor education/protection program and contest taking place April 15 – May 15, 2015. Research shows that the four focuses of DASH for the STASH – financial fraud, building a nest egg, selecting financial advisers, and the cost of investment fees – are all topics about which many consumers need to learn more.
The DASH for the STASH contest works much like a scavenger hunt. But instead of collecting objects, players gather information and leave answers to quiz questions. To play, participants will visit any Hartford Public Library location to find four posters. They will read each poster, access the financial literacy-related quiz question online or via their smartphones, and choose an answer. The Library also will display investor education booklets, courtesy of Kiplinger, the Investor Protection Institute and the Investor Protection Trust.
A DASH for the STASH winner in each state and the District of Columbia will be awarded $1,000 to open or add to an Individual Retirement Account (IRA), thanks to the nonprofit Investor Protection Institute (IPI), the Connecticut Department of Banking, the District of Columbia (DC) Department of Insurance, Securities and Banking's Securities Bureau, the Office of the Illinois Secretary of State's Securities Department, the Iowa Insurance Division's Securities Bureau, the Office of the Missouri Secretary of State's Securities Division, and the Nebraska Department of Banking and Finance.
Visit any HPL location to play for your chance to WIN!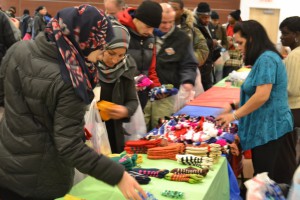 Hartford Public Library staff assist Hartford residents picking up free winter clothing and supplies.
On Thursday, January 22, we hosted a cold weather clothing drive for Hartford residents in need. Funded by a grant from the Hartford County Bar Association, the event was a huge success, providing over 90 adults and children with new coats, gloves, scarves, hats, socks, sweaters, toiletries, and boots.
The giveaway began at 2:00 p.m. and even before the doors open, a line of eager city residents formed outside of the Center for Contemporary Culture at the Downtown Library. Also available were hot beverages and snacks to enjoy, and a kids craft and storytelling area.
All of the new clothing and refreshments were funded through a grant provided by the Hartford County Bar Association. Some additional gently-used items were donated by Hartford Public Library staff.
Storyteller Andre Keitz told interactive stories for residents and their children as they enjoyed the snacks and hot beverages. "It was a nice time for us to really see how we make an impact here at Hartford Public Library," said Library chief development officer Donna Haghighat. "When people come up and look at you straight in the eye and say thank you, it really means a lot."
2015 was the first year HPL received funding for a winter clothing event, and we look forward to increasing the scale and impact of the giveaway in years to come. During the cold winter months, we happily keeps our doors open to everyone who needs to warm up and relax in a welcoming space.

In the wake of recent nationwide social unrest, and on the 50th anniversary of a major turning point in the American Civil Rights Movement, Hartford will welcome one of the leaders of the movement to speak to the importance of nonviolent  conflict reconciliation in today's communities.
Dr. Bernard LaFayette, Jr. will appear at Hartford Public Library on Thursday, February 5 at 5:30 p.m. as keynote speaker of the MLK Nonviolence Leadership Institute, a program presented by the Connecticut Center for Nonviolence in partnership with the Library  Dr. LaFayette's talk is free and open to the public, and all are invited to attend.
As a seminary student in Tennessee, Bernard LaFayette studied nonviolence under well-known activist James Lawson, and began to use the techniques to opposed racial injustice in the South, participating in sit-ins at restaurants and businesses practicing segregation. In 1961, he joined other students in the Freedom Rides movement, and faced brutal attacks and arrest. In the summer of 1962, LaFayette became director of the Alabama Voter Registration Campaign, working with the Student Nonviolent Coordinating Committee to begin organizing in Selma, Alabama. The Selma marches that took place three years later would become a critical turning point in the Civil Rights Movement, eventually leading to the landmark passage of the 1965 Voting Rights Act. Dr. LaFayette was an associate of Dr. Martin Luther King Jr., and appointed national coordinator of the 1968 Poor People's Campaign.
Dr. LaFayette comes to Hartford as part of the MLK Nonviolence Leadership Institute, a Level I Certification Training in Kingian Nonviolence Conflict Reconciliation, taking place January 24 through March 28 at the Library's Downtown location. The ten-week program teaches the Six Principles of Nonviolence, developed by Dr. King, as well as basic concepts, strategies and tools that individuals and communities can use to address conflict without resorting to violence. The curriculum for the Institute was co-authored by Dr. LaFayette and David Jenhsen.
The keynote event will feature a conversation surrounding recent social unrest throughout the country, including protests against the police shooting of Michael Brown in Ferguson, Missouri, where Dr. LaFayette worked on the ground with community activists. Remarks from local leaders will open the program. All are invited to this unique opportunity, and community organizations, school groups and activists are particularly welcome.
The Institute and keynote event are made possible in part byafunding provided by the Challenging Hartford to Engage  Civically and Keep Improving Together (CHECK IT) Initiative of the  City of Hartford Department of Families, Children, Youth and Recreation –Division of Youth. For more information about the keynote event, please visit hplct.org.
For information about the MLK Nonviolence Leadership Institute, please email info@ctnonviolence.org or call 860-567-3441.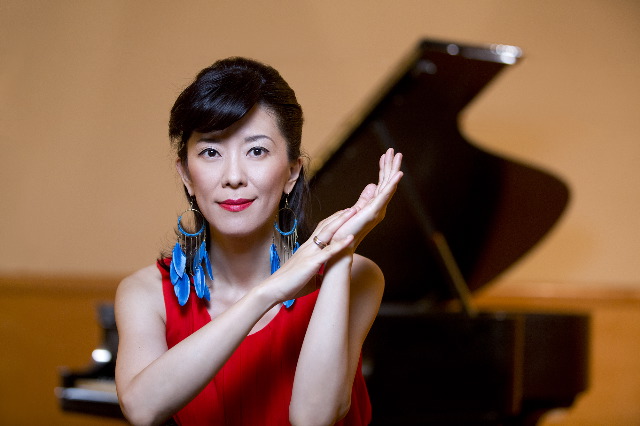 The fantastic Eri Yamamoto will tickle the Baby Grand Jazz ivories this Sunday in our Downtown Library!
Hailing from NYC by way of Osaka Japan, Yamamoto brings "her luminous tone, immaculate articulation and crisp phrasing — signature attributes of her first American keyboard idol, Tommy Flanagan. Yamamoto is a sonic painter. Nature and everyday life, she said, are her prime sources of inspiration."
Read the full feature piece in WNPR's Jazz Corridor column here!
Baby Grand Jazz is sponsored by the Charles H. Kaman Charitable Foundation.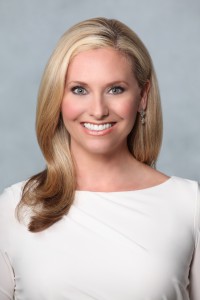 You know her as an Emmy award-winning journalist, WFSB news anchor and co-host of Better Connecticut. Now Kara Sundlun can add "author" to that list of accomplishments! Kara joins us on Wednesday, January 14 at 6:00 PM for a discussion of her new book Finding Dad: From "Love" Child to Daughter and Q&A with the audience, hosted by Thea Montanez, but she sat down for a little pre-Q&A session with us to spill her deepest, darkest library secrets.
What library did you visit as a child? What are some of your earliest memories of the library?
I remember the library at my elementary school, and I loved learning about the Dewey Decimal system. We learned how to make our own books, and I thought it would be cool to be an author one day!
What was your absolute favorite book as a child? Why?
Honestly, I can't recall the exact title, but I had a storybook about dolphins I made my mother read to me every night until I knew every word by heart.  I still love dolphins and look for stories about them for my children. As I grew older I liked suspense novels like V.C. Andrews' Flowers in the Attic.
What book is on your nightstand right now?
Deepak Chopra:  The Future of God, Susan Campbell's Tempest Tossed the Spirit of Isabella Beecher Hooker.  And of course a copy of my new memoir Finding Dad: From "Love" Child to Daughter!
E-books or real thing?
I like real books better, but I read a lot on my I-pad when I'm on the go.
Name your favorite book-to-movie transformation.
I always love the books more.  I love anything by Dan Brown, but The DaVinci Code is way better as a book. Same goes for Eat Pray Love by Connecticut Native Elizabeth Gilbert.  Great book, not-so-good movie.
Who would play you in a movie based on your book?
My husband Dennis says it should be Jennifer Aniston or Poppy Montgomery.  It has to be someone who can be 17 and 30-something!
Join us on Wednesday, January 14 for an evening with Kara! Free an open to all. Click for more info.
Wednesday, December 18th the Downtown Atrium was filled with guests during the lunch hour for a beautiful performance from Hartford Symphony Orchestra's Jazz Ensemble. Sponsored by Travelers, this program was in conjunction with Musical Dialogues, a program through Hartford Symphony Orchestra.
This performance included holiday classics that the audience could surely hum and tap along to. Patrons came with a book, a smile or their lunch to sit and enjoy the hour long performance from the sextet. Edward Rozie led the ensemble which included himself on the bass, pianist-Walt Gwardyak, on drums-Gene Bozzi, on the saxophone-Bob Depalma, on trumpet-Scott McIntosh, and on the violin-Michael Pollard. The six together created beautiful harmonies, which you could see in their expressions, were a joy to play.
The audience was having fun too learning and dancing along to the jazz renditions of classic songs like "Christmas Time is Here" from Charlie Brown's Christmas and "Walking in a Winter Wonderland". Children were walking overhead and stopped to point out the noise below and had their parents wait as they danced along to the tunes. People came from outside of Hartford to enjoy the orchestra's performance. And patrons stopped what they were doing in the Library to come and close their eyes as they listened and swayed to the tunes.
Musical Dialogues is a unique series of free performances from Hartford Symphony Orchestra that not only provides musical performances to the public for free but provides the audience with an education on the style of music, their instruments, and mostly the songs themselves in this case. Before the ensemble played "I'll be Home for Christmas" Rozie gave a kind acknowledgment to the veterans in the room and proceeded to explain how their next piece was originally written by Bing Crosby in 1943 to honor the veterans who were longing for home during the holidays. It was interesting facts like this that made the performance one of a kind and special to the audience. Seeing as the public already comes to the Library to read and learn, Musical Dialogues' lessons were fitting as the performance gave folks the chance to learn about something familiar.
During this time of year it is commonplace to hear "Jingle Bells" and "Deck the Halls" over and over again in the car, at the mall, or even in the office. The jazz ensemble gave beauty to the songs that can be overplayed around this time and brought a real holiday spirit to the Library. It also sparked a discussion on the importance of music education in schools and in the community.
Following the performance, interested audience members stayed to engage in a talk on the importance of music education with Mitchell Korn. Symphony Magazine has called him, "a music education guru", has taught at Yale, and is currently located at Vanderbelt College teaching at the Blair School of Music. His credibility on the topic informed the audience that Hartford's music education system is not where it should be. The audience asked questions about what we can do as a community to improve upon this and he encouraged speaking out to superiors within the public school system. Korn informed the audience that children develop critical literacy skills from learning to read and play music; a single fact that should make music education mandatory.
Wednesday's performance gave patrons and employees a nice break from the day to enjoy holiday classics played live by the orchestra. It was a treat to hear and was followed by an interesting and important discussion. The Library looks forward to future partnerships with Hartford Symphony Orchestra.
2014 was the year of the e-reader! Whether a Kindle, Nook, iPad or any other device, Hartford readers are embracing technology with vigor.
But, what did they read? We've got your Top 10 E-Books Downloaded in 2014.
Find all these titles in our catalog!
10. The Boys in the Boat: Nine Americans and Their Epic Quest for Gold at the 1936 Berlin Olympics, Daniel James Brown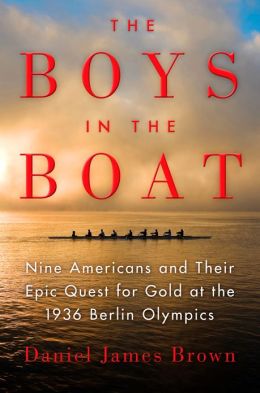 For readers of Unbroken, out of the depths of the Depression comes an irresistible story about beating the odds and finding hope in the most desperate of times—the improbable, intimate account of how nine working-class boys from the American West showed the world at the 1936 Olympics in Berlin what true grit really meant.
9. Innocence: A Novel, Dean Koontz
In Innocence, Dean Koontz blends mystery, suspense, and acute insight into the human soul in a masterfully told tale that will resonate with readers forever.
8. Think Like a Freak: The Authors of Freakonomics Offer to Retrain Your Brain, Steven D. Levitt
The New York Times bestselling Freakonomics changed the way we see the world, exposing the hidden side of just about everything. Then came SuperFreakonomics, a documentary film, an award-winning podcast, and more.
Now, with Think Like a Freak, Steven D. Levitt and Stephen J. Dubner have written their most revolutionary book yet. With their trademark blend of captivating storytelling and unconventional analysis, they take us inside their thought process and teach us all to think a bit more productively, more creatively, more rationally—to think, that is, like a Freak.
7. Abundance of Katherines, John Green

No surprise here! The super-popular John Green creates another literary hit with this tale of a guy named Colin and his very specific dating type.Love, friendship, and a dead Austro-Hungarian archduke add up to surprising and heart-changing conclusions in this ingeniously layered comic novel about reinventing oneself.
6. Natchez Burning: Unwritten Laws Series, Book 1, Greg Isles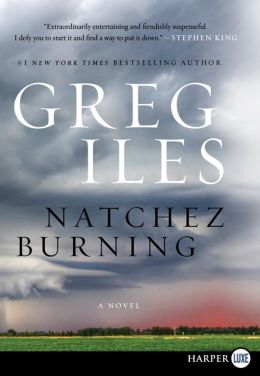 #1 New York Times bestselling author Greg Iles returns with his most eagerly anticipated novel yet and his first in five years—Natchez Burning—the first installment in an epic trilogy that interweaves crimes, lies, and secrets past and present in a mesmerizing thriller featuring Southern lawyer and former prosecutor Penn Cage.
5. Allegiant: Divergent Trilogy, Book 3, Veronica Roth  
What if your whole world was a lie?
What if a single revelation—like a single choice—changed everything?
What if love and loyalty made you do things you never expected?
The explosive conclusion to Veronica Roth's #1 New York Times bestselling Divergent trilogy reveals the secrets of the dystopian world that has captivated millions of readers in Divergent and Insurgent.
4. If I Stay, Gayle Forman
In the blink of an eye everything changes. Seventeen ­year-old Mia has no memory of the accident; she can only recall what happened afterwards, watching her own damaged body being taken from the wreck. Little by little she struggles to put together the pieces- to figure out what she has lost, what she has left, and the very difficult choice she must make. Heartwrenchingly beautiful, this will change the way you look at life, love, and family. Now a major motion picture starring Chloe Grace Moretz, Mia's story will stay with you for a long, long time.
3. The Invention of Wings: A Novel, Sue Monk Kidd
This exquisitely written novel is a triumph of storytelling that looks with unswerving eyes at a devastating wound in American history, through women whose struggles for liberation, empowerment, and expression will leave no reader unmoved.
2. Divergent: Divergent Trilogy, Book 1, Veronica Roth
This first book in Veronica Roth's #1 New York Times bestselling Divergent trilogy is the novel the inspired the major motion picture starring Shailene Woodley, Theo James, and Kate Winslet. This dystopian series set in a futuristic Chicago has captured the hearts of millions of teen and adult readers.
1. The Fault in Our Stars, John Green
The big YA hit! Despite the tumor-shrinking medical miracle that has bought her a few years, Hazel has never been anything but terminal, her final chapter inscribed upon diagnosis. But when a gorgeous plot twist named Augustus Waters suddenly appears at Cancer Kid Support Group, Hazel's story is about to be completely rewritten.
We get it – with over 500,000 different materials in 10 locations, your options for books, music and movies at HPL are.. well.. extensive. So it's totally understandable that, over the course of the year, you might have overlooked a few gems.
These are the sleepers, the books you may have passed on our shelves and thought "I've got to come back for that one!"… and then forgot. Never fear! We're here to break down our picks fo the Top 10 Most Overlooked Books of 2014. So start your reading engines – we're giving your 2015 book list a jump start.
10. Annihilation, Jeff VanderMeer 
Area X has been cut off from the rest of the continent for decades. Nature has reclaimed the last vestiges of human civilization. The first expedition returned with reports of a pristine, Edenic landscape; the second expedition ended in mass suicide, the third expedition in a hail of gunfire as its members turned on one another. The members of the eleventh expedition returned as shadows of their former selves, and within weeks, all had died of cancer. In Annihilation, the first volume of Jeff VanderMeer's Southern Reach trilogy, we join the twelfth expedition.
9. The Book of Heaven: A Novel, Patricia Storace
From the author of the classic travel memoir Dinner with Persephone, an accomplished poet, and frequent contributor to The New York Review of Books, here is an eagerly anticipated, stunningly original novel of heartrending lyricism about four women, a fierce mythopoeia that invites us to enter into a new and powerful imagination of the sublime: What if "a woman's point of view" were God's?
8. The Crane Wife, Patrick Ness
A magical novel, based on a Japanese folk tale, that imagines how the life of a broken-hearted man is transformed when he rescues an injured white crane that has landed in his backyard. Witty, magical, and romantic, The Crane Wife is a story of passion and sacrifice, that resonates on the level of dream and myth.  It is a novel that celebrates the creative imagination, and the disruptive power of love.
7. Chinese Cooking for Diamond Thieves, Dave Lowry
Driving home after being kicked out of college, Tucker meets and picks up the mysterious Corinne Chang at a rest stop. Infatuated, and with nothing better to do, he ends up with her in St. Louis, where he gets a job as a chef in a Chinese restaurant. Even though he's a gwai lo—a foreign devil—his cooking skills impress the Chinese patrons of the restaurant, and his wooing skills impress Corinne when she joins him there as a waitress. But when Chinese gangsters show up demanding diamonds they believe Tucker's kind-of, sort-of, don't-call-her-a-girlfriend stole, he and his friends—which luckily include a couple of FBI agents—have to figure out just who is gunning for Corinne and how to stop them.
6. Karate Chop: Stories, Dorthe Nors and Martin Aiken
These fifteen compact stories are meticulously observed glimpses of everyday life that expose the ominous lurking under the ordinary. While his wife sleeps, a husband prowls the Internet, obsessed with female serial killers; a bureaucrat tries to reinvent himself, exposing goodness as artifice when he converts to Buddhism in search of power; a woman sits on the edge of the bed where her lover lies, attempting to locate a motive for his violence within her own self-doubt. Shifting between moments of violence (real and imagined) and mundane contemporary life, these stories encompass the complexity of human emotions, our capacity for cruelty as well as compassion. Not so much minimalist as stealthy, Karate Chop delivers its blows with an understatement that shows a master at work.
5. The Man Who Walked Away, Maud Casey
In a trance-like state, Albert walks—from Bordeaux to Poitiers, from Chaumont to Macon, and farther afield to Turkey, Austria, Russia—all over Europe. When he walks, he is called a vagrant, a mad man. He is chased out of towns and villages, ridiculed and imprisoned. When the reverie of his walking ends, he's left wondering where he is, with no memory of how he got there. His past exists only in fleeting images. Loosely based on the case history of Albert Dadas, a psychiatric patient in the hospital of St. André in Bordeaux in the nineteenth century, The Man Who Walked Away imagines Albert's wanderings and the anguish that caused him to seek treatment with a doctor who would create a diagnosis for him, a narrative for his pain.
4. Marching to Zion, Mary Glickman
Marching to Zion is the tragic story of Minerva Fishbein and Magnus Bailey, a charismatic black man and the longtime business partner of Minerva's father. From the brutal riots of East St. Louis to Memphis, Tennessee, during the 1920s and the Depression, Marching to Zion is a tale of passion, betrayal, and redemption during an era in America when interracial love could not go unpunished. Readers of Mary Glickman's One More River will celebrate the return of Aurora Mae Stanton, who joins a cast of vibrant new characters in this tense and compelling Southern-Jewish novel that examines the price of love and the interventions of fate.
3. Off Course: A Novel, Michelle Huneven
The year is 1981, Reagan is in the White House, and the country is stalled in a recession. Cressida Hartley, a gifted Ph.D. student in economics, moves into her parents' shabby A-frame cabin in the Sierras to write her dissertation. In her most intimate and emotionally compelling novel to date, Michelle Huneven–author of Blame, which was a finalist for the National Book Critics Circle Award–returns with her signature mix of fine-grained storytelling, unforgettable characters, and moral complexity.
2. Revolutionary, Alex Myers
In 1782, during the final clashes of the Revolutionary War, one of our young nation's most valiant and beloved soldiers was, secretly, a woman. When Deborah Samson disguised herself as a man and joined the Continental Army, she wasn't just fighting for America's independence—she was fighting for her own. Revolutionary, Alex Myers's richly imagined and meticulously researched debut novel, brings the true story of Deborah's struggle against a rigid colonial society back to life—and with it the courage, hope, fear, and heartbreak that shaped her journey through a country's violent birth.
1. Wind is Not a River, Brian Payton
The Wind Is Not a River is Brian Payton's gripping tale of survival and an epic love story in which a husband and wife—separated by the only battle of World War II to take place on American soil—fight to reunite in Alaska's starkly beautiful Aleutian Islands.
Hartford Public Library is pleased to announce the publication of Hartford Through Time, a new release from its Hartford History Center, featuring never-before-published images of early 20th-century Hartford, juxtaposed with matching color photographs of the city in present day.
Hartford Through Time features over 90 before-and-after street scenes created from glass plate negatives from the collection of the Hartford History Center.  These images were painstakingly processed by professional Library volunteers and staff, featuring captions by historian Wilson H. Faude and modern photography by Hartford News editor Andy Hart.
These images tell the story of the changes – and constants – in Hartford's built environment and bring back the story that time has blurred or erased.  From Bushnell Park in 1915, to Downtown Hartford and out into the neighborhoods, former and current Hartford residents will delight in the journey back to remember the capital city of yesteryear.
Hartford Through Time makes a wonderful gift and conversation starter for friends and family around the holidays and will be on sale for $22.99, beginning December 3 at the Hartford History Center, located on the Downtown Library's 3rd Floor at 500 Main Street. Call 860-695-6297 for more information. Proceeds benefit Hartford History Center programs and events.
A book launch and celebratory reception will be held on December 3 at 5:30 p.m. at the Hartford History Center. The reception is free and open to the public, and copies of Hartford Through Time will be available for purchase.