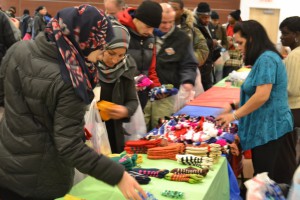 Hartford Public Library staff assist Hartford residents picking up free winter clothing and supplies.
On Thursday, January 22, we hosted a cold weather clothing drive for Hartford residents in need. Funded by a grant from the Hartford County Bar Association, the event was a huge success, providing over 90 adults and children with new coats, gloves, scarves, hats, socks, sweaters, toiletries, and boots.
The giveaway began at 2:00 p.m. and even before the doors open, a line of eager city residents formed outside of the Center for Contemporary Culture at the Downtown Library. Also available were hot beverages and snacks to enjoy, and a kids craft and storytelling area.
All of the new clothing and refreshments were funded through a grant provided by the Hartford County Bar Association. Some additional gently-used items were donated by Hartford Public Library staff.
Storyteller Andre Keitz told interactive stories for residents and their children as they enjoyed the snacks and hot beverages. "It was a nice time for us to really see how we make an impact here at Hartford Public Library," said Library chief development officer Donna Haghighat. "When people come up and look at you straight in the eye and say thank you, it really means a lot."
2015 was the first year HPL received funding for a winter clothing event, and we look forward to increasing the scale and impact of the giveaway in years to come. During the cold winter months, we happily keeps our doors open to everyone who needs to warm up and relax in a welcoming space.
By Judy Wyman Kelly
Have you ever considered serving on a city commission? Eleven Hartford area residents have and on July 7 they were enthusiastically welcomed by Councilman Larry Deutsch to the newly-created Commission on Refugee and Immigrant Affairs. These 11 nominees had already submitted an application and been vetted by the Mayor.  Once approved by the Subcommittee on Health and Human Services and then the City Council, the Commissioners will meet monthly to discuss and act upon matters of concern to refugees and immigrants in the Hartford area and beyond.
The nominees assembled first at the Hartford Public Library where Linda Bayer, Office of the Mayor, gave a short briefing on what to expect.  She reassured them that the process was informal– they might be asked a few things about themselves and why they were interested in serving on the Commission.  After a few questions such as, "What happens next?" "How often does the Commission meet?" etc., we all walked across the street to City Hall.
I am always dazzled by the majesty of Hartford City Hall.  Built in 1914 on land donated by Hartford resident and financier J.P. Morgan, the building is adorned with gilded décor and vaulted glass ceilings, as well as a beautiful centrally located marble stairway.  One cannot help but feel both inspired and humbled by the grandeur of the architecture and interior design.
We made our way to the Council Chambers on the 2nd floor where the subcommittee meeting was just beginning.  The nominees filed in and were offered seats in the row of wooden chairs facing the council members.  Chair Deutsch warmly welcomed everyone, took care of a few small business matters, and then opened the floor to the nominees.
Each person was invited to say a few words about themselves and their reasons for joining the Commission.  Michael Akapan of Nigeria has lived in the U.S. for more than 20 years yet remembers well when he first arrived as an immigrant:  "By serving on the Commission I hope to help other immigrants and refugees, and to solve problems in humanitarian ways.  There are a lot of challenges and we brace ourselves to make significant marks during the periods of our contribution to the Commission." Padam Bharati of Bhutan was resettled in Hartford in 2009, along with 35 other families.  He recently passed his U.S. citizenship test and is studying to become a nurse.  Bharati hopes to "serve according to the needs of refugees."
Indira Petoskey of St. Lucia is assistant dean in the School of Continuing Education at Eastern Connecticut State University.  An immigrant herself and adviser for many international students, Petoskey has a "major interest in working with immigrants and refugees."  Estela Morales of Mexico "knows how it feels to come to a new country."  Balam Soto of Guatemala hopes to "build a bridge for immigrants in the city," and Georges Annan Kingsley of Côte d'Ivoire wishes to "take positive actions in the lives of immigrants and refugees."  Mui Mui Hin-McCormick, formerly of Laos and current Executive Director of the Connecticut Asian Pacific American Affairs Commission, wants to "make sure that the Asian community is not forgotten."
Joseph Morris Kalapele, a refugee from Liberia, has lived in Connecticut for ten years.   As a lack of support and information upon arrival in Hartford proved challenging for Kalapele, he hopes to share his experiences with the Commission in order to help other immigrants and refugees.  After much hard work, Kalapele earned a master's degree from Central Connecticut State University.  Anne Dombrofski, who has worked with immigrant communities abroad and in the U.S. for decades, hopes to "bring about a community in which we can recognize the richness of our ethnic heritage and the contributions of all immigrants and refugees among us."  Letticia Cotto, born and raised in Hartford, "looks to make Hartford a more welcoming city."
Several of the nominees attested to the important role that the Hartford Public Library played in facilitating their adjustment to the United States.  Kingsley described how the library helped him when he first arrived, and Elizabeth Cuentas of Peru credited the library for helping her become a citizen last year after 20 years in the U.S.  Chair Deutsch described the library as "being immensely helpful" in getting the new Commission up and running.
Once the nominees were voted in, Chair Deutsch jumped right into business urging the newly-appointed Commissioners to draft a resolution for the City Council addressing the humanitarian issue of undocumented children at the U.S. border with Mexico.  Immediately upon leaving the meeting, several Commissioners chatted in the hallway about next steps—a conversation that was followed by many email exchanges.
By the following Monday, a resolution had been passed by the City Council urging Hartford "to play a role in alleviating these oppressive conditions affecting children through influencing federal immigration policy with letters to the Administration AND through offers to receive those children who may be permitted to remain in this country." The "small United Nations," as Chair Deutsch referred to the members of the Commission, was already hard at work!  Commission member Dombrofski remarked, "I left Monday's meeting feeling hopeful and energized, by all of you and members of the Council.  I am looking forward to working together!"
On a recent lovely summer evening, I made my way to the 19th floor of a Hartford skyscraper for a very special reception honoring some of the city's most hard-working volunteers.   Generously hosted by the law firm Shipman & Goodwin, the locale offered a panoramic view of downtown Hartford, the majestic Connecticut River, and the state's many rolling hills off in the distance. It was a view "one doesn't get to see very often," exclaimed one of the guests.
I had come to support and thank the newly-appointed members of the Hartford Commission on Refugee and Immigrant Affairs (CRIA).  With backing from the Hartford Public Library, the Hartford City Council, and the Mayor, the 21-person Commission will help refugees and immigrants engage in civic life, provide a forum for their ideas and concerns, and facilitate entry to the city for all new arrivals.
Dining on delicious appetizers and sipping refreshing cocktails, members of the various boards and commissions chatted and shared stories.  Dr. Rebecca Thomas of the University of Connecticut School of Social Work and an immigrant from India, shared some of her reasons for joining the Commission, "I have benefited from an education, interaction and engagement with my adopted country, and I would like to share some practical insights to a policy body that can effect change and work with the members of the Commission to best meet the needs of immigrants and the host communities."
Rio Comaduran, born and raised in the U.S., said she "hopes to continue to bring immigrant and refugee issues to the forefront, ultimately affecting policy shifts and changes at the city level, and at the same time encouraging civic engagement and social capital building amongst immigrants.  And as a proud Hartford resident and grand-daughter of Mexican immigrants, there's really nothing better! "
Mayor Pedro Segarra thanked all of the volunteers and commissioners for their service, spending some time with the new CRIA members—American citizens Thomas, Comaduran, and Eva Jacobson, as well as Georges Kingsley Anan, a recent immigrant from Cote d'Ivoire, Dean Rhoden of Jamaica, and Balam Soto of Guatemala.  Mayor Segarra commented, "Hartford has always been a city of immigrants – from its founding to the present day. I am so excited about the new Commission.  We can help our new arrivals with their dreams and aspirations and they will contribute to the health and vibrancy of our city."
Judy Wyman Kelly is a consultant for the Hartford Public Library's The American Place, a center for immigration and citizenship, and a lecturer at the University of Hartford.
Congrats to HPL Youth Services Manager Lina Osha-Williams, honored as an Immigrant of the Year at last week's Connecticut Immigrant Day ceremony at the state capitol! Her dedication to serving the Hartford community is truly inspiring, andwe're so proud to have her on our team.
Also honored at the ceremony: our Adult Learning Department staff, for their implementation of We Belong Here Hartford, a program that provides key support to immigrants new to America by linking them to programs and services available at both the Library and throughout the region.
Way to go, HPL!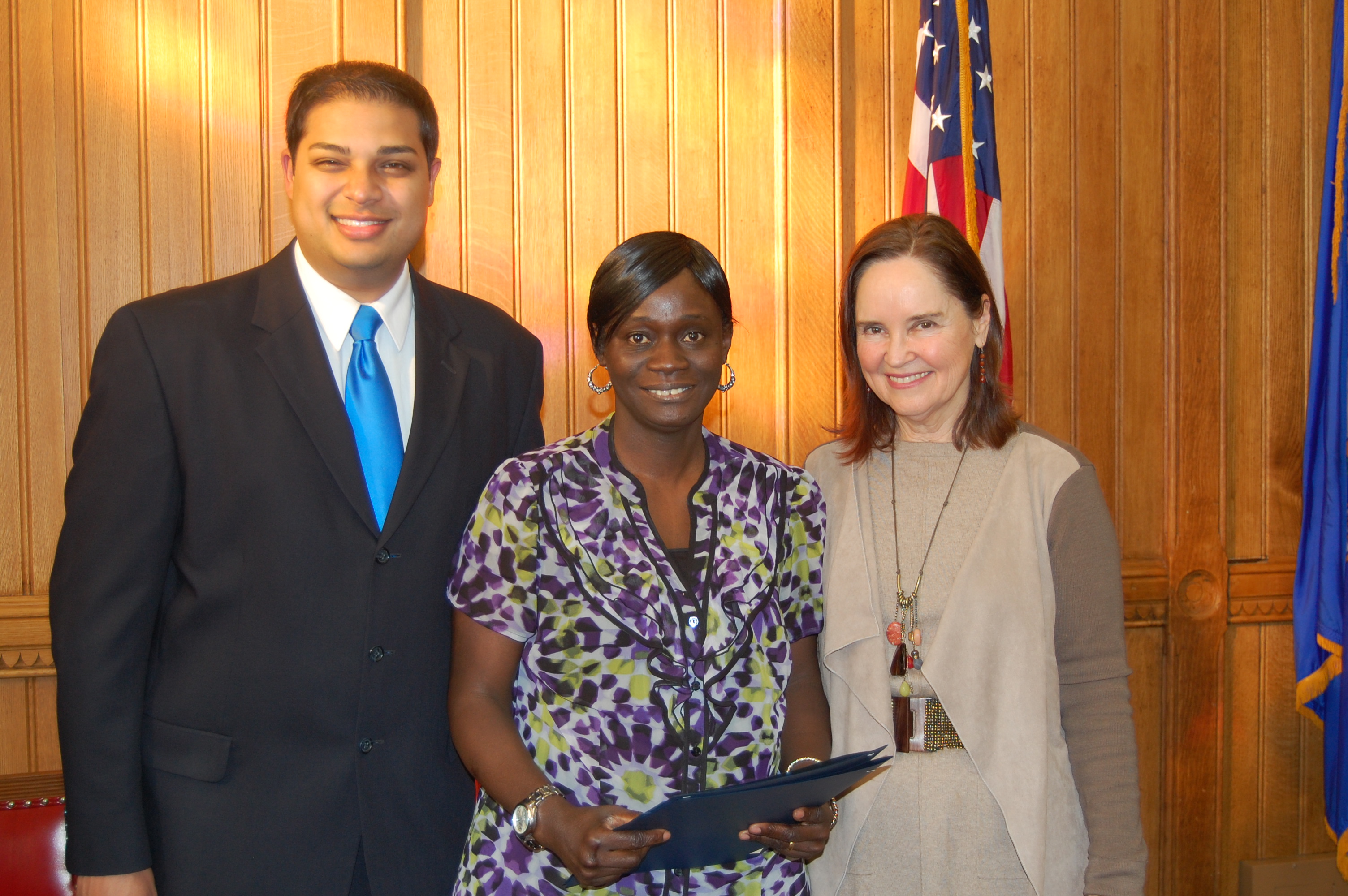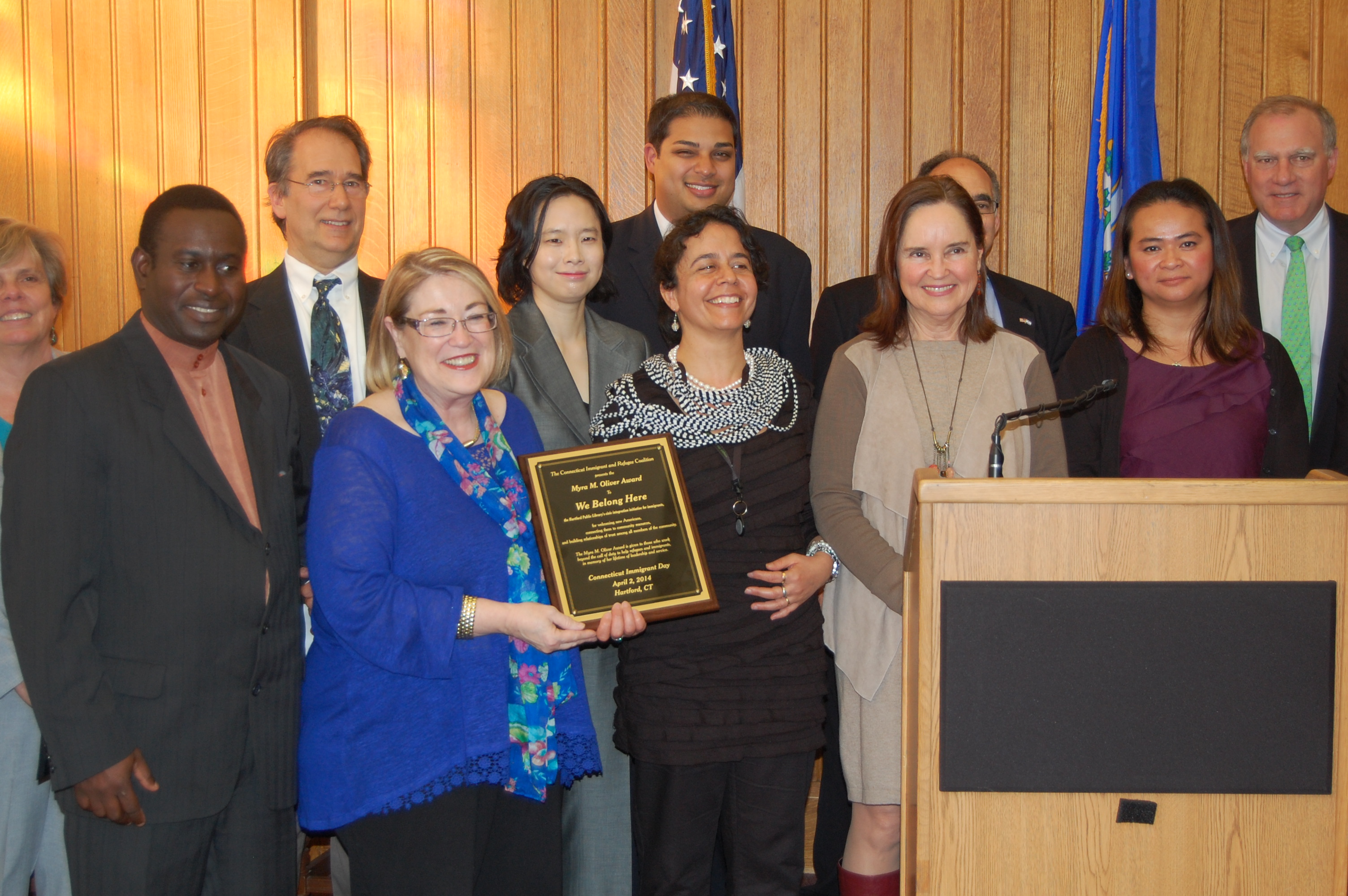 As part of the Summer Reading Program, HPL staff members get together to talk about the books they are currently reading!
James – Hartford History Center staff
The Unwinding by George Packer
"This tells the social history of well known people as well as the not so well known people, and how history has shaped each of them. He writes history from the viewpoint of different people, and how history shaped their lives."
Ever since the financial crash of 2008 and the ensuing Great Recession, which only now these five years later is starting to recede, like many Americans I have been in search of insight into the workings of this great capitalism and democracy machine in which we live. The first book coming to hand to enlighten on this question is by George Packer — The Unwinding: An Inner History of the New America. I should note up-front that, as the title signals, the news is not good for the demos. An "inner history," Packer's tale is most vividly related by the cogs in the machine, those whom a Frank Capra movie would portray as "the little people." – Carla Seaquist, Huffington Post
Greg – Education Coordinator
The Sense of An Ending by Julian Barnes
"Bizarre in a good way. I thought it was a true story based on the voice. I liked it, and would recommend."
The new book is a mystery of memory and missed opportunity. Tony Webster, a cautious, divorced man in his 60s who "had wanted life not to bother me too much, and had succeeded," receives an unexpected bequest from a woman he'd met only once, 40 years earlier. The mother of his college girlfriend, Veronica, has bequeathed him £500 — a legacy that unsettles Tony, pushing him to get in touch with Veronica (their relationship had ended badly) and seek answers to certain unresolved questions. – New York Times Book Review
Leti – Park Branch Manager
The Block Captain's Daughter by Demetria Martinez
"She writes in a very poetic way. She writes stories of people, from dream state to reality, first person to second person. I Would also recommend her other book, Mother Tongue."
Americans are familiar with the challenges of illegal Mexican immigration into the US, but are much less accustomed to learning about the experiences of such immigrants after they're in the country. In The Block Captain's Daughter, Demetria Martinez introduces us to six characters and the relationships they share, describing each and their environments through the others' eyes and voices. – Foreword Reviews
Martha Rea – Senior Library Assistant
Icarus and Love by Antoinette Brim
"I've read this book multiple times, I continually pick it up ot read it again. You can tell the author reads a lot, she gets in the minds of her characters."
Icarus in Love, Antoinette Brim's second collection, certifies the presence of a very fine poet among us.  This entire collection is a strong reminder that assessing old ways of being is necessary work and loving the self is necessary work. Antoinette Brim is obviously at the point of assured command of her craft.  The way she sifts through the past and reworks the deepest fibers of her experience is amazing evidence of the poet's heart and skill.  Her riffs on the work of other poets ring like music. I love so many, but I'll list "The Female Body" and "Woman Sees Starry Night" and "33 Jackson Street Aubade"–simply great poems. -Eloise Klein Healy, Poet Laureate of The City of Los Angeles
Pat – Campfield Branch Manager
The Next Time You See Me by Holly Goddard Jones
"Highly recommend, craftily written. The author manages to weave multiple stories together in a way that makes it interesting to read."
Holly Goddard Jones follows up her terrific book of short stories, "Girl Trouble" (2009), with an equally impressive novel set in the same hard-luck Kentucky town near the Tennessee border. The robust cast includes Emily, a 13-year-old who finds a body in the woods and keeps it a secret; Susanna, a schoolteacher whose hard-living sister, Ronnie, has disappeared; and Wyatt, a lonely factory worker hazed by his younger colleagues. An eerie air hangs over the novel, but Ms. Jones has a talent for making even scenes apart from the central mystery feel suspenseful. She also has a precise eye and empathy to burn, bringing each of her many characters to well-rounded life. – New York Times Book Review
Caitlin – Social Media Coordinator
Falling by Christopher Pike
"This book has so many different little stories going on, and Pike is able to weave them all together. It has intrigue, mystery, a kidnapping, a faked death, a serial killer, and an FBI agent who can't seem to get herself out of trouble. Highly recommend."
Matt Connor is falling. He has lost his obsession (he thinks love) to another man so he goes for the logical; he fakes his own death.  The plan is flawless, the entails perfected.  Matt Connor dies and a new man is born. Kelly Feinman is falling. She is an FBI Agent with a hero complex who loses her family and almost her life. Tracking a serial killer known as "Acid Man" on her own Kelly is in for a big surprise when she finally finds him. Kelly may survive, but she doesn't learn from her mistakes. Falling, is filled with twists, turns and surprises. Nothing and no one are ever what they seem to be. At the heart this is a compelling tale of human nature and is worth the read. – All My Writers Review
I have a confession to make. I'm obsessed with libraries. That's right. I am truly, madly and deeply in love with libraries. I believe librarians are the coolest people on the planet and contrary to popular belief, it's your library card that you can't leave home without.  Not your American Express. With all that being said, I'm embarrassed to admit I didn't always feel this way.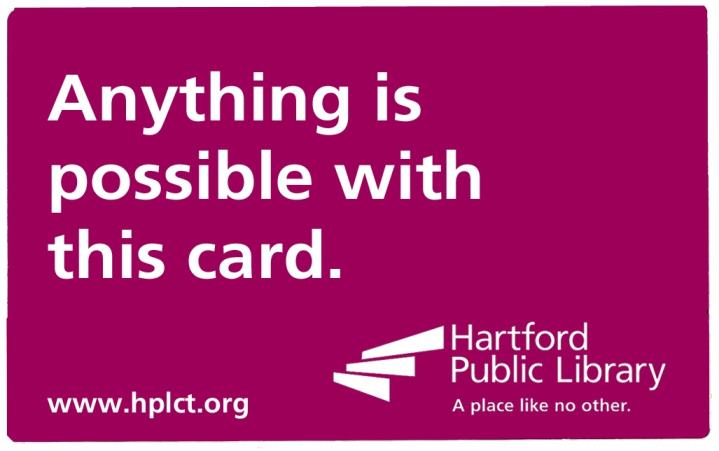 After graduating from college, I suffered for almost ten years from a common but under-treated social condition known as Libramnesia. Individuals suffering from Libramnesia completely forget about libraries or even worse, believe libraries are irrelevant. My particular condition was a physical reaction caused by the countless overnighters I spent on the first floor of Byrd Library throughout my four years at Syracuse. Once I handed in the last paper of my college career, I did not step foot into a library again until nearly a decade later.
My first visit back to the library was prompted by another debilitating condition I was also suffering from at the time called unemployment. I was unemployed and needed a book. Up until then, if I wanted a book I bought one. Given my jobless state of being, I decided I could no longer afford the luxury of shopping for books at Barnes and Nobles. It was then, when I needed access to information that I otherwise could not access on my own, did I regain my memory.
The thing that struck me immediately upon my return to my local library was how much the library had changed from how I remembered it. No longer was I limited to borrowing books and DVD's. Now I could register to learn computer software skills or resume building techniques. In addition, there were opportunities for me to attend forums on topics impacting my community and participate in dialogues with my public officials. I couldn't help but also notice librarians were no longer wearing buns in their hair. Instead, they wore beautiful smiles that represented the diversity of my community. Despite all of the new additions, one very important thing remained the same – library programs were still free!
Fast forward to today and I'm proud to say I serve as President of the Board of Directors for one of the country's most innovative urban public libraries – Hartford Public Library. In my dual role as a library board trustee and Libramnesia survivor, I recently headed to Chicago for a librarianship double header – the American Library Association's Annual Conference and the Urban Library Council's Annual Forum. During my time at the conference I met with incredibly smart and passionate men and women from around the country that all shared an unbreakable commitment to their respective library communities.
Fortunately, for me, I recovered and regained my memory and appreciation for the awesomeness that is our public library system; however, there are still those among us that continue to suffer. The worst case of Libramnesia was recently identified in Miami, FL., where Mayor Carlos Gimenez's brain was completely attacked by the disease. The Mayor of the city with the second highest income inequality of any large county in the country made the decision to close 22 libraries and layoff 251 employees in an effort to avoid increasing property taxes. In his fragile condition, the Mayor was quoted as saying  "the age of the library is probably ending."  To learn why this is the most inaccurate statement ever, please visit ilovelibraries.org.  In the meantime, let's pray for the residents of Miami-Dade that Mayor Gimenez makes a speedy recovery.
We have an amazing staff here at the library, and now we're not the only ones who know it! The White House is honoring a handful of librarians from around the country as "Champions of Change"; recognizing people who are doing great work in their communities. She is being honored with 11 other museum and library workers from around the country.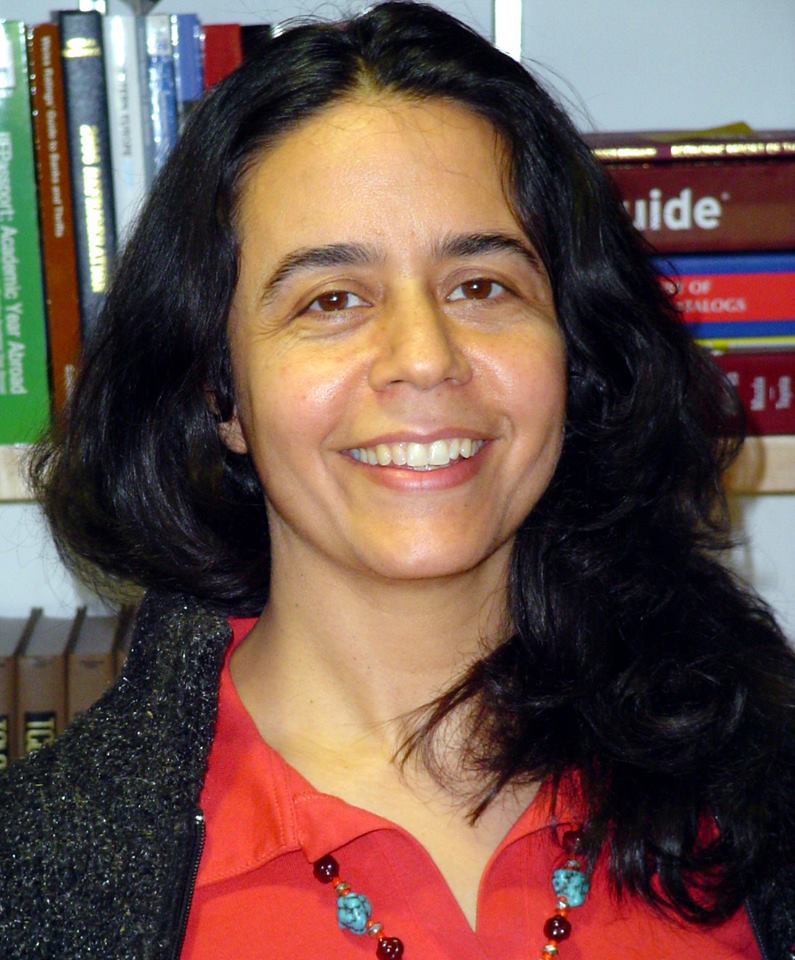 Homa is our Chief Adult Education Officer, and works with patrons through The American Place to find ESL and citizenship classes, as well as help immigrants become settled in our community. She works tirelessly with the adults to visit the library to provide programming that reflects the Hartford community as a whole.
"The one thing that all immigrants have in common are those American values — we all have the same political values of freedom, and we can bring people together through that shared culture," Naficy said [Hartford Courant].
"Homa Naficy is a superstar to the population she serves, because she is tireless in creating opportunities that help immigrants become acclimated to their new home." – CEO Matt Poland
We're thrilled for Homa and will share updates from the event at the White House!
UPDATE 6/11:
Homa at the White House!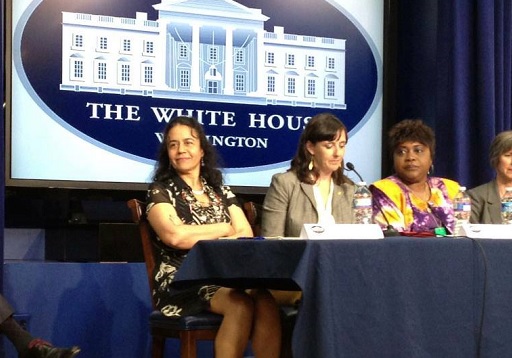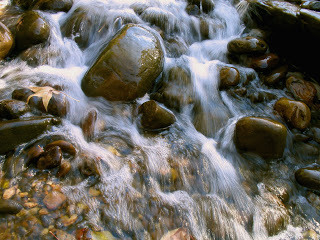 Getting to Zero
by Jasmine Cardi
In 2012 the Hartford Public Library had its first Staff Development Day. All of the libraries in Hartford were closed and all the staff met at the main branch. Our morning started off very intensely with Andy Stefanovich. Simply put he is a motivational speaker who has worked with many of the top leading companies in the world to inspire them to think creatively. Andy Stefanovich is Chief Curator and Provocateur at Prophet, a strategic brand and marketing consultancy. In 2 hours he shared a great deal of information with us. Two of the things that struck me the most were about passion and relaxing. If we really think about it we spend most of our time at work. If we can think of something we are passionate about and dissect it to find what are the qualities of our passion then we can apply that to our work environment.(Passion in action) For me I love helping people. Each day I get a chance to help many people that walk into the library. The idea of knowing what characteristics make up your passion and being able to find it in other things is great. It makes me think about things in a different perspective. (Which Andy also spoke about in great detail) The second thing that struck me was getting to zero. Getting to zero refers to getting to your relaxing point. I am not referring to getting a massage relaxed. I mean, that is great but is not likely to happen on a daily basis. What I think Andy meant was doing something that helps you release the stress of the day and have a little "you" time to regroup or just clear your mind. Helping people takes a lot of energy. Regardless of the weather, how you are feeling or other stress factors you have a task to perform once those doors open. You are ON and the show must go on. Without getting to zero sharing your passion, or enjoying your passion, might become difficult. For me, getting to zero sometimes includes a trip to First & Last Bakery before I start my day. I sit alone and enjoy a quiet breakfast and a hot cup of coffee. These 30 minutes before I start work are very important to me. It allows me to clear my mind and prepare for the day ahead. What Andy shared with us seemed like basic things that many take for granted. It was nice to be reminded how these small things we can easily take for granted can make or break our day. We do not need to sacrifice our passion or ourselves for our job. The idea is if you find your passion within your job it will not only benefit you but also the people you encounter as well. I encourage you to read Andy's book Look at More. I know I will be reading it. I also will not forget the 2 back-to-basic principles I'd like to explore and expand on: passion in action and getting to zero. This was an experience I'm sure never to forget and am grateful to have been apart of.