On Monday February 23rd, YOUMedia hosted the launch recording sessions for Words to Give by.
Words to Give by is a partnership between the Hartford Foundation for Public Giving and WNPR. The project aims to discover how neighbors, friends, family – even strangers – have helped each other through tough times. By capturing and sharing these stories, Words to Give By will uncover the everyday acts of kindness that typically go unheard.
The project began on Monday inside HPL's own YOUMedia center's recording studio. This was just the first of 15 recording sessions. Those interested in telling their story and being a part of this state-wide conversation on generosity can sign up for a recording time at wordstogiveby.org
About 30 edited stories from these sessions will air on WNPR from April through November 2015. A total of 50 selected stories will be posted on wordstogiveby.org 
You can find more pictures and updates on Words to Give by on their Facebook page.
Hartford Public Library was proud to host the first recording session. It was a great chance to welcome newcomers into the doors of the Library and showcase the advanced technology available to teens in YOUMedia Hartford!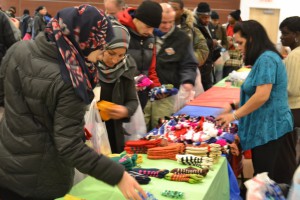 Hartford Public Library staff assist Hartford residents picking up free winter clothing and supplies.
On Thursday, January 22, we hosted a cold weather clothing drive for Hartford residents in need. Funded by a grant from the Hartford County Bar Association, the event was a huge success, providing over 90 adults and children with new coats, gloves, scarves, hats, socks, sweaters, toiletries, and boots.
The giveaway began at 2:00 p.m. and even before the doors open, a line of eager city residents formed outside of the Center for Contemporary Culture at the Downtown Library. Also available were hot beverages and snacks to enjoy, and a kids craft and storytelling area.
All of the new clothing and refreshments were funded through a grant provided by the Hartford County Bar Association. Some additional gently-used items were donated by Hartford Public Library staff.
Storyteller Andre Keitz told interactive stories for residents and their children as they enjoyed the snacks and hot beverages. "It was a nice time for us to really see how we make an impact here at Hartford Public Library," said Library chief development officer Donna Haghighat. "When people come up and look at you straight in the eye and say thank you, it really means a lot."
2015 was the first year HPL received funding for a winter clothing event, and we look forward to increasing the scale and impact of the giveaway in years to come. During the cold winter months, we happily keeps our doors open to everyone who needs to warm up and relax in a welcoming space.

In the wake of recent nationwide social unrest, and on the 50th anniversary of a major turning point in the American Civil Rights Movement, Hartford will welcome one of the leaders of the movement to speak to the importance of nonviolent  conflict reconciliation in today's communities.
Dr. Bernard LaFayette, Jr. will appear at Hartford Public Library on Thursday, February 5 at 5:30 p.m. as keynote speaker of the MLK Nonviolence Leadership Institute, a program presented by the Connecticut Center for Nonviolence in partnership with the Library  Dr. LaFayette's talk is free and open to the public, and all are invited to attend.
As a seminary student in Tennessee, Bernard LaFayette studied nonviolence under well-known activist James Lawson, and began to use the techniques to opposed racial injustice in the South, participating in sit-ins at restaurants and businesses practicing segregation. In 1961, he joined other students in the Freedom Rides movement, and faced brutal attacks and arrest. In the summer of 1962, LaFayette became director of the Alabama Voter Registration Campaign, working with the Student Nonviolent Coordinating Committee to begin organizing in Selma, Alabama. The Selma marches that took place three years later would become a critical turning point in the Civil Rights Movement, eventually leading to the landmark passage of the 1965 Voting Rights Act. Dr. LaFayette was an associate of Dr. Martin Luther King Jr., and appointed national coordinator of the 1968 Poor People's Campaign.
Dr. LaFayette comes to Hartford as part of the MLK Nonviolence Leadership Institute, a Level I Certification Training in Kingian Nonviolence Conflict Reconciliation, taking place January 24 through March 28 at the Library's Downtown location. The ten-week program teaches the Six Principles of Nonviolence, developed by Dr. King, as well as basic concepts, strategies and tools that individuals and communities can use to address conflict without resorting to violence. The curriculum for the Institute was co-authored by Dr. LaFayette and David Jenhsen.
The keynote event will feature a conversation surrounding recent social unrest throughout the country, including protests against the police shooting of Michael Brown in Ferguson, Missouri, where Dr. LaFayette worked on the ground with community activists. Remarks from local leaders will open the program. All are invited to this unique opportunity, and community organizations, school groups and activists are particularly welcome.
The Institute and keynote event are made possible in part byafunding provided by the Challenging Hartford to Engage  Civically and Keep Improving Together (CHECK IT) Initiative of the  City of Hartford Department of Families, Children, Youth and Recreation –Division of Youth. For more information about the keynote event, please visit hplct.org.
For information about the MLK Nonviolence Leadership Institute, please email info@ctnonviolence.org or call 860-567-3441.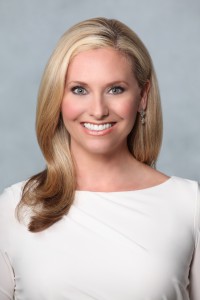 You know her as an Emmy award-winning journalist, WFSB news anchor and co-host of Better Connecticut. Now Kara Sundlun can add "author" to that list of accomplishments! Kara joins us on Wednesday, January 14 at 6:00 PM for a discussion of her new book Finding Dad: From "Love" Child to Daughter and Q&A with the audience, hosted by Thea Montanez, but she sat down for a little pre-Q&A session with us to spill her deepest, darkest library secrets.
What library did you visit as a child? What are some of your earliest memories of the library?
I remember the library at my elementary school, and I loved learning about the Dewey Decimal system. We learned how to make our own books, and I thought it would be cool to be an author one day!
What was your absolute favorite book as a child? Why?
Honestly, I can't recall the exact title, but I had a storybook about dolphins I made my mother read to me every night until I knew every word by heart.  I still love dolphins and look for stories about them for my children. As I grew older I liked suspense novels like V.C. Andrews' Flowers in the Attic.
What book is on your nightstand right now?
Deepak Chopra:  The Future of God, Susan Campbell's Tempest Tossed the Spirit of Isabella Beecher Hooker.  And of course a copy of my new memoir Finding Dad: From "Love" Child to Daughter!
E-books or real thing?
I like real books better, but I read a lot on my I-pad when I'm on the go.
Name your favorite book-to-movie transformation.
I always love the books more.  I love anything by Dan Brown, but The DaVinci Code is way better as a book. Same goes for Eat Pray Love by Connecticut Native Elizabeth Gilbert.  Great book, not-so-good movie.
Who would play you in a movie based on your book?
My husband Dennis says it should be Jennifer Aniston or Poppy Montgomery.  It has to be someone who can be 17 and 30-something!
Join us on Wednesday, January 14 for an evening with Kara! Free an open to all. Click for more info.
Hartford Public Library is pleased to announce the publication of Hartford Through Time, a new release from its Hartford History Center, featuring never-before-published images of early 20th-century Hartford, juxtaposed with matching color photographs of the city in present day.
Hartford Through Time features over 90 before-and-after street scenes created from glass plate negatives from the collection of the Hartford History Center.  These images were painstakingly processed by professional Library volunteers and staff, featuring captions by historian Wilson H. Faude and modern photography by Hartford News editor Andy Hart.
These images tell the story of the changes – and constants – in Hartford's built environment and bring back the story that time has blurred or erased.  From Bushnell Park in 1915, to Downtown Hartford and out into the neighborhoods, former and current Hartford residents will delight in the journey back to remember the capital city of yesteryear.
Hartford Through Time makes a wonderful gift and conversation starter for friends and family around the holidays and will be on sale for $22.99, beginning December 3 at the Hartford History Center, located on the Downtown Library's 3rd Floor at 500 Main Street. Call 860-695-6297 for more information. Proceeds benefit Hartford History Center programs and events.
A book launch and celebratory reception will be held on December 3 at 5:30 p.m. at the Hartford History Center. The reception is free and open to the public, and copies of Hartford Through Time will be available for purchase.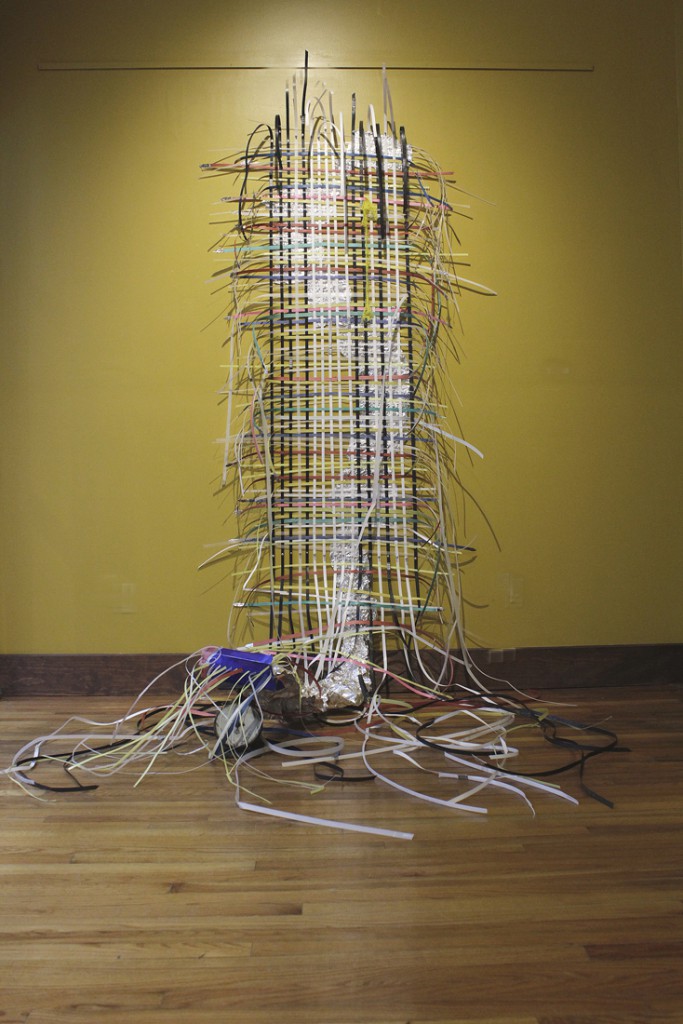 We're excited to announce the December 5th opening of UPcycled Sampler, an exhibit by Anita Gangi Balkun, at our Downtown ArtWalk gallery! The exhibit includes a large hanging installation piece designed specifically for the ArtWalk, and will be on display during regular Library hours through January 9, 2015.
A celebratory reception with the artist will take place on the night of December 5th from 6:00-8:00 p.m. and is free and open to the public. Visitors to the 25th Annual Open Studio Hartford Weekend will be able to view a sneak peek of the exhibit on Saturday and Sunday November 15 and 16 from 1:00-3:00 p.m., and have the opportunity to take part in the completion of the installation.
"My work reuses stuff headed for the recycle bin or trash and transforms it into unexpected forms," Balkun explains. UPcycled Sampler contains materials such as packing peanuts, construction fencing, and newspaper. The artist says she "often search[es] for content within the history of the object – its use or its journey – and use[es] that information as a springboard to the form."
A resident of West Hartford, Balkun received her M.F.A. from the Hartford Art School at the University of Hartford and a B.A. from Central Connecticut State University. She has been featured in various exhibits throughout Connecticut and is the recipient of several awards, most recently earning 2nd Place in the West Hartford Art League's 2014 CT+6 Regional Juried Exhibit.
The ArtWalk at Hartford Public Library is located at 500 Main Street, Hartford. For more information, please visit artwalk.hplct.org.
Recently HPL was the receiver of three different grants that totaled an extraordinary amount of $50,000! Wow! Thank you to The Connecticut Department of Education, the New Alliance Foundation, and Wells Fargo. These three grants will support critical free programs the Library provides to Hartford adults, children, and families.
Here is a breakdown on each of the grants:
The Connecticut Department of Education-Bureau of Health/Nutrition, Family Services, and Adult Education awarded HPL funding in the amount of $35,000. That money will fund a 2015 Adult Education Program Improvement Project supporting English language learning and civic participation for low-literate immigrant populations. One of the greatest achievements of HPL is how many immigrants and refugees that we are able to help. We offer numerous classes to help children and adults to get acquainted to living in an American neighborhood and this fund helps us to continue to do that.
Wells Fargo gave HPL $10,000 that will go towards funding for a YOUmedia Core Programming Initiative (YCPI). This is a program that will essentially allow us to do critical research on our brand new, teens only, digital learning lab, YOUmedia. Being the first in Connecticut, and only the third in the whole country, it is critical to do research on this facility. YCPI will develop a programming model, acting as a test for the center's first year of activity. This "test" will see how students are engaging inside it, how they are learning, etc. All of this will be done through marketing, program testing, and a pilot program.
The New Alliance Foundation awarded the Library $5,000 to support WordPlay Storytimes, an innovative program to help English Language Learners ages 2-5 and their parents/caregivers across all ten locations of the Hartford Public Library. This program will help to acclimatize immigrant and refugee children to a new cultural environment by utilizing common themes of letters, numbers, colors, shapes, and feelings, as well as well-known folktales that build cultural literacy and comfort.
Thank you to all three of our donors for these outstanding grants! With their help we can continue to be a place like no other!
By Christi Jensen, Communications Intern
Did you notice this past Friday that Arch Street was closed down for the morning? Did you hear HPL mentioned on the news that day? Or maybe some of you knew that the library was given two large Romare Bearden murals. Either way, we are so excited to have such beautiful paintings in our building. Friday morning we shut down the Library to move in the two massive murals through a bank of windows on the Arch Street side of the Library. The media, employees of the library, and others watched in awe as Mariano Brothers delicately moved the murals inside the windows and onto their new homes; the walls of HPL! It was a process that will never be forgotten at the Library, but we are proud of how smoothly the move went and how great they look in the space.
Romare Bearden (1911 – 1988) was a Harlem Renaissance painter who was described by the New York Times as, "the nation's foremost collagist". His art was inspired by the unity and cooperation within the African-American community and the importance of an artist in the struggle for civil rights. Both paintings that are now in the Library are collages with two different themes. The mural looking over the computers in the Job and Career Center being sports and the one above the Atrium is a music and art theme. Both are so vibrant and colorful, the light beaming in through all the windows highlights them perfectly.
We find that the paintings fit perfectly in our space for a few reasons. The walls that both of the paintings are hanging on were so large and empty before Bearden's work livened them up. Now that they are there it's hard to believe we never had any artwork on those walls before. Bearden's work and what it symbolizes is fitting for the community of Hartford and the Library. In a city of so much diversity, it seems fitting to have the work of a Harlem Renaissance painter hanging in a public space for all to see.
We are happy to welcome all to come and see the new addition to the library at any time the library is open. You can read more about the details of the move and more about the murals specifically here.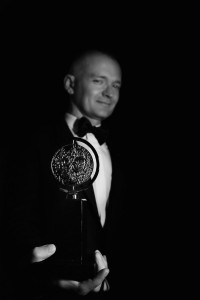 Spend a special evening at HPL with Hartford Stage's Tony Award-winning Director Darko Tresnjak!
As a key event in the Hartford Public Library's  One Book/One Hartford annual series of programs this fall, Tresnjak, together with Hartford Public Library CEO Matthew K. Poland,  will lead a lively discussion of Art Spiegelman's powerful graphic novel, In the Shadow of No Towers,  and how well the format of the graphic novel works in the telling of this story about the events of 9/11. The 6 p.m. event scheduled for Thursday, October 23, in the Atrium of the Downtown Library, is free and open to all.
Recognizing the boundary-bending nature of the graphic novel, Hartford Public Library is bringing emphasis and attention to the genre for this year's One Book/One Hartford.
"The graphic novel has become an extremely important part of America's book culture," said Poland. "As part of our One Book/One Hartford programming for this year, we wanted to both build on American Library Association support for the graphic novel, and create a program that would allow us to examine a major national and international event through Darko Tresnjak's eyes. He is a citizen of the world, and brings that perspective to the discussion, but is also deeply involved in the world and culture of Hartford as artistic director at Hartford Stage."
Darko Tresnjak has been the artistic director of the Hartford Stage Company since 2011, and earlier this year won a Tony Award for his direction of A Gentleman's Guide to Love and Murder, currently on Broadway. He grew up in Yugoslavia, Poland, and the United States, and previously served as artistic director at the Old Globe Shakespeare Festival in San Diego.
"I was intrigued from the moment I heard the title of Art Spiegelman's book because in September 2001, I lived in the West Village, literally in the shadow of the towers. I look forward to talking about this book,"  said Tresnjak.
Pulitzer Prize-winner Spiegelman's large-format illustrated novel was published in 2004 by Pantheon Books, and was described by Salon as a "dark, troubling and sometimes hilarious comic" that may be "the finest and most personal work of art to emerge from the tragedy."  The New York Times praised it as "an intimate memoir of the attacks on the World Trade Center." No stranger to controversial topics, Spiegelman won the Pulitzer Prize in 1992 for his book Maus, the story of his family and the Holocaust told through the medium of a comic book.
Image via Broadway World