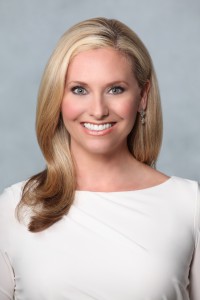 You know her as an Emmy award-winning journalist, WFSB news anchor and co-host of Better Connecticut. Now Kara Sundlun can add "author" to that list of accomplishments! Kara joins us on Wednesday, January 14 at 6:00 PM for a discussion of her new book Finding Dad: From "Love" Child to Daughter and Q&A with the audience, hosted by Thea Montanez, but she sat down for a little pre-Q&A session with us to spill her deepest, darkest library secrets.
What library did you visit as a child? What are some of your earliest memories of the library?
I remember the library at my elementary school, and I loved learning about the Dewey Decimal system. We learned how to make our own books, and I thought it would be cool to be an author one day!
What was your absolute favorite book as a child? Why?
Honestly, I can't recall the exact title, but I had a storybook about dolphins I made my mother read to me every night until I knew every word by heart.  I still love dolphins and look for stories about them for my children. As I grew older I liked suspense novels like V.C. Andrews' Flowers in the Attic.
What book is on your nightstand right now?
Deepak Chopra:  The Future of God, Susan Campbell's Tempest Tossed the Spirit of Isabella Beecher Hooker.  And of course a copy of my new memoir Finding Dad: From "Love" Child to Daughter!
E-books or real thing?
I like real books better, but I read a lot on my I-pad when I'm on the go.
Name your favorite book-to-movie transformation.
I always love the books more.  I love anything by Dan Brown, but The DaVinci Code is way better as a book. Same goes for Eat Pray Love by Connecticut Native Elizabeth Gilbert.  Great book, not-so-good movie.
Who would play you in a movie based on your book?
My husband Dennis says it should be Jennifer Aniston or Poppy Montgomery.  It has to be someone who can be 17 and 30-something!
Join us on Wednesday, January 14 for an evening with Kara! Free an open to all. Click for more info.