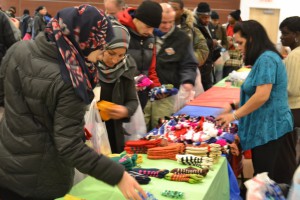 Hartford Public Library staff assist Hartford residents picking up free winter clothing and supplies.
On Thursday, January 22, we hosted a cold weather clothing drive for Hartford residents in need. Funded by a grant from the Hartford County Bar Association, the event was a huge success, providing over 90 adults and children with new coats, gloves, scarves, hats, socks, sweaters, toiletries, and boots.
The giveaway began at 2:00 p.m. and even before the doors open, a line of eager city residents formed outside of the Center for Contemporary Culture at the Downtown Library. Also available were hot beverages and snacks to enjoy, and a kids craft and storytelling area.
All of the new clothing and refreshments were funded through a grant provided by the Hartford County Bar Association. Some additional gently-used items were donated by Hartford Public Library staff.
Storyteller Andre Keitz told interactive stories for residents and their children as they enjoyed the snacks and hot beverages. "It was a nice time for us to really see how we make an impact here at Hartford Public Library," said Library chief development officer Donna Haghighat. "When people come up and look at you straight in the eye and say thank you, it really means a lot."
2015 was the first year HPL received funding for a winter clothing event, and we look forward to increasing the scale and impact of the giveaway in years to come. During the cold winter months, we happily keeps our doors open to everyone who needs to warm up and relax in a welcoming space.