By Jyotsna Khattri-Chettri |  Photography credit: Tikeyah Whittle, CPBN Media Lab
I adjusted the microphone and looked up at more than 80 sets of eyes looking at me very patiently. For a moment, I lost my voice and all my poise and cool. Just for a moment. It was a night of storytelling and friendship and with that thought calming my mind, I went ahead to introduce the first speaker Berhanu from Ethiopia. All the speakers told their stories in their native languages and they had narrators, from AHNA's receiving community, who read translations of their stories in English.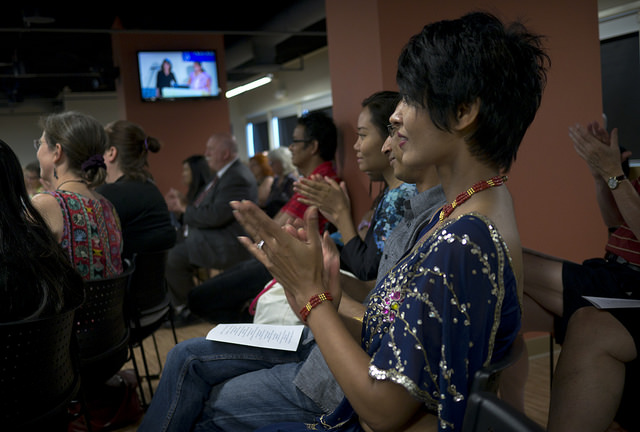 Mark Twain said, "Truth is stranger than fiction, but it is because Fiction is obliged to stick to possibilities; Truth isn't." Berhanu's story is one of those that lends Twain's words a whole lot of credibility. Berhanu spoke in Amharic and told a story of a journey so long and complex all the way from Ethiopia to South Africa before finally making it to the United States almost 20 years later. As the tales continued, the audience would find the truth of Twain's words proven again and again.
Nayomi filled the room with warm laughter when she talked about her amazement at the fact that Americans had such huge refrigerators. Nayomi, who comes from the small island country of Sri Lanka was used to compact, economical fridges. She found the typical American fridge to be more shocking than the six lane highways or huge New York city skyscrapers.
As the speakers wove their stories in beautiful foreign tongues, I looked around the room and felt people loosening up, getting more and more comfortable with these exotic foreigners telling their tales. People in the audience began to realize that while the stories were being told in a foreign tongue that was really the only thing that made them foreign. People could relate to the stories, empathize with them, and perhaps even shake their heads in absolute agreement.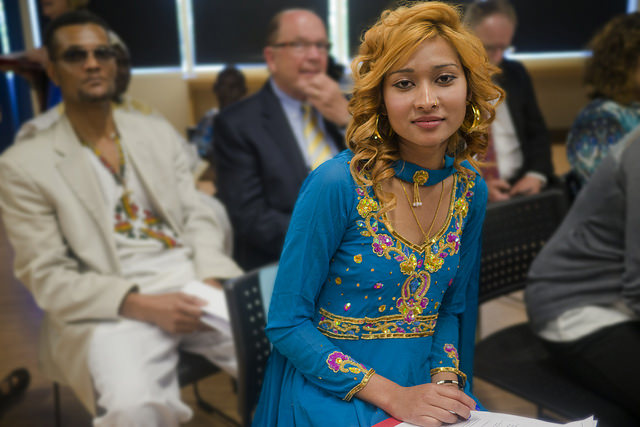 The power of storytelling was beginning to get a hold of the room as strangers settled in to listen to these interesting, tough, resilient, phenomenal people who the audience felt they knew a little more intimately as they shared their most personal thoughts and experiences.
There were a total of seven speakers with two youths from the Journalism and Media Academy. In addition to Berhanu and Nayomi, there was Marcos from Peru who told a very loving and admiring story of the struggles his wife, Lar Pwe Paw, a Karen refugee went through before coming to the United States.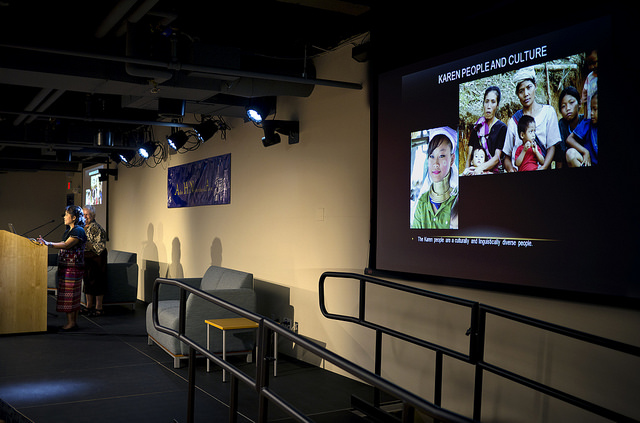 Roselin also told her story of being a Karen refugee in Thailand. She shared her innermost fears and her struggles. The audience went on an emotional roller coaster ride as stories switched from unimaginably painful to absolute hilarity. Seventeen year old Deborah told of her difficulty in what should be a most simple matter – sharing an informal greeting. She learned the hard way that Americans don't greet each others as Haitians do, with one or two kisses on the cheeks when she spent a few good minutes with her lips puckered up attempting to warmly greet her new American neighbor and schoolmate.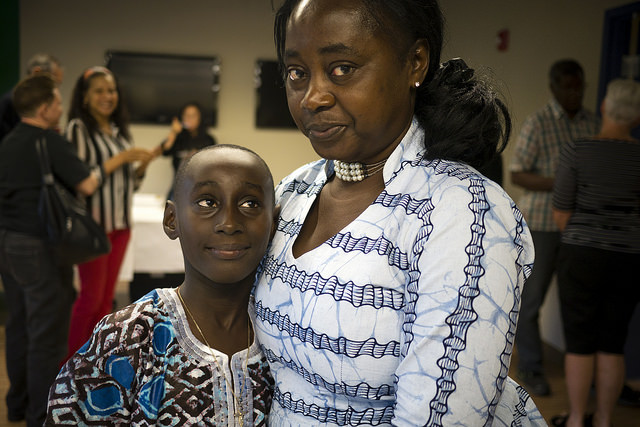 We held the storytelling event on June 20th to commemorate World Refugee Day, and I cannot think of a better way to have observed the day than to hear from the refugees and immigrants themselves who make our neighborhoods such vibrant, lively places in which to live and work.  There were stories from Ethiopia, Burma, Nepal, Haiti, Sri-Lanka, Cote D'Ivoire and Peru.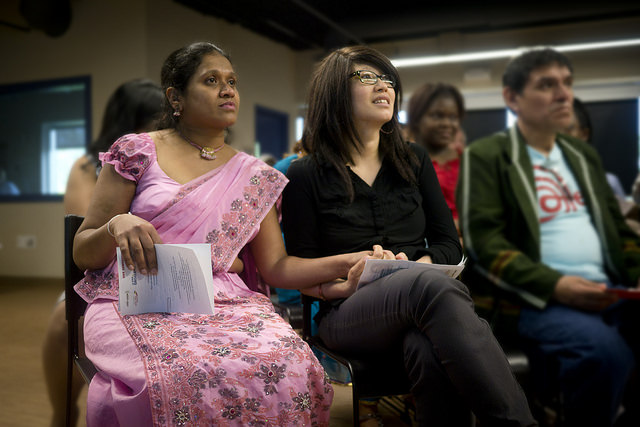 The diversity of Asylum Hill was well reflected in the diversity of the speakers. The event came to a close, with an action packed tale of trials and triumphs by Georges Annan Kingsley of Cote D'Ivoire, who,  while suffering from kidney failure, had to be smuggled into Ghana to receive urgent medical treatment. His story had a very happy ending as his wife and son joined him in the United States just a few day prior to the event. As he introduced them on stage, the whole room stood up and burst into applause. I did catch more than a few people wiping away tears that betrayed their very best efforts to keep them from falling.
Jyotsna Khattri-Chettri is from Nepal and moved to Connecticut in 2003. She has completed a  Bachelors in Political Science from the University of Connecticut and is currently pursuing a Masters in International Studies from CCSU. She also serves in the Connecticut Army National Guard as a Broadcast Journalist.