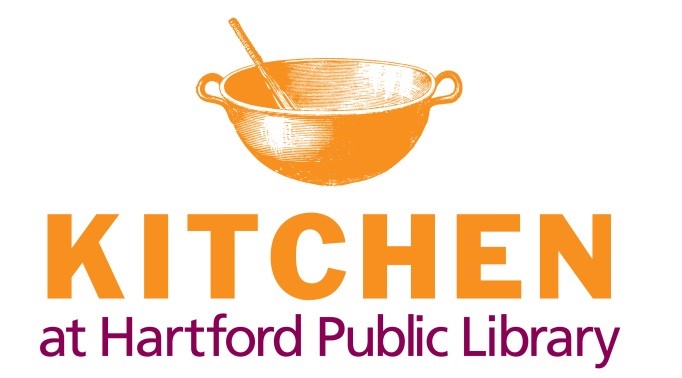 Kitchen at Hartford Public Library is open Monday – Friday, 8am-4pm.
They cater! Delivery available for breakfast, lunch and evening. Contact 860-727-8752 for catering.
MENU
Breakfast Goodies
Stuffed brioche of the day | $3.25
Muffin of the day | $2
Scones and biscuits | $3.25
Famous sticky bun | $3.25
Breakfast sandwich | $4
Individual quiche or fritatta | $5
Pastries
Big cookies | $1.85
Cupcakes | $2.50
Brownies | $1.25
Seasonal Salads
Mixed Greens: Local greens, carrots, cucumbers, tomatoes, red win vinaigrette | $7
Curry Chicken Salad: Local greens, dried cranberries, toasted almonds, red wine vinaigrette | $8.50
Caesar: Local mixed greens, multi-grain croutons, shaved asiago, creamy parmesan dressing | $8.50
Le Blue: Farm greens, blue cheese, walnuts, pickled shallots, smoked bacon, buttermilk ranch | $8.50
El Greco: Local greens, spiced chickpeas, herbed feta, green olives, grape tomatoes, cucumbers, lemon oregano vinaigrette | $8.50
House Made Soups
Freshly made every day
Bowl | $4
Side Salads
Fruit salad, seasonal grain salad and seasonal vegetable salads
Changes daily
8 oz | $4
16 oz | $7.50
Sandwiches
All sandwiches served on fresh baked breads and come with Deep River chips or seasonal whole fruit
Curry Chicken Sandwich: Mango chutney, arugula, cranberry walnut bread | $8.50
Country Ham: Black Forest ham, pimento cheese, tomato, pickles, ciabatta roll | $8.50
Tuna: Lettuce, multi-grain roll | $8.50
Pilgrim: Apple mayo, cheddar, turkey, ciabatta roll | $8.50
Tuscan: White bean hummus, roasted tomatoes, spinach, caramelized onion focaccia | $7.50
Carving Board: Your choice of one meat, one cheese, toppings and bread | $8.50
Turkey, Black Forest ham, Tuna
Cheddar, Swiss
Tomato, Pickles, Lettuce
Breads: Cranberry Walnut, Multi-grain Roll, Ciabatta Roll, Caramelized Onion Focaccia
Beverages
Omar's Coffee
Omar hot beverages
Hosmer Mt Sodas
Lavender Lemonade
Infused Iced Teas
Bottled Water
Local Juices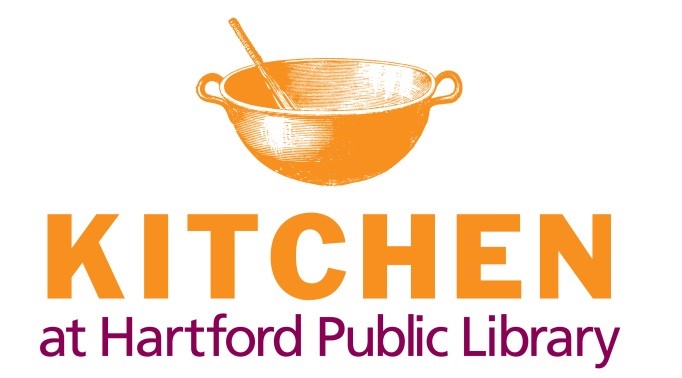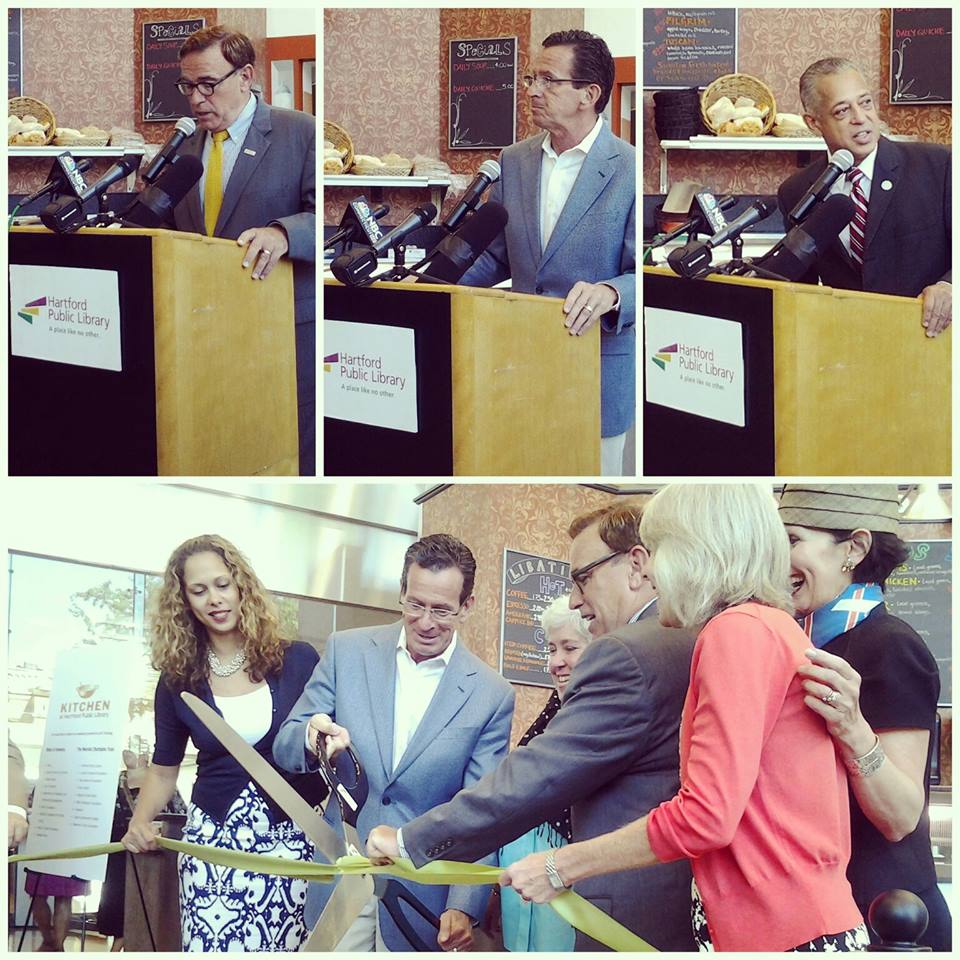 We partnered with Billings Forge Community Works to create Kitchen at Hartford Public Library, a farm-to-table job training café and bakery offering breakfast, lunch and catering – similar to Kitchen at Billings Forge in Frog Hollow. The Kitchen at HPL is now open, and the hours are Monday-Friday from 8am-4pm.
We had a ribbon cutting ceremony to celebrate the opening with local officials and media, who got to sample some of the delicious treats that Kitchen at HPL will be serving daily. Governor Malloy and Mayor Segarra were in attendance, as well as DECD Commissioner Smith.
Kitchen at HPL will not only be a café, it is also a job-training program. 16-20 people will be able to go through the 12-week program per year; which provides training on cooking as well as food safety and sanitation.
Shavonne Dawson, an employee at Kitchen at HPL went through this program with Kitchen at Billings Forge. "I had a very good experience in the training program, I learned a lot. I made a lot of friends and that's why I wanted to come back [and work here]. I think this location is great, I don't know why someone didn't think of it sooner! People come to the library, and they get hungry and don't have a lot of options to get something to eat."
We hope you'll stop by soon and let us know what you think of Kitchen at Hartford Public Library!
To view photos from the ribbon cutting and to see what the new cafe looks like, check out our photos on Facebook! You should also Like Kitchen at Hartford Public Library on Facebook for updates and daily specials.
Check out Kitchen at Hartford Public Library in the news:
Hartford Public Library – Billings Forge Community Works and Hartford Public Library Partner to Open Kitchen at Hartford Public Library
WNPR – Kitchen at Hartford Public Library
Hartford Business Journal – Billings Forge, Hartford Public Library open job training program
Connecticut Magazine – A New Farm-to-Table Cafe for All, Kitchen at Hartford Public Library
Hartford Cityline – Kitchen at HPL Opens
CTNow – Billings Forge Opens Cafe in Hartford Library
Real Hartford – A Tasty New Chapter for Library 
CT Ain't So Bad – Kitchen at HPL Grand Opening Was Today! Head Over and Grab some Grub