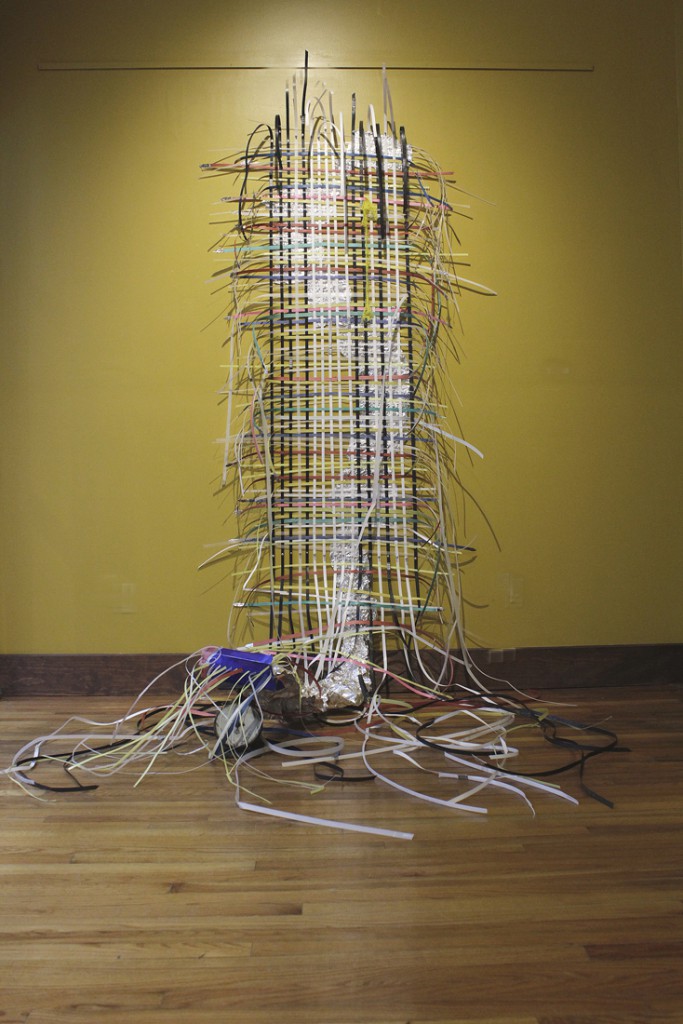 We're excited to announce the December 5th opening of UPcycled Sampler, an exhibit by Anita Gangi Balkun, at our Downtown ArtWalk gallery! The exhibit includes a large hanging installation piece designed specifically for the ArtWalk, and will be on display during regular Library hours through January 9, 2015.
A celebratory reception with the artist will take place on the night of December 5th from 6:00-8:00 p.m. and is free and open to the public. Visitors to the 25th Annual Open Studio Hartford Weekend will be able to view a sneak peek of the exhibit on Saturday and Sunday November 15 and 16 from 1:00-3:00 p.m., and have the opportunity to take part in the completion of the installation.
"My work reuses stuff headed for the recycle bin or trash and transforms it into unexpected forms," Balkun explains. UPcycled Sampler contains materials such as packing peanuts, construction fencing, and newspaper. The artist says she "often search[es] for content within the history of the object – its use or its journey – and use[es] that information as a springboard to the form."
A resident of West Hartford, Balkun received her M.F.A. from the Hartford Art School at the University of Hartford and a B.A. from Central Connecticut State University. She has been featured in various exhibits throughout Connecticut and is the recipient of several awards, most recently earning 2nd Place in the West Hartford Art League's 2014 CT+6 Regional Juried Exhibit.
The ArtWalk at Hartford Public Library is located at 500 Main Street, Hartford. For more information, please visit artwalk.hplct.org.