The following titles – and more – will be on the shelves of Hartford Public Library, beginning October 25*. If the title is not at your closest branch, place a hold and it will be delivered there for you. All our titles are in our catalog; you may search it at any time.
(Summaries from publishers)
---
*As usual, we are listing the new releases for the week. However, due to the conversion of our library system, it will be two extra days before we are able to put them on the shelves. We are also unable to place holds during this time.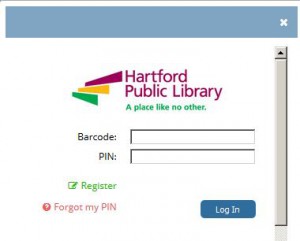 When the new system is live on Thursday, October 25, you will be able to go to the library's online catalog (it has no data as of Tuesday) to review your account as you've done in the past, and to place holds. A link at the top of the page for My Account will open a pop-up window, prompting you to enter your barcode and a PIN.
Your barcode has not changed. The PIN, which you may change after logging in, is initially set to "changeme" (it is not case sensitive). Some information about changing your PIN (and other features of the new system) may be found here. As always, you may also contact us directly, or visit in person, with questions.
And now, the books (without links this week because of the switch)…
Everyday Dorie: The Way I Cook by Dorie Greenspan
To the hundreds of thousands who follow her on Twitter, Instagram, and Facebook, Dorie Greenspan's food is powerfully cookable—her recipes instant classics. In Everyday Dorie, she invites readers into her kitchen to savor the dishes that she makes all the time, from Miso-Glazed Salmon to Lemon Goop.
What makes a "Dorie recipe"?
Each one has a small surprise that makes it special. Mustard and walnuts in the cheese puffs. Cherry tomatoes stuffed into red bell peppers and oven-charred. Cannellini beans in cod en papillote. The dishes are practical, made with common ingredients from the supermarket, farmers' market, or pantry, like Sweet Chili Chicken Thighs, which is both weeknight simple and fine enough for company, and Eton Mess, a beautifully casual dessert of crumbled meringue, fruit, and whipped cream. They are easygoing, providing swaps and substitutions. They invite mixing and matching. Many can be served as dinner, or as a side dish, or as an appetizer, or hot, cold, or room temperature. And every single one is like a best friend in the kitchen, full of Dorie's infectious love of cooking and her trademark hand-holding directions.
The Reckoning by John Grisham
October 1946, Clanton, Mississippi

Pete Banning was Clanton, Mississippi's favorite son—a decorated World War II hero, the patriarch of a prominent family, a farmer, father, neighbor, and a faithful member of the Methodist church. Then one cool October morning he rose early, drove into town, walked into the church, and calmly shot and killed his pastor and friend, the Reverend Dexter Bell. As if the murder weren't shocking enough, it was even more baffling that Pete's only statement about it—to the sheriff, to his lawyers, to the judge, to the jury, and to his family—was: "I have nothing to say." He was not afraid of death and was willing to take his motive to the grave.
In a major novel unlike anything he has written before, John Grisham takes us on an incredible journey, from the Jim Crow South to the jungles of the Philippines during World War II; from an insane asylum filled with secrets to the Clanton courtroom where Pete's defense attorney tries desperately to save him.
Reminiscent of the finest tradition of Southern Gothic storytelling, The Reckoning would not be complete without Grisham's signature layers of legal suspense, and he delivers on every page.
How the Internet Happened by Brian McCullough
The internet was never intended for you, opines Brian McCullough in this lively narrative of an era that utterly transformed everything we thought we knew about technology. In How the Internet Happened, he chronicles the whole fascinating story for the first time, beginning in a dusty Illinois basement in 1993, when a group of college kids set off a once-in-an-epoch revolution with what would become the first "dotcom."Depicting the lives of now-famous innovators like Netscape's Marc Andreessen and Facebook's Mark Zuckerberg, McCullough also reveals surprising quirks and unknown tales as he tracks both the technology and the culture around the internet's rise. Cinematic in detail and unprecedented in scope, the result both enlightens and informs as it draws back the curtain on the new rhythm of disruption and innovation the internet fostered, and helps to redefine an era that changed every part of our lives.
Friday Black by Nana Kwame Adjei-Brenyah
From the start of this extraordinary debut, Nana Kwame Adjei-Brenyah's writing will grab you, haunt you, enrage and invigorate you. By placing ordinary characters in extraordinary situations, Adjei-Brenyah reveals the violence, injustice, and painful absurdities that black men and women contend with every day in this country.
These stories tackle urgent instances of racism and cultural unrest, and explore the many ways we fight for humanity in an unforgiving world. In "The Finkelstein Five," Adjei-Brenyah gives us an unforgettable reckoning of the brutal prejudice of our justice system. In "Zimmer Land," we see a far-too-easy-to-believe imagining of racism as sport. And "Friday Black" and "How to Sell a Jacket as Told by Ice King" show the horrors of consumerism and the toll it takes on us all.
Entirely fresh in its style and perspective, and sure to appeal to fans of Colson Whitehead, Marlon James, and George Saunders, Friday Black confronts readers with a complicated, insistent, wrenching chorus of emotions, the final note of which, remarkably, is hope.
Shook One: Anxiety Playing Tricks on Me by Charlamagne Tha God
Being "shook" is more than a rap lyric for Charlamagne, it's his mission to overcome. While it may seem like he is ahead of the game and should have nothing to worry about, he is still plagued by anxieties—fear of being weak; fear of being a bad dad; fear of being a worse husband; and ultimately, fear of failure. Shook One chronicles his journey to beat back those fears and empowers you to no longer be held back from your potential.
Shook One details the ways anxiety has been a driving force in Charlamagne's life since childhood. For many years, he stressed over what he thought were personal shortcomings: being unpopular in school, potential rejection by women, being ugly, and worst of all, falling into the life of stagnation or crime that caught up so many of his friends and family in his hometown of Moncks Corner, South Carolina.
Even after achieving national prominence as a radio personality, Charlamagne still found himself paralyzed by thoughts that he wouldn't be able to take his career to the next level. But now, in Shook One, he is working through these problems with help from mentors, guests on his show, and therapy. He knows therapy and showing weakness are anxiety producing in the black community, but this is one of the reasons he wants to own his truth—to clear a path for others in hopes that they won't feel shame while dealing openly with their mental health.
Vendetta by Iris Johansen
With his dying breath, Carl Venable, head of the CIA task force on terrorism and Jude Brandon's final link to terrorist ringleader Max Huber, gives Brandon a mandate: keep his daughter, Rachel, safe at any cost. But Rachel Venable has a shocking, twisted past of her own, one that comes rushing back after her medical clinic in Guyana is attacked by Huber—the same man who murdered her father and kept her imprisoned for months.
Brandon and Catherine Ling, Rachel's longtime ally and fierce protector, are determined to keep Rachel out of danger, but she knows that it's impossible to stay hidden when Max Huber wants you dead.
As Rachel and Brandon race against the clock to bring Huber down before he can orchestrate a disaster that will lay waste to half the country, they also fight a growing attraction to each other – an attraction that could prove just as dangerous as Huber himself.
In this gripping, fast-paced novel from #1 New York Times bestselling author Iris Johansen, one thing is clear: everyone has a vendetta, and no one will rest until they get their revenge.
Library Book by Susan Orlean
On the morning of April 29, 1986, a fire alarm sounded in the Los Angeles Public Library. As the moments passed, the patrons and staff who had been cleared out of the building realized this was not the usual false alarm. As one fireman recounted later, "Once that first stack got going, it was Goodbye, Charlie." The fire was disastrous: It reached 2,000 degrees and burned for more than seven hours. By the time it was extinguished, it had consumed 400,000 books and damaged 700,000 more. Investigators descended on the scene, but over thirty years later, the mystery remains: Did someone purposefully set fire to the library—and if so, who?
Weaving her life-long love of books and reading with the fascinating history of libraries and the sometimes-eccentric characters who run them, award-winning journalist and New York Times bestselling author Susan Orlean presents a mesmerizing and uniquely compelling story as only she can. With her signature wit, insight, compassion, and talent for deep research, she investigates the legendary Los Angeles Public Library fire to showcase the larger, crucial role that libraries play in our lives. To truly understand what happens behind the stacks, Orlean visits the different departments of the LAPL, encountering an engaging cast of employees and patrons and experiencing alongside them the victories and struggles they face in today's climate. She also delves into the evolution of libraries across the country and around the world, from a metropolitan charitable initiative to a cornerstone of national identity. She reflects on her childhood experiences in libraries; studies arson and the long history of library fires; attempts to burn a copy of a book herself; and she re-examines the case of Harry Peak, the blond-haired actor long suspected of setting fire to the library over thirty years ago. Along the way, she reveals how these buildings provide much more than just books—and that they are needed now more than ever.
Filled with heart, passion, and unforgettable characters, The Library Book is classic Susan Orlean, and an homage to a beloved institution that remains a vital part of the heart, mind, and soul of our country and culture.
---
Is there something else you would like to see on our shelves? Let us know!