Hartford Public Library customers can't get enough of legal thrillers and politics — at least according to the most checked out books from the past year.
Bestselling author John Grisham had three titles on the 10 most borrowed adult books from June 30, 2020, to July 1, 2021 , and there were two political entries on the list, President Barack Obama's latest book and Mary L. Trump's tell-all about her uncle, President Donald Trump.
Here are the 10 books that were checked out most by patrons, across all our branches, with links to borrow them from our catalog if you haven't read them yet!
by Britt Bennett
From The New York Times-bestselling author of The Mothers, a stunning new novel about twin sisters, inseparable as children, who ultimately choose to live in two very different worlds, one black and one white.
"[Bennett's] second [book], The Vanishing Half, more than lives up to her early promise. . . more expansive yet also deeper, a multi-generational family saga that tackles prickly issues of racial identity and bigotry and conveys the corrosive effects of secrets and dissembling. It's also a great read that will transport you out of your current circumstances, whatever they are. . . Like The Mothers, this novel keeps you turning pages not just to find out what happens." — NPR
"Bennett's gorgeously written second novel, an ambitious meditation on race and identity, considers the divergent fates of twin sisters, born in the Jim Crow South, after one decides to pass for white. Bennett balances the literary demands of dynamic characterization with the historical and social realities of her subject matter."— The New York Times
by Isabel Wilkerson
The Pulitzer Prize–winning, bestselling author of The Warmth of Other Suns examines the unspoken caste system that has shaped America and shows how our lives today are still defined by a hierarchy of human divisions.
"Magnificent . . . a trailblazing work on the birth of inequality . . . Caste offers a forward-facing vision. Bursting with insight and love, this book may well help save us."— O: The Oprah Magazine
"This book has the reverberating and patriotic slap of the best American prose writing. . . . Wilkerson has written a closely argued book that largely avoids the word 'racism,' yet stares it down with more humanity and rigor than nearly all but a few books in our literature. . . . It's a book that changes the weather inside a reader."— Dwight Garner, The New York Times
by Mary L. Trump
In this revelatory, authoritative portrait of Donald J. Trump and the toxic family that made him, Mary L. Trump, a trained clinical psychologist and Donald's only niece, shines a bright light on the dark history of their family in order to explain how her uncle became the man who now threatens the world's health, economic security, and social fabric.
"[T]he most devastating, most valuable and all-around best Trump book since he started running for president. In the vast Trump literature, this one is something new…[W]hat this book does do is help us understand him, offering the most incisive rendering yet of why he is the way he is."— Politico
"Mesmerizing beach reading and a memorable opposition research dump…It is salacious, venomous and well-sourced…Yet the narrative remains compelling." — The Guardian
by John Grisham
Clanton, Mississippi. 1990. Jake Brigance finds himself embroiled in a deeply divisive trial when the court appoints him attorney for Drew Gamble, a timid sixteen-year-old boy accused of murdering a local deputy. Many in Clanton want a swift trial and the death penalty, but Brigance digs in and discovers that there is more to the story than meets the eye. Jake's fierce commitment to saving Drew from the gas chamber puts his career, his financial security, and the safety of his family on the line.
"Grisham has returned to the place closest to his heart… The trial is riveting…it's striking how suspenseful the story is…how much we're gripped by the small details."– Sarah Lyall, The New York Times
"Textbook Grisham—and that's a compliment…a briskly paced legal drama, with just the right amount of suspense, conflict, plot twists, and courtroom theatrics." — St. Louis Post-Dispatch
by Jeanine Cummins
Lydia Quixano Pérez runs a bookstore in Acapulco, Mexico, where she lives with her husband, Sebastián, who is a journalist, and their son, Luca. When a man starts visiting her store, buying books and striking up a friendship, she has no idea initially that he will be responsible for turning her life upside down. But Lydia and Luca will have to flee Acapulco, setting them on a journey they will share with countless other Central and South Americans-turned migrants.
"American Dirt just gutted me, and I didn't just read this book―I inhabited it….Everything about this book was so extraordinary. It's suspenseful, the language is beautiful, and the story really opened my heart. I highly recommend it, and you will not want to put it down. It is just a magnificent novel."
― Oprah
"American Dirt is a literary novel with nuanced character development and arresting language; yet, its narrative hurtles forward with the intensity of a suspense tale. Its most profound achievement, though, is something I never could've been told…American Dirt is the novel that, for me, nails what it's like to live in this age of anxiety, where it feels like anything can happen, at any moment."
― Maureen Corrigan, NPR's Fresh Air
by James McBride
In September 1969, a fumbling, cranky old church deacon known as Sportcoat shuffles into the courtyard of the Cause Houses housing project in south Brooklyn, pulls a .38 from his pocket, and, in front of everybody, shoots the project's drug dealer at point-blank range. The reasons for this desperate burst of violence and the consequences that spring from it lie at the heart of Deacon King Kong, James McBride's funny, moving novel and his first since his National Book Award–winning The Good Lord Bird.
"A mystery story, a crime novel, an urban farce, a sociological portrait of late-1960s Brooklyn: McBride's novel contains multitudes… He conducts his antic symphony with deep feeling, never losing sight of the suffering and inequity within the merriment." — The New York Times, Top 10 Books of 2020
"Shouldn't we just get it over with and declare McBride this decade's Great American Novelist?…McBride has a way of inflating reality to comical sizes, the better for us to see every tiny mechanism that holds unjust systems in place." — Los Angeles Times
by Resmaa Menakem
In this groundbreaking book, therapist Resmaa Menakem examines the damage caused by racism in America from the perspective of trauma and body-centered psychology.
"Dr. W. E. B. Du Bois put his finger on African American consciousness when he wrote 'one ever feels his twoness―an American, a Negro; two souls, two thoughts, two unreconciled strivings; two warring ideals in one dark body.' But even Du Bois never addressed the process of healing the psychological wounds of the 'two-ness.' In My Grandmother Hands, Resmaa offers a path of internal reconciliation for a Person enduring the generational trauma of American racism, and gives us all a chance to dream of a healing from it."― Keith Ellison, Member of Congress and Deputy Chair of the Democratic National Committee
"Resmaa Menakem cuts to the heart of America's racial crisis with the precision of a surgeon in ways few have before. Addressing the intergenerational trauma of white supremacy and its effects on all of us―understanding it as a true soul wound―is the first order of business if we hope to pull out of the current morass. As this amazing work shows us, policies alone will not do it, and bold social action, though vital to achieving justice, will require those engaged in it to also take action on the injury, deep and personal, from which we all suffer."― Tim Wise, bestselling author of White Like Me: Reflections on Race from a Privileged Son and Dear White America: Letter to a New Minority
by Sister Souljah
Ghetto-born, Winter is the young, wealthy daughter of a prominent Brooklyn drug-dealing family. Quick-witted, sexy, and business-minded, she knows and loves the streets like the curves of her own body. But when a cold Winter wind blows her life in a direction she doesn't want to go, her street smarts and seductive skills are put to the test of a lifetime. Unwilling to lose, this ghetto girl will do anything to stay on top.
"Winter is nasty, spoiled, and almost unbelievably libidinous, and it's ample evidence of the author's talent that she is also deeply sympathetic." ― The New Yorker
"Winter is precious, babacious, and as tough as a hollow-point bullet." ― Salon.com
by Barack Obama
In the stirring, highly anticipated first volume of his presidential memoirs, Barack Obama tells the story of his improbable odyssey from young man searching for his identity to leader of the free world, describing in strikingly personal detail both his political education and the landmark moments of the first term of his historic presidency—a time of dramatic transformation and turmoil.
"A powerful book with lots of insights into great leadership."— Bill Gates, GatesNotes
"Barack Obama is as fine a writer as they come. . . . [A Promised Land] is nearly always pleasurable to read, sentence by sentence, the prose gorgeous in places, the detail granular and vivid. . . . The story will continue in the second volume, but Barack Obama has already illuminated a pivotal moment in American history, and how America changed while also remaining unchanged."— Chimamanda Ngozi Adichie, The New York Times Book Review
by John Grisham
Just as Bruce Cable's Bay Books is preparing for the return of bestselling author Mercer Mann, Hurricane Leo veers from its predicted course and heads straight for Camino Island. Florida's governor orders a mandatory evacuation, and most residents board up their houses and flee to the mainland, but Bruce decides to stay and ride out the storm. The hurricane is devastating: Homes and condos are leveled, hotels and storefronts ruined, streets flooded—and a dozen people lose their lives. One of the apparent victims is Nelson Kerr, a friend of Bruce's and an author of thrillers. But the nature of Nelson's injuries suggests that the storm wasn't the cause of his death: He has suffered several suspicious blows to the head.
"A cat-and-mouse caper . . . Grisham is an irresistible writer. His prose is fluent and gorgeous, and he has an ability to end each segment with a terse sentence thatn makes it all but impossible not to turn the page."— Pittsburgh Post-Gazette
"The perfect crime scene…in the type of wild but smart caper that [John] Grisham's readers love." — Delia Owens, author of Where the Crawdads Sing
For Hispanic Heritage Month, which is celebrated Sept. 15-Oct. 15, Hartford Public Library is highlighting a collection of books by Latino/a/x authors. See a title you are interested in below? Click on it to check it out from the library!
These recommendations were featured throughout the month in our email newsletter. Not subscribed? Click here to sign up.
One of the most influential literary works of our time, One Hundred Years of Solitude remains a dazzling and original achievement by the masterful Gabriel Garcia Marquez.
"One Hundred Years of Solitude is the first piece of literature since the Book of Genesis that should be required reading for the entire human race. … Mr. Garcia Marquez has done nothing less than to create in the reader a sense of all that is profound, meaningful, and meaningless in life." — William Kennedy, New York Times Book Review
Combining magic, mysticism, wisdom and wonder into an inspiring tale of self-discovery, The Alchemist has become a modern classic, selling millions of copies around the world and transforming the lives of countless readers across generations.
"It's a brilliant, magical, life-changing book that continues to blow my mind with its lessons. [...] A remarkable tome," – Neil Patrick Harris
"A wise and inspiring fable about the pilgrimage that life should be" – M. Scott Peck
In this lyrical, coming-of-age memoir, Daisy Hernández chronicles what the women in her Cuban-Colombian family taught her about love, money and race.
"Gorgeously written from start to finish." – Boston Globe
"Hernández seamlessly combines the familiar genres of the 'coming out' story and the 'coming of age' story into a unique memoir of self-discovery." – LA Review of Books

Chulito
Charles Rice-Gonzalez
Set against a vibrant South Bronx neighborhood and the queer youth culture of Manhattan's piers, Chulito is a coming-of-age, coming out love story of a sexy, tough, hip hop-loving, young Latino man and the colorful characters who populate his block.
"Hilarious, unique, heartfelt and sharp. A wonderful read." – Sandra Cisneros, author of The House on Mango Street
"This is a beautiful debut." – Jaime Manrique, author of Latin Moon in Manhattan
We're kicking it way back for this recommendation. Winner of the American Booksellers book of the Year Award in 1994, this bestselling phenomenon and inspiration for the award-winning film tells the story of family life in turn-of-the-century Mexico and blends poignant romance and bittersweet wit.
"Each chapter of Esquivel's utterly charming interpretation of life in Mexico begins with a recipe–not surprisingly, since so much of the action of this exquisite first novel centers around the kitchen, the heart and soul of a traditional Mexican family." – Publisher's Weekly
Carmelo
Sandra Cisneros
We can't get enough of Sandra Cisneros' gorgeous writing. Every year, Ceyala "Lala" Reyes' family — aunts, uncles, mothers, fathers and Lala's six older brothers — packs up three cars and, in a wild ride, drive from Chicago to the Little Grandfather and Awful Grandmother's house in Mexico City for the summer.
"Caramelo is enchanting. Soulful, sophisticated and skeptical, full of great one-liners. it is one of those novels that blithely leap across the border between literary and popular fiction." – The New York Times
In a novel-in-verse that brims with grief and love, National Book Award-winning and New York Times bestselling author Elizabeth Acevedo writes about the devastation of loss, the difficulty of forgiveness and the bittersweet bonds that shape our lives.
"Tackles family secrets, toxic masculinity, and socio-economic differences with incisive clarity and candor … Every line is laced with betrayal and longing as the teens struggle with loving someone despite his imperfections. A standing ovation." — Kirkus Reviews
The definitive Mexican-American immigrant story, a sprawling and deeply felt portrait of a Mexican-American family occasioned by the impending loss of its patriarch, from one of the country's most beloved authors.
"Epic … Rambunctious … Highly entertaining." — New York Times Book Review
"Intimate and touching … the stuff of legend." — San Francisco Chronicle
An immensely charming and moving tale." — Boston Globe
Acclaimed writer Julia Alvarez's beloved first novel gives voice to four sisters as they grow up in two cultures. The García sisters and their family must flee their home in the Dominican Republic. They arrive in New York City in 1960 to a life far removed from their existence in the Caribbean.
"Poignant . . . Powerful . . . Beautifully captures the threshold experience of the new immigrant, where the past is not yet a memory." — The New York Times Book Review
In this first volume of her much-praised, bestselling trilogy, Santiago brilliantly recreates the idyllic landscape and tumultuous family life of her earliest years and her tremendous journey from the barrio to Brooklyn, from translating for her mother at the welfare office to high honors at Harvard.
"Not only for readers who share [Santiago's] experiences but for North Americans who seek to understand what it means to be the other." — The Boston Globe
In celebration of the end of the 2021 Baby Grand Jazz series, we've put together a list of books and movies on all things jazz. From novels to biographies, we've got a ton of information on what historian Gerald Early calls "(one of the most) beautiful things this culture ever created."
Books
DVDs
-30-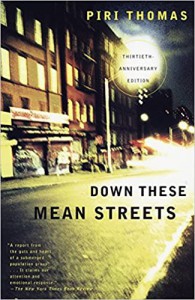 Down These Mean Streets
By Piri Thomas
Thirty years ago Piri Thomas made literary history with this lacerating, lyrical memoir of his coming of age on the streets of Spanish Harlem. Here was the testament of a born outsider: a Puerto Rican in English-speaking America; a dark-skinned morenito in a family that refused to acknowledge its African blood. Here was an unsparing document of Thomas's plunge into the deadly consolations of drugs, street fighting, and armed robbery–a descent that ended when the twenty-two-year-old Piri was sent to prison for shooting a cop.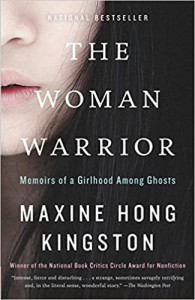 The Woman Warrior
By Maxine Hong Kingston
In her award-winning book The Woman Warrior, Maxine Hong Kingston created an entirely new form—an exhilarating blend of autobiography and mythology, of world and self, of hot rage and cool analysis. First published in 1976, it has become a classic in its innovative portrayal of multiple and intersecting identities—immigrant, female, Chinese, American. A warrior of words, Kingston forges fractured myths and memories into an incandescent whole, achieving a new understanding of her family's past and her own present.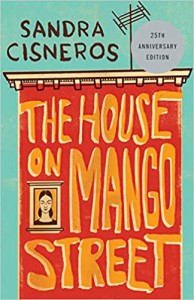 The House on Mango Street
By Sandra Cisneros
Acclaimed by critics, beloved by readers of all ages, taught everywhere from inner-city grade schools to universities across the country, and translated all over the world, The House on Mango Street is the remarkable story of Esperanza Cordero. Told in a series of vignettes – sometimes heartbreaking, sometimes deeply joyous – it is the story of a young Latina girl growing up in Chicago, inventing for herself who and what she will become. Few other books in our time have touched so many readers.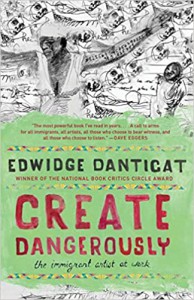 Create Dangerously
By Edwidge Danticat
In this deeply personal book, the celebrated Haitian-American writer Edwidge Danticat reflects on art and exile. Inspired by Albert Camus and adapted from her own lectures for Princeton University's Toni Morrison Lecture Series, here Danticat tells stories of artists who create despite (or because of) the horrors that drove them from their homelands. Combining memoir and essay, these moving and eloquent pieces examine what it means to be an artist from a country in crisis.
-30-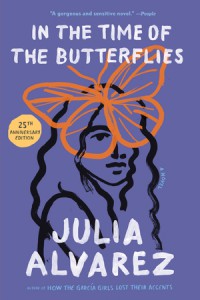 It started with Patria wanting to be a nun. Mamá was all for having a religion in the family, but Papá did not approve in the least. More than once, he said that Patria as a nun would be a waste of a pretty girl. He only said that once in front of Mamá, but he repeated it often enough to me.
Finally, Papá gave in to Mamá. He said Patria could go away to a convent school if it wasn't one just for becoming a nun. Mamá agreed.
So, when it came time for Patria to go down to Inmaculada Concepción, I asked Papa if I could go along. That way I could chaperone my older sister, who was already a grown-up señorita. (And she had told me all about how girls become senoritas, too.)
Papa laughed, his eyes flashing proudly at me. The others said I was his favorite. I don't know why since I was the one always standing up to him. He pulled me to his lap and said, "And who is going to chaperone you?"
"Dedé," I said, so all three of us could go together. He pulled a long face. "If all my little chickens go, what will become of me?"
I thought he was joking, but his eyes had their serious look. "Papá," I informed him, "you might as well get used to it. In a few years, we're all going to marry and leave you."
For days he quoted me, shaking his head sadly and concluding, "A daughter is a needle in the heart."
Mama didn't like him saying so. She thought he was being critical because their only son had died a week after he was born. And just three years ago, Maria Teresa was bom a girl instead of a boy. Anyhow, Mama didn't think it was a bad idea to send all three of us away. "Enrique, those girls need some learning. Look at us." Mamá had never admitted it, but I suspected she couldn't even read.
"What's wrong with us?" Papá countered, gesturing out the window where wagons waited to be loaded before his warehouses. In the last few years, Papá had made a lot of money from his farm. Now we had class. And, Mama argued, we needed the education to go along with our cash.
Papa caved in again, but said one of us had to stay to help mind the store. He always had to add a little something to whatever Mamá came up with. Mama said he was just putting his mark on everything so no one could say Enrique Mirabal didn't wear the pants in his family.
I knew what he was up to all right. When Papa asked which one of us would stay as his little helper, he looked directly at me.
I didn't say a word. I kept studying the floor like maybe my school lessons were chalked on those boards. I didn't need to worry. Dedé always was the smiling little miss. "I'll stay and help, Papá."
Papá looked surprised because really Dedé was a year older than me. She and Patria should have been the two to go away. But then, Papá thought it over and said Dedé could go along, too. So it was settled, all three of us would go to Inmaculada Concepción. Me and Patria would start in the fall, and Dedé would follow in January since Papá wanted the math whiz to help with the books during the busy harvest season.
And that's how I got free. I don't mean just going to sleepaway school on a train with a trunkful of new things. I mean in my head after I got to Inmaculada and met Sinita and saw what happened to Lina and realized that I'd just left a small cage to go into a bigger one, the size of our whole country." (page 11-13)
###
Empezó con Patria que quería ser monja. Mamá estaba entusiasmada con tener una religiosa en la familia, pero papá no aprobaba la idea. Más de una vez dijo que Patria monja sería un desperdicio, pues era muy bonita. Sólo lo dijo una vez delante de mamá, pero a mí me lo repitió muchas veces. 
Por fin, papá cedió. Dijo que Patria podía ir a la escuela religiosa si no era sólo un convento. Mamá estuvo de acuerdo. 
Así que cuando llegó el momento de que Patria fuera a la Inmaculada Concepción, le pregunté a papá si yo también podía ir. De esa manera podía acompañar y cuidar a mi hermana mayor, que ya era una señorita. (Y me había contado cómo las muchachas se hacen señoritas) 
Papá se rió, y se le iluminaron los ojos de orgullo. Las otras decían que yo era su favorita. No sé por qué, pues yo era la única que le hacía frente. Me sentó en su falda 
-¿y quién te cuidará a tí?-me preguntó. 
-Dedé- dije, para que las tres fuéramos juntas. Él puso la cara larga. 
-Si todas mis pollitas se van, ¿qué será de mí? 
Pensé que estaba bromeando, pero estaba serio. 
-Papá- le informé- es mejor que te acostumbres. En unos cuantos años todas nos casaremos y nos iremos. 
Durante días citó mis palabras, meneando la cabeza. 
-una hija es una espina en el corazón.
-A mamá no le gustaba que dijera eso. Pensaba que lo decía porque su único hijo había muerto a la semana de nacer. Y hacía sólo tres años había nacido otra niña, María Teresa, y no un varón. De todos modos, mamá no pensaba que era una mala idea enviarnos a las tres a la escuela. 
– Enrique, estas niñas necesitan educación. Fíjate en nosotros.-Mamá nunca lo había admitido, pero yo sospechaba que no sabía leer. 
-¿qué hay de malo con nosotros?- con un ademán papá señaló la ventana, a través de la cual se veían los carros que esperaban su carga frente a nuestro depósito. En los últimos años, papá había ganado mucho dinero con su granja. Ahora teníamos clase. Y, argumentaba mamá, necesitábamos una buena educación para acompañar nuestra fortuna. 
Papá volvió a ceder, pero aclaró que una de nosotras debía quedarse para ayudar con la tienda. Siempre debía agregar algo a lo que decía mamá. Según mamá, lo hacía para que nadie dijera que Enrique Mirabal no era el que llevaba los pantalones en la familia. 
Yo me di cuenta muy bien de lo que se proponía.  Cuando papá nos preguntó cuál de nosotras se quedaría como su ayudante, me miró directamente a mí. 
Yo no dije ni una palabra. Seguí estudiando el piso como si las lecciones de la escuela estuvieran escritas en la madera. No necesitaba preocuparme. Dedé siempre se esforzaba por complacer. 
-Yo me quedaré a ayudar, papá 
-Papá se mostró sorprendido porque de hecho Dedé era un año mayor que yo. Ella y Patria eran las que debían ir. Pero papá lo pensó mejor y dijo que Dedé también podía ir. Así que quedó arreglado: las tres iríamos a la Inmaculada Concepción. Patria y yo empezaríamos en el otoño, y Dedé se nos reuniría en enero, pues quería que la luz en matemática lo ayudara con los libros durante la atareada estación de la cosecha.  
Y así fue como quedé en liberta. No me refiero al hecho de que fui en tren, con un baúl lleno de cosas nuevas, como pupila a una escuela. Quiero decir en mi mente, cuando llegué a la Inmaculada y conocí a Sinita y vi lo que le pasaba a Lina y me di cuenta de que acababa de abandonar una jaula pequeña para entrar en una más grande, del tamaño de nuestro país.» (11-13)
– 30 -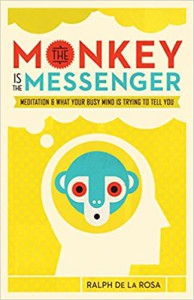 The Monkey is the Messenger : Meditation and What Your Busy Mind is Trying To Tell You
by Ralph De la Rosa
Offers a range of evidence-based, somatic, and trauma-informed insights and practices drawn from De La Rosa's study of neuroscience and psychology and his long practice of meditation and yoga, and a remedy for all those who want to meditate but suppose they can't because they think too much.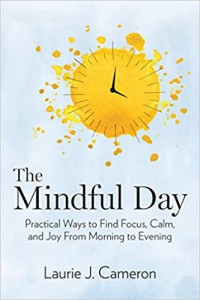 The Mindful Day : Practical Ways to Find Focus, Calm, and Joy from Morning to Evening
by Laurie Cameron
For overscheduled professionals looking to incorporate mindfulness into their daily lives, this step-by-step guide draws on contemplative traditions, modern neuroscience, and leading psychology to bring peace and focus to the home, in the workplace, and beyond. At the pinnacle of the digital age, it's hard to imagine packing one more thing into our overwhelmed lives. But new research shows that simple daily exercises can change the way our brains work, improve focus, boost productivity, lift our mood, and help us develop greater resilience. In this enriching book, noted teacher and mindfulness expert Laurie Cameron – a veteran of Google's Search Inside Yourself Leadership Institute – shows how to seamlessly integrate mindfulness practice into your life. Timeless teachings and straightforward exercises designed for busy schedules — from the morning commute to back-to-back meetings to family dinners – show how mindfulness practice can help you navigate any situation with control and clarity. Cameron's practical wisdom and concrete how-to steps will help you make the most of the present moment, creating a roadmap for inner peace – and a life of deeper purpose and joy"– Provided by publisher.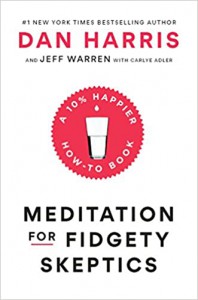 Meditation for Fidgety Skeptics : a 10% Happier How-To Book
by Dan Harris
Harris and Warren present a practical guide to meditation that debunks the myths, misconceptions, and self-deceptions that make many people reluctant to try it. They suggest a range of meditation practices that may lower your blood pressure, mitigate depression and anxiety, and literally rewire key parts of your brain.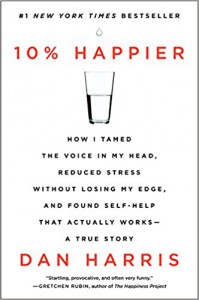 by Dan Harris
"I wrote a memoir about a fidgety, skeptical newsman who reluctantly becomes a meditator to deal with his issues – and in the process of publishing it, I occasionally, to my embarrassment, found myself failing to practice what I preach. I was kind of like a dog that soils the rug, and the universe kept shoving my face into it." In 2014, Dan Harris published his memoir 10% Happier. The book—which describes his reluctant embrace of meditation after a drug problem, an on-air freak-out, and an unplanned "spiritual" journey—became an instant bestseller and Dan, to his own surprise, became a public evangelist for mindfulness. Hoist on My Own Petard is the story of what happens to Dan Harris after the runaway success of his memoir and the lessons he had to (re)learn in the process.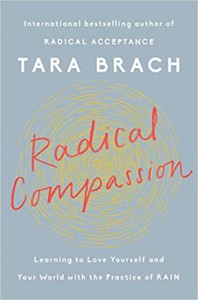 Radical Compassion : Learning to Love Yourself and Your World With the Practice of RAIN
by Tara Brach
Recognize. Allow. Investigate. Nurture. RAIN meditation is a easy-to-learn program that can help practitioners loosen the grip of difficult emotions and limiting beliefs. Brach shares reflections and practices that, over time, can help you feel feeling of unworthiness and teach you to trust your own innate strength and goodness.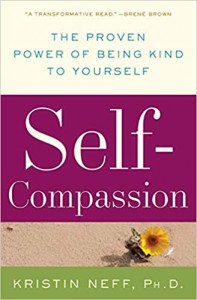 By Kristin Neff
Kristin Neff, Ph.D., says that it's time to "stop beating yourself up and leave insecurity behind." Self-Compassion: Stop Beating Yourself Up and Leave Insecurity Behind offers expert advice on how to limit self-criticism and offset its negative effects, enabling you to achieve your highest potential and a more contented, fulfilled life.More and more, psychologists are turning away from an emphasis on self-esteem and moving toward self-compassion in the treatment of their patients—and Dr. Neff's extraordinary book offers exercises and action plans for dealing with every emotionally debilitating struggle, be it parenting, weight loss, or any of the numerous trials of everyday living.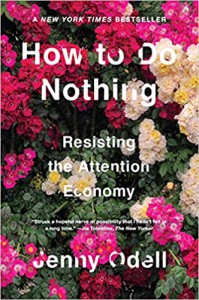 How to Do Nothing : Resisting the Attention Economy
by Jenny Odell
A galvanizing critique of the forces vying for our attention–and our personal information–that redefines what we think of as productivity, reconnects us with the environment, and reveals all that we've been too distracted to see about ourselves and our world. Nothing is harder to do these days than nothing. But in a world where our value is determined by our 24/7 data productivity … doing nothing may be our most important form of resistance. So argues artist and critic Jenny Odell, who sees our attention as the most precious–and overdrawn–resource we have. Once we can start paying a new kind of attention, she writes, we can undertake bolder forms of political action, reimagine our role in the environment, and arrive at more meaningful understandings of happiness and progress. Far from a simple anti-technology screed or back-to-nature meditation, How to Do Nothing is an action plan for thinking outside of the narratives of efficiency and techno-determinism. Provocative, timely, and utterly persuasive, this book is a four-course meal in the age of Soylent.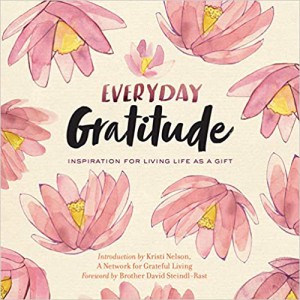 by Network for Grateful Living (COR), Nelson, Kristi (INT), Steindl-Rast, Brother David (FRW)
A Network for Grateful Living curates this collection of quotes and reflections aiming to help you discover that the roots of happiness lie in gratefulness. Inspiration from well-known minds such as Maya Angelou, Confucius, and Anne Frank is combined with original reflections and practices that will help you recognize the abundance of everyday opportunities for gratitude and joy. Hand-lettered art makes this beautifully designed collection a gift to treasure, regardless of whether you keep it for yourself or give it to a loved one.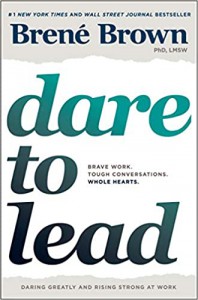 Dare to Lead : Brave Work, Tough Conversations, Whole Hearts
by  Brene Brown
Leadership is not about titles, status, and wielding power. A leader is anyone who takes responsibility for recognizing the potential in people and ideas, and has the courage to develop that potential. When we dare to lead, we don't pretend to have the right answers. We stay curious and ask the right questions. We don't see power as finite and hoard it. We know that power becomes infinite when we share it with others. We don't avoid difficult conversations and situations. We lean into vulnerability when it's necessary to do good work. But daring leadership in a culture defined by scarcity, fear, and uncertainty requires skill-building around traits that are deeply and uniquely human. The irony is that we're choosing not to invest in developing the hearts and minds of leaders at the exact same time as we're scrambling to figure out what we have to offer that machines and artificial intelligence can't do better and faster. What can we do better? Empathy, connection, and courage, to start. Brené Brown has spent the past two decades studying the emotions and experiences that give meaning to our lives, and the past seven years working with transformative leaders and teams spanning the globe. She found that leaders in organizations ranging from small entrepreneurial startups and family-owned businesses to nonprofits, civic organizations, and Fortune 50 companies all ask the same question: How do you cultivate braver, more daring leaders, and how do you embed the value of courage in your culture?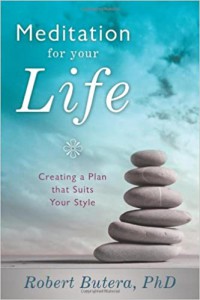 by Robert Butera
A step toward peace of mind is a step in the right direction The benefits of meditation are boundless: reduced stress and pain, peace of mind, and an improved sense of resilience. But which style of meditation is right for you? Meditation for Your Life explains the six basic forms of meditation and helps you identify which ones suit you best. Robert Butera, PhD, guides you in establishing a meditation practice based on your person-ality type, life experience, and personal preferences. The six types of meditation are: Breath Visualization Mantra Devotion, prayer, or intentionality Mindfulness Contemplative inquiry Prepare your mind with relaxation exercises, conscious breathing, and positive thinking. Discover the six basic forms of meditation, and identify the techniques that work best for you. Use guided questions, exercises, and journaling to personalize your practice. Learn what steps you can take to stay motivated and consistent over time, and let the benefits of meditation blossom for your entire life.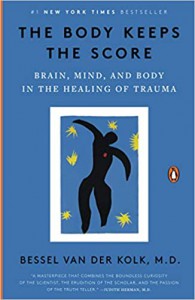 by Bessel Van Der Kolk
An expert on traumatic stress outlines an approach to healing, explaining how traumatic stress affects brain processes and how to use innovative treatments to reactivate the mind's abilities to trust, engage others, and experience pleasure.
-30-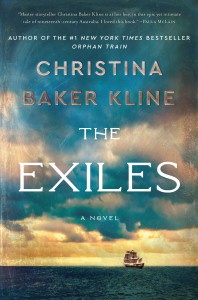 The Exiles
A powerful, emotionally resonant novel that captures the hardship, oppression, opportunity and hope of four women's lives—three English convicts and an orphaned Aboriginal girl—in nineteenth-century Australia.
While most English convicts transported to Australia were men, 25,000 were women. Kline explores the development of Australia from a fresh perspective, telling the story of this fascinating, blood-soaked land and its legacy with the grace, beauty, empathy, and insight—and the rich, full-bodied characters—that are the hallmarks of her work.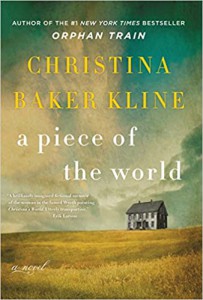 A Piece of the World
To Christina Olson, the entire world was her family's remote farm in the small coastal town of Cushing, Maine. Born in the home her family had lived in for generations, and increasingly incapacitated by illness, Christina seemed destined for a small life. Instead, for more than twenty years, she was host and inspiration for the artist Andrew Wyeth, and became the subject of one of the best known American paintings of the twentieth century. Bringing into focus the flesh-and-blood woman behind the portrait, she vividly imagines the life of a woman with a complicated relationship to her family and her past, and a special bond with one of our greatest modern artists. Told in evocative and lucid prose, A Piece of the World is a story about the burdens and blessings of family history, and how artist and muse can come together to forge a new and timeless legacy.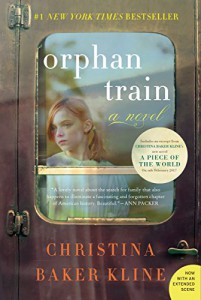 Orphan Train
Between 1854 and 1929, so-called orphan trains ran regularly from the cities of the East Coast to the farmlands of the Midwest, carrying thousands of abandoned children whose fates would be determined by pure luck. Would they be adopted by a kind and loving family, or would they face a childhood and adolescence of hard labor and servitude? As a young Irish immigrant, Vivian Daly was one such child, sent by rail from New York City to an uncertain future a world away. Moving between contemporary Maine and Depression-era Minnesota, Orphan Train is a powerful tale of upheaval and resilience, second chances, and unexpected friendship.
For more information about Christina Baker Kline's book, click here.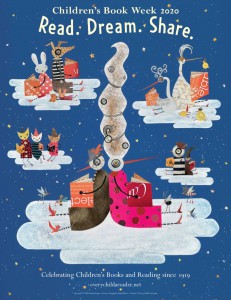 You don't have to convince anyone over at HPL about the magic and fun of great children's books. We love the idea of heading off on an adventure, or having a good laugh, or being inspired by great people's lives.
Denise Martens, HPL's head children's librarian, has put together a list of books that do just that. Learn all about the animals in the forest and about the greatness of Kobe Bryant. Read the story of Black life in America. Immerse yourself in a rainbow dream world. And have a laugh with the newest installment of Diary of a Wimpy Kid.
All available at HPL!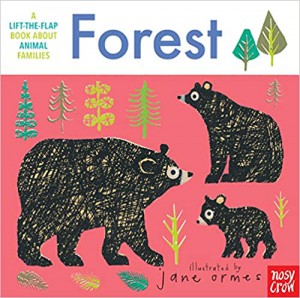 Animal Families: Forest
By Nosy Crow
Illustrated by Jane Ormes
Find out the different names for mother and father animals that live in the forest — and then lift the flap to find the babies and learn what they are called. This striking, satisfying introduction to animal families features screen-printed artwork and bold neon ink to capture the attention and imagination of babies and toddlers.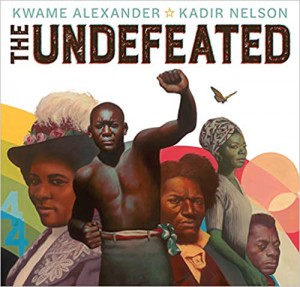 The Undefeated
By Kwame Alexnader
Illustrated by Kadir Nelson
The Newbery Award-winning author of THE CROSSOVER pens an ode to black American triumph and tribulation, with art from a two-time Caldecott Honoree. Originally performed for ESPN's The Undefeated, this poem is a love letter to black life in the United States. It highlights the unspeakable trauma of slavery, the faith and fire of the civil rights movement, and the grit, passion, and perseverance of some of the world's greatest heroes. The text is also peppered with references to the words of Martin Luther King, Jr., Langston Hughes, Gwendolyn Brooks, and others, offering deeper insights into the accomplishments of the past, while bringing stark attention to the endurance and spirit of those surviving and thriving in the present.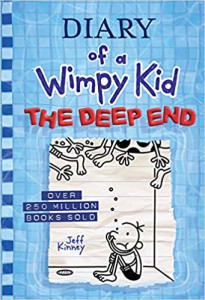 The Deep End (Diary of a Wimpy Kid Book 15)
By Jeff Kinney
In The Deep End, book 15 of the Diary of a Wimpy Kid series from #1 international bestselling author Jeff Kinney, Greg Heffley and his family hit the road for a cross-country camping trip, ​ready for the adventure of a lifetime. But things take an unexpected turn, and they find themselves stranded at an RV park that's not exactly a summertime paradise. When the skies open up and the water starts to rise, the Heffleys wonder if they can save their vacation—or if they're already in too deep.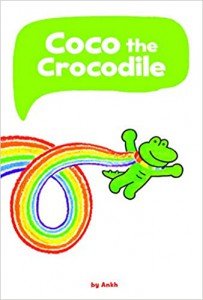 Coco the Crocodile
By Ankh
Bunny becomes fast friends with Coco the Crocodile in a rainbow dream world. But what happens when Coco comes to life in Bunny's real world? Find out in this wordless graphic novel where the artwork brings the story to life.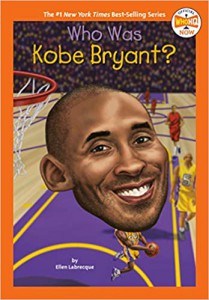 Who Is Kobe Bryant?
By Ellen Labrecque
Kobe Bryant was just an eighteen-year-old high-school basketball player when he decided to enter the National Basketball Association's draft. Though he was the thirteenth overall pick by the Charlotte Hornets, he would never play a single game for them. Instead, Kobe was traded to the Los Angeles Lakers, where he would spend his entire twenty-season career, winning five championships and numerous awards. Author Ellen Labreque takes readers through each exciting moment, from his iconic dunks to his 81-point game–all the milestones that span Kobe Bryant's legendary career and legacy.
-30-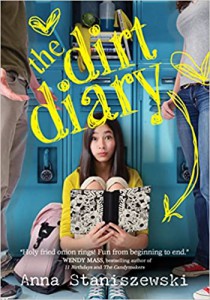 The Dirt Diary by Anna Staniszewski
A hilarious tale about the weight of responsibility that comes from a secret-filled diary…
Rachel can't believe she has to give up her Saturdays to scrubbing other people's toilets. So. Gross. But she kinda, sorta stole $287.22 from her college fund that she's got to pay back ASAP or her mom will ground her for life. But Rachel picks up more than smelly socks on the job. As maid to some of the most popular kids in school, Rachel suddenly has all the dirt on the 8th grade in-crowd. Her formerly boring diary is now filled with juicy secrets. And when her crush offers to pay her to spy on his girlfriend, Rachel has to decide if she's willing to get her hands dirty…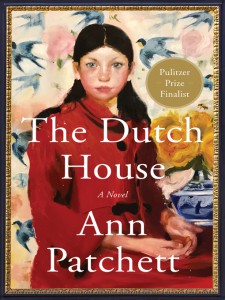 The Dutch House by Ann Patchett
Finalist for the Pulitzer Prize
Ann Patchett, the #1 New York Times bestselling author of Commonwealth, delivers her most powerful novel to date: a richly moving story that explores the indelible bond between two siblings, the house of their childhood, and a past that will not let them go. The Dutch House is the story of a paradise lost, a tour de force that digs deeply into questions of inheritance, love and forgiveness, of how we want to see ourselves and of who we really are.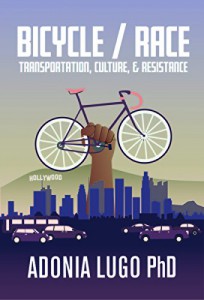 Bicycle/Race: Transportation, Culture, & Resistance by Adonia E. Lugo
Bicycle/Race paints an unforgettable picture of Los Angeles—and the United States—from the perspective of two wheels. This is a book of borderlands and intersections, a cautionary tale about the dangers of putting infrastructure before culture, and a coming-of-age story about power and identity. In the tradition of City of Quartz, this book will forever change the way you see Los Angeles, race and class in the United States, and the streets and people around you wherever you live.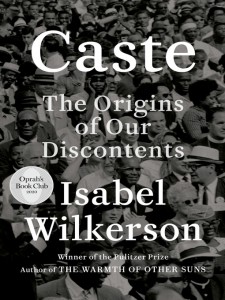 Caste: The Origins of Our Discontents by Isabel Wilkerson
In this brilliant book, Isabel Wilkerson gives us a masterful portrait of an unseen phenomenon in America as she explores, through an immersive, deeply researched narrative and stories about real people, how America today and throughout its history has been shaped by a hidden caste system, a rigid hierarchy of human rankings. Beautifully written, original, and revealing, Caste: The Origins of Our Discontents is an eye-opening story of people and history, and a reexamination of what lies under the surface of ordinary lives and of American life today.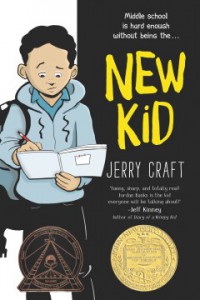 Winner of the Newbery Medal, Coretta Scott King Author Award, and Kirkus Prize for Young Readers' Literature! 
Seventh grader Jordan Banks loves nothing more than drawing cartoons about his life. But instead of sending him to the art school of his dreams, his parents enroll him in a prestigious private school known for its academics, where Jordan is one of the few kids of color in his entire grade.
As he makes the daily trip from his Washington Heights apartment to the upscale Riverdale Academy Day School, Jordan soon finds himself torn between two worlds—and not really fitting into either one. Can Jordan learn to navigate his new school culture while keeping his neighborhood friends and staying true to himself?
This middle grade graphic novel is an excellent choice for tween readers, including for summer reading.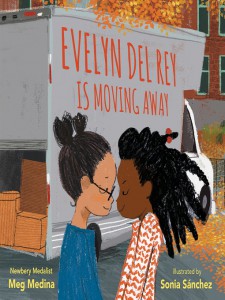 Evelyn Del Rey Is Moving Away by Meg Medina, illustrated by Sonia Sánchez
From Newbery Medalist Meg Medina comes the bittersweet story of two girls who will always be each other's número uno, even though one is moving away.
Evelyn Del Rey is Daniela's best friend. They do everything together and even live in twin apartments across the street from each other: Daniela with her mami and hamster, and Evelyn with her mami, papi, and cat. But not after today—not after Evelyn moves away. Until then, the girls play amid the moving boxes until it's time to say goodbye, making promises to keep in touch, because they know that their friendship will always be special. The tenderness of Meg Medina's beautifully written story about friendship and change is balanced by Sonia Sánchez's colorful and vibrant depictions of the girls' urban neighborhood.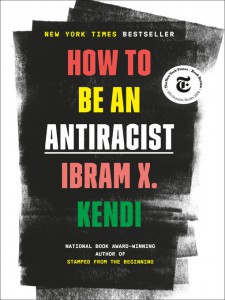 How To Be An Antiracist by Ibram X. Kendi
In How to Be an Antiracist, Kendi takes readers through a widening circle of antiracist ideas—from the most basic concepts to visionary possibilities—that will help readers see all forms of racism clearly, understand their poisonous consequences, and work to oppose them in our systems and in ourselves. Kendi weaves an electrifying combination of ethics, history, law, and science with his own personal story of awakening to antiracism. This is an essential work for anyone who wants to go beyond the awareness of racism to the next step: contributing to the formation of a just and equitable society.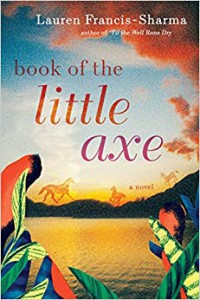 Book of the Little Axe by Lauren Francis-Sharma
Ambitious and masterfully-wrought, Lauren Francis-Sharma's Book of the Little Axe is an incredible journey, spanning decades and oceans from Trinidad to the American West during the tumultuous days of warring colonial powers and westward expansion.
In 1796 Trinidad, young Rosa Rendón quietly but purposefully rebels against the life others expect her to lead. Bright, competitive, and opinionated, Rosa sees no reason she should learn to cook and keep house, for it is obvious her talents lie in running the farm she, alone, views as her birthright. But when her homeland changes from Spanish to British rule, it becomes increasingly unclear whether its free black property owners―Rosa's family among them―will be allowed to keep their assets, their land, and ultimately, their freedom.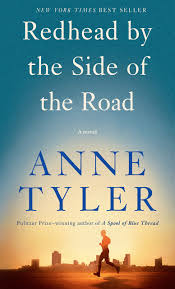 Redhead by the Side of the Road by Anne Tyler
INSTANT NEW YORK TIMES BEST SELLER
LONGLISTED FOR THE BOOKER PRIZE
From the beloved Anne Tyler, a sparkling new novel about misperception, second chances, and the sometimes elusive power of human connection.
Micah Mortimer is a creature of habit. A self-employed tech expert, superintendent of his Baltimore apartment building, cautious to a fault behind the steering wheel, he seems content leading a steady, circumscribed life. But one day his routines are blown apart when his woman friend (he refuses to call anyone in her late thirties a "girlfriend") tells him she's facing eviction, and a teenager shows up at Micah's door claiming to be his son. These surprises, and the ways they throw Micah's meticulously organized life off-kilter, risk changing him forever. An intimate look into the heart and mind of a man who finds those around him just out of reach, and a funny, joyful, deeply compassionate story about seeing the world through new eyes, Redhead by the Side of the Road is a triumph, filled with Anne Tyler's signature wit and gimlet-eyed observation.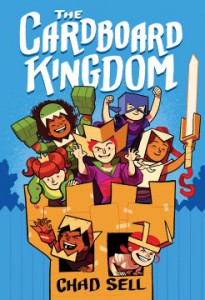 The Cardboard Kingdom by Chad Sell
Welcome to a neighborhood of kids who transform ordinary boxes into colorful costumes, and their ordinary block into cardboard kingdom. This is the summer when sixteen kids encounter knights and rogues, robots and monsters–and their own inner demons–on one last quest before school starts again.
In the Cardboard Kingdom, you can be anything you want to be–imagine that!
The Cardboard Kingdom affirms the power of imagination and play during the most important years of adolescent identity-searching and emotional growth.
NAMED ONE OF THE BEST BOOKS OF THE YEAR BY KIRKUS REVIEWS * THE NEW YORK PUBLIC LIBRARY * SCHOOL LIBRARY JOURNAL * A TEXAS BLUEBONNET 2019-20 MASTER LIST SELECTION
-30-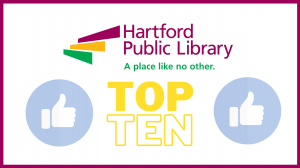 1 – The Darwin Affair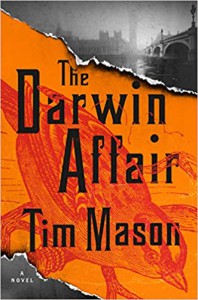 London, June 1860: When an assassination attempt is made on Queen Victoria, and a petty thief is gruesomely murdered moments later—and only a block away—Chief Detective Inspector Charles Field quickly surmises that these crimes are connected to an even more sinister plot. Was Victoria really the assassin's target? Are those closest to the Crown hiding something? And who is the shadowy figure witnesses describe as having lifeless, coal-black eyes?
2 – The Vanishing Half by Brit Bennett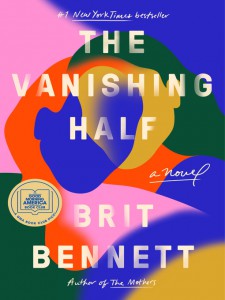 From The New York Times-bestselling author of The Mothers, a stunning new novel about twin sisters, inseparable as children, who ultimately choose to live in two very different worlds, one black and one white.
3 – Midnight Sun: Twilight Series, Book 5 by Stephenie Meyer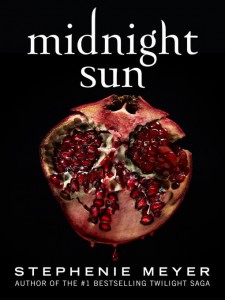 When Edward Cullen and Bella Swan met in Twilight, an iconic love story was born. But until now, fans have heard only Bella's side of the story. At last, readers can experience Edward's version in the long-awaited companion novel, Midnight Sun.
4 – The Other Wes Moore: One Name, Two Fates by Wes Moore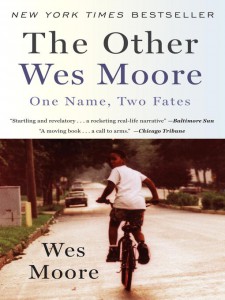 Two kids named Wes Moore were born blocks apart within a year of each other. Both grew up fatherless in similar Baltimore neighborhoods and had difficult childhoods; both hung out on street corners with their crews; both ran into trouble with the police. How, then, did one grow up to be a Rhodes Scholar, decorated veteran, White House Fellow, and business leader, while the other ended up a convicted murderer serving a life sentence?
5 – How to Be an Antiracist by Ibram X. Kendi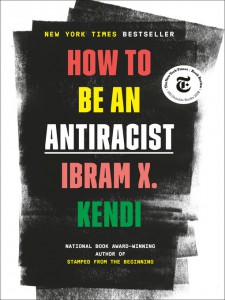 From the National Book Award–winning author of Stamped from the Beginning comes a "groundbreaking" (Time) approach to understanding and uprooting racism and inequality in our society—and in ourselves. "The most courageous book to date on the problem of race in the Western mind."—The New York Times
6 – The War of the Worlds by H.G. Wells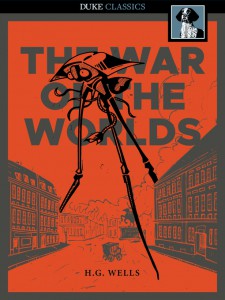 Causing mass hysteria as listeners of its 1938 radio broadcast believed a Martian invasion of Earth really was taking place, H. G. Wells' The War of the Worlds is perhaps the most famous novel of its genre. This 1898 story has spawned films, radio and television series and comic-book adaptions, and its popularity endures today.
7 – Caste: The Origins of Our Discontents by Isabel Wilkerson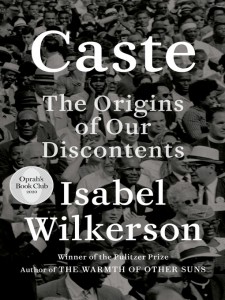 In this brilliant book, Isabel Wilkerson gives us a masterful portrait of an unseen phenomenon in America as she explores, through an immersive, deeply researched narrative and stories about real people, how America today and throughout its history has been shaped by a hidden caste system, a rigid hierarchy of human rankings.
8 – The Distance Between Us by Kasie West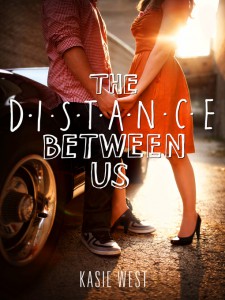 Seventeen-year-old Caymen Meyers learned early that the rich are not to be trusted. Enter Xander Spence–he's tall, handsome, and oozing rich. Despite the fact that he seems to be one of the first people who actually gets her, she's smart enough to know his interest won't last. But just when Xander's loyalty and attentiveness are about to convince Caymen that being rich isn't a character flaw, she finds out that money is a much bigger part of their relationship than she'd ever realized. With so many obstacles standing in their way, can she close the distance between them?
9 – Playing in the Dark by Toni Morrison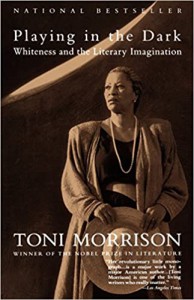 An immensely persuasive work of literary criticism that opens a new chapter in the American dialogue on race — and promises to change the way we read American literature. Morrison shows how much the themes of freedom and individualism, manhood and innocence, depended on the existence of a black population that was manifestly unfree—and that came to serve white authors as embodiments of their own fears and desires.
10 – The New Jim Crow: Mass Incarceration in the Age of Colorblindness by Michelle Alexander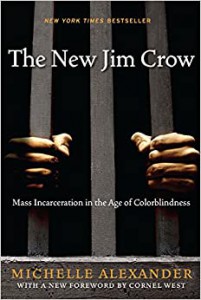 Seldom does a book have the impact of Michelle Alexander's The New Jim Crow. Since it was first published in 2010, it has been cited in judicial decisions and has been adopted in campus-wide and community-wide reads; it helped inspire the creation of the Marshall Project and the new $100 million Art for Justice Fund; it has been the winner of numerous prizes, including the prestigious NAACP Image Award; and it has spent nearly 250 weeks on the New York Times bestseller list.
BECAUSE THERE WERE SO MANY GOOD CHOICES WE DECIDED TO GIVE YOU FIVE MORE!
11 – Untamed by Glennon Doyle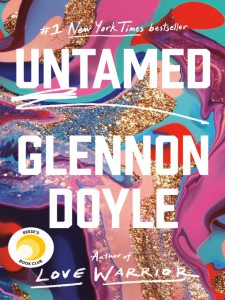 There is a voice of longing inside each woman. We strive so mightily to be good: good partners, daughters, mothers, employees, and friends. We hope all this striving will make us feel alive. Instead, it leaves us feeling weary, stuck, overwhelmed, and underwhelmed. We look at our lives and wonder: Wasn't it all supposed to be more beautiful than this?
12 – Too Much and Never Enough: How My Family Created The World's Most Dangerous Man by Mary Trump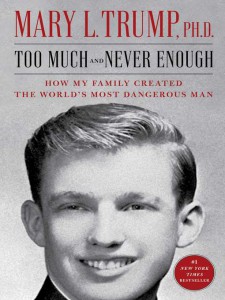 In this revelatory, authoritative portrait of Donald J. Trump and the toxic family that made him, Mary L. Trump, a trained clinical psychologist and Donald's only niece, shines a bright light on the dark history of their family in order to explain how her uncle became the man who now threatens the world's health, economic security, and social fabric.
13 – The Hate U Give by Angie Thomas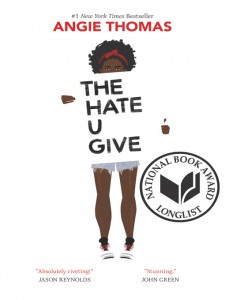 Sixteen-year-old Starr Carter moves between two worlds: the poor neighborhood where she lives and the fancy suburban prep school she attends. The uneasy balance between these worlds is shattered when Starr witnesses the fatal shooting of her childhood best friend Khalil at the hands of a police officer. Khalil was unarmed. What Starr does—or does not—say could upend her community. It could also endanger her life.
14 – Where the Crawdads Sing by Delia Owens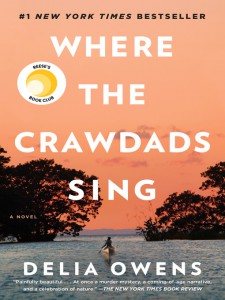 Where the Crawdads Sing is at once an exquisite ode to the natural world, a heartbreaking coming-of-age story, and a surprising tale of possible murder. Owens reminds us that we are forever shaped by the children we once were, and that we are all subject to the beautiful and violent secrets that nature keeps.
15 – Twice in a Blue Moon by Christina Lauren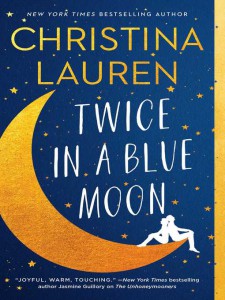 From the New York Times bestselling author of The Unhoneymooners and the "delectable, moving" (Entertainment Weekly) My Favorite Half-Night Stand comes a modern love story about what happens when your first love reenters your life when you least expect it.
-30-