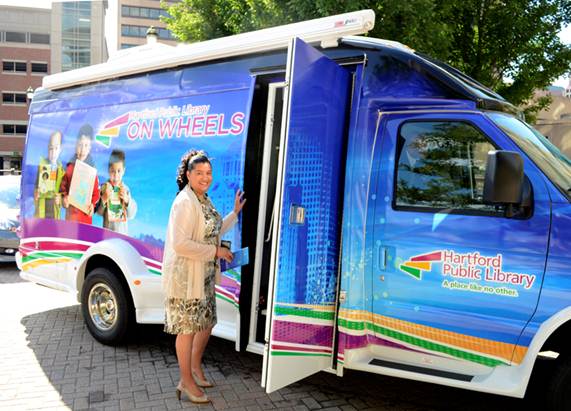 Greater Hartford! Join HPL for a week-long celebration for National Library Week, April 13 – 19, 2014, in our nine branches, Downtown Library, and online. The theme of this year's celebration is "Lives change @ your library."
Begun in 1958, National Library Week is a national observance sponsored by the American Library Association (ALA) and libraries across the country each April. It is a time to celebrate the contributions of our nation's libraries and librarians and to promote library use and support. All types of libraries – school, public, academic and special – participate.
In Hartford, the public will have multiple opportunities to celebrate in a variety of mediums:
HPL's new Library on Wheels will travel throughout city neighborhoods making stops outside each of the Library's nine branches. Residents are invited to sign up for a library card and learn about the services Library on Wheels provides.'
Kids of all ages are invited to participate in an art contest at their local branch by creating a poster illustrating the theme: "What the Library Means to Me!" Winners will be chosen the following week, and one winner from each branch will receive a special prize.
This year, Library Week goes virtual, with a collaborative social media project called "#HPseLfies". Visitors are encouraged to take selfies while at the library and upload to Facebook, Twitter, or Instagram with the hashtag "#HPseLfie." Pics will be compiled into a photo-collage which will be reposted on the Library blog and throughout its social media channels.
Wednesday, April 16, join HPL Downtown for "More than Books: Libraries, Community & Historic Preservation," a presentation and discussion with historian William Hosley. The event will revisit 200 years of American libraries and the changes in mission and practice brought on by technology and new community needs. This program is presented in partnership with the Auerbach Art Library at The Wadsworth Atheneum.
Kids visiting all Library Youth Departments will receive fun free giveaways all week long!
The Library on Wheels can be found in the community at the following days and times:
Monday, April 14
Blue Hills Branch: 3:00 – 3:45 p.m.
Albany Branch: 4:00 p.m. – 4:45 p.m.
Mark Twain Branch: 5:00 p.m. – 6:00 p.m.
Tuesday, April 15
Ropkins Branch: 3:00 p.m. – 3:45 p.m.
Barbour Branch: 4:00 p.m. – 5:00 p.m.
Wednesday, April 16
Dwight Branch: 3:00 p.m. – 3:45 p.m.
Park Branch: 4:00 p.m. – 5:00 p.m.
Thursday, April 17
Goodwin Branch: 3:00 p.m. – 3:45 p.m.
Campfield Branch: 4:00 p.m. – 5:00 p.m.
Saturday, April 19
Downtown Library: 10 AM – 4 PM
For more information on Hartford Public Library's National Library Week programs, please call 860-695-6352 or visit www.hplct.org.
Congrats to HPL Youth Services Manager Lina Osha-Williams, honored as an Immigrant of the Year at last week's Connecticut Immigrant Day ceremony at the state capitol! Her dedication to serving the Hartford community is truly inspiring, andwe're so proud to have her on our team.
Also honored at the ceremony: our Adult Learning Department staff, for their implementation of We Belong Here Hartford, a program that provides key support to immigrants new to America by linking them to programs and services available at both the Library and throughout the region.
Way to go, HPL!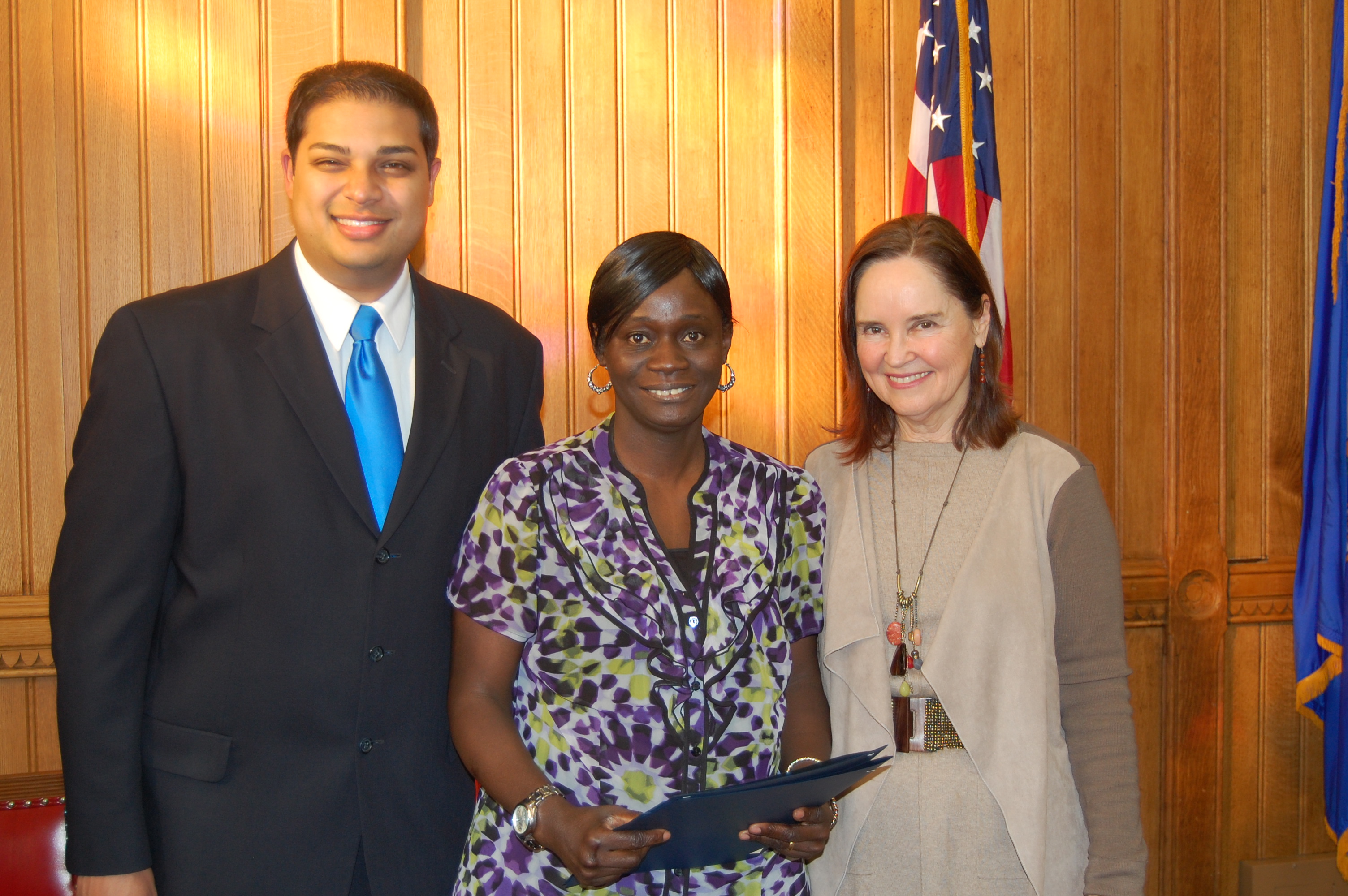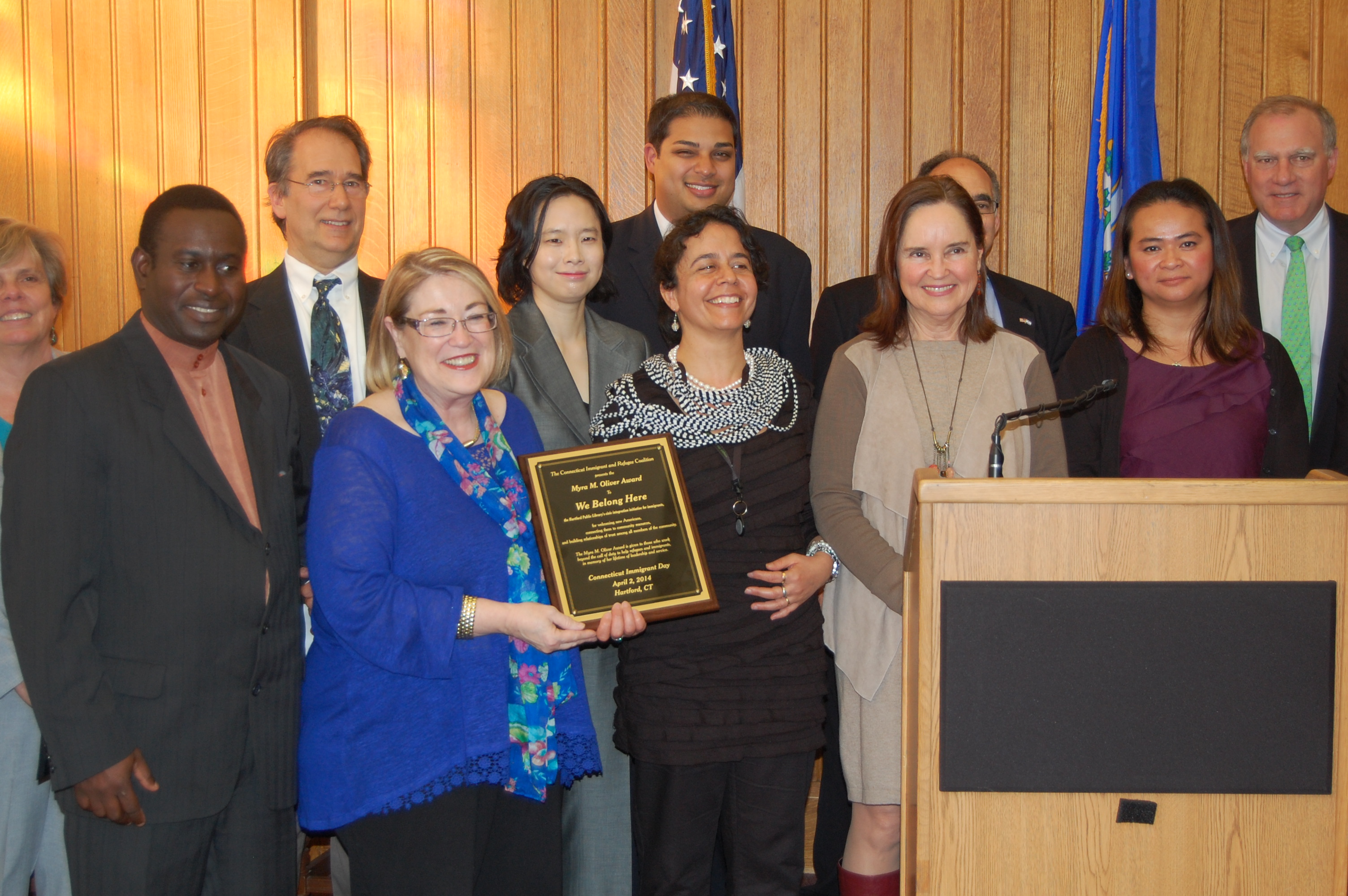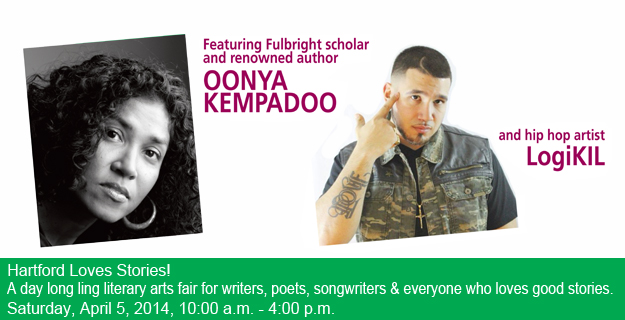 In partnership with Capital Community College and the Renzulli Academy of Hartford, Hartford Public Library will host Hartford Loves Stories, a local, homegrown literary arts fair on Saturday, April 15, 2014 that will engage a diverse and intergenerational audience in a celebration of creative expression in all its forms.  Held at the Library's Downtown location, the daylong event will include an "author village," writer workshops, a keynote speaker and an oral history component that pairs middle school student interviewers with key members of the community in an examination of three constructs – freedom, opportunity and equality – that will connect education to the arts and showcase the stories that continue to inspire us today.
Fulbright scholar and author Oonya Kempadoo will be the event's keynote speaker. Kempadoo is a Grenada-based writer and social development researcher and the author of three novels: Buxton Spice (1998); Tide Running (2001); and All Decent Animals (2013). Her works have been nominated for the International IMPAC Dublin Literary Awards, and she was the recipient of a prestigious 2002 Casa de las Américas prize. 
The day will include a variety of workshops and performances by local writers:
10:30-12 noon:  Prose-writing workshop with keynote speaker Oonya Kempadoo
10:30-12 noon:  "How to Get Published" workshop  with Kenneth DiMaggio, Professor of Humanities, Capital Community College
10:30-12 noon: "Book Arts in Action" with artist Anne Cubberly
10:30-12 noon:  Oral histories with a focus on freedom, opportunity and equality will be recorded. Contributors include:  Butch Lewis, Founder, Hartford Black Panthers; Wilson Faude, Hartford historian; Don Noel, former editor of the Hartford Times; and Ed Johnetta Miller, renowned quilter and storyteller. Interviewers will be conducted by 5th and 6th graders from Renzulli Academy, supervised by Lincoln Financial mentors.
12:30 – 1:30 p.m.:  Author Village and Open Mic
Alice Plouchard Stelzer
"Female Adventurers: The Women Who Helped
Colonize Massachusetts and Connecticut"
 

 

E. Diann Cook

"The Andersuns:  Keturah's Bedtime Story"
Francee Bouvenir
"Child's Dark Soul"
 

Neiima Rose

"Chasing Forgiveness: Abortion, a Life Sentence"
Sue Byars
"Close the Circle"
 

John B. Stewart. Jr.

"Hard Climb Up the Ladder"
Gary Rhule
"Sailing on Broken Pieces: Essential Survival Skills
For Recovery from Mental Illness"
 

 

Donna Wilkinson Maxwell

"My Heart in Time"
 

 

 

Craig Harris

"The Band: Pioneers of Americana Music"
 

 

 

Vjange Hazle

"The Scent of a Man"
 

 

 

Jayesh Patel

"Flannels on the Sward:  History of Cricket in the Americas"
 

 

 

Shema

"Our Story"
 

 

 

Tracy Caldwell/Mind Evolution

"Bare Naked"
1:30-2:30 p.m.: "Your Hartford Story in Three Acts" produced by Arthur Hernandez, teacher and composer. A spoken word poetry and hip-hop performance with Hartford native Logikill, followed by an open mic session.
2:30-4:00 p.m.:  Keynote speech by Oonya Kempadoo
All events will take place at the Downtown Library located at 500 Main Street, Hartford, and are free and open to the public. For more information, please visit www.hplct.org or call 860-695-6300.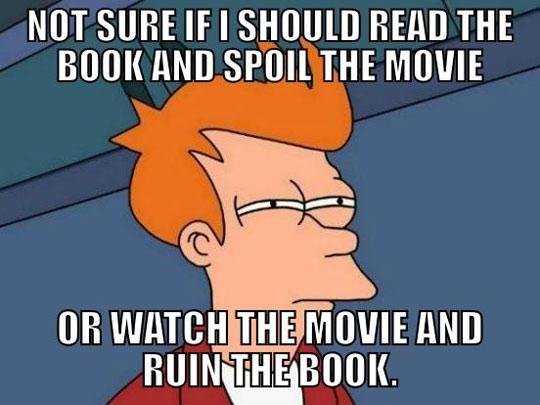 The Huffington Post has published a list of 15 books they believe should be made into movies. What do YOU think? Would you go see films made about these novels? Post your comments below!
Either way, it's a good bet to read the books first – you can never be too sure how they will translate over to the big screen. Click the links to find these books in our collection, and get reading!
The Corrections by Jonathan Franzen 
Franzen's National Book Award winner was slated to be adapted into an HBO show starring Anthony Hopkins, but unfortunately that never worked out. The book follows the lives of multiple family members, so its episodic nature lends itself to television, but it'd work well as a film, too. Scott Rudin optioned the rights to produce the film in 2001, but so far nothing has come of it. In 2002, Franzen wrote that he'd love to see the film star Gene Hackman as Alfred and Cate Blanchett as Denise.
Middlesex by Jeffrey Eugenides

Eugenides's first novel, The Virgin Suicides, was turned into a fantastic film directed by Sophia Coppola. We're not sure she'd be the best person to take on Middlesex, though, which is a more sprawling, less atmospheric story. Told from the vantage point of Cal (previously Calliope), an intersex character, it spans generations of the protagonist's familial history, from the Balkan Wars to the 12th Street riot in Detroit. The film industry could use a fresh perspective on gender identity, and this could be just the story to provide one.
Swamplandia! by Karen Russell
Russell's Pulitzer-nominated novel has the qualities of a darker fairy tale, and is a richly complex story that would translate well into film. We imagine a "Beasts of the Southern Wild"-type adaptation, in which the naivety of childhood is portrayed as both
hopeful and tragic. The comic relief provided by one of the book's narrators, Kiwi, would make the more harrowing elements of the story more palatable. Scott Rudin is supposedly adapting the film into an HBO series — we're keeping our fingers crossed.
Americanah by Chimamanda Ngozi Adichie
Adichie's story is a love story at heart, making it neatly adaptable for film. But it's also much more than that: It explores the nature of race in America and the military troubles in Nigeria. It's set not only in Lagos, but in London and, as its title implies, America. It's both thoughtful and funny — an ideal formula for adaptations.
The Interestings by Meg Wolitzer
The Interestings is the story of a group of friends who are all talented in various creative arts, and the ways in which their pursuits pan out as they get older. Some are wildly successful, while others must instead opt for more practical career paths. It'd make for an excellent drama; we're picturing the versatile Jessica Chastain as protagonist Jules, whose attempt to become a comedic actress is thwarted.
The Left Hand of Darkness by Ursula K. Le Guin
Le Guin's book was optioned to be made into a film and corresponding video game in 2004, but both have yet to come to fruition. It's a feminist work of science fiction, like Margaret Atwood's The Handmaid's Tale. Although Le Guin's book isn't exactly sci-fi for non-sci-fi readers, the fascinating inventions and characters crafted by Le Guin would hold a more general audience's attention.

Americana by Don DeLillo
DeLillo's work has been adapted into films before — his Cosmopolis was made into a film by David Cronenberg, starring Robert Pattinson. The movie was a bit of a flop, but not through any fault of DeLillo's, whose writing is wry and humorous, and whose adaptations could appeal to fans of Brett Easton Ellis. Americana chronicles a young narcissist's road trip across the country — what's not to love about that?

Looking for Alaska by John Green
John Green's The Fault in Our Stars is being adapted into a film releasing this summer, and nerd fighters (the nickname he lovingly gives his fans) everywhere are amped. But the rest of Green's work would also make for fantastic YA films, in the vein of "The Perks of Being a Wallflower" or last summer's "The Spectacular Now." We think Emma Watson would make for an excellent Alaska Young.

The Woman Upstairs by Claire Messud
Messud has defended her right to write an unlikable female protagonist, and we're happy for it. Nora, the main character in The Woman Upstairs, is envious, unworldly and altogether bizarre in her fixation with the artistic family of one of her students. We think this book would translate well into a spooky, quieter film.

Bleeding Edge by Thomas Pynchon
Pynchon's story, set in pre- and post-9/11 New York, is incredibly action-packed. The protagonist, Maxine Tarnow, dabbles in fraud investigation, and falls down a rabbit hole while looking into a techy billionaire. The book is both meaningful and fast-paced, which makes it an excellent candidate for an adaptation.

One Hundred Years of Solitude by Gabriel Garcia Marquez
One Hundred Years of Solitude is a classic, and arguably one of the most influential works of magical realism, a genre that can do wonders onscreen (see: Hayao Miyazaki's fantastic cartoons, "Amélie," and "Chocolat"). But Gabriel Garcia Marquez has not yet allowed any production company purchase the rights to adapt his novel.

A Confederacy of Dunces by John Kennedy Toole
John Kennedy Toole's book was almost never published. The same may one day be said of the book's film adaptation, which has almost come to fruition a handful of times, but has repeatedly been put on hold due to various obstacles, including the state of New Orleans after Hurricane Katrina. Will Ferrell was once slated to star as Ignatius – a casting choice we can definitely get behind, although we'd also fully support Louis C.K. as the lead.

As She Climbed Across the Table by Jonathan Lethem
Jonathan Lethem writes sci-fi that appeals to a broader audience, and As She Climbed Across the Table, while somewhat quirky, is no exception. Alice, a particle physicist, creates a black hole, then proceeds to fall in love with it. The plotline of a main character falling for an inanimate object has proven to be successful on-screen (see: "Her," "Lars and the Real Girl"), and we think Lethem's story could put a darkly comedic spin on the concept.

The Madd Addam Trilogy by Margaret Atwood
Atwood's trilogy is a dystopian story, so it's a wonder that it hasn't yet been optioned for a film. Her writing is snappy, and the story is a page-turner. In the first installment, the narrator, Snowman, describes the events leading up to the apocalypse — including the creation and consumption of genetically-modified animals — and the events shortly following. The second book tells a similar story, but from the vantage point of a clan living in the pleeblands. We imagine the film being somewhat like The Hunger Games trilogy, but more suited for adults.

The Catcher in the Rye by J.D. Salinger
Even before stories about young adults entered the limelight, a number of directors and actors expressed a strong interest in partaking in an adaptation of Salinger's classic, including John Cusack, who regrets never being able to play Holden. Salinger's estate has not yet licensed the film. Salinger himself had said that he was open to the possibility of an adaptation, but thought that the first-person narration would come across as cheesy (or, you know, phony) onscreen. We see his point, but think a suitable adaptation is definitely possible.