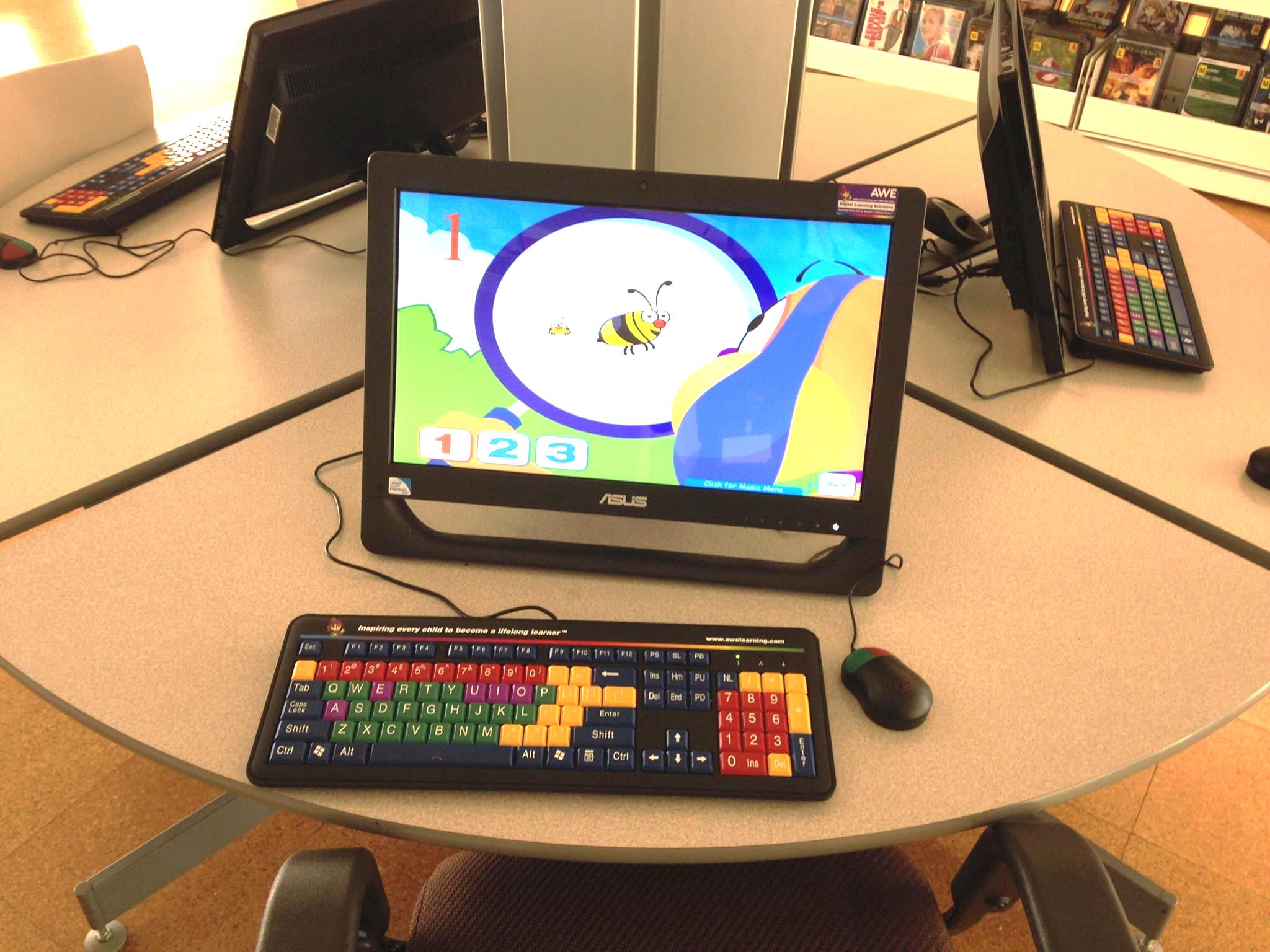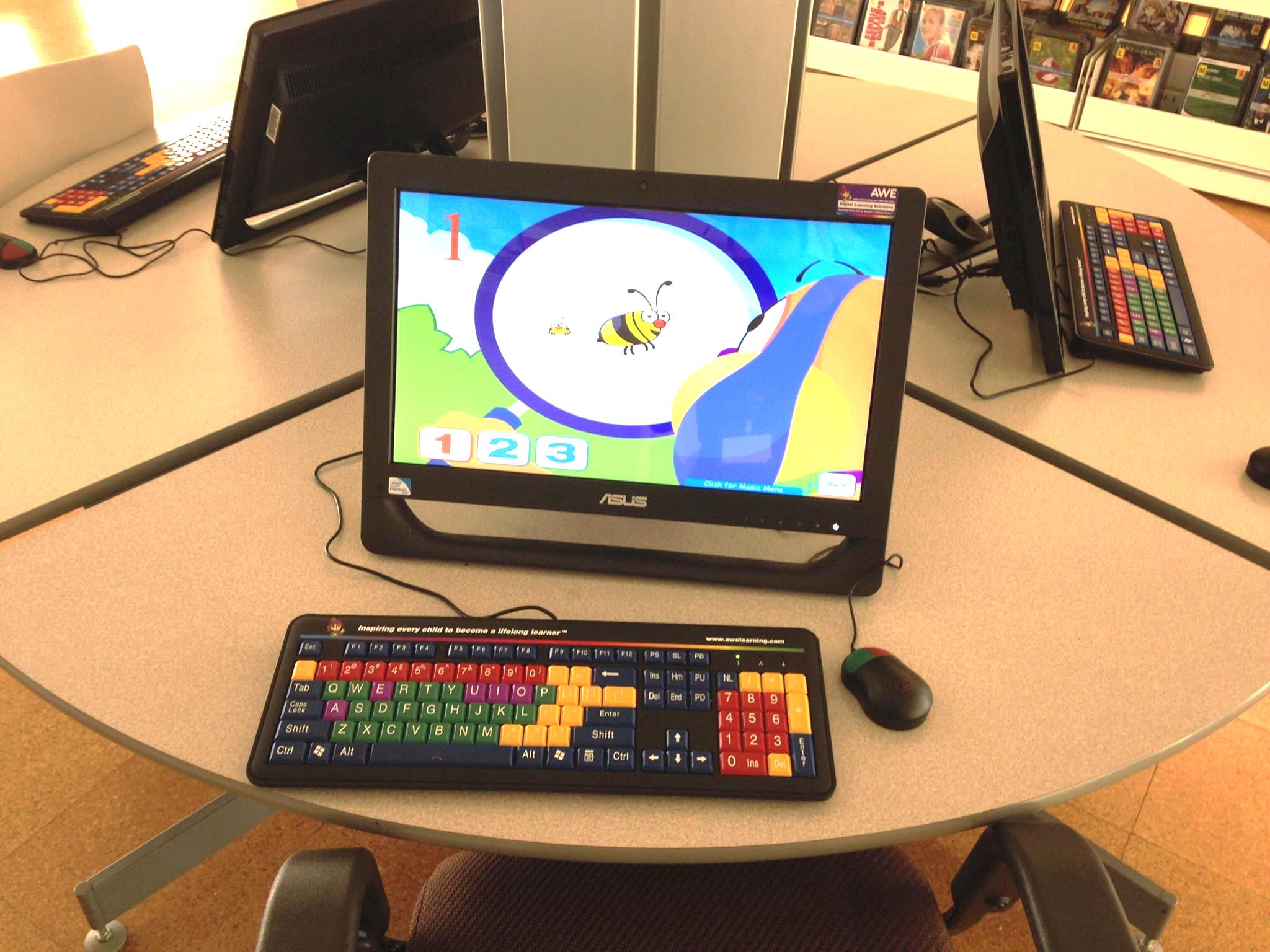 Our Youth Departments recently received some new arrivals – a total of 25 brand new digital Early Literacy Stations created by AWE, Inc.! The user-friendly, interactive stations look similar to desktop computers and provide over 60 programs and 1,500 activities in English and Spanish for children ages 2 to 8, covering 7 curriculum areas, including reading, writing, phonics, math and problem solving, science, and social studies. The programs correlate with Connecticut Common Core State Curriculum Standards and are designed to encourage early literacy development and self-guided learning.
"Studies show that early literacy skills are critical to educational success," said Matt Poland, Library CEO. "Our investment in technology to support early learning is an investment in the future of the Library's youngest customers. These stations introduce important concepts and vocabulary in ways that children embrace – learning really can be fun!"
The acquisition of the new and additional Early Literacy Stations resulted from the increasing popularity of earlier versions of the programs that, according to our staff, were in constant use. The stations have served particularly helpful to the our English language learners, and have been often occupied by both children and their parents, working through the animated programs together.
Utilizing popular animated figures like Dora the Explorer, Arthur, and Diego, AWE, Inc. digital learning solutions have inspired 129,654,589 learning hours at over 7,000 schools and libraries throughout the country. With an intuitive framework requiring no internet connection, our new stations offer a safe, secure and engaging learning environment. Our Youth Department staff is available to provide technical assistance if needed.
The Early Literacy Stations are available for use at our nine branch locations and the Downtown Library. Stop by and check them out!
Can you believe it? Baby Grand Jazz will kick off its 11th season on January 5, 2014! This season is funded by the Charles H. Kaman Foundation and we couldn't be more pleased to have them as a sponsor again. Last year's Baby Grand Jazz attracted more than 5,000 people from January to April, and we can't wait to see you all back again this year. So without further ado, here is our 2014 lineup!
January 5 – Meg Okura   |   January 12 – David Chevan   |   January 19 – Maxine Martin
January 26 – Allie Basso   |   February 2 – Craig Hartley   |   February 9 – Taino Pacheco
February 16 – Erin O'Luanaigh   |   February 23 – Michael Gregory   |   March 2 – William Fluker
March 9 – Ray Gonzalez   |   March 16 – Warren Byrd   |   March 23 – Nelson Bello
March 30 – Yoko Miwa   |   April 6 – Jeff Wieselberg   |   April 13 – Sonny and Perley   |   April 27 – Emery Smith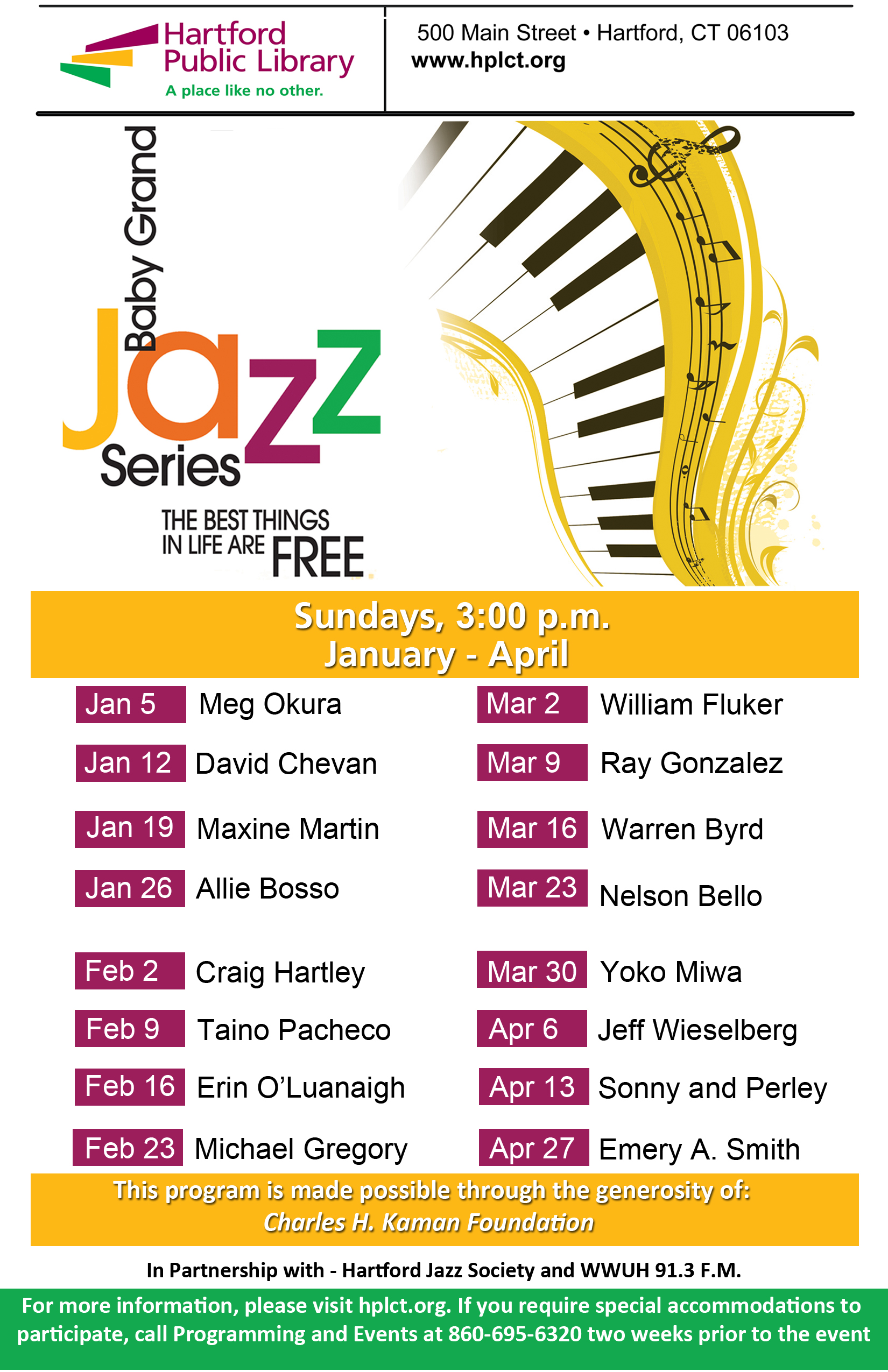 In partnership with the American Library Association, we will host a Declaration for the Right to Libraries signing event, to create public awareness and understanding of the value of Hartford's public and school libraries.
The Declaration for the Right to Libraries is the cornerstone document of ALA President Barbara Stripling's presidential initiative, Libraries Change Lives, which is designed to build the public will and sustained support for America's right to libraries of all types.
The signing event is intended to serve as a launching point for continued community engagement to increase public and media awareness about the critical role of libraries, to inspire ongoing conversations about the role of the library in the community, to cultivate a network of community allies and advocates for the library, and to position the library as a trusted convener to help in the response to community issues.
The event will take place on Friday, November 15, at 10:00 am at the Hartford Public Library, 500 Main Street, Hartford. Join us, and use #right2libs on Twitter!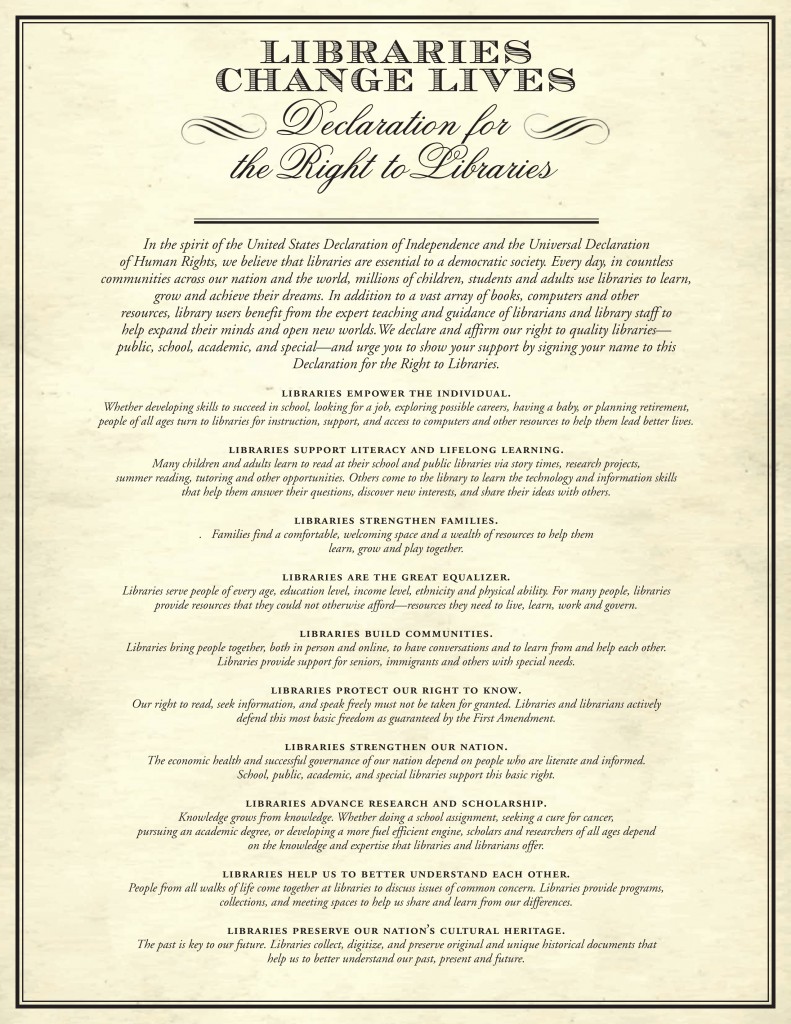 Here at the library, we're very excited about National Novel Writing Month (NaNoWriMo). It's an exciting time where aspiring writers can really put their writing skills to the test and try and hit the NaNoWriMo 50,000 word goal in one month. We also love NaNo because of the community of writers who come together to support each other's writing.
We will hold four write-ins for NaNoWriMo participants at Kitchen at Hartford Public Library during the month of November to get together and support each other's NaNoWriMo novels.
November 8
November 15
November 22
November 29
All dates, 1-4pm.
National Novel Writing Month takes place every year in the month of November across the country. Hundreds of thousands of aspiring writers register their novels on nanowrimo.org, and begin writing on November 1st with the goal of exceeding 50,000 words by the end of the month. Many NaNoWriMo participants have become published authors based on the work they do during National Novel Writing Month. NaNoWriMo supports writers with online forums and tips from published authors.
Libraries, coffee shops and other organizations host Write-Ins throughout the month to bring NaNoWriMo participants together to meet, share story ideas and encourage the writing process. We are excited to welcome NaNoWriMo participants to the library to support local writers.
So we hope to see you on Fridays in November! And make sure to tweet with us (@HPLCT) and let us know your #NaNoWriMo word counts!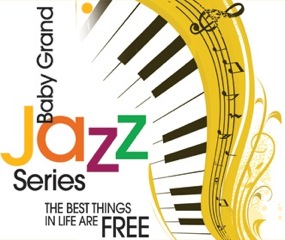 We are delighted to announce that the Charles H. Kaman Foundation will fund our 11thseason of Baby Grand Jazz! The Foundation also funded the 2012 and 2013 program. The popular, free series offers some of the best jazz performances in the Greater Hartford region. Sixteen concerts are scheduled on Sunday afternoons at 3:00 p.m. starting January 5, 2014 through April 27, 2014.
Meg Okura will open the Baby Grand Jazz series with a performance on Sunday, January 5 at 3:00 p.m.  All About Jazz called her the "queen of chamber jazz," Meg Okura balances her roles as violin virtuoso, prolific composer, and erhu player. She has won numerous grants and awards as a composer, and her credits as violinist and erhu player appear on over fifty albums and soundtracks with various artists from David Bowie, Dianne Reeves to Lee Konitz. Native of Tokyo, Meg Okura has toured all of Asia as concertmaster and soloist of the Asian Youth Orchestra. Hailed by the New York Times as "vibrant" and "sophisticated," her Pan Asian Chamber Jazz Ensemble weaves together jazz, classical, and world music to create a unique blend of world-chamber jazz.
We support artistic excellence by engaging local communities in new and exciting ways through an array of inspiring artistic programs. Jazz, an American art form rooted in the democratic mix of individual and united effort, is the ideal soundtrack for Library CEO Matt Poland's vision of the 21st Century public library as a gateway for all. With "Baby Grand Jazz" it's a swinging gateway and get-away, free and accessible to one and all.
The Baby Grand Jazz series draws a large audience of city residents and out-of-towners to our Downtown Library. The 2013 series broke all attendance records, drawing nearly 5,000 concertgoers over the season. Baby Grand Jazz has become a weekly destination for hundreds of people, with the series often drawing crowds of 400 or more for each performance.
As a complement to the music series, the library will exhibit music-inspired works by prominent Hartford artists.  Past artists included photographer Maurice Robertson and painter Andres Chaparro, both deeply committed champions of music.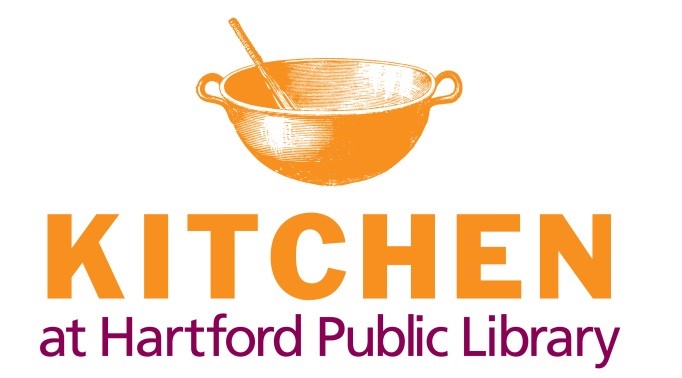 Kitchen at Hartford Public Library is open Monday – Friday, 8am-4pm.
They cater! Delivery available for breakfast, lunch and evening. Contact 860-727-8752 for catering.
MENU
Breakfast Goodies
Stuffed brioche of the day | $3.25
Muffin of the day | $2
Scones and biscuits | $3.25
Famous sticky bun | $3.25
Breakfast sandwich | $4
Individual quiche or fritatta | $5
Pastries
Big cookies | $1.85
Cupcakes | $2.50
Brownies | $1.25
Seasonal Salads
Mixed Greens: Local greens, carrots, cucumbers, tomatoes, red win vinaigrette | $7
Curry Chicken Salad: Local greens, dried cranberries, toasted almonds, red wine vinaigrette | $8.50
Caesar: Local mixed greens, multi-grain croutons, shaved asiago, creamy parmesan dressing | $8.50
Le Blue: Farm greens, blue cheese, walnuts, pickled shallots, smoked bacon, buttermilk ranch | $8.50
El Greco: Local greens, spiced chickpeas, herbed feta, green olives, grape tomatoes, cucumbers, lemon oregano vinaigrette | $8.50
House Made Soups
Freshly made every day
Bowl | $4
Side Salads
Fruit salad, seasonal grain salad and seasonal vegetable salads
Changes daily
8 oz | $4
16 oz | $7.50
Sandwiches
All sandwiches served on fresh baked breads and come with Deep River chips or seasonal whole fruit
Curry Chicken Sandwich: Mango chutney, arugula, cranberry walnut bread | $8.50
Country Ham: Black Forest ham, pimento cheese, tomato, pickles, ciabatta roll | $8.50
Tuna: Lettuce, multi-grain roll | $8.50
Pilgrim: Apple mayo, cheddar, turkey, ciabatta roll | $8.50
Tuscan: White bean hummus, roasted tomatoes, spinach, caramelized onion focaccia | $7.50
Carving Board: Your choice of one meat, one cheese, toppings and bread | $8.50
Turkey, Black Forest ham, Tuna
Cheddar, Swiss
Tomato, Pickles, Lettuce
Breads: Cranberry Walnut, Multi-grain Roll, Ciabatta Roll, Caramelized Onion Focaccia
Beverages
Omar's Coffee
Omar hot beverages
Hosmer Mt Sodas
Lavender Lemonade
Infused Iced Teas
Bottled Water
Local Juices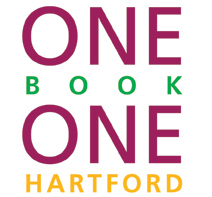 For One Book One Hartford this year, we have chosen Angela Johnson's A Certain October as a book to bring people together to think about and discuss death and loss in our society. Hartford's citywide book club, One Book One Hartford, begins at HPL locations throughout the city on October 1st, and culminates with an author event on Saturday, November 23, at 2pm in the Center for Contemporary Culture at the Downtown Library.
About A Certain October: Scotty compares herself to tofu: no flavor unless you add something. And it's true that Scotty's friends, Misha and Falcone, and her brother, Keone, make life delicious. But when a terrible accident occurs, Scotty feels responsible for the loss of someone she hardly knew, and the world goes wrong. She cannot tell what is a dream and what is real. Her friends are having a hard time getting through to her and her family is preoccupied with their own trauma. But the prospect of a boy, a dance, and the possibility that everything can fall back into place soon help Scotty realize that she is capable of adding her own flavor to life. With artfully spare prose, acclaimed and award-winning author Angela Johnson explores the ramifications of unexpected death in this compelling coming-of-age story.
We will offer a variety of public programming for all ages throughout October and November to connect the community to this inspirational story. "This book was suggested to the library by Sistah Nandi of the Sankofa Kuumba Cultural Arts Consortium in Hartford as a way to engage our youth in conversations about violence and loss," said Brenda J. Miller, Chief Officer, Cultural Affairs and Public Programming, "Author Angela Johnson writes with moving honesty about facing the unimaginable and carrying on.  A Certain October is an inspiring read for all ages."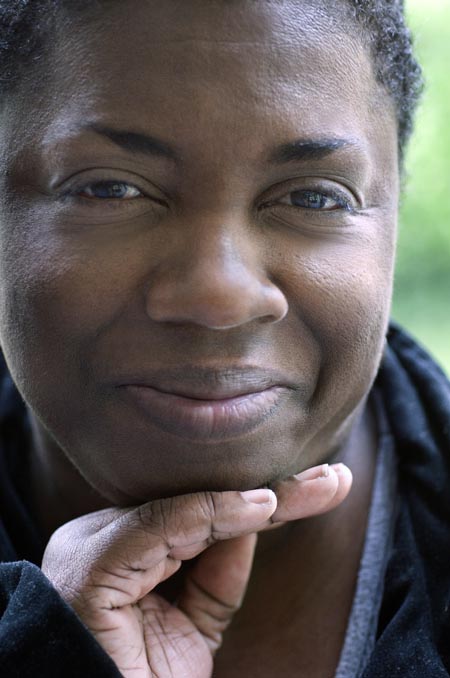 Angela Johnson has been writing for over twenty years with more than 40 picture books, novels and books of poetry to her credit. Athree-time Coretta Scott King Award winner for Toning the Sweep in 1994, Heaven in 1999, and The First Part Last in 2004, she was also the runner-up twice, for When I Am Old with You in 1990 and The Other Side, Shorter Poems in 1998. In addition, she was awarded the Ezra Jack Keats New Writer Award for Tell Me a Story, Mama in 1991 and the Michael L. Printz Award from the American Library Association in 2004, recognizing The First Part Last as the year's "best book written for teens, based entirely on its literary merit."  In 2003 Ms. Johnson received a McArthur Genius Grant.
Speaking directly about the sorrows felt by youth and adults alike in our urban centers, the author said, "Indeed, I like so many feel desperate at the loss of any of our children through violence, accidents, suicide and disease. When I wrote A Certain October I realized I had to view mourning and loss through the prism of a young adult mind… it was truly eye-opening. I realized how overwhelming filtering loss as a teenager is, as none of us have built up the life skills and inner core to truly handle it."
"For more than a decade One Book One Hartford has engaged and challenged readers in Hartford. People from every neighborhood and all ages are brought together to immerse themselves in a great work of literature," said CEO Matt Poland. "I hope everyone will check out a copy of A Certain October, take part in a discussion or attend any number of programs or performances."
One Book One Hartford brings our richly diverse city together around a good book. Reading challenges us to think about ourselves, our environment and our relationships; talking about literature can add depth and breadth to this experience. This is the 13th year for One Book One Hartford, formerly known as One Book for Greater Hartford.  Prior authors included Edwidge Danticat, Esmeralda Santiago, James McBride, Azar Naficy, Eve Ensler and Junot Diaz.
Please check www.hplct.org and http://www.onebookonehartford.org/for upcoming One Book One Hartford events and program announcements.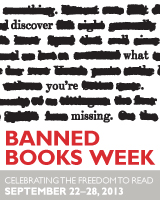 Censorship: Act of changing or suppressing speech or writing that is considered subversive of the common good. In the past, most governments believed it their duty to regulate the morals of their people; only with the rise in the status of the individual and individual rights did censorship come to seem objectionable. (Merriam Webster)
Censorship is not a new concept, it has been around for a very long time. Here in the United States, the first major form of sanctioned censorship came in the 1870s with Anthony Comstock's (a Connecticut native!) New York Society for the Suppression of Vice. The 19th century saw the rise of paperbacks, pamphlets, brochures and other mass produced materials, which made the production of all reading material, including "obscene literary material", much easier. Comstock's organization had the right to search and arrest those who they believed were in possession of immoral material. This organization was around until 1950.
In more recent times, books are being challenged and banned from school and public libraries, and classrooms. In the last month, Toni Morrison's The Bluest Eye has been challenged by a school in Alabama and a school in Ohio. For a short time, the Connecticut Department of Corrections banned She's Come Undone by Wally Lamb (another Connecticut native!), a decision which has since been reversed.
So why ban books? The top three reasons for challenging books, as reported by the ALA's Office of Intellectual Freedom are, 1) material is considered "sexually explicit"; 2) contains "offensive language"; and 3) materials "unsuited to any age group". The quotation marks around those phrases are theirs, not mine. Who decides what books are "unsuited for ANY age group"? In the last decade, some of the books that have been challenged the most include the Harry Potter series by J.K. Rowling, the Captain Underpants series by Dav Pilkey, The Adventures of Huckleberry Finn by Mark Twain, and The Giver by Lois Lowry. You can see the full list of the Top 100 Banned/Challenged Books, 2000-2009 on the ALA website.
Here at HPL, we think it's important to read, share and discuss banned and challenged books. For that reason, we're holding a Banned Books Readout at the Mark Twain Branch on September 24th! (RSVP and share on Facebook) We believe that it's important to promote the freedom to read whatever one chooses. Everyone should have the option to read what they want to read, without fear and without scrutiny. We live in a diverse world, where people have different viewpoints and values. No one should be able to tell someone they can't read something just because they don't believe in the views expressed in the book. The more we read, the more we grow. Please join us for our Banned Books Readout, and celebrate the freedom to read what you want!
This year's Banned Books Readout will feature John Dankosky, WNPR News Director and Host of Where We Live, as program moderator, as well as prominent members of the community reading passages from their favorite banned books. Readers will include Connecticut bestselling and once banned author Wally Lamb; Cathy Malloy, executive director of the Greater Hartford Arts Council; Tom Condon of the Hartford Courant; local musician Lorena Garay; Wilfredo Nieves, President of Capital Community College; Rebecca Duncan, a student at the Law & Government Academy, Hartford Public High School; and Stan Simpson, host of Fox TV's "The Stan Simpson Show."
To ban a book is to gag the writer and blindfold the reader. Neither is acceptable in a country where freedom of speech is treasured. – Wally Lamb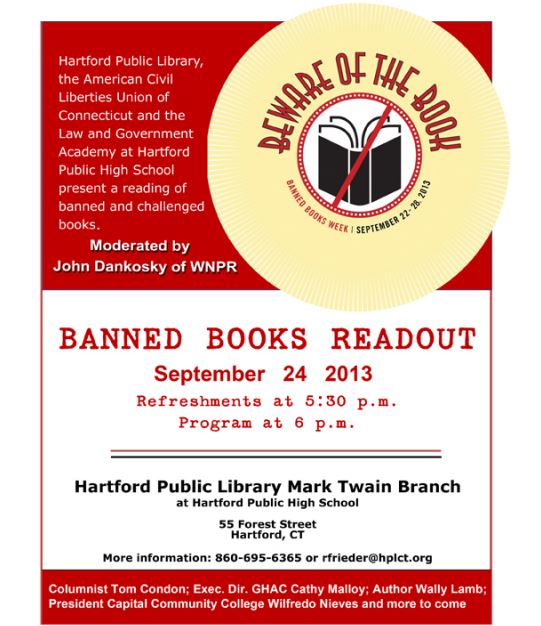 News about the Banned Books Readout: