March is Women's History Month, and at HPL, we're celebrating with programming examining the critical role women have played in shaping our world.
Check out the events below – more to come!
——–
Women's History Movie Screenings
Mark Twain Branch
Monday, March 10, 5:30-7:30 p.m.
Won't Back Down (2012)
Two determined mothers­, one a teacher, look to transform their children's failing inner city school. Facing a powerful and entrenched bureaucracy, they risk everything to make a difference in the education and future of their children
Monday, March 17, 5:30-7:30 p.m.
ESPN 30 by 30 Marion Jones (2012)
For years, Jones denied the increasing speculation that she used performance-enhancing drugs. Jones was sentenced to six months in prison for lying to federal investigators and soon saw her Olympic achievements disqualified.
Monday,March 24,5:30-7:30 p.m.
The Women Of Brewster Place
Based on the novel by Gloria Naylor, which deals with several strong-willed women who live in a rundown housing project on Brewster Place in an unidentified eastern city; across three decades, they struggle against poverty, bigotry, and weak, troublesome men.
Saturday March 29, 10:00 a.m.-12:30p.m.
Free Angela and Other Political Prisoners
A documentary that chronicles the life of young college professor Angela Davis, and how her social activism implicates her in a botched kidnapping attempt that ends with a shootout, four dead, and her name on the FBI's 10 most wanted list.
——-
CONNECTICUT WOMEN'S HALL OF FAME PORTRAIT EXHIBIT on the ARTWalk
On display March 17 – April 21, 2014, Downtown Library
Opening Reception Thursday, March 27, 2014, 5 p.m. – 7 p.m.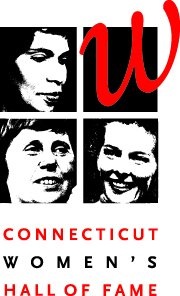 The ARTWalk hosts a beautifully executed collection of 65 framed images and biographies honoring CWHF Inductees (1994-2002) of great achievement who have broken new ground or have emerged as leaders in their fields of endeavor.
———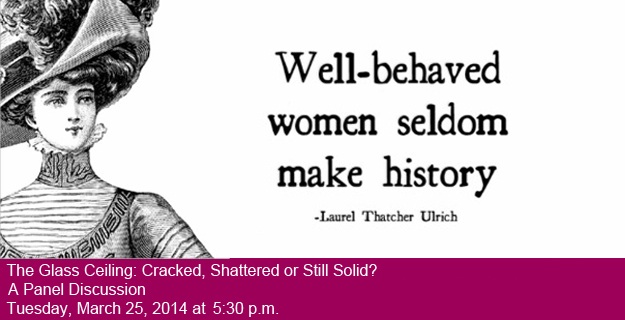 Women have always made a difference in our community. Those who have caused change to happen have often not followed the "rules" society has set out for them. Hear from accomplished and committed Connecticut women about the challenges they faced and how they overcame them, and what we might learn from their experiences. Light refreshments at 5:30 p.m., panel discussion featuring First Lady Cathy Malloy, Connie Green, and other trailblazing women from Hartford's recent history to begin at 6:00 p.m. Program sponsored by The Hartford Votes ~ Hartford Vota Coalition
More info: center.hplct.org
——-

Beatrice Fox Auerbach: The Woman, Her World and Her Wardrobe
On display February 5, 2014 – May 10, 2014
Hartford History Center, Downtown Library

Curator Talk: Saturday, March 15, 2014, 2:00 PM
Glimpse into the life of Beatrice Fox Auerbach in an exhibit of garments and personal items of the world traveler, influential philanthropist, and owner and CEO of America's largest privately owned department store, G. Fox & Co. The exhibit is presented in partnership with the University of Connecticut Historical Costume & Textile Collection Department, and is free and open to the public during Hartford History Center hours, Tuesday through Saturday, 1 PM – 5 PM.
April is National Poetry Month, and HPL is celebrating in a big way. We're teaming up with the City of Hartford Marketing, Events, and Cultural Affairs office to host a citywide multicultural poetry festival! Join us for 10 events over 2 weeks at our branches throughout the city and we enjoy performances and workshops held by local poets. Then, the festival culminates with a grand finale at our Downtown Library, a day-long poetry reading by participants in more than 16 languages!
See below for dates and locations. For more information, contact 860-695-6300.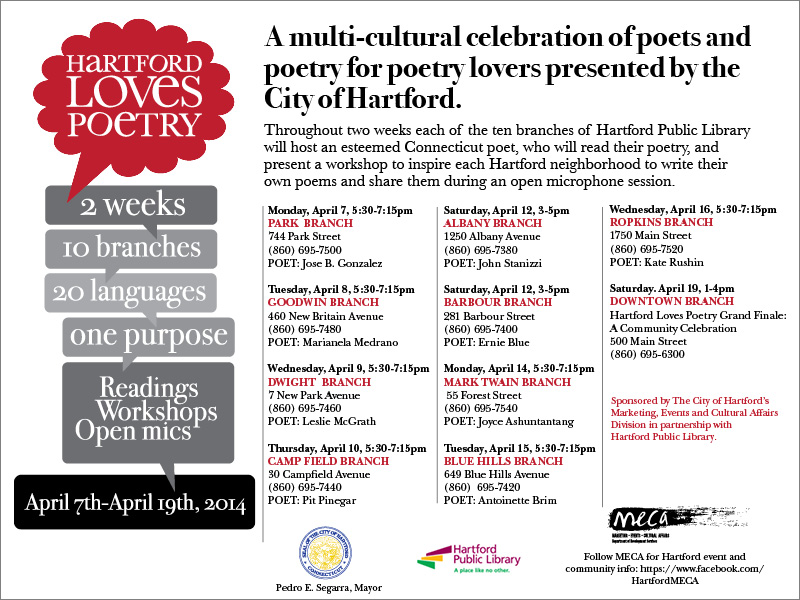 We're celebrating Teen Tech Week at our Downtown Library and Branches with artist Balam Soto! Soto will help us manipulate low- and high-tech components to create a very cool project.
To register, visit your local branch or search "Teen Tech" in our events calendar at hplct.org.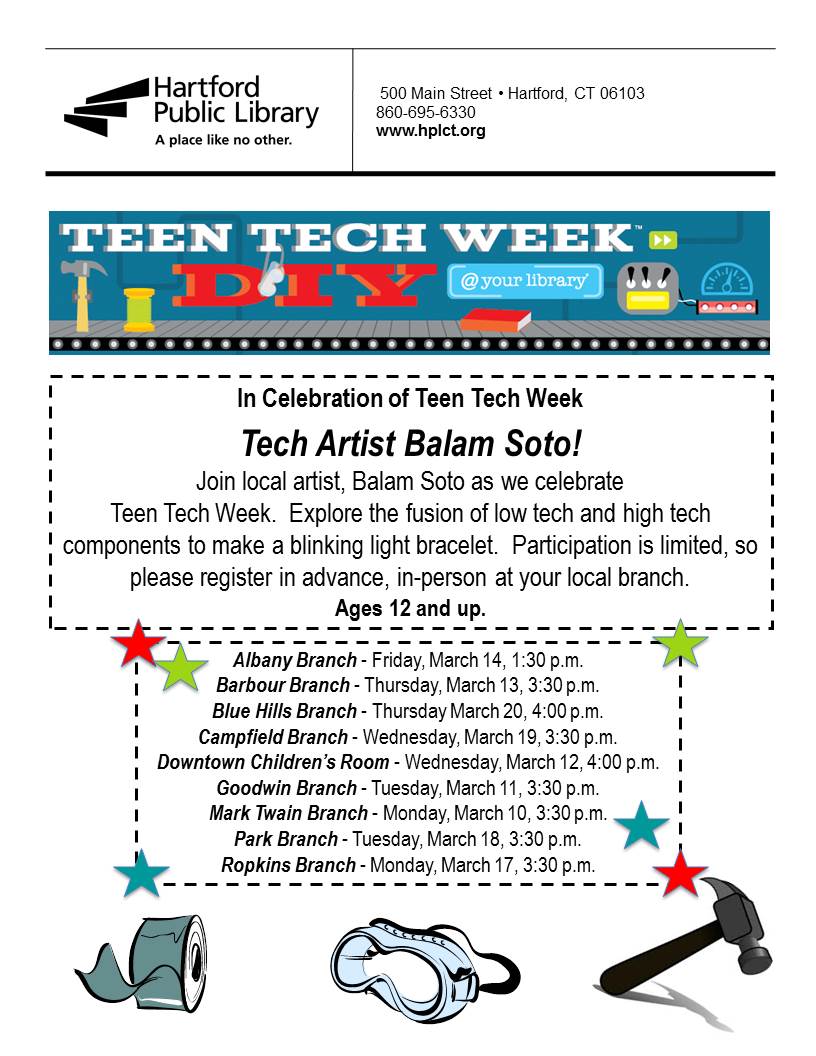 First Tuesday of Each Month, 12:30 p.m.
Come experience why everyone is talking about our wonderful Downtown Library!  Take a half-hour tour of the building and learn about the critical resources we offer. Then, hear about our monthly topic while enjoying a sweet bite at The Kitchen @ HPL. Refreshments provided by Billings Forge Community Works. Tours depart from the security desk at the Main Street entrance. Reservations encouraged but not required.  Contact Dawn Zumbroski at 860-695-6351 or dzumbroski@hplct.org.
 "We Belong Here" Tuesday, March 4, 2014 –  Homa Naficy, chief adult learning officer and White House-recognized Champion of Change, will discuss how The American Place at HPL provides critical services to Hartford's immigrant community.
"The Way We Worked" Tuesday, April 8, 2014 - Brenda Miller, chief cultural affairs and public programming officer, will discuss "The Way We Worked," an exhibit on loan from The Smithsonian Institute, "Beatrice Fox Auerbach: The Woman, Her World and Her Wardrobe," highlighting women's evolving roles in the workplace.
 "Hartford's Historic Library" Tuesday, May 6th, 2013 - Hartford Public Library CEO Matt Poland will lead a tour followed by casual conversation which will detail the history of and changes to the structure of the Downtown Library, from one of its former locations in The Wadsworth Atheneum to today.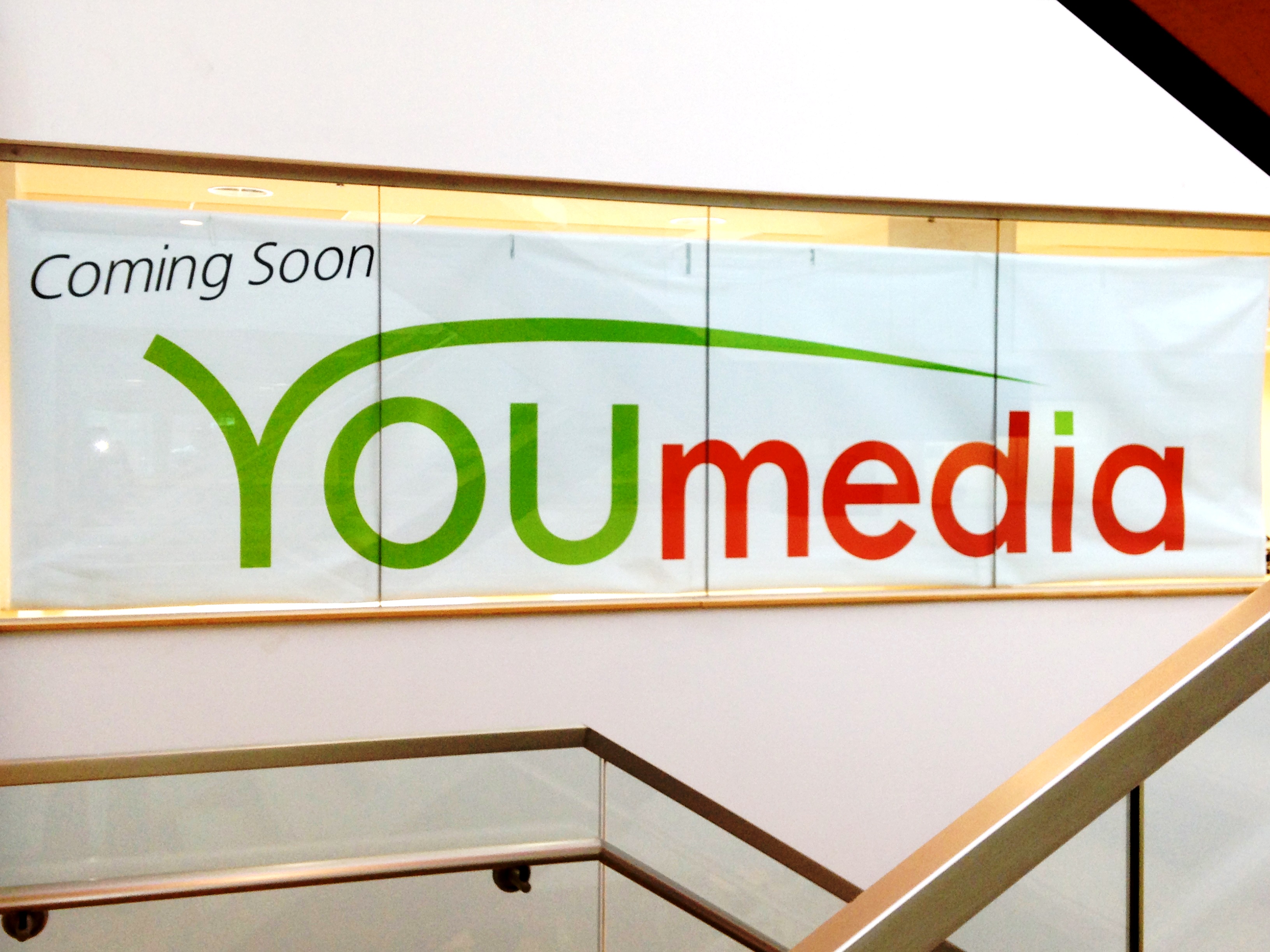 Hot off the presses: HPL has been awarded grants totaling $375,000 from Hartford Foundation for Public Giving and its Beatrice Fox Auerbach Foundation Fund to support the creation of YOUmedia Hartford, an innovative digital learning center for teens. The recent award, coupled with existing support from the City of Hartford and other corporate and foundation donors (Comcast, Ronald McDonald House Charities, Berkshire Bank, New Alliance Foundation, and The Foundation for Greater Hartford),  allows development plans to move forward on the state-of-the-art lab to be located at the Downtown Library. YOUmedia Hartford will serve Hartford's approximately 13,500 teens by providing a high-tech learning lab that connects student interests to future academic and career success, while decreasing the digital divide and providing leadership opportunities that engage teens with their community.
 "Hartford Public Library is a vital component of our city's comprehensive efforts to provide children with the opportunities and resources needed to ensure that educational activities continue after the school day has ended," said Mayor Pedro Segarra. "YOUmedia will support Hartford teens by providing the opportunity to develop beneficial technology skills, receive mentoring and guidance, and connect with their communities."
YOUmedia will be home to the young adult collection of books and media, laptop and desktop computers and a variety of advanced media creation tools and software, including a recording studio, which will allow teens to express themselves and their interests through music and spoken word. Teens in YOUmedia will have the opportunity to attend free workshops, book discussions, author events and performances.
"Hartford's teens face the great challenge of developing relevant skills in our ever-evolving technological society," said Hartford Public Library CEO Matt Poland, who also serves as chairman of the Hartford Board of Education. "With generous support from foundation grants, corporate donors, and the City of Hartford, the Library will soon be able to provide the cutting edge training, opportunities and resources Hartford teens need in order to compete in the 21st century world of work. YOUMedia Hartford is an example of the power of public-private partnerships to provide creative solutions to community needs."
The YOUmedia concept is based on groundbreaking research which maintains that learning must be socially connected, interest-driven, and oriented toward educational, economic, or political opportunity. YOUmedia Hartford will be a transformative space: an open, flexible, highly creative laboratory that inspires teens to think, play, and learn in different ways.  Teens can hang out, mess around, and geek out on no-tech, low-tech, and high-tech activities, based on their interests and talents. Mentors will be critical to the YOUmedia space, and will be available both online and in person. Librarians, artists, and instructors will guide youth as they explore digital media. Visiting digital media experts, spoken word poets, filmmakers, sound mixers, librarians, and museum staff will lead workshops based on the interests of participants. YOUmedia Hartford will provide an encouraging atmosphere for minority teens and young women, traditionally underrepresented in STEM (science, technology, engineering and math) fields, to explore new passions and technologies.
"Ensuring that all young people have the skills they need to be successful in college or in the workplace has been a priority at the Hartford Foundation for Public Giving. We are pleased to support the innovative work of Hartford Public Library to provide a space for teens throughout the city to develop high-tech, 21st century skills," said Linda J. Kelly, President of the Hartford Foundation for Public Giving. "Hartford Public Library is truly reimagining its role in the lives of city youth, and is developing a state model for the library of the future."
The first YOUmedia lab was created in the Chicago Public Library.  Since then, YOUmedia labs have opened in Miami/Dade County Public Library, the Hirshorn Museum in Washington D.C., and Dreamyard in New York City.  Similar approaches have been adapted by emerging learning labs across the country.
While the focus of the design of YOUmedia is to support youth in out-of-school time, Hartford high school teachers with classes of students are also able to reserve the space for skill-building workshops during the school day.
YOUmedia Hartford will offer regular afterschool, Saturday, and summer hours, and a Fall 2014 opening is anticipated. All high school age teens are welcome, and may utilize YOUmedia technology for free with a valid Hartford Public Library card.
For more information on YOUmedia, please visit www.youmedia.org.
Join us in celebrating National Take Your Child to the Library Day!
(We think you should take your children to the library everyday, but we never pass up a reason for celebration!)
This weekend, stop in at the HPL locations below for fun activities, including a make-your-own GIANT book project, games, and more.
Friday, January 31 - 
Blue Hills Branch
Dwight Branch
Saturday, February 1 - 
Downtown
Albany Branch
Camp Field Branch
Goodwin Branch
Mark Twain Branch
Monday, February 3 - 
Park Branch
Ropkins Branch
Contact each branch location for more information.
February is just around the corner, and we've got a great lineup of Black History Month programs and events to educate, inform and entertain. Join us!
Youth: History Makers
Monday, February 3, 3:30 p.m., Mark Twain Branch
Ages 8 and up. Join us in a celebration of Black History month as we create a History Tree with quotes from people who inspired others through their words and actions.
More info: 860-695-7540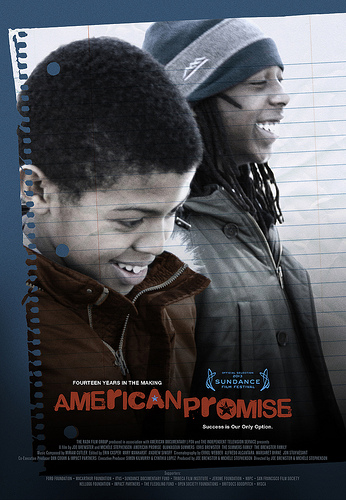 "American Promise" Film Screening and Community Conversation
Saturday, February 8, 2014, 1:00 PM – 4:00 PM
Center for Contemporary Culture, Downtown Library
Hartford Public Library hosts on of the first screenings in the nation of the PBS documentary "American Promise," a rare and compelling exploration of race, class and opportunity in America. Following the film, a conversation moderated by Fox CT's Stan Simpson will engage a panel of local educators, community leaders, and attendees in a dialogue surrounding issues of race and education in local communities.  Panelists will include Adam Johnson, Director of Secondary Education at Capitol Region Education Council (CREC), Milly Arciniegas, Executive Director of the Hartford Parent University , and others. "American Promise" debuts on PBS Monday, February 3rd.
American Promise is an intimate and provocative account, recorded over 12 years, of the experiences of two middle-class African-American boys who entered a very prestigious–and historically white–private school on
Manhattan's Upper East Side. The Dalton School had made a commitment to recruit students of color, and five-year-old best friends Idris Brewster and Oluwaseun (Seun) Summers of Brooklyn were two of the gifted children who were admitted. The boys were placed in a demanding environment that provided new opportunities and challenges, if little reflection of their cultural identities.
This event is a collaboration with POV, the award-winning independent non-fiction film series on PBS. For more info: www.pbs.org/pov. View the"American Promise" trailer
LIBRARY BOOK CLUB
Native Son by Richard Wright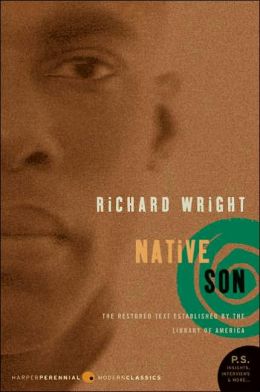 Sunday, February 9, 2014
1:30 p.m. – 3:00 p.m.
The Kitchen @ Hartford Public Library
Right from the start, Bigger Thomas had been headed for jail. It could have been for assault or petty larceny; by chance, it was for murder and rape. Native Son tells the story of this young black man caught in a downward spiral after he kills a young white woman in a brief moment of panic. Set in Chicago in the 1930s, Wright's powerful novel is an unsparing reflection on the poverty and feelings of hopelessness experienced by people in inner cities across the country and of what it means to be black in America.
Mudbound by Hillary Jordan
Sunday, February 16, 2014
1:30 p.m. – 3:00 p.m.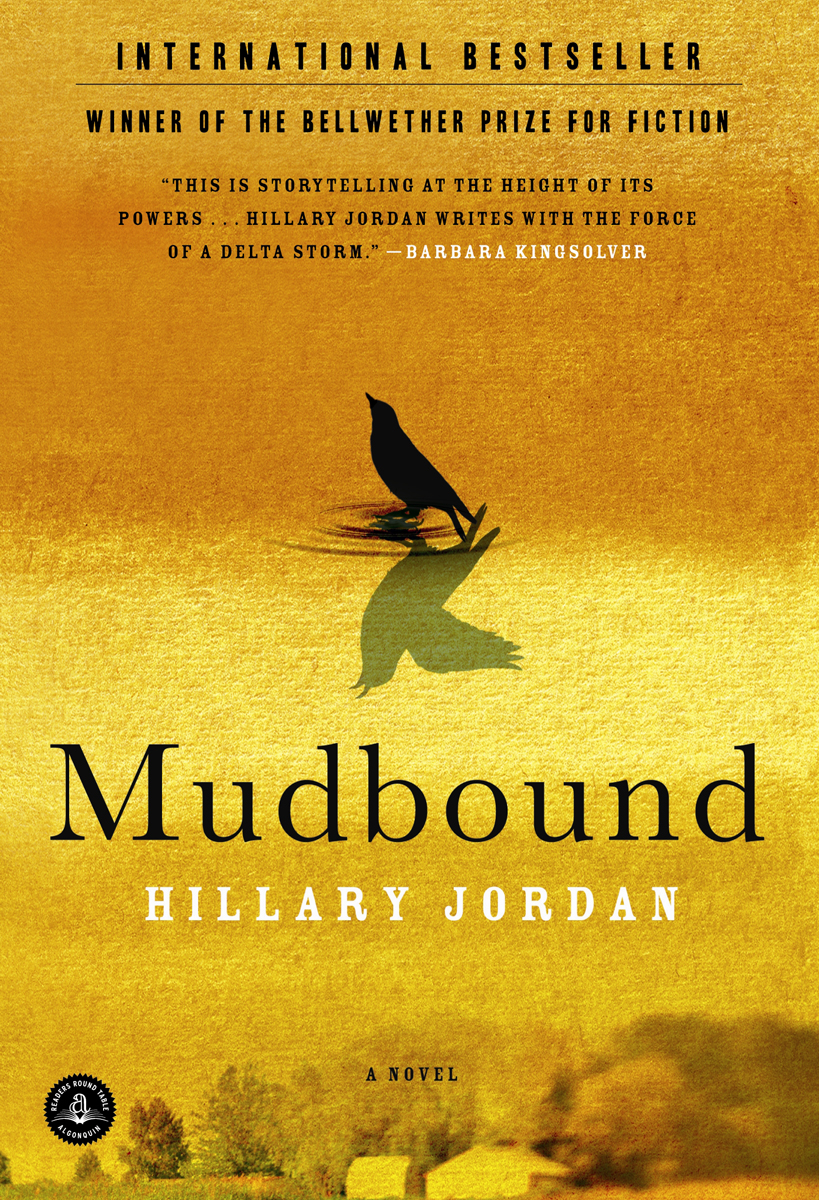 The Kitchen @ Hartford Public Library
In Jordan's prize-winning debut, prejudice takes many forms, both subtle and brutal. It is 1946, and city-bred Laura McAllan is trying to raise her children on her husband's Mississippi Delta farm—a place she finds foreign and frightening. In the midst of the family's struggles, two young men return from the war to work the land. Jamie McAllan, Laura's brother-in-law, is everything her husband is not—charming, handsome, and haunted by his memories of combat. Ronsel Jackson, eldest son of the black sharecroppers who live on the McAllan farm, has come home with the shine of a war hero. But no matter his bravery in defense of his country, he is still considered less than a man in the Jim Crow South. It is the unlikely friendship of these brothers-in-arms that drives this powerful novel to its inexorable conclusion.
For copies of the book or questions, contact book club leader Sarah Pelletier at 860-695-6377 orspelletier@hplct.org.
February's Book Club is made possible in part thanks to the generous donation of books by CT Humanities.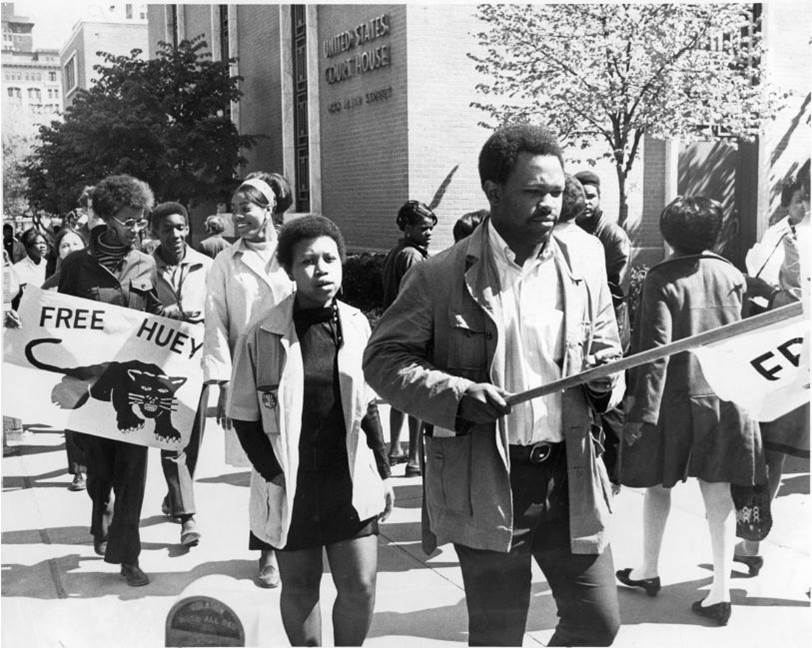 A Conversation with Butch Lewis: The Black Panther Party in Connecticut
Sunday, February 23, 2014, 1:00 PM – 3:00 PM
Center for Contemporary Culture, Downtown Library
Hartford Public Library and the Hartford History Center, in partnership with the magazine Connecticut Explored, presents a Black History Month discussion recalling the Black Panther Party in Connecticut during the turbulent 1960s and 1970s featuring Butch Lewis, 1960s activist and co-founder of the Hartford Chapter of the Black Panther Party. Featured scholars will include Dr. Stacey Close, Associate Vice President for Equity and Diversity at Eastern Connecticut State University, and Dr. Jeffrey O.G. Ogbar, Vice Provost for Diversity at University of Connecticut. Connecticut Explored also celebrates the launch of its newest publication, African American Connecticut Explored.  Books will be available for purchase.
Family Poetry Night
Wednesday, February 26, 5:30 p.m., Downtown Library – Youth Program Room
Ages 4 and up with adult friends. Bring your whole family to celebrate Black History Month! Come recite your favorite poems and enjoy a night of music, soul food and poetry.
More info: 860-695-6330
People That Could Fly
Friday, February 27, 3:00 p.m., Camp Field Branch
All Ages. Celebrate Black History Month with a read aloud and discussion of Virginia Hamilton's tale, The People That Could Fly, then enjoy a soulful treat afterwards.
More info:860-695-7440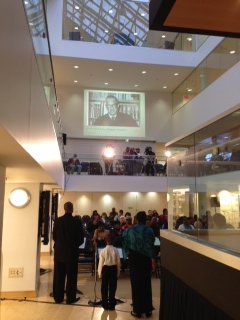 Amistad Center Historic Photo Collection
Throughout February, Library visitors will be able to a view a kinetic "exhibit" of historic photos of important events and figures of the Civil Rights Movement, courtesy of the Amistad Center for Art & Culture, projected in a giant display in on the wall of our Downtown Atrium. Exhibit is visible from all floors, and will be projected during afternoon hours.