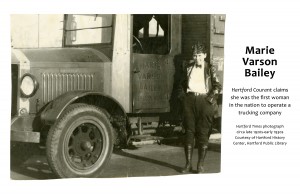 A woman stands proudly next to her truck, wearing a bow tie and sharp looking boots.
The photo itself is arresting, but the caption is perhaps even more so. It's a photo of Hartford resident Marie V. Bailey in the 1920s – the first woman to own a trucking company in United States.
Bailey's tiny slice of history is part of the Hartford History Center exhibition of black and white photographs of extraordinary Hartford women from the Hartford Times collection.
"It seems to be resonating with people," said Maureen Heher, curator of the exhibit.
This past winter, Heher went through the archives of the Hartford Times, a now defunct newspaper that existed from 1817 to 1976. The photographic archives, known in newspaper parlance as the photo morgue, was well organized, Heher said, so she decided to look for photos of ordinary women doing extraordinary things.
More notable Connecticut residents had biography boxes devoted to photos of their work and their lives. Individual photos were lumped together by the first letter of their last names. It was among the ordinary people, the women who didn't usually get their names in the paper, where Heher found a treasure trove of materials.
Heher chose a mix of the prominent and the unknown. For example, Ella Grasso, Connecticut's first female governor, is displayed alongside Edna Acosta, the first woman to graduate from the Connecticut Military Academy with a second lieutenant's commission. Gwen Reed, a community activist and actress, is depicted near Barbara Allen, the first woman employed by the United States Weather Bureau.
The juxtapositions are part of the exhibit's power.  "This set of women breaking barriers resonates because we still have so many barriers to break," Heher said.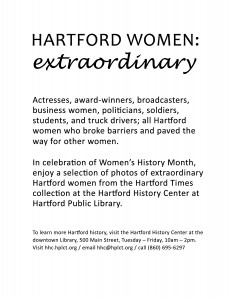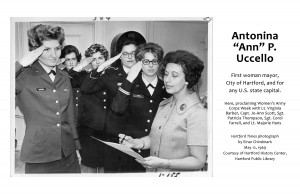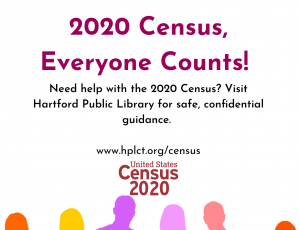 Hartford Public Library encourages city residents to take advantage of adjustments to the timing of 2020 Census activities to complete the survey at home.
"The safest and most convenient way to participate in the 2020 Census is to do so online. If we don't count everyone, we may be leaving money on the table," said Hartford Public Library CEO and president Bridget Quinn-Carey, referencing the Census' role in the distribution of federal money to support education, housing, and health care, among many other areas.
Due to the spread of the COVID-19 virus, the United States Census Bureau announced that it would delay and extend different aspects of its operation.
The self-response phase, where households can respond online, on the phone, or via mail, has been extended to August 14.
Census takers will now drop off invitations to take the Census through May 1.
Census Bureau staff will assist people with responding online at places such as grocery stores and community centers, starting April 13 through August 14.
Census takers will interview households in person that have not responded online, by phone, or by mail, starting May 28 through August 14.
Census enumerators will be counting group facilities from April 16 to June 19.
Census takers will work with service providers at soup kitchens, shelters, and regularly scheduled food vans to count the people they serve, starting April 29.
Homeless and transitory individuals will be counted starting in late April and early May.
The goal is to deliver counts to the White House by the end of 2020 and redistricting counts to the states by April 1, 2021.
If you are a Hartford resident and don't have a HPL card, getting one online is easy and will give you access to online books, films, music, and online databases.
Step 1 – go to hplct.org. Click on "Using Your Library" in the menu in the header on the upper right hand corner of your screen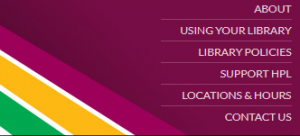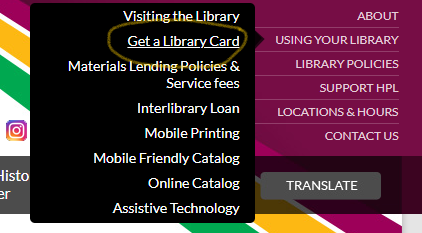 Step 4 – Fill out the online form.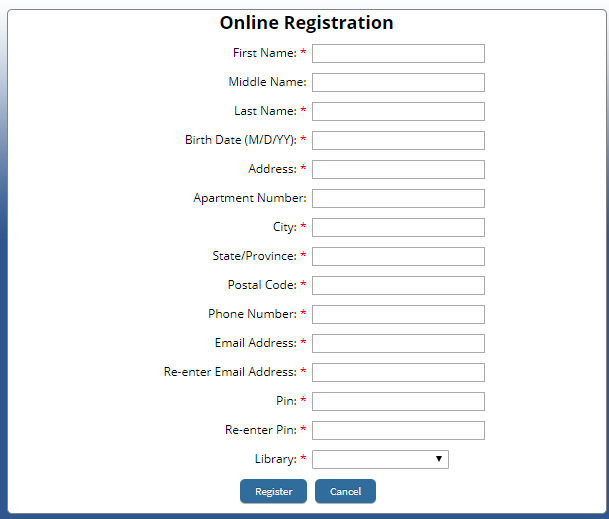 Step 5 – You are now on the confirmation screen and you will receive your login password!

HARTFORD – All Hartford Public Library locations will be closed to the public starting Saturday, March 14 through March 31 in response to the ongoing challenges caused by the COVID19 virus.
All workshops, outreach, classes, and programs are canceled through the end of the month.
For the foreseeable future, the renewal period for borrowed materials will be extended to compensate for late returns. Materials will be automatically renewed up to three times if no one else is waiting. Library personnel will be available for questions via e-mail at
contactus@hplct.org
or by calling 860-695-6300.
"As more information becomes available, we will reassess, respond, and act accordingly. During the closure we encourage people to take advantage of our robust online resources," Hartford Public Library President and CEO Bridget Quinn-Carey said.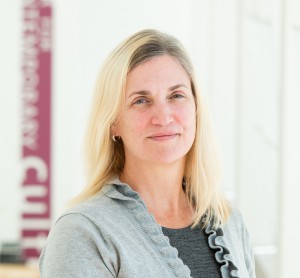 Dear Friends -
Hartford Public Library is working closely with City and State officials in response to the outbreak of COVID19 in our state. We have some service changes and program cancellations to share with you.
Please note that Library hours may continue to change and additional programs may be canceled or postponed in an effort to protect the health of our customers, staff and community. We recognize the need to be mindful of our public spaces, the number of people physically present in them and proximity of people in those spaces.
Service and Program Changes:
For the foreseeable future, we are extending our renewal period to compensate for late returns. Your materials will be automatically renewed up to three times if no one else is waiting; if you have difficulty returning items please give us a call.
Upon consultation with the Hartford Public Schools we will be temporarily suspending public service at the Boundless Library@ Rawson from 3:00 – 6:00 p.m. Tuesday through Thursday.
Hartford Public Library is canceling the following programs and events. We will reschedule as many as possible and publicize new dates as they become available.
ArtWalk
Opening Reception, Erik Williams' Lost in Color – March 13th: 5:30 – 7:30 p.m.
Baby Grand Jazz Series (all 3:00-4:00pm)
·        Iris Ornig Quintet- March 15th
·        Haneef N. Nelson Quintet- March 22nd
·        Ricky Alfonso Group- March 29th
·        Envisage Collective- April 5th
·        The Joe Carter Samba Rio- April 19th
·        TAEKO- April 26th
Mental Health Pre-Screening Day
Saturday March 21st: 1:00-4:00pm
La Colectiva Feminista
Tuesday March 24th: 5:00-7:45pm
Jazz 201
Mondays March 23rd-April 11th: 5:30-7:30pm
Andrea Cruz Concert
Sunday April 5th: 1:30-2:30pm
A series of children's events at the Downtown Library will be cancelled as well.
Read With Gizmo, Saturday, March 21st, April 4th & 18th, 10:30 am
Yoga for Success, Monday, March 23rd 5:30pm
Family Pajama Storytime, Thursday, March 26th 5:30pm
Celebrate Holi Festival of Colors, Thursday, April 9th 4:30 pm
Youth on Youth Bullying Workshop, Tuesday, April 14th 1:00pm
Family Literacy Day (Lego Day), Wednesday, April 15th 10am-2pm
1,000 Books Before Kindergarten Celebration, Thursday, April 23rd 5:30 pm
 We are taking practical steps to help reduce the potential spread of the virus:
Enhancing cleaning measures in all buildings, with particular focus on high-traffic and high-touch areas
Reminding all staff and customers of proper hand hygiene and respiratory etiquette, such as: covering coughs and sneezes with something other than your hand; washing hands frequently with soap and water for at least 20 seconds; and, avoid touching eyes, nose, and mouth. We have added more hand-sanitizer stations in our larger facilities.
Encouraging staff to stay home if they are sick
Libraries are shared public spaces. For the health and safety of others, please be thoughtful about coming into a library if you are not feeling well.
Need something to read or watch? There's a Library at your fingertips:
Check out the Library's many 
online books and media
and
other resources
including e-books and e-audiobooks; streaming TV, movie and music services; online classes; and digital subscriptions to newspapers and magazines.
Bridget Quinn-Carey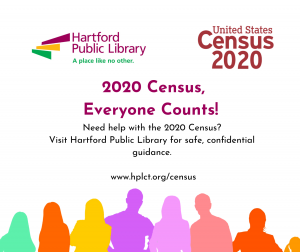 In an effort to encourage full participation in the 2020 Census, Hartford Public Library will expand technology access in all of its neighborhood libraries beginning March 28.
"We knew that as a library, as a place in the community where so many people already come, that we have an obligation as a civic organization to do as much as we possibly can to help people understand the importance of the Census," said Bridget Quinn-Carey, Hartford Public Library's chief executive officer.
If individuals need assistance filling out the 2020 Census, the first in the nation's history to take place primarily online, Hartford's librarians are poised to help. Computer kiosks will be installed at all of the city's libraries for residents to have a dedicated place to take the Census.
"We are in one of the areas of the country that is determined to be hardest to count," said Quinn-Carey, noting a designation made by the Census itself.
In an effort to remedy that concern, HPL will open an additional neighborhood library each weekend from March 28 and ending April 26, giving people a safe and welcoming place to have their questions answered.
Below are the dates, times, and locations.
Saturday, March 28, 10 am-1 pm and Sunday, March 29 1-4 pm, Barbour Library, 261 Barbour Street
Saturday, April 4, 10 am-1 pm and Sunday, April 5 1-4 pm, Dwight Library, 7 New Park Avenue
April 11, 10 am-1 pm, Sand/Ropkins Library, 1750 Main Street
April 18, 10 am-1 pm and April 19, 1-4 pm, Camp Field Library, 30 Campfield Avenue
April 25, 10 am-1 pm, Barbour Library, 261 Barbour Street
April 26, 1-4 pm, Sand/Ropkins Library, 1750 Main Street
Food will be available at each of the locations, as well as a raffle for various prizes.
Quinn-Carey said the stakes for the Census are high.
"If people don't get counted then our community will suffer. We won't have the appropriate funding to support our community. The funding affects our schools, affects our public services. So many funding decisions are made by census information. If we don't count everyone, we are leaving funding on the table in so many different way. We are also impacting our state's representation in Washington," she said.
The Census can be completed online, by paper, or over the phone. For help completing the form, call the Census at 800-923-8282.
"The library has a role because we are a trusted institution that supports our community. We take that mission, as being a seat of civic engagement, to heart," Quinn-Carey said.
For more information about Hartford Public Library, visit hplct.libguides.com/Census
 FAST FACTS ABOUT THE 2020 CENSUS
Drawn from "Counting for Dollars 2020" and "2020 Census Faith Toolkit"
In FY 2016 Connecticut received $10,726,609,427 from federal spending programs guided by the 2010 Census. That money was used to fund schools, health care, highway construction, and student loans among many other areas that touch our daily lives. When people are not counted our community loses out.
The Census determines how many representatives our state will send to Congress and how our congressional districts will be drawn. State and local governments also use Census data to redraw state legislative districts.
Census information is confidential and will not be shared with any other government agency.
The 2020 Census will not have a citizenship question and even if you can't vote you can be counted.
Be sure to count all people who live in your house, not just family members.
The Census will never ask for a Social Security number, bank account number, or to pay money.
From a young age Erik Williams knew he had artistic tendencies. He liked to dance, rap, and draw.
However, purely out of necessity, Williams began shooting photos for local musicians. He and his friends had found that some photographers were expensive and unreliable. Once Williams' photos started showing up on social media, he started getting more attention and gigs shooting fashion and makeup.
"I did one fashion show and I was traumatized," Williams recalled.
For a little while he put his newfound passion aside. Williams didn't want to photograph that which didn't interest him.
"I was sitting around and my camera was starting to pick up dust. I have an urge to shoot but I'm growing. The things I was shooting before weren't appealing to me. I picked up my camera got in my car and started driving around listening to music," Williams recalled.
Hartford, the city he grew up in and spent all his time, spoke to him.
"All of these things just started glowing. It sounds crazy but things just start popping out that I might not have been paying attention to before, like certain conversations I saw, like people waiting at the bus stop, or someone sweeping trash. These started sticking out to me as beauty that we overlook, simple tasks, simple things in life we overlook. There's a lot of beauty if you just slow down and pay attention," Williams said. "I wanted to capture and showcase it through my lens."
Williams' black and white street photography, a profound combination of empathy and grit, will be on display at Hartford Public Library's ArtWalk starting March 13 and running through April 26. The opening reception will take place on Friday, March 13 at 5:30pm. Williams will give an artist talk on Saturday, April 11 at 11:00 am.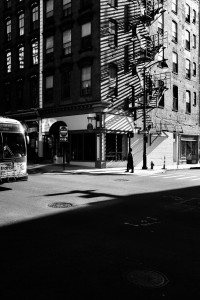 Williams' photography is more than a mode of personal expression and a way to chronicle his home. His work is a part of a worldview that values individual moments and the deeply personal. His camera, in no small sense, is just an excuse to hear people's stories and share his own.
"I have the image in my mind and I pursue it. I let people know what I am doing and why I am doing it. To share their story to show the world their beauty through my lens. My intentions are honest and pure, and I think people can sense that," Williams said.
Some people use a camera to be invisible. Williams, a 36-year-old Bloomfield resident and construction worker by trade, uses the camera specifically not to hide. A couple of times a week, when he feels like it, Williams walks around taking pictures of whatever catches his eye. "Every day I leave it is different. I am not really looking for anything in particular. When I see it, I know," Williams said.
The technical nature of Williams' artistic process makes deep personal engagement a necessity. He works with a fixed lens, meaning there is no way for him to zoom in on anyone. If Williams does a portrait, he is only a foot or two away from his subject.  "I want to get into your space because I am interested in getting to know you and hearing your story," Williams said. "You are beautiful as you are and I recognize it and I want to tell you personally."
Williams believes that his art – which includes at some level his personal interactions – help to create change. He's seen people's reaction, their smiles. He knows that people feel he is trying to represent Hartford as he sees it – a vibrant place.
"When I am able to talk to people I am changing people's perspectives, helping people to be less judgmental, more appreciative, more understanding, Williams said.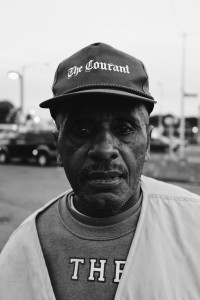 For example, one of William's portraits is of an older man wearing a dark colored Hartford Courant cap. The man is serious, but there is something gentle in his gaze.
"That's James. He sells the Courant off Albany Avenue. He has glaucoma. He's someone you would pass a thousand times driving past on Albany Avenue. But I see him out there in rain, sleet and snow selling that paper out there for years and I see beauty in that. I respect his commitment," Williams said.
Williams is a careful man. He's not caught up in the social media hustle. He takes his time and gives his full attention, whether it's something simple like washing his clothes or cooking dinner or, something really difficult, like looking at the world.
"Maybe that can fix something in you," said Williams, as he looked from the windows of the ArtWalk onto Main Street.
— by Steven Scarpa, Manager of Communications and Public Relations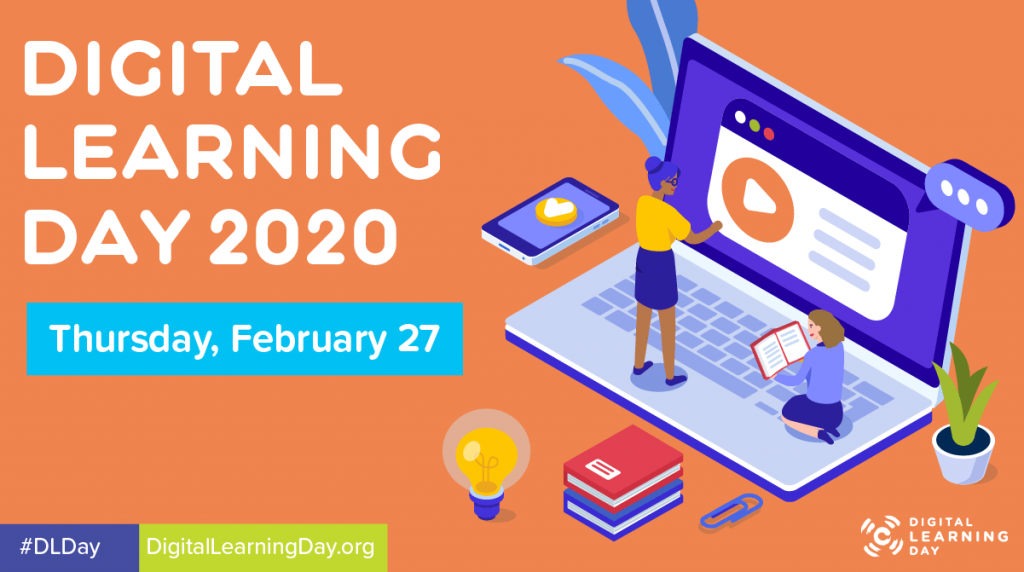 "With the support of the Library, it is like coming out of the dark." — Calvin Hood
Digital Learning Day, recognized nationwide on February 27, is a reminder that the "digital divide" is not just an alliterative phrase but a reality that exists in many of our Hartford neighborhoods.
In our city, only about 57 percent of households have internet access – there are 20,000 homes with no access at all. The impact is serious. As everything from job applications to government information and services migrate online, digital inclusion is becoming synonymous with economic inclusion.
"There's still just way too many families that don't have regular access," said Bridget Quinn-Carey, Hartford Public Library's chief executive officer. "There are information have and have nots."
Through Hartford Public Library's (HPL's) Crossroads to Connectivity (C2C ) initiative, the Library is taking a two pronged approach to deal bridge the digital divide. "Our digital literacy goal is to help people be successful and to connect them to the resources they need," Quinn-Carey said.
Step one is the thoughtful distribution of laptops and Wi-Fi hotspots to qualified individuals who are working towards educational and career goals. Many of the successful candidates are negotiating re-entry to society after serving time in prison. Still others have a financial need and additional training would help them improve their circumstances. About 25 people are currently active the Library's Crossroads to Connectivity initiative and there is the hope that over 100 people will benefit from the program.
"We are looking for people who want to go in a positive direction in life," said Julie Redding, HPL's Crossroads to Connectivity coordinator.
The second step, which is still in the planning phases, is the utilization of white space technology – the unused channels between television broadcasts – to provide broadband access to an underserved part of Hartford's North End.
"This enables us to help people who are working two or three jobs and taking classes and they have other commitments where they can't be in a physical location. They need the flexibility to work when they have the opportunity. We want to empower them," Quinn-Carey said.
Up and running for close to a year, Crossroads to Connectivity results are beginning to show. For a small group of focused and dedicated individuals, that laptop, that wi-fi hot spot, coupled with classes and programs, have become the keys to opportunity and a wider world.
**
Tanisha Henriques describes herself as a connoisseur of learning, starting as a child going to Hartford Public Library's neighborhood libraries.
"I eat up learning like some people eat up exotic foods," she said.
So when the time came to find a new career, the library was her first stop. Henriques took a couple of digital literacy training courses at the library, as well as online accounting and child development classes.
With her borrowed laptop and wi-fi hotspot, Henriques is preparing for a long term position that suits her thirst for new ideas and her penchant for detail oriented work – bookkeeping.
"With the C2C program it has been really helpful because I am learning QuickBooks," Henriques said. "This has been really beneficial because with the C2C program I get to practice at home at a lot."
A laptop would be out of reach for Henriques financially, so access to the Library's equipment and programs have given her a much-needed start.
Henriques is now attending Capital Community College and will finish her bookkeeping class at the end of March. As soon as she's done, she'll get online and start applying for internships in her chosen field.
**
Just a few months ago, Tiffany Reed was not in a good place. Wrestling with addiction, Reed found herself without a home. She found a safe place in Hartford to get help about five months ago.
"I am definitely rebuilding my life from the ground up," Reed said.
Part of that process is working with the C2C initiative. With a bit of planning on the part of the Library, Reed now has a laptop loaded up with AutoCAD, a high level design software, and everything else she needs to complete her welding certification, a process that would put her almost immediately in contention for well-paying work.
"I am trying to train myself to see if these are things I can build a life on," she said. "Trying to build a resume out and trying to do research on a phone is not as easy to do as on a laptop,"
Reed doesn't just need the technological help. Hartford Public Library has given her a safe and welcoming environment to explore ideas and to meet people who are committed to bettering themselves.
Reed believes that the laptop and online classes are the first steps towards an engineering degree. "All I can do is hope," Reed said.
**
Hartford resident Calvin Hood cut short his high school education to join the military. He spent time in the Army, serving in Vietnam, and then did a subsequent tenure in the Navy, based in Spain. Upon his return to the States, Hood worked for the Post Office until retirement.
As time went on, it was clear to Hood that he had unfinished business. "I need the knowledge," Hood said.
Thanks to his work with HPL's Crossroads to Connectivity initiative, Calvin went from having no computer literacy to working towards his GED online – at the age of 73.
"I came out of the 19th century into the 21st century," he said.
After taking courses to become more adept with the computer, Calvin now uses it to study for his classes, do homework, and prepare for his all-important GED exams.
"It takes some getting used to. I am still not fluent as I want to be," he said.
Hood has completed one of the tests for his GED and will finish the remainder by the end of the summer. Once he has his GED, Hood plans to become certified to tutor people applying for American citizenship.
"With the support of the Library, it is like coming out of the dark," he said.
For more information about Hartford Public Library's programs and services, visit hplct.org.
— By Steven Scarpa, Manager of Communications and Public Relations
The Library Book
by Susan Orlean
Published 2018
Review by Kaitlin
Spring 1986 alarms sounded at the Los Angeles Public Library and a heavy smoke billowed out of the great building.  Hundreds of thousands of books were lost and even more damaged.  To this day, the mystery of who started the legendary fire, remains unsolved.
The Library Book combines a mix of many different subjects to create an exquisitely woven, page-turning novel.  Starting with the fire itself, running through the history of the Los Angeles Public Library and its many librarians and finishing up with the future of the library in the years to come, The Library Book has a little bit for everyone, as do modern libraries today.
Deadly Class- Reagan Youth
by Rick Remender; Illustrator: Wesley Craig  &  Lee Loughridge
Published 2014
Review by Johana
The premise feels familiar, young teen orphan having a hard time growing up and fitting in at school, but then you mix in the fact that the school Marcus has been recruited to is a school for assassins.  Normally the cliques consist of jocks, preps, nerds, and so on but in this high school you attend classes with children of Yakuza members, KBG agents, white nationalists, South American Drug Lords, CIA/FBI agents, and so on. Though the writing's is fun and fast-paced it's really the illustrations that shine in this book. This novel takes place in the 80s and the illustrators do an amazing job getting you to feel the underbelly of that timeline from the grittiness and color palette choices.  This author uses memories from his own youth such as drug usage, isolation, violence, depression, poverty and just amps it up to an even darker level.  I look forward to continuing the series.