The start of summer may be a highly-anticipated break for all kids, but research shows that low-income students that do not continue educational programming during the summer suffer greater achievement losses, gain more weight, and become less likely to graduate high school than their more affluent peers. In order to fill this critical learning gap, Hartford Public Library's Summer Learning Program encourages reading and enrichment throughout the hotter months with a citywide educational events, activities, and prizes. To celebrate the start of the 2014 Summer Learning @ HPL Program, the public is invited to attend an outdoor kickoff festival on Saturday, June 7 from 1 – 4 p.m. at the Library's Downtown location!
The festival will incorporate the theme of this year's Summer Learning Program, "Fizz Boom READ!" with science activities, crafts, games, and a special 3:00 p.m. Mad Science show. A bounce house, giant slide, face painting, airbrush tattoos, snacks, music and more will be free for all. Last year's kick-off broke attendance records with 900 kids and families having a blast! The festival will stretch from the Downtown Library at 500 Main Street to the Burr Mall, and free transportation will be available throughout the city via buses that will run between Library branches and Downtown Hartford.
In addition to the festival fun, attendees will have the opportunity to learn about and register for the Summer Learning Program and how to win prizes for reaching summer reading goals. Designed to maintain yearlong learning in an attempt to reduce summer learning loss in students of all ages, students move directly from school-year activities into Summer Learning @ HPL so that the "learning ball" is never dropped, and parents with limited skills or access do not need to actively pursue educational opportunities in order for their children to achieve success.  Program participants are challenged to read daily and log their participation in order to win prizes.  Hartford Public Library's Summer Learning Program has seen huge success in recent years – participation increased from 300 students in 2011 to over 6,500 students in 2013.
This year, in partnership with Mega Education, a series of 10 Summer Learning registration ice cream parties will be held throughout the summer, where two lucky registered participants at each Library branch will win brand new Android tablets!
Mega Registration parties are held from 2:30 p.m. – 3:30 p.m. at the following locations:
Tuesday, June 24 – Mark Twain Branch, 55 Forest Street
Friday, June 26 – Barbour Branch, 259 Barbour Street
Thursday, July 3 – Blue Hills Branch, 649 Blue Hills Avenue
Tuesday, July 8    Ropkins Branch, 1750 Main Street
Tuesday, July 15 – Camp Field Branch, 30 Campfield Avenue
Friday, July 18 – Albany Branch, 1250 Albany Avenue
Tuesday, July 22 – Downtown Library, 500 Main Street
Wednesday, July 30 – Park Branch, 744 Park Street
Thursday, July 31 – Dwight Branch, 7 New Park Avenue
Friday, August 8  - Goodwin Branch, 460 New Britain Avenue
Registration for the Summer Learning program can also be completed at the June 7 kickoff, or online at www.hplct.org by clicking on the summer sun.
Library Offers Adult Summer Reading Events!
Hartford Public Library's summer programs and prizes are not just for the school-aged! Adult readers are invited to participate in Library Book Club summer discussions:
Thursday, June 19, 12:30 p.m. – Book Talk with James Rouman, author of Uncertain Journey
Thursday, July 17 – Book Club Discussion – Delicious! A Novel by Ruth Reichl
Thursday, August 21 – Book Club Discussion – Aya of Yop City by Marguerite Abouet
Registered participants are eligible to win prizes at each event! Adult readers may register for the Summer Reading Program online at www.hplct.org or at any Library branch.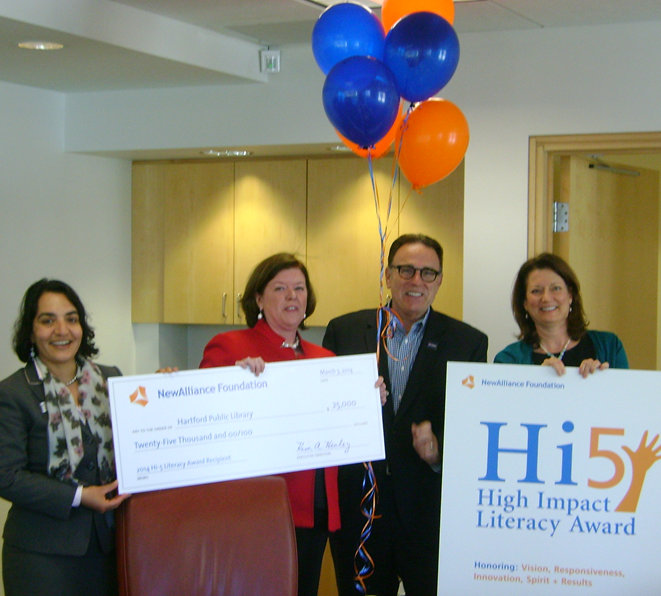 Woah! On Thursday, April 24, we were blown away by receiving  a surprise grant award of $25,000 from NewAlliance Foundation in support of the our dedication to providing access to literacy education to all Hartford residents. The "Hi-5" High Impact Literacy Award is granted annually to an organization in the NewAlliance Foundation service area that embodies the five attributes the Foundation wishes to honor in the field of literacy: vision, responsiveness, innovation, spirit and results.
"Literacy is critical to the success of Hartford's youth, adults, and the community. Our commitment to literacy is at the core of our mission, and inspires what we do here each and every day," said Matt Poland, CEO of Hartford Public Library. "We are thrilled to receive this unexpected award, which will allow us to continue to provide innovative educational programming and improve literacy skills for residents throughout the city."
We offer an array of literacy programs for children and adults at our nine branches and Downtown location:
The Library's many early-literacy programs, resources and technologies provide access to the materials and skills that Hartford's youngest students need to enter school prepared to learn and achieve educational success.
 Each summer, thousands of Hartford students participate in the Library's Great Summer Read, the only provider of programming, encouragement and free access to literacy materials during the summer.
Hartford Public Library's literacy programming redefines traditional education by extending to student of all ages a variety of year-round programs, free and open to all. These include English-as-Second-Language (ESL) classes, computer, health, and financial literacy programs
A recent partnership with Hartford Public Schools allows the Library to maximize access to its services for city students, parents, and educators.
"We're very impressed with Hartford Public Library's dedication to the community, and to addressing the critical gap in education and literacy services that exists for many Hartford residents," said Kim Healey, Executive Director of Newalliance Foundation. "The programming provided by the Library makes a wide variety of learning and literacy skills available to all, and is a truly invaluable service. We're pleased to be able to support its continued innovation, vision, and results."
Thank you, NewAlliance Foundation, for your generous support! These are the kinds of surprises we could REALLY get used to!
The American Library Association (ALA) has selected Hartford Public Library as one of 10 public libraries that will undergo an intensive 18-month, team-based community engagement training program as part of the Libraries Transforming Communities (LTC) Public Innovators Cohort.
The cohort, selected through a highly competitive peer-reviewed application process, is part of ALA's LTC initiative, a national plan to help librarians strengthen their role as core community leaders and change-agents.
Through in-person training, webinars and coaching — valued at $50,000 — a team of five Hartford Public Library staff members, led by CEO Matthew K. Poland, will learn new community engagement techniques and apply them to challenges in the City of Hartford. The library will also receive an $8,000 cash grant to help cover the cost of new community-engagement work.
"Libraries are at the heart of the community, and civic engagement is at the heart of where the public library is going in the 21st century. We are this democratic place where opinions are heard, resources are universally available, everyone is welcome, and programs are offered about things that matter in the community," says Poland. "Successful civic engagement requires a combination of knowledge, skills, values, and motivation to make a difference in the community so we look forward to developing our competencies through this wonderful opportunity."
The selected libraries represent the range of American communities in terms of size, location, ethnic and racial diversity and socioeconomic status, and they all face challenges including illiteracy; unemployment; a "digital divide" in access to information technology; an influx of new and immigrant populations; and disparate access to services.
Other members of the LTC Public Innovators Cohort include:
Red Hook (N.Y.) Public Library (pop: 1,900)
Columbus (Wis.) Public Library (pop: 5,000)
Knox County (Ind.) Public Library (pop: 33,900)
Suffolk (Va.) Public Library (pop: 85,000)
Springfield (Mass.) City Library (pop:  153,000)
Tuscaloosa (Ala.) Public Library (pop: 195,000)
Spokane County (Wash.) Library District (pop: 255,000)
San Jose (Calif.) Public Library (pop: 980,000)
Los Angeles (Calif.) Public Library (pop: 3.8 million)
"Public libraries have long served as trusted and treasured institutions, and librarians today can leverage that strong position for the betterment of their communities," said ALA President Barbara Stripling. "As a longtime champion of library-led community engagement and innovation, ALA is primed to provide the tools and support that will enable librarians to more effectively fulfill this vital role."
In partnership with The Harwood Institute for Public Innovation, Libraries Transforming Communities addresses a critical need within the library field by developing and distributing new tools, resources and support for librarians to engage with their communities in new ways. Libraries Transforming Communities is made possible through a grant from the Bill & Melinda Gates Foundation.
Libraries Transforming Communities is grounded in The Harwood Institute's approach of "turning outward," which emphasizes changing the orientation of institutions and individuals from internal (institutional) to external (community-facing).
For more information on Libraries Transforming Communities, visit http://www.ala.org/transforminglibraries/libraries-transforming-communities.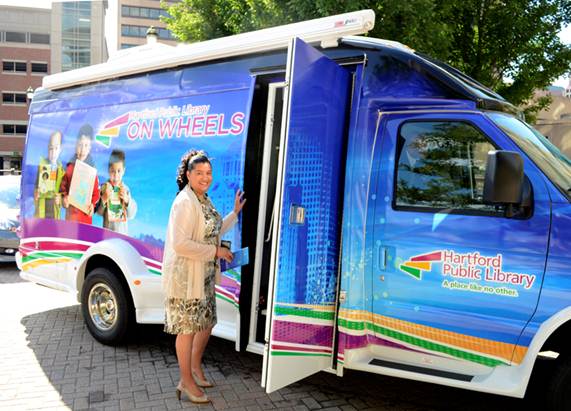 Greater Hartford! Join HPL for a week-long celebration for National Library Week, April 13 – 19, 2014, in our nine branches, Downtown Library, and online. The theme of this year's celebration is "Lives change @ your library."
Begun in 1958, National Library Week is a national observance sponsored by the American Library Association (ALA) and libraries across the country each April. It is a time to celebrate the contributions of our nation's libraries and librarians and to promote library use and support. All types of libraries – school, public, academic and special – participate.
In Hartford, the public will have multiple opportunities to celebrate in a variety of mediums:
HPL's new Library on Wheels will travel throughout city neighborhoods making stops outside each of the Library's nine branches. Residents are invited to sign up for a library card and learn about the services Library on Wheels provides.'
Kids of all ages are invited to participate in an art contest at their local branch by creating a poster illustrating the theme: "What the Library Means to Me!" Winners will be chosen the following week, and one winner from each branch will receive a special prize.
This year, Library Week goes virtual, with a collaborative social media project called "#HPseLfies". Visitors are encouraged to take selfies while at the library and upload to Facebook, Twitter, or Instagram with the hashtag "#HPseLfie." Pics will be compiled into a photo-collage which will be reposted on the Library blog and throughout its social media channels.
Wednesday, April 16, join HPL Downtown for "More than Books: Libraries, Community & Historic Preservation," a presentation and discussion with historian William Hosley. The event will revisit 200 years of American libraries and the changes in mission and practice brought on by technology and new community needs. This program is presented in partnership with the Auerbach Art Library at The Wadsworth Atheneum.
Kids visiting all Library Youth Departments will receive fun free giveaways all week long!
The Library on Wheels can be found in the community at the following days and times:
Monday, April 14
Blue Hills Branch: 3:00 – 3:45 p.m.
Albany Branch: 4:00 p.m. – 4:45 p.m.
Mark Twain Branch: 5:00 p.m. – 6:00 p.m.
Tuesday, April 15
Ropkins Branch: 3:00 p.m. – 3:45 p.m.
Barbour Branch: 4:00 p.m. – 5:00 p.m.
Wednesday, April 16
Dwight Branch: 3:00 p.m. – 3:45 p.m.
Park Branch: 4:00 p.m. – 5:00 p.m.
Thursday, April 17
Goodwin Branch: 3:00 p.m. – 3:45 p.m.
Campfield Branch: 4:00 p.m. – 5:00 p.m.
Saturday, April 19
Downtown Library: 10 AM – 4 PM
For more information on Hartford Public Library's National Library Week programs, please call 860-695-6352 or visit www.hplct.org.
Congrats to HPL Youth Services Manager Lina Osha-Williams, honored as an Immigrant of the Year at last week's Connecticut Immigrant Day ceremony at the state capitol! Her dedication to serving the Hartford community is truly inspiring, andwe're so proud to have her on our team.
Also honored at the ceremony: our Adult Learning Department staff, for their implementation of We Belong Here Hartford, a program that provides key support to immigrants new to America by linking them to programs and services available at both the Library and throughout the region.
Way to go, HPL!