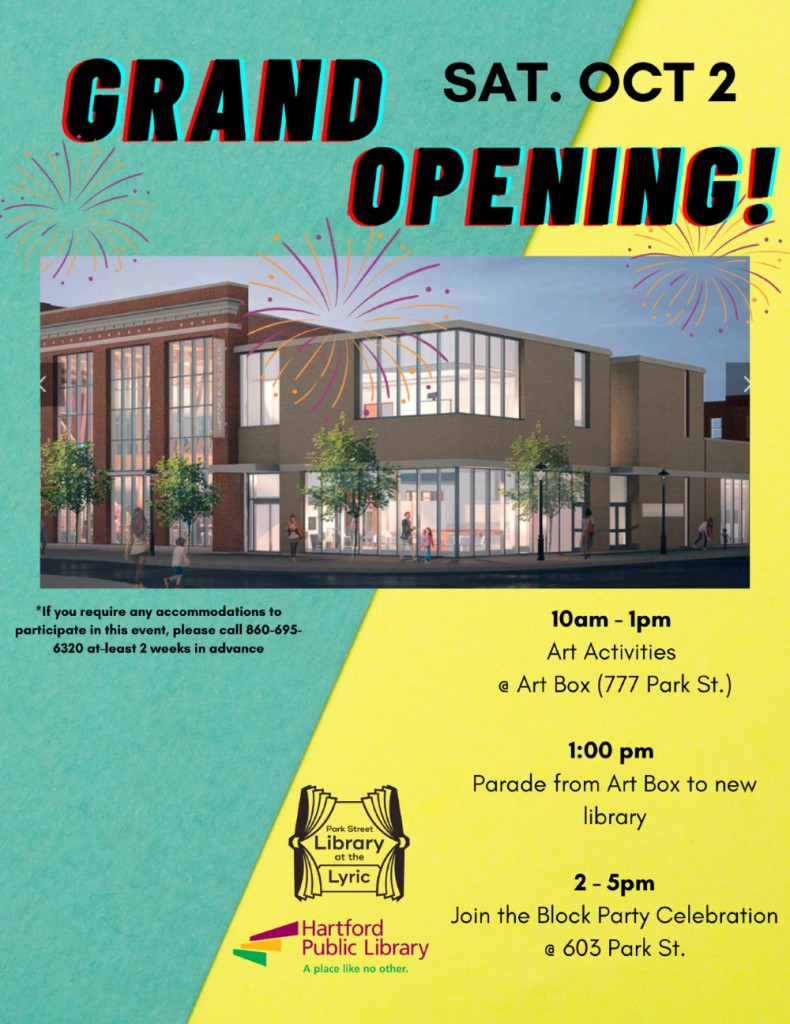 Hartford Public Library invites the community to a daylong celebration on Saturday, Oct. 2 to mark the grand opening of the new Park Street Library @ the Lyric!
The festivities will begin in the morning with art activities at the Art Box (777 Park St.) followed by a parade to the new library (603 Park St.). At the library there will be live music, food trucks, activities for kids and open access to come inside and tour the brand new space.
RSVP on Facebook HERE
DAY'S EVENTS:
10 a.m. to 1 p.m. – Art activities at the Art Box, including painting of Southside Institutions Neighborhood Alliance Frog Hollow heroes murals
11 a.m. – Puppet show, presented by Hispanic Health Council
1 p.m. – Colors of Frog Hollow Community Parade from Art Box to Park Street Library @ the Lyric (Wear a shirt representative of your culture)
2 p.m. to 5 p.m. – Block party celebration
FEATURED PERFORMERS:
De 4 Ahwee & Co. with friends from Trinity Steel, presented by the Trinity College Center for Caribbean Studies
DJ Connie Carmona featuring YOUMedia Hartford teens
Bomba Ashe
Latin Essence Jazz Group
Mariachi Academy of New England
OTHER PROGRAMS:
Voices of Frog Hollow multimedia presentation
Hartford History Center Hartford Public Library branch history exhibit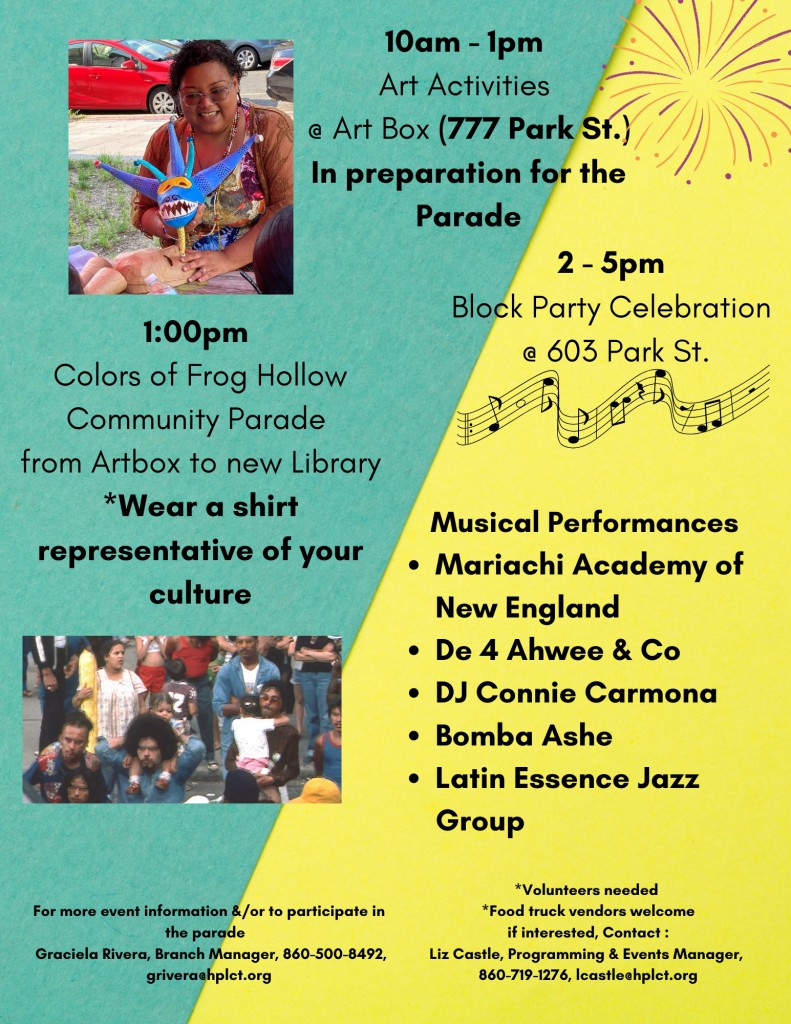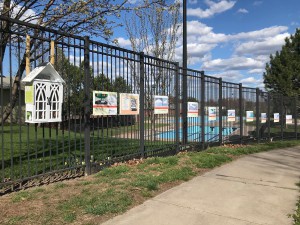 The Hartford City Council recently approved a plan by the Hartford Public Library, in partnership with Hartford Athletic and Cigna, to install a permanent StoryWalk display in Colt Park.
The display will consist of a series of 20 interactive podiums that will each feature one to two pages from a children's book as well as a physical activity to complete while walking to the next podium. The pages will be displayed in English and Spanish. The final page will contain a QR code that will direct users to a website where they can complete a quiz to win Hartford Athletic prizes
"Putting literacy and physical fitness at the forefront, this initiative provides families in the Hartford community with a fun and educational activity that is available to everyone," Hartford Public Library, Hartford Athletic and Cigna wrote in a letter to Councilwoman Marilyn E. Rossetti, chair of the council's public works, parks, recreation and environment committee.
The StoryWalk will begin with a podium outside the entrance of Dillon Stadium, continue to the corner of Van Block Avenue and Masseek Street and then enter Colt Park where 18 additional podiums will be placed on the east side of the youth soccer field.
A resolution by Rossetti, Council President Maly Rosado and Councilwoman Shirley Surgeon was included on the consent agenda at the council's Sept. 13 meeting.
Cigna has agreed to pay $25,000 to cover the cost of the project, including three years of maintenance and upkeep.
The StoryWalk is expected to be completed in mid-October and the Hartford Public Library will replace the book pages and activities on a quarterly basis.
Hispanic Heritage Month begins Sept. 15, and to mark the occasion, the Hartford Public Library is highlighting local artist Carlos Hernández Chavez, a musician, muralist and friend to the library.
Carlos had already established himself as an accomplished artist when he came to Hartford from Mexico City in 1967.
"When I first arrived I might as well have arrived to another planet," he told The Hartford Courant in 2013. "Everything was just so different even though I spoke English. The newness of the place… it was just mesmerizing. I was told that I was the first Mexican in Hartford. I'm not sure if that was true but I did not meet any Mexicans for many years after 1967."
Carlos quickly became ingrained in the city's arts scene and worked for the City of Hartford for 25 years, beginning as a bilingual social worker and ending his career as the top hearing officer for housing and parking violations.
In 2014, his works were featured in the ArtWalk at the Hartford Public Library. The exhibit, "Dialogues: Impromptu Conversations in Color," included works created in the Carite rain forest in Puerto Rico. Carlos took leaves off plants, coated them with paint and pressed them to paper or canvas.
Over the past year, Carlos has been photographing the progress of the construction of the new Park Street Library @ the Lyric that is scheduled to open at the end of the month.
Hartford Public Library honors and celebrates the history, culture and contributions of our Hispanic and Latino community.
Ana Cuevas was born without vision but it hasn't stopped her from producing finely crafted scarves and other items at the Hartford Artisans Weaving Center.
"My understanding of color is very limited but I like to do things for others to see," Cuevas, who has been weaving for about four years, said Thursday as she demonstrated her skill at an opening for the center's Perspectives on Color exhibit at the Hartford Public Library's Downtown location.
Dozens of items produced by artisans from the weaving center will be on display on the library's third floor – outside the Hartford History Center – through Oct. 21.
For Johanna Bolduc, who lost her vision in 2002, the center on Woodland Street has been a welcoming environment since she first started training there in 2013.
"It's the nosiest peaceful place you'll ever be," she said, calling the art of weaving a form of "active meditation."
The center was forced to suspend classes for months during the COVID-19 pandemic but materials were sent home so the men and women who train there could continue working on their craft, said Ann Kollegger, executive director of the nonprofit.
In addition to teaching hand-weaving to people who are blind or visually impaired, the center also offers classes to Hartford-area seniors, like Garrett Weaver, who has a rug on display in the exhibit. He said it took him about three months to produce, start to finish.
Weaver said he's been weaving for about 25 years and has been working at the center since its start.
"In college I was interested in modern art and math, and it's a blend of that," Weaver explained, adding that he uses Microsoft Excel to plot out patterns before getting to work on a project.
Cuevas, the artisan who was born without vision, described how she interprets color in a testimonial that is part of the display.
"The color red comes to mind, because I think about the sun," she wrote. "For me, the sun and the color red means inclusion. The sun provides light and warmth to everyone in the world regardless of race, gender, religion and socioeconomic status."
For more information visit www.weavingcenter.org.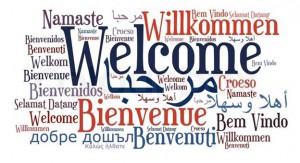 The American Place at the Hartford Public Library — which helps immigrants and refugees resettling in the Hartford area — has been awarded the 2021 Partners in International Education Award from the Council on Social Work Education's Commission on Global Social Work Education for its innovations in education for international social work.
Rebecca Thomas, a social work professor at UConn and director of the school's Center for International Social Work Studies, nominated The American Place for the honor, saying it has served as a "rich environment for field placements" for students seeking degrees in social work.
"Their one stop shop which is not stigmatizing has been a rich experience for students learning about global issues at a local space," Thomas, who is chair of the commission, wrote in her nomination letter to the CSWE. "One does not have to travel far to be international social work. "Students develop case management skills as they work with clients, learn about regions of the world where immigrants and refugees come from, learn to connect services to these individuals and also learn policies and advocacy."
The American Place was established in 2000 and is run by Homa Naficy. It offers immigration information and resources for learning English and preparing for U.S. citizenship. In 2019 Naficy was selected as the winner of the American Library Association's I Love My Librarian Award.
"Her efforts in Hartford are legendary; she has touched the lives of thousands of people and barely takes a breath before embarking on the next project or program that will undoubtedly help thousands more," HPL President and CEO Bridget Quinn said.
During the COVID-19 pandemic many services were shifted online and The American Place provided homebound seniors with tablets and Wi-Fi hot spots to avoid isolation through its Surfing Seniors program.
The award from the Virginia-based council will be presented at the CSWE's annual meeting in Orlando, Florida, in November.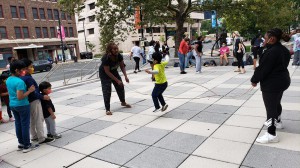 An enhancement of the Boundless partnership between Hartford Public Library and Hartford Public Schools boosted participation in summer learning this year in the city by nearly 300%, with more than 1,000 children and teens registering for the program with the library.
The success is an expansion of the existing Boundless partnership that has deepened connections between the city's schools and with the goal of improving literacy rates for Hartford students and enhanced learning and academic outcomes, explained Denise Martens, Hartford Public Library's Assistant Director of Youth & Family Services:
"We are thrilled to see this huge increase in the use of HPL resources by the city's children, teens, and families!" she said. "This is evidence that the Boundless partnership works to support learning in the city during the summer when we know about the impact of 'the summer slide' that is now being magnified by the pandemic."
This year, Hartford Public Schools and the Hartford Public Library collaborated on creating summer reading lists segmented by grade level, with many titles available in both hard copy and digital formats and made easily accessible to students.
Will Bailey, Hartford Public Library Technical Services Director, said the library worked with its vendors during the 2020-2021 school year to grant access to its ebook collections through the school system's online learning platform, Clever. The BookFlix database of ebooks was extremely popular and resulted in an increase of 50,000 uses throughout the school year.
For summer learning, the library was able to offer a wide variety of reading materials for all grade levels through its Overdrive and Axis 360 platforms, he said.
The theme of this year's summer learning program was "What Colors Your World?" and a combination of outdoor and online activities were offered, including jewelry making, double Dutch, musical performances and virtual story times.
Students were encouraged to read at least 20 minutes a day and complete bingo cards that included squares like "Read with a friend or relative" or "Read a book with poems" as well as nonreading activities like "Learn a new skill" or "Help a family member" in order to win weekly prizes like books for their own personal collections.
This year's program began June 21 and concluded August 21. Hartford students returned to school on Monday.
Last year's virtual program drew about 350 participants, the same as 2019's in-person program.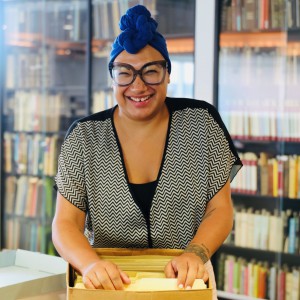 Jasmin Agosto: Hartford History Center Education and Outreach Manager by day and Sageseeker Productions founder by night.
Artist always.
Congratulations on being named a 2021 Connecticut Arts Hero!
Thank you!
I think this means you get a superpower. What's yours?
Well, if I was given this superpower as a kid it would have been to be able to fly or, by holding a book, gain all the knowledge inside it. But now? Now it would be to just by touching folks they gain all the resources and skills they need to build a good life. That's my superpower.
It's obvious how much you care about your community. We see it every day at the library.
My love for our community goes back to my childhood and my love for Hartford's history was strengthened during my time at Trinity College. While I was there, I took a film class and in it we studied the films saved by Hartford activist Butch Lewis about Hartford in the year 1969. The films captured the politics, the diversity, the protests and the culture of that time. It was in that class I discovered the history they did not teach us in school, one where Black and Puerto Rican folks were at the center of it all. Years later when I began working at the history center at the library, one of my first assignments was to work on the Butch Lewis collection. I felt like I came full circle. Like I was right where I was supposed to be.
You started Sageseeker Productions to build community creative space for the Black and POC artists. What does art mean to you in your world?
Art for me is a space to break free from the systems, like capitalism, that we live within. Art allows us to think creatively, to ask questions, to push boundaries, and to express joy. It is powerful to share all of that with our community.
Is there any art recently you experience that has moved you in all those ways?
I've been reading a great novel Daughters of Stone by Dahlma Llanos-Figueroa. It was given to me by my mom and it follows several generations of Puerto Rican women descending from Africa. I was particularly moved by the character Mati – a healer who uses her superpowers to free herself and her fellow community while gaining the land they were enslaved on and transforming it into a free collective commune. 
Reminds me of you. Speaking of superpowers. I believe there is a cape involved with this award?
Purple. Definitely purple.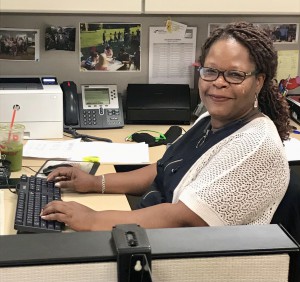 We Congratulate HPL Math Wiz Tiffany Cooper for Receiving Her Bachelor's Degree in Accounting from Albertus Magnus College!
You are a Weaver Beaver, can you say that five times fast?
I played basketball my freshman year! I graduated in 1986, and I've gone to all my class reunions. Go Beavers!
Did young Tiffany always want to be an accountant?
When I was little, all I had for toys were calculators and cash registers. I've always loved numbers. I love math, I love analytics. I'll analyze anything. I was quiet in school, I grew up fast and was more mature than others.
Your path to getting this degree was not a straight one.
It took me 12 years to earn this degree. I started by attending Southern Connecticut State University but left after one year. While working, at Cigna, I decided to go back to school and earn a college degree. While raising my two kids I would take a couple of credits whenever I could.
That was some accomplishment- you are strong to persevere for so long.
I grew up surrounded by strong women that were examples for me. My mother was 16 when she had me and my grandmother raised me and took care of me. I had such a strong support system supporting me. I felt their love and encouragement with me always. My mom went back to school as an adult worked hard and not only graduated college but went on to earn two masters – one in education and one in counseling.
Your children are now grown up.
My son Justin works with numbers and my daughter Taylor is an artist. I have one left brain and one right brain- both supportive!
After 12 years- what does this degree mean to you?
My degree doesn't define me. Society puts you in a place where you need to prove yourself, and a degree is that proof.
I am a life-long-learner. I realize I know little about Black history. I didn't learn about Emmett Till until I was in college. Now that I've come into a place where I understand myself, who I am, I'd like to know more about the struggle of my people. I volunteer at my church, Phillips Metropolitan C.M.E. Church, and help at the local shelters. Together with my children and our families I deliver supplies to local shelters regularly and it's now a tradition in our family. We pool our money and do Blessing Bags.
Thank you Tiffany, for your critical behind the scenes work at the Library and for being one heck of an example of what hard work and tenacity can bring you. Well done!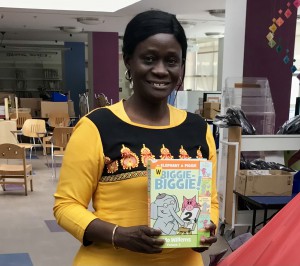 Lina Osho-Williams is the Youth and Family Services Manager for HPL. She holds a Masters in Early Childhood Ed. and received a MS from Simmons College (Library and Information Science) this past year.
Tell me about your journey to the United States.
I was born in Sierra Leone. I left my country in 1997, during a brutal civil war. Along with my 3 year-old daughter, Olayinka, my mother, my brother and my cousin, we boarded a boat to Gambia with no idea of what to expect. .
The journey by boat was a nightmare. No clean drinking water. The boat was overloaded and there was a terrible storm at sea. My daughter Olayinka was so dehydrated I was petrified if she stayed on the boat one more day, she would have died. When we arrived in Gambia, the boat was met by the Red Cross. The experience was so horrifying that I have not been on a boat since.
Gambia is the home country of my father and we settled there for a few years. Being multilingual, I was able to teach for the 2 years we lived there. In 1999, we came to the states, sponsored by the Interfaith Refugee Ministry; Interfaith found a sponsor for us in Hartford – the Warburton Congregational Community Church.
You have a college degree in English and Sociology from Sierra Leone and your first job was at TJ Maxx.
I didn't know the currency and I was doing a cashier's job! But I caught on quick!
And you moved on quickly.
I began teaching preschool through a position in the Early Childhood Education Dept. with the Community Renewal Team. It was through this position I met the HPL Children and Families Director Debra Perry. I started at the Blue Hills Branch and moved to the Downtown Library two years later.
How has working at the Library shaped you?
I have evolved (since coming to the library), I've grown in what I do. I know people had doubts, they didn't know me, I sensed that. But I did the work, I grew. I owe so much to my mentor Debra, she led me through!
Tell me what you love about working at the Library.
I love working with families. For me, being a refugee, coming from another country, I understand where they are coming from and can connect immediately. I've been there, I understand.
My passion is with teaching the little ones. There is something just precious about working with the little ones. I love the continuum – working with them as small children and then seeing them grow and come back as adults, seeing their beautiful potential being realized.
Talk about beautiful potential – you and your family have what you describe as the "American Dream"
10 years ago, we bought our first home in Manchester. My 3-year-old daughter Olayinka I was so scared I was going to lose on that awful boat ride? She now holds a bachelor's degree in Communications and works for Hartford Healthcare. And our son, Olatunji will be attending Northwestern University to work on a degree in Journalism.
Working with the little ones, you've got to have a favorite book to read out loud
Elephant and Piggie is a book series for early readers by Mo Willems. I love the illustrations, the positive message, and especially the rapport and friendship of the two main characters
Mo Willems says "One of the ways you grow is by starting over" All of us at the Library are so grateful to Lina and her bravery to start over in the United States.
We are all richer because of her presence in our lives.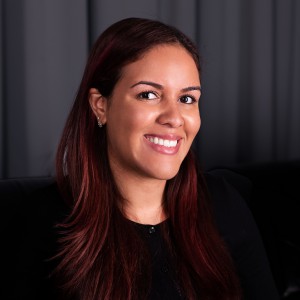 All of us at the Library could not be prouder of Graciela for being selected by Southside Institution Neighborhood Alliance's REACH Committee to receive the 2021 Neighborhood Service Award. It's great to see her being recognized for what we have known along- Grace is pretty extraordinary.
We've had the privilege of getting to know Graciela for the past 15 years and – in some ways since she was 12 – and now we want you to get to know her as well.
Born in the Bronx, Graciela made her way to Hartford via a short stay in Miami. When she got to Hartford, one of the first places she felt at home was the Park Library. Her first summer job, when she was 14, was at Dwight Library. Today she is HPL's Park Library branch manager and is currently in the MILS program at Syracuse University. Graciela hopes to graduate in 2022.
What is it that draws you to our Library? What makes Hartford Public Library (HPL) special?
"I find HPL to be an amazing place, very progressive and rich with resources. My time spent here has been a top-notch working experience.
When I moved to Hartford, the Library offered me a welcoming space with access to many resources. To me, and I hope to others too, our Library is a beacon of hope and I believe the new Park Library will be a catalyst for change in the neighborhood."
It seems like the library is in your blood and now in your family's blood as well.
"My kids, Nashalee and Lukas visit the branch regularly and are a big part of my journey at the library. I hope I can inspire them with my passion and work ethic. After watching "Beyond Words" (HPL'S annual fundraiser) this year, Lukas told me wanted to work here! He was thrilled by YOUmedia and all that he could do there."
I got my first official job at the Library while I was attending UCONN and supporting myself and my daughter. I didn't want to be that statistic. I want to be the person who can model other outcomes."
What Library program do you love?
"I love our Summer Learn series. I love what it brings to our community, to our neighbors, and how it livens the downtown."
What is the most memorable question a library customer has asked you?
"Can you help me, I have been diagnosed with cancer and my last dying wish is to acquire my U.S. citizenship." I referred the customer to HPL's The American Place, and they followed up with her. I hadn't realized how libraries are able to help customers with even their last dying wish, and yet we do. Public libraries really do impact peoples' lives in many unimaginable ways."
If you could be any literary character, who would you be?
"Definitely Dorothy from the Wizard of Oz. it's one of my all-time favorite books, and the movie is amazing. I could not agree more with Dorothy when she says, "there's no place like home". She teaches us the meaning of true friendship, family, and empathy. "
If what the Wizard of Oz once said is true, "A heart is not judged by how much you love; but by how much you are loved by others", then you, Grace, have one huge heart.
Congratulations on your much deserved award from SINA and thank you for being a beacon of light to all who walk into our Library!