The following titles – and more – will be on the shelves of Hartford Public Library, beginning May 22. If the title is not at your closest branch, place a hold and it will be delivered there for you. All our titles are in our catalog; you may search it at any time.
(Summaries from book vendors)
Where Hope Begins by Catherine West

Savannah Barrington has always found solace at her parents' lake house in the Berkshires, and it's the place that she runs to when her husband of over twenty years leaves her. Though her world is shaken, and the future uncertain, she finds hope through an old woman's wisdom, a little girl's laughter, and a man who's willing to risk his own heart to prove to Savannah that she is worthy of love.
But soon Savannah is given a challenge she can't run away from: Forgiving the unforgivable. Amidst the ancient gardens and musty bookstores of the small town she's sought refuge in, she must reconcile with the grief that haunts her, the God pursuing her, and the wounds of the past that might be healed after all.
Where Hope Begins is the story of grace in the midst of brokenness, pointing us to the miracles that await when we look beyond our own expectations.
(Downtown)
Ruthless Tide by Al Roker

Central Pennsylvania, May 31, 1889: After a deluge of rain—nearly a foot in less than twenty-four hours—swelled the Little Conemaugh River, panicked engineers watched helplessly as swiftly rising waters threatened to breach the South Fork dam, built to create a private lake for a fishing and hunting club that counted among its members Andrew Mellon, Henry Clay Frick, and Andrew Carnegie. Though the engineers telegraphed neighboring towns on this last morning in May warning of the impending danger, residents—factory workers and their families—remained in their homes, having grown used to false alarms.
At 3:10 P.M., the dam gave way, releasing 20 million tons of water. Gathering speed as it flowed southwest, the deluge wiped out nearly everything in its path and picked up debris—trees, houses, animals—before reaching Johnstown, a vibrant steel town fourteen miles downstream. Traveling 40 miles an hour, with swells as high as 60 feet, the deadly floodwaters razed the mill town—home to 20,000 people—in minutes. The Great Flood, as it would come to be called, remains the deadliest in US history, killing more than 2,200 people and causing $17 million in damage.
In Ruthless Tide, Al Roker follows an unforgettable cast of characters whose fates converged because of that tragic day, including John Parke, the engineer whose heroic efforts failed to save the dam; the robber barons whose fancy sport fishing resort was responsible for modifications that weakened the dam; and Clara Barton, the founder of the American Red Cross, who spent five months in Johnstown leading one of the first organized disaster relief efforts in the United States. Weaving together their stories and those of many ordinary citizens whose lives were forever altered by the event, Ruthless Tide is testament to the power of the human spirit in times of tragedy and also a timely warning about the dangers of greed, inequality, neglected infrastructure, and the ferocious, uncontrollable power of nature.
(Downtown)
All the Ever Afters by Danielle Teller

In the vein of Wicked, The Woodcutter, and Boy, Snow, Bird, a luminous reimagining of a classic tale, told from the perspective of Agnes, Cinderella's "evil" stepmother.
We all know the story of Cinderella. Or do we?
As rumors about the cruel upbringing of beautiful newlywed Princess Cinderella roil the kingdom, her stepmother, Agnes, who knows all too well about hardship, privately records the true story. . . .
A peasant born into serfdom, Agnes is separated from her family and forced into servitude as a laundress's apprentice when she is only ten years old. Using her wits and ingenuity, she escapes her tyrannical matron and makes her way toward a hopeful future. When teenaged Agnes is seduced by an older man and becomes pregnant, she is transformed by love for her child. Once again left penniless, Agnes has no choice but to return to servitude at the manor she thought she had left behind. Her new position is nursemaid to Ella, an otherworldly infant. She struggles to love the child who in time becomes her stepdaughter and, eventually, the celebrated princess who embodies everyone's unattainable fantasies. The story of their relationship reveals that nothing is what it seems, that beauty is not always desirable, and that love can take on many guises.
Lyrically told, emotionally evocative, and brilliantly perceptive, All the Ever Afters explores the hidden complexities that lie beneath classic tales of good and evil, all the while showing us that how we confront adversity reveals a more profound, and ultimately more important, truth than the ideal of "happily ever after."
(Downtown)
The Outsider by Stephen King

An unspeakable crime. A confounding investigation. At a time when the King brand has never been stronger, he has delivered one of his most unsettling and compulsively readable stories.
An eleven-year-old boy's violated corpse is found in a town park. Eyewitnesses and fingerprints point unmistakably to one of Flint City's most popular citizens. He is Terry Maitland, Little League coach, English teacher, husband, and father of two girls. Detective Ralph Anderson, whose son Maitland once coached, orders a quick and very public arrest. Maitland has an alibi, but Anderson and the district attorney soon add DNA evidence to go with the fingerprints and witnesses. Their case seems ironclad.
As the investigation expands and horrifying answers begin to emerge, King's propulsive story kicks into high gear, generating strong tension and almost unbearable suspense. Terry Maitland seems like a nice guy, but is he wearing another face? When the answer comes, it will shock you as only Stephen King can.
(Albany, Downtown)
Print, Pattern, Sew: Block-Printing Basics + Simple Sewing Projects for an Inspired Wardrobe: Includes 7 Full-Size Original Patterns by Jen Hewett

This book offers:
• Clear how-to instructions for carving motifs from soft blocks, plus 13 designs to get you started
• A guide to printing on fabric and construct repeating patterns
• 13 projects and full-size patterns for garments and accessories for a complete hand-printed wardrobe
Infuse your everyday style with more color, more pattern, and more personality. Printmaker and textile designer Jen Hewett presents her distinctive process for block-printing yards of fabric with garment sewing in mind. Explore the process of designing and printing fabric through step-by-step instruction on carving blocks and printing pattern repeats. Hewett makes creating custom, hand-printed fabric approachable and doable.
Inspired by her California home, Hewett's designs reference the plants and landscape around her through botanical motifs, organic shapes, and a bold graphic quality. Paired with a playful use of color, the pattern designs here offer the perfect place to start with block-printing. Once you've printed your fabric, it's time to sew. With sewing patterns for simple garments and accessories, you'll discover the play between fabric and finished project and work toward building a highly customizable wardrobe. With step-by-step photos, clear instructions, and full-size sewing patterns this is a complete guide to sewing clothes that truly reflect your style and personality.
(Albany, Downtown)
Tesla by Richard Munson

Nikola Tesla invented the radio, robots, and remote control. His electric induction motors run our appliances and factories, yet he has been largely overlooked by history. In Tesla, Richard Munson presents a comprehensive portrait of this farsighted and underappreciated mastermind.When his first breakthrough—alternating current, the basis of the electric grid—pitted him against Thomas Edison's direct-current empire, Tesla's superior technology prevailed. Unfortunately, he had little business sense and could not capitalize on this success. His most advanced ideas went unrecognized for decades: forty years in the case of the radio patent, longer still for his ideas on laser beam technology. Although penniless during his later years, he never stopped imagining. In the early 1900s, he designed plans for cell phones, the Internet, death-ray weapons, and interstellar communications. His ideas have lived on to shape the modern economy.Who was this genius? Drawing on letters, technical notebooks, and other primary sources, Munson pieces together the magnificently bizarre personal life and mental habits of the enigmatic inventor. Born during a lightning storm at midnight, Tesla died alone in a New York City hotel. He was an acute germaphobe who never shook hands and required nine napkins when he sat down to dinner. Strikingly handsome and impeccably dressed, he spoke eight languages and could recite entire books from memory. Yet Tesla's most famous inventions were not the product of fastidiousness or linear thought but of a mind fueled by both the humanities and sciences: he conceived the induction motor while walking through a park and reciting Goethe's Faust.Tesla worked tirelessly to offer electric power to the world, to introduce automatons that would reduce life's drudgery, and to develop machines that might one day abolish war. His story is a reminder that technology can transcend the marketplace and that profit is not the only motivation for invention. This clear, authoritative, and highly readable biography takes account of all phases of Tesla's remarkable life.
(Downtown)
The Glitch by Elisabeth Cohen
Shelley Stone, wife, mother, and CEO of the tech company Conch, is committed to living her most efficient life. She takes her "me time" at 3:30 a.m. on the treadmill, power naps while waiting in line, schedules sex with her husband for when they are already changing clothes, and takes a men's multivitamin because she refuses to participate in her own oppression.
But when she meets a young woman also named Shelley Stone who has the same exact scar on her shoulder, Shelley has to wonder: Is she finally buckling under all the pressure? Completely original, brainy, and laugh-out-loud funny, The Glitch introduces one of the most memorable characters in recent fiction and offers a riotous look into work, marriage, and motherhood in our absurd world.
(Albany, Barbour, Downtown, Dwight)
Little Disasters by Randall Klein

Two couples who became friends in a delivery room at a Brooklyn hospital must eventually deal with an affair that splits them apart as events come to a head a year later when a mysterious crisis shuts down Midtown Manhattan.
(Downtown)
Is there something else you would like to see on our shelves? Let us know! 
If there was a central theme to Thursday morning's public workshop on improving access for immigrant families and children, it was "get smart, know your rights." The September 17 event, planned to coincide with National Welcoming America week, was co-sponsored by the Connecticut Department of Consumer Protection and Hartford Public Library's, The American Place. A panel of experts spoke on topics ranging from consumer protection, housing, employment, driver's licenses, healthcare, legal issues, and ethnic media, with time at the end for questions from the audience.
Commissioner of Consumer Protection, Jonathan Harris, welcomed the panelists and more than 50 participants, praising the contributions immigrants make every day to the state's economy and culture. "We need to say, 'Hello' and not, 'Hell No!,' to our immigrant community," Harris affirmed.
As the panelists were soon to explain, however, immigrants are all too often fed misinformation and fall victim to fraud and scams. Nicole Ayola, attorney at the Department of Consumer Protection, opened by talking about "notario" fraud, whereby immigrants are duped into believing that "notarios" are legally-sanctioned attorneys qualified to help them obtain citizenship, when in fact they are fraudulent imposters. Worse than the hundreds of dollars the victim loses to the scammer is the fact that the fraudulent application could jeopardize future chances for citizenship. And yet, many victims are afraid to notify the authorities. Ayola implored the audience to help out by informing the department of any scam attempts.
Cesar Aleman, Community Outreach Coordinator for the Connecticut Fair Housing Center, discussed his organization's efforts to protect people from discrimination in housing matters. He also mentioned a new "Move-in" guide, available in translation, that provides, among other things, information on how to qualify for various programs, tips for choosing the right place to live, and a list of important resources.
Marlene Rubin, Social Security Administration Officer, summarized benefits and employment eligibility requirements for legal immigrants, refugees, and students. As the regulations can be complicated and vary depending on visa status, Rubin welcomed people to contact her office for further support and clarification.
Amish Patel, Department of Motor Vehicles, summarized the various licenses available to Connecticut residents, focusing primarily on requirements for immigrants. In January 2015, Connecticut became one of ten states nationally to launch a new "drive only" license for undocumented immigrants. The response has been overwhelming. Over 60,000 undocumented drivers have signed up to take the written permit and road tests, many waiting more than one
year for their appointments. The permit test is available in translation in a handful of languages.
Sean King, attorney at the Office of the Healthcare Advocate, described the office's mission to improve health care access for everyone. The policies are extremely complicated, with coverage and eligibility depending on visa status, "lawfully" present status, and other criteria. King, too, encouraged people to email or call the office for support and clarification at healthcareadvocate@ct.gov or 866-466-4466.
Attorney Michael Bonsignore spoke about his work in immigrant and refugee law, touching on the seven main eligibility requirements for the Deferred Action for Childhood Arrivals (DACA) policy, including age and date of arrival in the U.S., length of continuous residence in the U.S., enrollment in U.S. schools, and check of criminal record. To avoid any complications, Bonsignore emphasized the importance of being well informed and working with an expert when filling out and filing applications. Erika Taylor, Community Relations Officer for USCIS, reminded participants that citizens and immigrants are always welcome to visit the USCIS information room to get answers to all immigration-related questions from a live officer.
The panel concluded with remarks from journalist Emanuela Leaf, editor of the tri-lingual ethnic paper, Tribuna. Leaf addressed the importance of understanding cultural context, explaining that all immigrants arrived with their own histories and experiences. "We have to meet people where they are, understand their baggage," she said. The paper is published in Spanish, Portuguese, and English to ensure that everyone will receive the same information at the same time. Additionally, by publishing in an immigrant's native tongue, the paper is showing that "someone cares." Leaf sees "ethnic media as playing a vital role in educating immigrants about what they need to know."
During Q&A, when asked to identify challenges in communications with immigrants, panelists cited building trusting relationships, improving translation capacity, raising literacy levels, erasing misconceptions about and distrust of government offices, and removing fear of deportation. Education is an important first step. As Catherine Blinder, Chief of Education Outreach for the Department of Consumer Protection, pointed out, it is important to "know your rights, so you are empowered to complain." Following the conclusion of the session, audience members were invited to engage in casual conversation with the panelists.

ArtWalk at Hartford Public Library offers one of the largest and most stunning exhibition spaces in metropolitan Hartford and the opportunity for Hartford residents and others to view art in a magnificent setting in our city. Exhibitions on the ArtWalk offer an array of art experiences that reflect a variety of media, styles, and cultures in the art world, provide diverse viewing experiences, and allow for many tastes.
Situated on the third floor of the Downtown Library in a space that looks down onto historic Main Street, the gallery offers unique visibility and exposure, adding to the increasing vibrancy of Downtown Hartford. The ArtWalk hanging system's movable hanging panels allow maximum flexibility for each show.
The stunning state-of-the art gallery was made possible through the generosity of donors, especially the Beatrice Fox Auerbach Foundation at Hartford Foundation for Public Giving.
Seeks Submissions:
The ArtWalk puts on four exhibitions each year, and every year, between August 1 and October 1, artists in all media are invited to submit a body of work. From these submissions, the four shows for the following calendar year are chosen.
Eligibility:
Artists living and/or working in the MetroHartford area will be given priority. Students, emerging, or established artists are all eligible. Artists must have a body of work sufficient for exhibition on the ArtWalk by the date of the exhibition.
Jury:
A jury will select up to four artists with final approval from the Library. Criteria for selection include but are not limited to: an artist's resume or vitae and demonstrated ability, an appropriate body of work that is compatible with the ArtWalk space, and the ability to provide sufficient work ready for installation by an agreed-upon date. Installations designed specifically for ArtWalk are encouraged.
The jury will also consider the economic and physical feasibility of the proposed exhibition.
The jury may also recommend group exhibitions.
Selected Artists:
The selected artist(s) will generally receive a solo exhibition (although the library reserves the right to create exhibitions for multiple artists simultaneously); supporting marketing; an opening night reception; and, an opportunity to present an artist's talk to the public during the exhibition.
Submissions:
Documentation of Work – up to six images of recent, current work, or the work specifically being proposed for the exhibition on the ArtWalk on clearly labeled CD-ROM/jpegs only; virus-free USB sticks may also be submitted. (Slides, original artwork and photographs of work cannot be accepted and will not be considered.)
Include title, dimensions and medium of each submitted image.
Up to three minutes of new media work will be viewed by jurors (clearly mark and cue the segment to be viewed)
A current resume with contact information including address, phone, and e-mail
A brief artist's statement
Description and scope of proposed exhibition.(Every effort will be made to return submissions. Please include with your application a self- addressed stamped envelope sufficient to return material, otherwise submissions will not be returned.)
Deadline:
Materials must be postmarked no later than October 1, 2015 and sent to:
Sarah Pelletier
Programming and Events Manager
Hartford Public Library
500 Main Street
Hartford, CT 06103
Artist(s) selected by the jury will be notified by phone and e-mail no later than October 31, 2015.
Good luck!
Wednesday, March 25 at 6:00 PM, the Downtown Library will host a panel discussion in partnership with The Connecticut Forum with three local, extreme outdoor enthusiasts. As the snow melts and we prepare for warmer weather, those who enjoy hiking, adventure, or any sort of outdoor activities will find this event informative and exciting as we're getting closer to weekends full of outdoor fun!
Founded in 1992, The Connecticut Forum is a nonprofit organization serving Connecticut and beyond with panel discussions among renowned experts and celebrities. The Forum encourages the active exchange of ideas with events that inform, challenge, entertain, inspire and build bridges among all people and organizations in the community.
Last week, the Forum hosted a similar event with well-known panelists like long-distance channel swimmer Diana Nyad, Wild author Cheryl Strayed, and polar photographer Paul Nicklen. The  inspirational speakers explained to the audience what it takes to push the boundaries of human potential and inspired them to push their own boundaries.
Hartford Public Library is excited to present a follow-up forum that stays local. Wednesday's panelist reside in Connecticut and will inspire you to push your boundaries and bring out the explorer in you. This event is free and open to the public, though registration is encouraged. Panelists will include Anne Parmenter, Steve Grant, and Rohan Freeman.
Wednesday evening's first panelist, Anne Parmenter, is originally from the UK but has spent her career in Connecticut working as the head field hockey and lacrosse coach at Connecticut College and currently at Trinity College.  Parmenter has a degree in Physical Education, gained certification in instructing from the National Outdoor Leadership Schools and is also a certified top rope site manager through the American Mountain Guides Association. Her love for the mountains and hiking has taken her all over the world to mountains including Argentina's Aconcagua, Denali in Alaska, Mount Blanc in the French Alps, Mount Everest, and others. Her talk will cover these hikes primarily focusing on her summit trip to Mount Everest in 2006. Interested in reading more about Parmenter before her talk on Wednesday? Visit here for an interesting article on her trips to Mount Everest.
Rohan Freeman will be among the panelists on Wednesday at HPL. Freeman is an extremely inspiring individual who founded Freeman Companies, LLC., shortly after climbing Mount Everest. Freeman's career-long inquiry of economic development and urban design has led to the firm's involvement with various large-scale, transformative public projects, including the $350 Million DoNo project that comprises the new Hartford Yard Goats baseball  stadium and supplemental residential and commercial space. Originally from Jamaica, Freeman is the first African-American to complete the Seven Summits, the highest mountains of each of the seven continents: Asia's Mount Everest, South America's Aconcagua, Mount McKinley located in Alaska, Kilimanjaro in Africa, Russia's Mount Elbrus, the Antartic Mount Vinson, and Australia's Puncak Jaya. Combined, these summits total an astonishing 142,114 feet!
The third panelist during this conversation on exploration and adventure will be Steve Grant, former Hartford Courant columnist and expert on outdoor recreation in Connecticut. Grant has retired from his 29-year career at The Courant where he focused  on nature, outdoor recreation, the green movement, energy and the natural sciences. He won a Pulitzer Prize and has written hundreds of articles on rivers and river issues. Grant was recognized for his love and knowledge of the Connecticut River by the Connecticut River Watershed Council, who presented him with its Bud Foster Award, given each year to a person who demonstrates "outstanding devotion, service, and accomplishment on behalf of the Connecticut River." During his talk on Wednesday, we'll hear about his many triumphs and adventures including his 5-week long trip canoeing that took him down the length of the Connecticut River.
This is a highly anticipated event for outdoor enthusiasts or those who want a new challenge in their life! Hearing the incredible stories of our panelists on Wednesday evening is a chance to be galvanized by what the outdoors can do to change a person and their outlook on life. Maybe you'll ditch your resort plans in Mexico next summer for an exhilarating hike through the mountains. Maybe the stories will inspire you to start your own adventure club or do something new with your business. Or, you could just simply enjoy an evening of thrilling stories. Whatever the case may be, Hartford Public Library and The Connecticut Forum encourage you to come down on Wednesday to hear the experiences of these three local adventurers.
On Monday February 23rd, YOUMedia hosted the launch recording sessions for Words to Give by.
Words to Give by is a partnership between the Hartford Foundation for Public Giving and WNPR. The project aims to discover how neighbors, friends, family – even strangers – have helped each other through tough times. By capturing and sharing these stories, Words to Give By will uncover the everyday acts of kindness that typically go unheard.
The project began on Monday inside HPL's own YOUMedia center's recording studio. This was just the first of 15 recording sessions. Those interested in telling their story and being a part of this state-wide conversation on generosity can sign up for a recording time at wordstogiveby.org
About 30 edited stories from these sessions will air on WNPR from April through November 2015. A total of 50 selected stories will be posted on wordstogiveby.org 
You can find more pictures and updates on Words to Give by on their Facebook page.
Hartford Public Library was proud to host the first recording session. It was a great chance to welcome newcomers into the doors of the Library and showcase the advanced technology available to teens in YOUMedia Hartford!
Humans of Hartford is a place on the web where Nick, self-taught photographer, takes photographs of strangers around Hartford, and interviews them for a quick snapshot into their lives. These photos and interviews are then posted on the HoH Facebook page, website and Instagram for all to see.
HoH has paid visits to us at Hartford Public Library in the past, but most recently there were two photos and interviews taken at our new YOUmediaHartford, a teens-only digital learning and maker space at the Downtown Library!
Isaias, a Hartford teen and frequent visitor to YOUmedia Hartford, said this during his interview, "I've made a lot of friends here, and it gives my mom peace of mind to know I'm not on the streets. She knows I'm here, safe." Check out his full interview here: http://on.fb.me/1zwcXQa
YOUmedia Manager, Tricia George was also interviewed and said that her favorite part of working at YOUMedia has been, "Being able to ask the teens what they need to accomplish their goals, and then being able to meet their demands." Her full interview can be seen at: http://on.fb.me/1zwcXQa
The stories seen on  Humans of Hartford range from very personal triumphs, stories of overcoming tragedies, or just simply what happened to a person earlier in the day. HoH is an interesting place to visit on the web to have a look into the lives of our neighbors, the people walking along the street or the person sitting next to  you in a café. The stories are relatable and give a sense of collectiveness amongst our community.
It was a great honor for YOUmedia to be featured on the Humans of Hartford Facebook page. It was great exposure for the center to let other teens know what the center is all about – letting teens be teens, express their creativity and find their passion. We hope that other teens see these pictures on the Facebook page and come into the center to check it out… and maybe even find their passions too!
Find out more about YOUmedia Hartford here.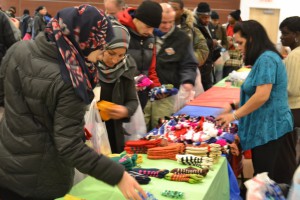 Hartford Public Library staff assist Hartford residents picking up free winter clothing and supplies.
On Thursday, January 22, we hosted a cold weather clothing drive for Hartford residents in need. Funded by a grant from the Hartford County Bar Association, the event was a huge success, providing over 90 adults and children with new coats, gloves, scarves, hats, socks, sweaters, toiletries, and boots.
The giveaway began at 2:00 p.m. and even before the doors open, a line of eager city residents formed outside of the Center for Contemporary Culture at the Downtown Library. Also available were hot beverages and snacks to enjoy, and a kids craft and storytelling area.
All of the new clothing and refreshments were funded through a grant provided by the Hartford County Bar Association. Some additional gently-used items were donated by Hartford Public Library staff.
Storyteller Andre Keitz told interactive stories for residents and their children as they enjoyed the snacks and hot beverages. "It was a nice time for us to really see how we make an impact here at Hartford Public Library," said Library chief development officer Donna Haghighat. "When people come up and look at you straight in the eye and say thank you, it really means a lot."
2015 was the first year HPL received funding for a winter clothing event, and we look forward to increasing the scale and impact of the giveaway in years to come. During the cold winter months, we happily keeps our doors open to everyone who needs to warm up and relax in a welcoming space.

In the wake of recent nationwide social unrest, and on the 50th anniversary of a major turning point in the American Civil Rights Movement, Hartford will welcome one of the leaders of the movement to speak to the importance of nonviolent  conflict reconciliation in today's communities.
Dr. Bernard LaFayette, Jr. will appear at Hartford Public Library on Thursday, February 5 at 5:30 p.m. as keynote speaker of the MLK Nonviolence Leadership Institute, a program presented by the Connecticut Center for Nonviolence in partnership with the Library  Dr. LaFayette's talk is free and open to the public, and all are invited to attend.
As a seminary student in Tennessee, Bernard LaFayette studied nonviolence under well-known activist James Lawson, and began to use the techniques to opposed racial injustice in the South, participating in sit-ins at restaurants and businesses practicing segregation. In 1961, he joined other students in the Freedom Rides movement, and faced brutal attacks and arrest. In the summer of 1962, LaFayette became director of the Alabama Voter Registration Campaign, working with the Student Nonviolent Coordinating Committee to begin organizing in Selma, Alabama. The Selma marches that took place three years later would become a critical turning point in the Civil Rights Movement, eventually leading to the landmark passage of the 1965 Voting Rights Act. Dr. LaFayette was an associate of Dr. Martin Luther King Jr., and appointed national coordinator of the 1968 Poor People's Campaign.
Dr. LaFayette comes to Hartford as part of the MLK Nonviolence Leadership Institute, a Level I Certification Training in Kingian Nonviolence Conflict Reconciliation, taking place January 24 through March 28 at the Library's Downtown location. The ten-week program teaches the Six Principles of Nonviolence, developed by Dr. King, as well as basic concepts, strategies and tools that individuals and communities can use to address conflict without resorting to violence. The curriculum for the Institute was co-authored by Dr. LaFayette and David Jenhsen.
The keynote event will feature a conversation surrounding recent social unrest throughout the country, including protests against the police shooting of Michael Brown in Ferguson, Missouri, where Dr. LaFayette worked on the ground with community activists. Remarks from local leaders will open the program. All are invited to this unique opportunity, and community organizations, school groups and activists are particularly welcome.
The Institute and keynote event are made possible in part byafunding provided by the Challenging Hartford to Engage  Civically and Keep Improving Together (CHECK IT) Initiative of the  City of Hartford Department of Families, Children, Youth and Recreation –Division of Youth. For more information about the keynote event, please visit hplct.org.
For information about the MLK Nonviolence Leadership Institute, please email info@ctnonviolence.org or call 860-567-3441.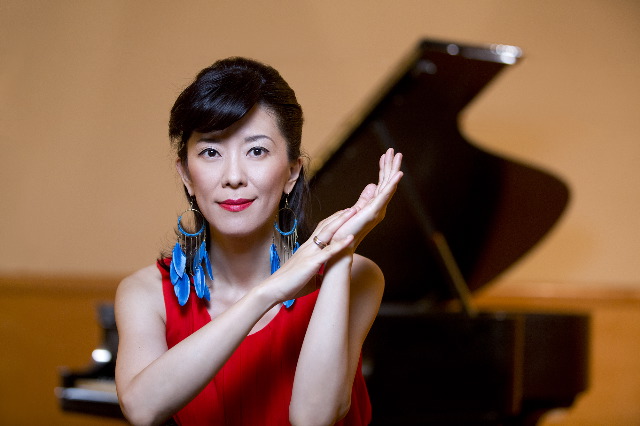 The fantastic Eri Yamamoto will tickle the Baby Grand Jazz ivories this Sunday in our Downtown Library!
Hailing from NYC by way of Osaka Japan, Yamamoto brings "her luminous tone, immaculate articulation and crisp phrasing — signature attributes of her first American keyboard idol, Tommy Flanagan. Yamamoto is a sonic painter. Nature and everyday life, she said, are her prime sources of inspiration."
Read the full feature piece in WNPR's Jazz Corridor column here!
Baby Grand Jazz is sponsored by the Charles H. Kaman Charitable Foundation.