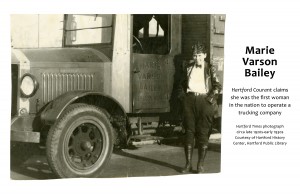 A woman stands proudly next to her truck, wearing a bow tie and sharp looking boots.
The photo itself is arresting, but the caption is perhaps even more so. It's a photo of Hartford resident Marie V. Bailey in the 1920s – the first woman to own a trucking company in United States.
Bailey's tiny slice of history is part of the Hartford History Center exhibition of black and white photographs of extraordinary Hartford women from the Hartford Times collection.
"It seems to be resonating with people," said Maureen Heher, curator of the exhibit.
This past winter, Heher went through the archives of the Hartford Times, a now defunct newspaper that existed from 1817 to 1976. The photographic archives, known in newspaper parlance as the photo morgue, was well organized, Heher said, so she decided to look for photos of ordinary women doing extraordinary things.
More notable Connecticut residents had biography boxes devoted to photos of their work and their lives. Individual photos were lumped together by the first letter of their last names. It was among the ordinary people, the women who didn't usually get their names in the paper, where Heher found a treasure trove of materials.
Heher chose a mix of the prominent and the unknown. For example, Ella Grasso, Connecticut's first female governor, is displayed alongside Edna Acosta, the first woman to graduate from the Connecticut Military Academy with a second lieutenant's commission. Gwen Reed, a community activist and actress, is depicted near Barbara Allen, the first woman employed by the United States Weather Bureau.
The juxtapositions are part of the exhibit's power.  "This set of women breaking barriers resonates because we still have so many barriers to break," Heher said.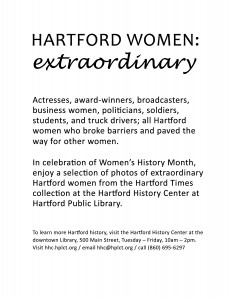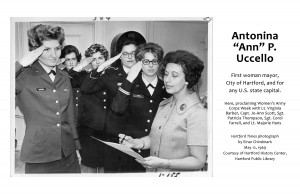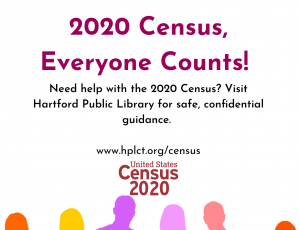 Hartford Public Library encourages city residents to take advantage of adjustments to the timing of 2020 Census activities to complete the survey at home.
"The safest and most convenient way to participate in the 2020 Census is to do so online. If we don't count everyone, we may be leaving money on the table," said Hartford Public Library CEO and president Bridget Quinn-Carey, referencing the Census' role in the distribution of federal money to support education, housing, and health care, among many other areas.
Due to the spread of the COVID-19 virus, the United States Census Bureau announced that it would delay and extend different aspects of its operation.
The self-response phase, where households can respond online, on the phone, or via mail, has been extended to August 14.
Census takers will now drop off invitations to take the Census through May 1.
Census Bureau staff will assist people with responding online at places such as grocery stores and community centers, starting April 13 through August 14.
Census takers will interview households in person that have not responded online, by phone, or by mail, starting May 28 through August 14.
Census enumerators will be counting group facilities from April 16 to June 19.
Census takers will work with service providers at soup kitchens, shelters, and regularly scheduled food vans to count the people they serve, starting April 29.
Homeless and transitory individuals will be counted starting in late April and early May.
The goal is to deliver counts to the White House by the end of 2020 and redistricting counts to the states by April 1, 2021.
If you are a Hartford resident and don't have a HPL card, getting one online is easy and will give you access to online books, films, music, and online databases.
Step 1 – go to hplct.org. Click on "Using Your Library" in the menu in the header on the upper right hand corner of your screen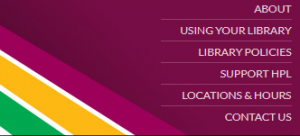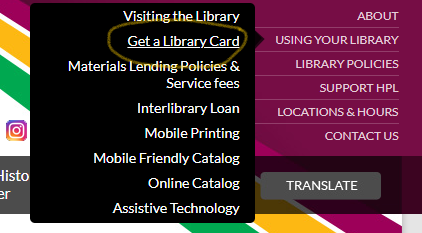 Step 4 – Fill out the online form.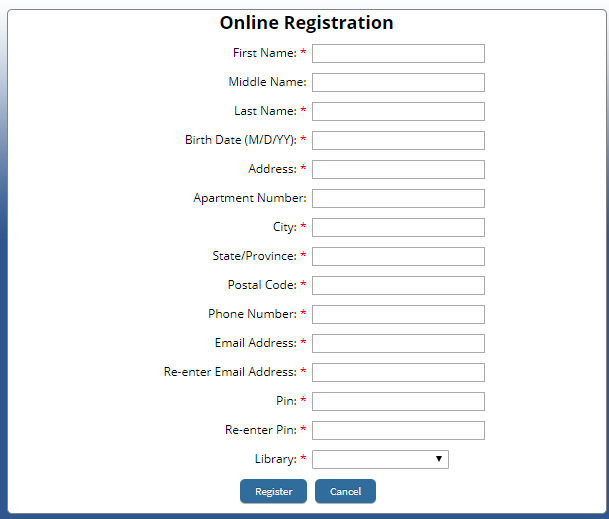 Step 5 – You are now on the confirmation screen and you will receive your login password!

HARTFORD – All Hartford Public Library locations will be closed to the public starting Saturday, March 14 through March 31 in response to the ongoing challenges caused by the COVID19 virus.
All workshops, outreach, classes, and programs are canceled through the end of the month.
For the foreseeable future, the renewal period for borrowed materials will be extended to compensate for late returns. Materials will be automatically renewed up to three times if no one else is waiting. Library personnel will be available for questions via e-mail at
contactus@hplct.org
or by calling 860-695-6300.
"As more information becomes available, we will reassess, respond, and act accordingly. During the closure we encourage people to take advantage of our robust online resources," Hartford Public Library President and CEO Bridget Quinn-Carey said.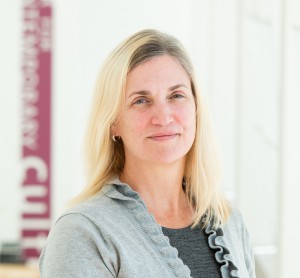 Dear Friends -
Hartford Public Library is working closely with City and State officials in response to the outbreak of COVID19 in our state. We have some service changes and program cancellations to share with you.
Please note that Library hours may continue to change and additional programs may be canceled or postponed in an effort to protect the health of our customers, staff and community. We recognize the need to be mindful of our public spaces, the number of people physically present in them and proximity of people in those spaces.
Service and Program Changes:
For the foreseeable future, we are extending our renewal period to compensate for late returns. Your materials will be automatically renewed up to three times if no one else is waiting; if you have difficulty returning items please give us a call.
Upon consultation with the Hartford Public Schools we will be temporarily suspending public service at the Boundless Library@ Rawson from 3:00 – 6:00 p.m. Tuesday through Thursday.
Hartford Public Library is canceling the following programs and events. We will reschedule as many as possible and publicize new dates as they become available.
ArtWalk
Opening Reception, Erik Williams' Lost in Color – March 13th: 5:30 – 7:30 p.m.
Baby Grand Jazz Series (all 3:00-4:00pm)
·        Iris Ornig Quintet- March 15th
·        Haneef N. Nelson Quintet- March 22nd
·        Ricky Alfonso Group- March 29th
·        Envisage Collective- April 5th
·        The Joe Carter Samba Rio- April 19th
·        TAEKO- April 26th
Mental Health Pre-Screening Day
Saturday March 21st: 1:00-4:00pm
La Colectiva Feminista
Tuesday March 24th: 5:00-7:45pm
Jazz 201
Mondays March 23rd-April 11th: 5:30-7:30pm
Andrea Cruz Concert
Sunday April 5th: 1:30-2:30pm
A series of children's events at the Downtown Library will be cancelled as well.
Read With Gizmo, Saturday, March 21st, April 4th & 18th, 10:30 am
Yoga for Success, Monday, March 23rd 5:30pm
Family Pajama Storytime, Thursday, March 26th 5:30pm
Celebrate Holi Festival of Colors, Thursday, April 9th 4:30 pm
Youth on Youth Bullying Workshop, Tuesday, April 14th 1:00pm
Family Literacy Day (Lego Day), Wednesday, April 15th 10am-2pm
1,000 Books Before Kindergarten Celebration, Thursday, April 23rd 5:30 pm
 We are taking practical steps to help reduce the potential spread of the virus:
Enhancing cleaning measures in all buildings, with particular focus on high-traffic and high-touch areas
Reminding all staff and customers of proper hand hygiene and respiratory etiquette, such as: covering coughs and sneezes with something other than your hand; washing hands frequently with soap and water for at least 20 seconds; and, avoid touching eyes, nose, and mouth. We have added more hand-sanitizer stations in our larger facilities.
Encouraging staff to stay home if they are sick
Libraries are shared public spaces. For the health and safety of others, please be thoughtful about coming into a library if you are not feeling well.
Need something to read or watch? There's a Library at your fingertips:
Check out the Library's many 
online books and media
and
other resources
including e-books and e-audiobooks; streaming TV, movie and music services; online classes; and digital subscriptions to newspapers and magazines.
Bridget Quinn-Carey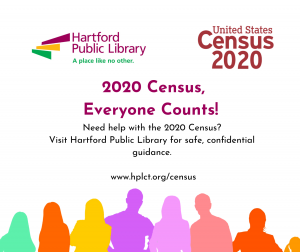 In an effort to encourage full participation in the 2020 Census, Hartford Public Library will expand technology access in all of its neighborhood libraries beginning March 28.
"We knew that as a library, as a place in the community where so many people already come, that we have an obligation as a civic organization to do as much as we possibly can to help people understand the importance of the Census," said Bridget Quinn-Carey, Hartford Public Library's chief executive officer.
If individuals need assistance filling out the 2020 Census, the first in the nation's history to take place primarily online, Hartford's librarians are poised to help. Computer kiosks will be installed at all of the city's libraries for residents to have a dedicated place to take the Census.
"We are in one of the areas of the country that is determined to be hardest to count," said Quinn-Carey, noting a designation made by the Census itself.
In an effort to remedy that concern, HPL will open an additional neighborhood library each weekend from March 28 and ending April 26, giving people a safe and welcoming place to have their questions answered.
Below are the dates, times, and locations.
Saturday, March 28, 10 am-1 pm and Sunday, March 29 1-4 pm, Barbour Library, 261 Barbour Street
Saturday, April 4, 10 am-1 pm and Sunday, April 5 1-4 pm, Dwight Library, 7 New Park Avenue
April 11, 10 am-1 pm, Sand/Ropkins Library, 1750 Main Street
April 18, 10 am-1 pm and April 19, 1-4 pm, Camp Field Library, 30 Campfield Avenue
April 25, 10 am-1 pm, Barbour Library, 261 Barbour Street
April 26, 1-4 pm, Sand/Ropkins Library, 1750 Main Street
Food will be available at each of the locations, as well as a raffle for various prizes.
Quinn-Carey said the stakes for the Census are high.
"If people don't get counted then our community will suffer. We won't have the appropriate funding to support our community. The funding affects our schools, affects our public services. So many funding decisions are made by census information. If we don't count everyone, we are leaving funding on the table in so many different way. We are also impacting our state's representation in Washington," she said.
The Census can be completed online, by paper, or over the phone. For help completing the form, call the Census at 800-923-8282.
"The library has a role because we are a trusted institution that supports our community. We take that mission, as being a seat of civic engagement, to heart," Quinn-Carey said.
For more information about Hartford Public Library, visit hplct.libguides.com/Census
 FAST FACTS ABOUT THE 2020 CENSUS
Drawn from "Counting for Dollars 2020" and "2020 Census Faith Toolkit"
In FY 2016 Connecticut received $10,726,609,427 from federal spending programs guided by the 2010 Census. That money was used to fund schools, health care, highway construction, and student loans among many other areas that touch our daily lives. When people are not counted our community loses out.
The Census determines how many representatives our state will send to Congress and how our congressional districts will be drawn. State and local governments also use Census data to redraw state legislative districts.
Census information is confidential and will not be shared with any other government agency.
The 2020 Census will not have a citizenship question and even if you can't vote you can be counted.
Be sure to count all people who live in your house, not just family members.
The Census will never ask for a Social Security number, bank account number, or to pay money.
From a young age Erik Williams knew he had artistic tendencies. He liked to dance, rap, and draw.
However, purely out of necessity, Williams began shooting photos for local musicians. He and his friends had found that some photographers were expensive and unreliable. Once Williams' photos started showing up on social media, he started getting more attention and gigs shooting fashion and makeup.
"I did one fashion show and I was traumatized," Williams recalled.
For a little while he put his newfound passion aside. Williams didn't want to photograph that which didn't interest him.
"I was sitting around and my camera was starting to pick up dust. I have an urge to shoot but I'm growing. The things I was shooting before weren't appealing to me. I picked up my camera got in my car and started driving around listening to music," Williams recalled.
Hartford, the city he grew up in and spent all his time, spoke to him.
"All of these things just started glowing. It sounds crazy but things just start popping out that I might not have been paying attention to before, like certain conversations I saw, like people waiting at the bus stop, or someone sweeping trash. These started sticking out to me as beauty that we overlook, simple tasks, simple things in life we overlook. There's a lot of beauty if you just slow down and pay attention," Williams said. "I wanted to capture and showcase it through my lens."
Williams' black and white street photography, a profound combination of empathy and grit, will be on display at Hartford Public Library's ArtWalk starting March 13 and running through April 26. The opening reception will take place on Friday, March 13 at 5:30pm. Williams will give an artist talk on Saturday, April 11 at 11:00 am.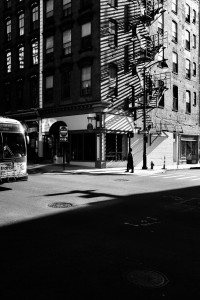 Williams' photography is more than a mode of personal expression and a way to chronicle his home. His work is a part of a worldview that values individual moments and the deeply personal. His camera, in no small sense, is just an excuse to hear people's stories and share his own.
"I have the image in my mind and I pursue it. I let people know what I am doing and why I am doing it. To share their story to show the world their beauty through my lens. My intentions are honest and pure, and I think people can sense that," Williams said.
Some people use a camera to be invisible. Williams, a 36-year-old Bloomfield resident and construction worker by trade, uses the camera specifically not to hide. A couple of times a week, when he feels like it, Williams walks around taking pictures of whatever catches his eye. "Every day I leave it is different. I am not really looking for anything in particular. When I see it, I know," Williams said.
The technical nature of Williams' artistic process makes deep personal engagement a necessity. He works with a fixed lens, meaning there is no way for him to zoom in on anyone. If Williams does a portrait, he is only a foot or two away from his subject.  "I want to get into your space because I am interested in getting to know you and hearing your story," Williams said. "You are beautiful as you are and I recognize it and I want to tell you personally."
Williams believes that his art – which includes at some level his personal interactions – help to create change. He's seen people's reaction, their smiles. He knows that people feel he is trying to represent Hartford as he sees it – a vibrant place.
"When I am able to talk to people I am changing people's perspectives, helping people to be less judgmental, more appreciative, more understanding, Williams said.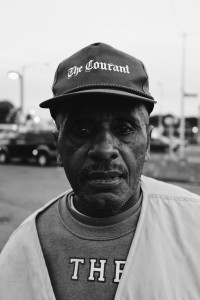 For example, one of William's portraits is of an older man wearing a dark colored Hartford Courant cap. The man is serious, but there is something gentle in his gaze.
"That's James. He sells the Courant off Albany Avenue. He has glaucoma. He's someone you would pass a thousand times driving past on Albany Avenue. But I see him out there in rain, sleet and snow selling that paper out there for years and I see beauty in that. I respect his commitment," Williams said.
Williams is a careful man. He's not caught up in the social media hustle. He takes his time and gives his full attention, whether it's something simple like washing his clothes or cooking dinner or, something really difficult, like looking at the world.
"Maybe that can fix something in you," said Williams, as he looked from the windows of the ArtWalk onto Main Street.
— by Steven Scarpa, Manager of Communications and Public Relations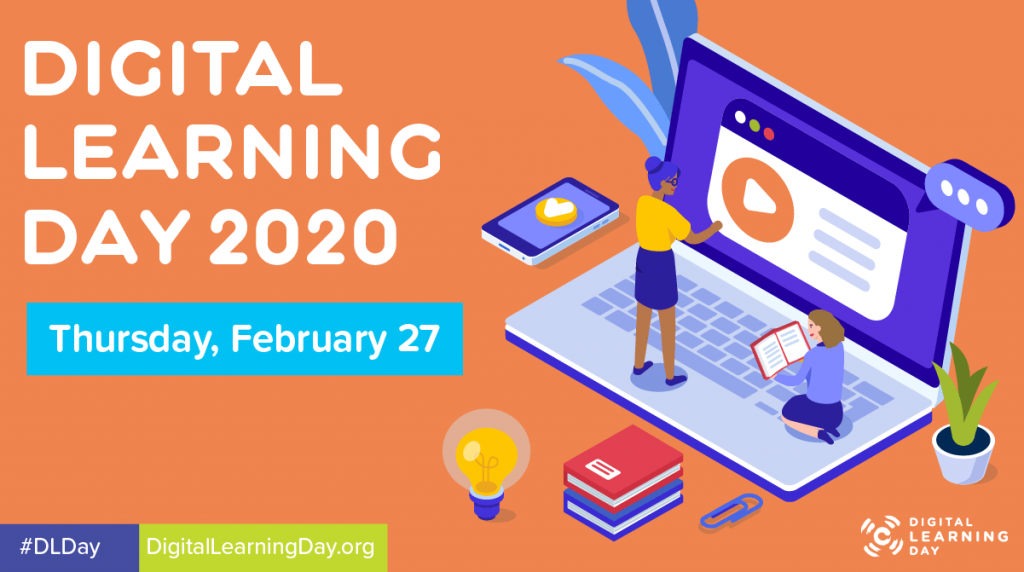 "With the support of the Library, it is like coming out of the dark." — Calvin Hood
Digital Learning Day, recognized nationwide on February 27, is a reminder that the "digital divide" is not just an alliterative phrase but a reality that exists in many of our Hartford neighborhoods.
In our city, only about 57 percent of households have internet access – there are 20,000 homes with no access at all. The impact is serious. As everything from job applications to government information and services migrate online, digital inclusion is becoming synonymous with economic inclusion.
"There's still just way too many families that don't have regular access," said Bridget Quinn-Carey, Hartford Public Library's chief executive officer. "There are information have and have nots."
Through Hartford Public Library's (HPL's) Crossroads to Connectivity (C2C ) initiative, the Library is taking a two pronged approach to deal bridge the digital divide. "Our digital literacy goal is to help people be successful and to connect them to the resources they need," Quinn-Carey said.
Step one is the thoughtful distribution of laptops and Wi-Fi hotspots to qualified individuals who are working towards educational and career goals. Many of the successful candidates are negotiating re-entry to society after serving time in prison. Still others have a financial need and additional training would help them improve their circumstances. About 25 people are currently active the Library's Crossroads to Connectivity initiative and there is the hope that over 100 people will benefit from the program.
"We are looking for people who want to go in a positive direction in life," said Julie Redding, HPL's Crossroads to Connectivity coordinator.
The second step, which is still in the planning phases, is the utilization of white space technology – the unused channels between television broadcasts – to provide broadband access to an underserved part of Hartford's North End.
"This enables us to help people who are working two or three jobs and taking classes and they have other commitments where they can't be in a physical location. They need the flexibility to work when they have the opportunity. We want to empower them," Quinn-Carey said.
Up and running for close to a year, Crossroads to Connectivity results are beginning to show. For a small group of focused and dedicated individuals, that laptop, that wi-fi hot spot, coupled with classes and programs, have become the keys to opportunity and a wider world.
**
Tanisha Henriques describes herself as a connoisseur of learning, starting as a child going to Hartford Public Library's neighborhood libraries.
"I eat up learning like some people eat up exotic foods," she said.
So when the time came to find a new career, the library was her first stop. Henriques took a couple of digital literacy training courses at the library, as well as online accounting and child development classes.
With her borrowed laptop and wi-fi hotspot, Henriques is preparing for a long term position that suits her thirst for new ideas and her penchant for detail oriented work – bookkeeping.
"With the C2C program it has been really helpful because I am learning QuickBooks," Henriques said. "This has been really beneficial because with the C2C program I get to practice at home at a lot."
A laptop would be out of reach for Henriques financially, so access to the Library's equipment and programs have given her a much-needed start.
Henriques is now attending Capital Community College and will finish her bookkeeping class at the end of March. As soon as she's done, she'll get online and start applying for internships in her chosen field.
**
Just a few months ago, Tiffany Reed was not in a good place. Wrestling with addiction, Reed found herself without a home. She found a safe place in Hartford to get help about five months ago.
"I am definitely rebuilding my life from the ground up," Reed said.
Part of that process is working with the C2C initiative. With a bit of planning on the part of the Library, Reed now has a laptop loaded up with AutoCAD, a high level design software, and everything else she needs to complete her welding certification, a process that would put her almost immediately in contention for well-paying work.
"I am trying to train myself to see if these are things I can build a life on," she said. "Trying to build a resume out and trying to do research on a phone is not as easy to do as on a laptop,"
Reed doesn't just need the technological help. Hartford Public Library has given her a safe and welcoming environment to explore ideas and to meet people who are committed to bettering themselves.
Reed believes that the laptop and online classes are the first steps towards an engineering degree. "All I can do is hope," Reed said.
**
Hartford resident Calvin Hood cut short his high school education to join the military. He spent time in the Army, serving in Vietnam, and then did a subsequent tenure in the Navy, based in Spain. Upon his return to the States, Hood worked for the Post Office until retirement.
As time went on, it was clear to Hood that he had unfinished business. "I need the knowledge," Hood said.
Thanks to his work with HPL's Crossroads to Connectivity initiative, Calvin went from having no computer literacy to working towards his GED online – at the age of 73.
"I came out of the 19th century into the 21st century," he said.
After taking courses to become more adept with the computer, Calvin now uses it to study for his classes, do homework, and prepare for his all-important GED exams.
"It takes some getting used to. I am still not fluent as I want to be," he said.
Hood has completed one of the tests for his GED and will finish the remainder by the end of the summer. Once he has his GED, Hood plans to become certified to tutor people applying for American citizenship.
"With the support of the Library, it is like coming out of the dark," he said.
For more information about Hartford Public Library's programs and services, visit hplct.org.
— By Steven Scarpa, Manager of Communications and Public Relations
The following titles – and more – will be on the shelves of Hartford Public Library, beginning December 11. If the title is not at your closest branch, place a hold and it will be delivered there for you. All our titles are in our catalog; you may search it at any time.
(Summaries from publishers)
---
The Enemy of My Enemy: A Clandestine Operations Novel  by W.E.B. Griffin
A month ago, Cronley managed to capture two notorious Nazi war criminals, but not without leaving some dead bodies and outraged Austrian police in his wake. He's been lying low ever since, but that little vacation is about to end. Somebody–Odessa, the NKGB, the Hungarian Secret Police?–has broken the criminals out of jail, and he must track them down again.
But there's more to it than that. Evidence has surfaced that in the war's last gasps, Heinrich Himmler had stashed away a fortune to build a secret religion, dedicated both to Himmler and to creating the Fourth Reich. That money is still out there in the hands of Odessa, and that infamous organization seems to have acquired a surprising–and troubling–ally.
Cronley is fast finding out that the phrase "the enemy of my enemy is my friend" can mean a lot of different things, and that it is not always clear which people he can trust and which are out to kill him.
Pandemic by Robin Cook
When an unidentified, seemingly healthy young woman collapses suddenly on the New York City subway and dies upon reaching the hospital, her case is an eerie reminder for veteran medical examiner Jack Stapleton of the 1918 flu pandemic. Fearful of a repeat on the one hundredth anniversary of the nightmarish contagion, Jack autopsies the woman within hours of her demise and discovers some striking anomalies: first, that she has had a heart transplant, and second, that, against all odds, her DNA matches that of the transplanted heart.
Although the facts don't add up to influenza, Jack must race against the clock to identify the woman and determine what kind of virus could wreak such havoc–a task made more urgent when two other victims succumb to a similar rapid death. But nothing makes sense until his investigation leads him into the fascinating realm of CRISPR/CAS9, a gene-editing biotechnology that's captured the imagination of the medical community. . . and the attention of its most unethical members. Drawn into the dark underbelly of the organ transplant market, Jack will come face-to-face with a megalomaniacal businessman willing to risk human lives in order to conquer a lucrative new frontier in medicine–and if Jack's not careful, the next life lost might be his own.
Are U OK? A Guide to Caring for Your Mental Health by Kati Morton
Get answers to your most common questions about mental health and mental illness — including anxiety, depression, bipolar and eating disorders, and more.
Are u ok? walks readers through the most common questions about mental health and the process of getting help — from finding the best therapist to navigating harmful and toxic relationships and everything in between. In the same down-to-earth, friendly tone that makes her videos so popular, licensed marriage and family therapist and YouTube sensation Kati Morton clarifies and destigmatizes the struggles so many of us go through and encourages readers to reach out for help.
---
Is there something else you would like to see on our shelves? Let us know! 
The following titles – and more – will be on the shelves of Hartford Public Library, beginning October 2. If the title is not at your closest branch, place a hold and it will be delivered there for you. All our titles are in our catalog; you may search it at any time.
(Summaries from book vendors)
---
Taking the Arrow Out of the Heart by Alice Walker
Presented in both English and Spanish, Alice Walker shares a timely collection of nearly seventy works of passionate and powerful poetry that bears witness to our troubled times, while also chronicling a life well-lived. From poems of painful self-inquiry, to celebrating the simple beauty of baking frittatas, Walker offers us a window into her magical, at times difficult, and liberating world of activism, love, hope and, above all, gratitude. Whether she's urging us to preserve an urban paradise or behold the delicate necessity of beauty to the spirit, Walker encourages us to honor the divine that lives inside all of us and brings her legendary free verse to the page once again, demonstrating that she remains a revolutionary poet and an inspiration to generations of fans.
Alaskan Holiday by Debbie Macomber
Before beginning her dream job as sous chef in one of Seattle's hottest new restaurants, Josie Avery takes a summer position cooking at a lakeside lodge in the remote Alaskan town of Ponder. Josie falls for the rustic charms of the local community—including Jack Corcoran, the crotchety keeper of Ponder's famed sourdough starter, and, in particular, the quiet and intense Palmer Saxon, a famed master swordsmith.
Josie and Palmer become close during the long Alaskan summer days, but Josie knows that, come fall, she'll be returning to reality and the career she's worked so hard for. Palmer, on the other hand, would like nothing better than to make Josie his wife and to keep her in Ponder. But Josie can't imagine abandoning her mother back in the Emerald City and sacrificing her career to stay in this isolated town—not even for a man she's quickly coming to love.
Fate has other plans. Josie misses the last boat out of town before winter sets in, stranding her in Ponder and putting her dream job at risk. As the holidays approach, Josie and Palmer must grapple with the complications that arise when dreams confront reality, and the Christmas magic that can happen when they put their faith in love.
Debbie Macomber is at her best in this beautiful holiday story about the far journeys we travel to find a place to call home.
Mad Scenes and Exit Arias: The Death of the New York City Opera and the Future of Opera in America by Heidi Waleson
In October 2013, the arts world was rocked by the news that the New York City Opera–"the people's opera"–had finally succumbed to financial hardship after 70 years in operation. The company had been a fixture on the national opera scene–as the populist antithesis of the grand Metropolitan Opera, a nurturing home for young American talent, and a place where new, lively ideas shook up a venerable art form. But NYCO's demise represented more than the loss of a cherished organization: it was a harbinger of massive upheaval in the performing arts–and a warning about how cultural institutions would need to change in order to survive.
Drawing on extensive research and reporting, Heidi Waleson, one of the foremost American opera critics, recounts the history of this scrappy company and reveals how, from the beginning, it precariously balanced an ambitious artistic program on fragile financial supports. Waleson also looks forward and considers some better-managed, more visionary opera companies that have taken City Opera's lessons to heart.
Above all, Mad Scenes and Exit Arias is a story of money, ego, changes in institutional identity, competing forces of populism and elitism, and the ongoing debate about the role of the arts in society. It serves as a detailed case study not only for an American arts organization, but also for the sustainability and management of nonprofit organizations across the country.
For Colored Girls Who Have Considered Politics by Donna Brazile et al
The lives of black women in American politics are remarkably absent from the shelves of bookstores and libraries. For Colored Girls Who Have Considered Politics is a sweeping view of American history from the vantage points of four women who have lived and worked behind the scenes in politics for over thirty years—Donna Brazile, Yolanda Caraway, Leah Daughtry, and Minyon Moore—a group of women who call themselves The Colored Girls. Like many people who have spent their careers in public service, they view their lives in four-year waves where presidential campaigns and elections have been common threads. For most of the Colored Girls, their story starts with Jesse Jackson's first campaign for president. From there, they went on to work on the presidential campaigns of Walter Mondale, Michael Dukakis, Bill Clinton, Al Gore, Barack Obama and Hillary Rodham Clinton.
Over the years, they've filled many roles: in the corporate world, on campaigns, in unions, in churches, in their own businesses and in the White House. Through all of this, they've worked with those who have shaped our country's history—US Presidents such as Bill Clinton and Barack Obama, well-known political figures such as Terry McAuliffe and Howard Dean, and legendary activists and historical figures such as Jesse Jackson, Coretta Scott King, and Betty Shabazz.
For Colored Girls Who Have Considered Politics is filled with personal stories that bring to life heroic figures we all know and introduce us to some of those who've worked behind the scenes but are still hidden. Whatever their perch, the Colored Girls are always focused on the larger goal of "hurrying history" so that every American — regardless of race, gender or religious background — can have a seat at the table. This is their story.
Blood Communion: A Tale of Prince Lestat by Anne Rice
In this spellbinding novel, Lestat, rebel outlaw, addresses the tribe of vampires, directly, intimately, passionately, and tells the mesmerizing story of the formation of the Blood Communion and how he became Prince of the vampire world, the true ruler of this vast realm, and how his vision for all the Children of the Universe to thrive as one, came to be.
The tale spills from Lestat's heart, as he speaks first of his new existence as reigning monarch–and then of his fierce battle of wits and words with the mysterious Rhoshamandes, proud Child of the Millennia, reviled outcast for his senseless slaughter of the legendary ancient vampire Maharet, avowed enemy of Queen Akasha; Rhoshamandes, a demon spirit who refuses to live in harmony at the Court of Prince Lestat and threatens all that Lestat has dreamt of.
As the tale unfolds, Lestat takes us from the towers and battlements of his ancestral castle in the snow-covered mountains of France to the verdant wilds of lush Louisiana with its lingering fragrances of magnolias and night jasmine; from the far reaches of the Pacific's untouched islands to the 18th-century city of St. Petersburg and the court of the Empress Catherine . . .
The Dead Ringer by M.C. Beaton
New York Times bestseller M. C. Beaton's cranky, crafty Agatha Raisin—now the star of a hit T.V. show—is back on the case again in The Dead Ringer.
The idyllic Cotswolds village of Thirk Magna is best known for the medieval church of St. Ethelred and its bells, which are the pride and glory of the whole community.
As the bell-ringers get ready for the visit of the dashing Bishop Peter Salver-Hinkley, the whole village is thrown into a frenzy. Meanwhile, Agatha convinces one of the bell-ringers, the charming lawyer Julian Brody, to hire her to investigate the mystery of the Bishop's ex-fiancée: a local heiress, Jennifer Toynby, who went missing years ago and whose body was never found…
Meanwhile, the bodies in the village just keep on piling up: the corpse of Larry Jensen, a local policeman, is discovered in the crypt. Millicent Dupin, one of a pair of bell-ringing identical twins, is murdered near the church. And Terry Fletcher, a journalist and (briefly) Agatha's lover, is found dead in her sitting room! Agatha widens her investigation and very soon her main suspect is the handsome Bishop himself. But could he really be behind this series of violent killings, or is it someone who wants to bring him—and his reputation—down?
The Greatest Love Story Ever Told: An Oral History by Megan Mullally and Nick Offerman
The year: 2000. The setting: Los Angeles. A gorgeous virtuoso of an actress agreed to star in a random play, and a basement-dwelling scenic carpenter said he would assay a supporting role in the selfsame pageant. At the first rehearsal she surveyed her fellow cast members, determining if any of the men might qualify to provide her with a satisfying fling. Her gaze fell upon the carpenter, and like a bolt of lightning the thought struck her: no dice. Moving on.
Yet, unbeknownst to our protagonists, Cupid had merely set down his bow and picked up a rocket launcher . . . that fired a love rocket (not a euphemism). The players were Megan Mullally and Nick Offerman, and the resulting romance, once ignited, was . . . epic. Beyond epic. It resulted in a coupling that has endured to this day; a sizzling, perpetual tryst that has captivated the world with its kindness, athleticism, astonishingly low-brow humor, and true (fire emoji) passion.
How did they do it? They came from completely different families, ignored a significant age difference, and were separated by the gulf of several social strata. Megan loved books and art history; Nick loved hammers. But much more than these seemingly unsurpassable obstacles were the values they held in common: respect, decency, the ability to mention genitalia in almost any context, and an abiding obsession with the songs of Tom Waits.
Eighteen years later, they're still very much in love and have finally decided to reveal the philosophical mountains they have conquered, the lessons they've learned, and the myriad jigsaw puzzles they've completed. Presented as an oral history in a series of conversations between the couple, the book features anecdotes, hijinks, photos, and a veritable grab bag of tomfoolery. This is not only the intoxicating book that Mullally's and Offerman's fans have been waiting for, it might just hold the solution to the greatest threat facing our modern world: the single life.
Under My Skin by Lisa Unger
What if the nightmares are actually memories?
It's been a year since Poppy's husband, Jack, was brutally murdered during his morning run through Manhattan's Riverside Park. In the immediate aftermath, Poppy spiraled into an oblivion of grief, disappearing for several days only to turn up ragged and confused wearing a tight red dress she didn't recognize. What happened to Poppy during those lost days? And more importantly, what happened to Jack?
The case was never solved, and Poppy has finally begun to move on. But those lost days have never stopped haunting her. Poppy starts having nightmares and blackouts—there are periods of time she can't remember, and she's unable to tell the difference between what is real and what she's imagining. When she begins to sense that someone is following her, Poppy is plunged into a game of cat and mouse, determined to unravel the mystery around her husband's death. But can she handle the truth about what really happened?
Anne Frank's Diary: The Graphic Adaptation
A timeless story rediscovered by each new generation, The Diary of a Young Girl stands without peer. For both young readers and adults it continues to capture the remarkable spirit of Anne Frank, who for a time survived the worst horror the modern world has seen—and who remained triumphantly and heartbreakingly human throughout her ordeal.
Adapted by Ari Folman, illustrated by David Polonsky, and authorized by the Anne Frank Foundation in Basel, this is the first graphic edition of The Diary and includes extensive quotation directly from the definitive edition. It remains faithful to the original, while the stunning illustrations interpret and add layers of visual meaning and immediacy to this classic work of Holocaust literature.
Virgil Wander by Leif Enger
Midwestern movie house owner Virgil Wander is "cruising along at medium altitude" when his car flies off the road into icy Lake Superior. Virgil survives but his language and memory are altered and he emerges into a world no longer familiar to him. Awakening in this new life, Virgil begins to piece together his personal history and the lore of his broken town, with the help of a cast of affable and curious locals—from Rune, a twinkling, pipe-smoking, kite-flying stranger investigating the mystery of his disappeared son; to Nadine, the reserved, enchanting wife of the vanished man, to Tom, a journalist and Virgil's oldest friend; and various members of the Pea family who must confront tragedies of their own. Into this community returns a shimmering prodigal son who may hold the key to reviving their town.
With intelligent humor and captivating whimsy, Leif Enger conjures a remarkable portrait of a region and its residents, who, for reasons of choice or circumstance, never made it out of their defunct industrial district. Carried aloft by quotidian pleasures including movies, fishing, necking in parked cars, playing baseball and falling in love, Virgil Wander is a swift, full journey into the heart and heartache of an often overlooked American Upper Midwest by a "formidably gifted" (Chicago Tribune) master storyteller.
---
Is there something else you would like to see on our shelves? Let us know!