Wednesday, March 25 at 6:00 PM, the Downtown Library will host a panel discussion in partnership with The Connecticut Forum with three local, extreme outdoor enthusiasts. As the snow melts and we prepare for warmer weather, those who enjoy hiking, adventure, or any sort of outdoor activities will find this event informative and exciting as we're getting closer to weekends full of outdoor fun!
Founded in 1992, The Connecticut Forum is a nonprofit organization serving Connecticut and beyond with panel discussions among renowned experts and celebrities. The Forum encourages the active exchange of ideas with events that inform, challenge, entertain, inspire and build bridges among all people and organizations in the community.
Last week, the Forum hosted a similar event with well-known panelists like long-distance channel swimmer Diana Nyad, Wild author Cheryl Strayed, and polar photographer Paul Nicklen. The  inspirational speakers explained to the audience what it takes to push the boundaries of human potential and inspired them to push their own boundaries.
Hartford Public Library is excited to present a follow-up forum that stays local. Wednesday's panelist reside in Connecticut and will inspire you to push your boundaries and bring out the explorer in you. This event is free and open to the public, though registration is encouraged. Panelists will include Anne Parmenter, Steve Grant, and Rohan Freeman.
Wednesday evening's first panelist, Anne Parmenter, is originally from the UK but has spent her career in Connecticut working as the head field hockey and lacrosse coach at Connecticut College and currently at Trinity College.  Parmenter has a degree in Physical Education, gained certification in instructing from the National Outdoor Leadership Schools and is also a certified top rope site manager through the American Mountain Guides Association. Her love for the mountains and hiking has taken her all over the world to mountains including Argentina's Aconcagua, Denali in Alaska, Mount Blanc in the French Alps, Mount Everest, and others. Her talk will cover these hikes primarily focusing on her summit trip to Mount Everest in 2006. Interested in reading more about Parmenter before her talk on Wednesday? Visit here for an interesting article on her trips to Mount Everest.
Rohan Freeman will be among the panelists on Wednesday at HPL. Freeman is an extremely inspiring individual who founded Freeman Companies, LLC., shortly after climbing Mount Everest. Freeman's career-long inquiry of economic development and urban design has led to the firm's involvement with various large-scale, transformative public projects, including the $350 Million DoNo project that comprises the new Hartford Yard Goats baseball  stadium and supplemental residential and commercial space. Originally from Jamaica, Freeman is the first African-American to complete the Seven Summits, the highest mountains of each of the seven continents: Asia's Mount Everest, South America's Aconcagua, Mount McKinley located in Alaska, Kilimanjaro in Africa, Russia's Mount Elbrus, the Antartic Mount Vinson, and Australia's Puncak Jaya. Combined, these summits total an astonishing 142,114 feet!
The third panelist during this conversation on exploration and adventure will be Steve Grant, former Hartford Courant columnist and expert on outdoor recreation in Connecticut. Grant has retired from his 29-year career at The Courant where he focused  on nature, outdoor recreation, the green movement, energy and the natural sciences. He won a Pulitzer Prize and has written hundreds of articles on rivers and river issues. Grant was recognized for his love and knowledge of the Connecticut River by the Connecticut River Watershed Council, who presented him with its Bud Foster Award, given each year to a person who demonstrates "outstanding devotion, service, and accomplishment on behalf of the Connecticut River." During his talk on Wednesday, we'll hear about his many triumphs and adventures including his 5-week long trip canoeing that took him down the length of the Connecticut River.
This is a highly anticipated event for outdoor enthusiasts or those who want a new challenge in their life! Hearing the incredible stories of our panelists on Wednesday evening is a chance to be galvanized by what the outdoors can do to change a person and their outlook on life. Maybe you'll ditch your resort plans in Mexico next summer for an exhilarating hike through the mountains. Maybe the stories will inspire you to start your own adventure club or do something new with your business. Or, you could just simply enjoy an evening of thrilling stories. Whatever the case may be, Hartford Public Library and The Connecticut Forum encourage you to come down on Wednesday to hear the experiences of these three local adventurers.
On Monday February 23rd, YOUMedia hosted the launch recording sessions for Words to Give by.
Words to Give by is a partnership between the Hartford Foundation for Public Giving and WNPR. The project aims to discover how neighbors, friends, family – even strangers – have helped each other through tough times. By capturing and sharing these stories, Words to Give By will uncover the everyday acts of kindness that typically go unheard.
The project began on Monday inside HPL's own YOUMedia center's recording studio. This was just the first of 15 recording sessions. Those interested in telling their story and being a part of this state-wide conversation on generosity can sign up for a recording time at wordstogiveby.org
About 30 edited stories from these sessions will air on WNPR from April through November 2015. A total of 50 selected stories will be posted on wordstogiveby.org 
You can find more pictures and updates on Words to Give by on their Facebook page.
Hartford Public Library was proud to host the first recording session. It was a great chance to welcome newcomers into the doors of the Library and showcase the advanced technology available to teens in YOUMedia Hartford!
Recently HPL was the receiver of three different grants that totaled an extraordinary amount of $50,000! Wow! Thank you to The Connecticut Department of Education, the New Alliance Foundation, and Wells Fargo. These three grants will support critical free programs the Library provides to Hartford adults, children, and families.
Here is a breakdown on each of the grants:
The Connecticut Department of Education-Bureau of Health/Nutrition, Family Services, and Adult Education awarded HPL funding in the amount of $35,000. That money will fund a 2015 Adult Education Program Improvement Project supporting English language learning and civic participation for low-literate immigrant populations. One of the greatest achievements of HPL is how many immigrants and refugees that we are able to help. We offer numerous classes to help children and adults to get acquainted to living in an American neighborhood and this fund helps us to continue to do that.
Wells Fargo gave HPL $10,000 that will go towards funding for a YOUmedia Core Programming Initiative (YCPI). This is a program that will essentially allow us to do critical research on our brand new, teens only, digital learning lab, YOUmedia. Being the first in Connecticut, and only the third in the whole country, it is critical to do research on this facility. YCPI will develop a programming model, acting as a test for the center's first year of activity. This "test" will see how students are engaging inside it, how they are learning, etc. All of this will be done through marketing, program testing, and a pilot program.
The New Alliance Foundation awarded the Library $5,000 to support WordPlay Storytimes, an innovative program to help English Language Learners ages 2-5 and their parents/caregivers across all ten locations of the Hartford Public Library. This program will help to acclimatize immigrant and refugee children to a new cultural environment by utilizing common themes of letters, numbers, colors, shapes, and feelings, as well as well-known folktales that build cultural literacy and comfort.
Thank you to all three of our donors for these outstanding grants! With their help we can continue to be a place like no other!
By Christi Jensen, Communications Intern
Did you notice this past Friday that Arch Street was closed down for the morning? Did you hear HPL mentioned on the news that day? Or maybe some of you knew that the library was given two large Romare Bearden murals. Either way, we are so excited to have such beautiful paintings in our building. Friday morning we shut down the Library to move in the two massive murals through a bank of windows on the Arch Street side of the Library. The media, employees of the library, and others watched in awe as Mariano Brothers delicately moved the murals inside the windows and onto their new homes; the walls of HPL! It was a process that will never be forgotten at the Library, but we are proud of how smoothly the move went and how great they look in the space.
Romare Bearden (1911 – 1988) was a Harlem Renaissance painter who was described by the New York Times as, "the nation's foremost collagist". His art was inspired by the unity and cooperation within the African-American community and the importance of an artist in the struggle for civil rights. Both paintings that are now in the Library are collages with two different themes. The mural looking over the computers in the Job and Career Center being sports and the one above the Atrium is a music and art theme. Both are so vibrant and colorful, the light beaming in through all the windows highlights them perfectly.
We find that the paintings fit perfectly in our space for a few reasons. The walls that both of the paintings are hanging on were so large and empty before Bearden's work livened them up. Now that they are there it's hard to believe we never had any artwork on those walls before. Bearden's work and what it symbolizes is fitting for the community of Hartford and the Library. In a city of so much diversity, it seems fitting to have the work of a Harlem Renaissance painter hanging in a public space for all to see.
We are happy to welcome all to come and see the new addition to the library at any time the library is open. You can read more about the details of the move and more about the murals specifically here.
Envisionfest Hartford is Connecticut's Capital City Festival! The 2nd annual Envisionfest is happening on September 21st and will showcase more than 20 venues throughout Downtown Hartford, with over 100 activities. Here at the library we have a full lineup of activities and music for you and your family! Download the flyer to hang in your office or at your desk!
If you attend Envisionfest, make sure to use #EnvisionHTFD on Facebook, Twitter and Instagram! RSVP on Facebook.
All jazz performances will be shown live online! If you can't make it to the library, you can watch here. We chose all three artists in celebration of Hispanic Heritage Month!
10:00 AM – 5:00 PM: Enjoy "Stagecraft: 50 Years of Design at Hartford Stage" on our 3rd floor ArtWalk. Enjoy another exhibit in our Hartford History Center, "Freedom Quilts" by Sankofa textile students under the guidance of Ed Johnetta Miller.
11:00 AM – 4:00 PM: Kitchen at Hartford Public Library will be open.  Coffee, drinks and baked goods will be available for purchase.
11:00 AM – 12:00 PM: Music: Nelson Bello, Percussionist
Main Street Terrace
1:00 PM – 2:00PM: Music: Jason Yeager presents "Trio Panamericano of Argentina and Brazil"
Main Street Terrace
2:00 PM – 3:00PM: Make your own Granola at the Cafe!  Come and enjoy making your own granola at Kitchen at HPL.  Billings Forge will be on hand to help inspiring chefs.
3:00 PM – 4:00 PM: Music: Ray González – Renowned musician and Latin Jazz pioneer Ray González has been performing around the globe for over 35 years. Don't miss Ray and his Latin Jazz Quartet as they entertain the audience for HPL's headlining performance during ENViSIONFEST 2013.
Main Street Terrace
And there will be a lot going on around us! Art activities at the Wadsworth Atheneum, Sea Tea Improv performances at the Butler-McCook House & Garden, a tribute to Nathan Hale at Connecticut's Old State House and more!
Make sure to stick around for a free concert in Bushnell Park at 6:30pm with They Might Be Giants!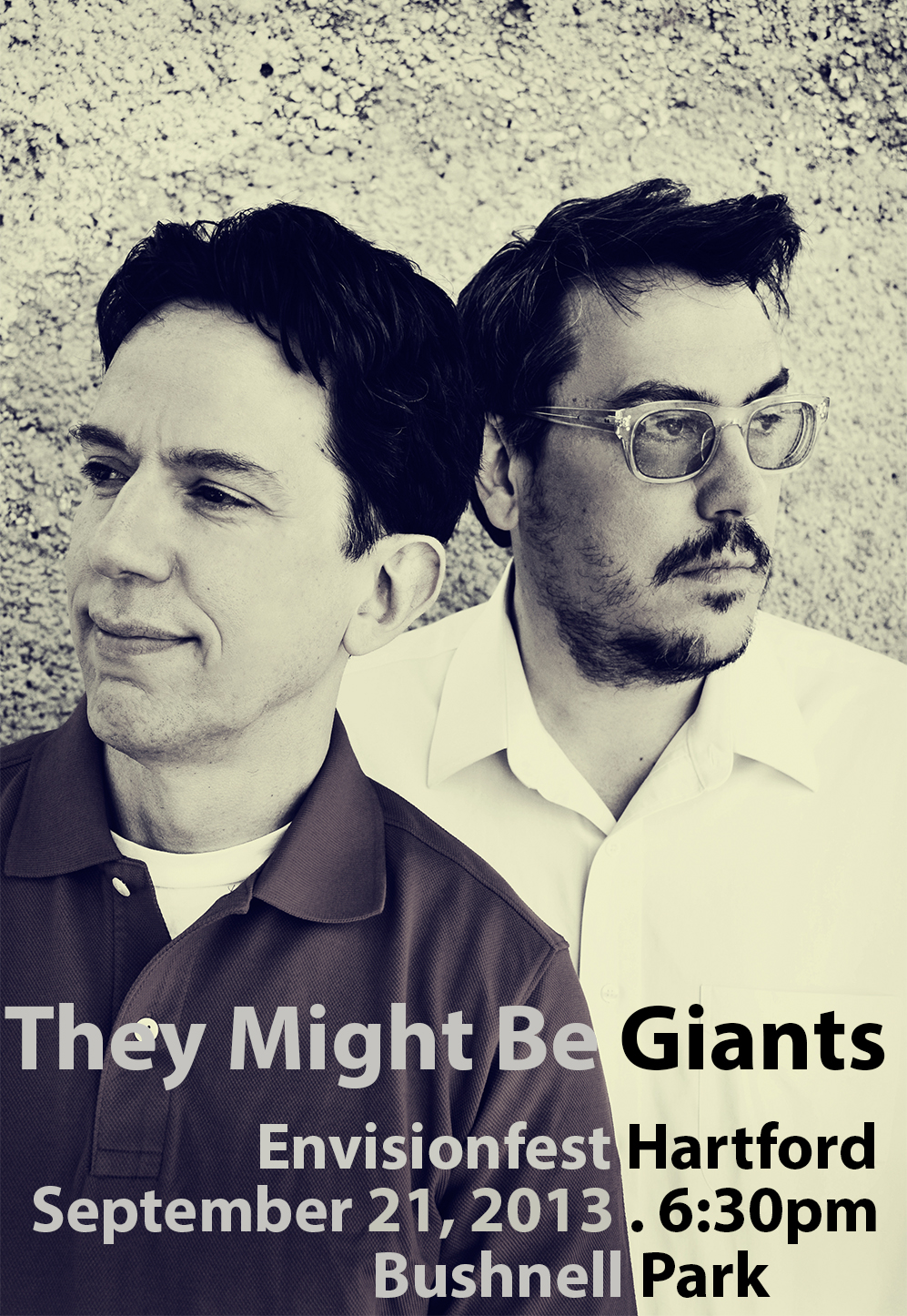 .
We were awarded a $20,000 grant from The Nutmeg Foundation in support of Arts and Archives: Master Classes in the Arts and Humanities for Older Adults. This fantastic program was first offered in 2010 and was recognized for its "Best Practices for Older Adults" by the Connecticut State Library.
Arts and Archives: Master Classes in the Arts and Humanities for Older Adults will, once again, engage participants in creative expression and thinking, develop artistic and critical thinking skills, and help them discover their potential and productivity as they age. It will be another avenue by which the Library delivers equal opportunity, high quality, and lifelong education to Hartford's older adults.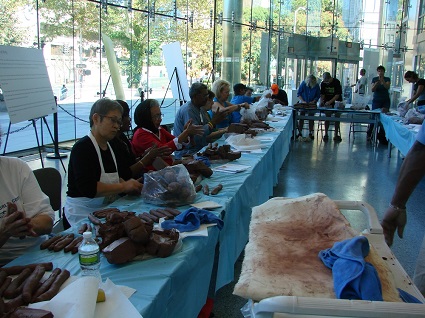 Our Hartford History Center will provide enhanced education and lifelong learning opportunities through hands-on fine arts and humanities workshops taught by professional artists, "masters" in their fields and Hartford scholars as needed.
Arts and Archives: Master Classes in the Arts and Humanities for Older Adults will consist of five arts and humanities modules, with classes that provide hands-on instruction in mixed media, storytelling, memoir writing, digital photography integrated with poetry and pen & ink drawing.  Each module will also include a heritage-based seminar which incorporates artifacts, images, and personal narratives from the archives and special collections of the Hartford History Center. The hands-on instruction will be enriched as participants think about an art or literary form in the context of Hartford's history. All classes will be free and open to the public and specifically targeted to the Hartford community over the age of 55.
"By mining the special collections for similar art and literary forms, workshop discussions can bridge past to present and offer participants an informed experience to both inspire them in the development of their own creative voice as well as connect them to Hartford's rich multi-cultural heritage," said Brenda J. Miller, the Library's Chief Cultural Affairs and Public Programming Officer. "In the 2010 program, many of the participants, the majority of which were over 55 years of age, had no previous formal training in the medium taught.  The progress made over a limited period was, in many cases, astonishing and spoke to the power of the creative spirit within each of us as we mature. We are so delighted to bring this popular program back."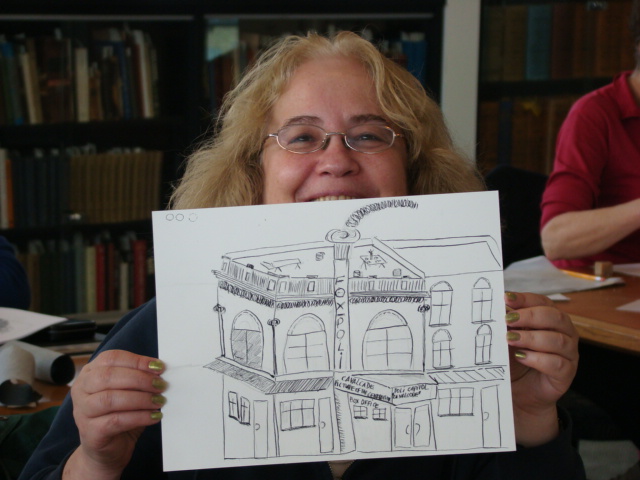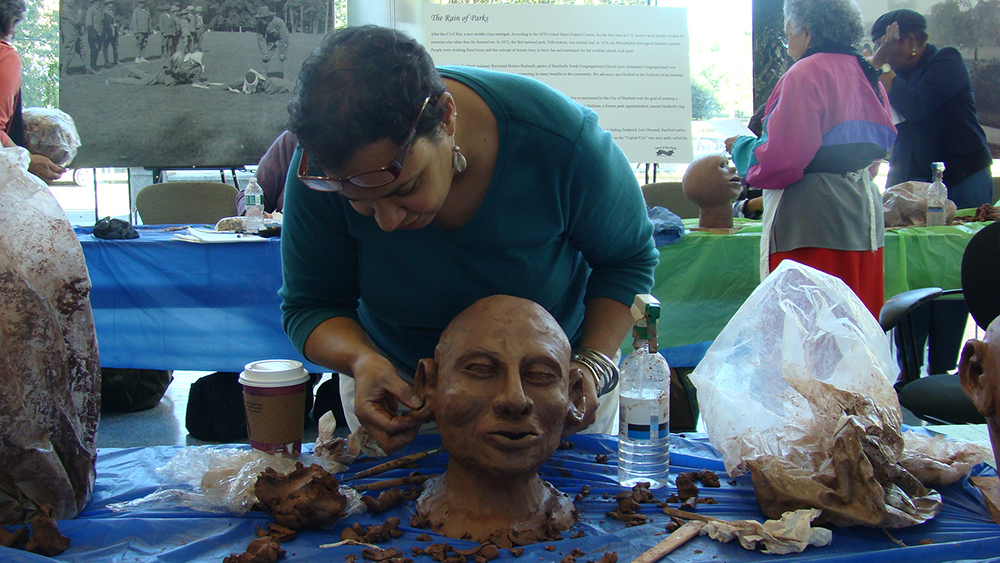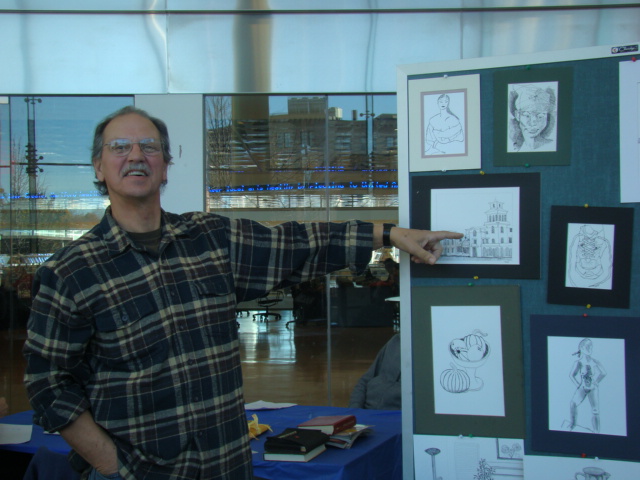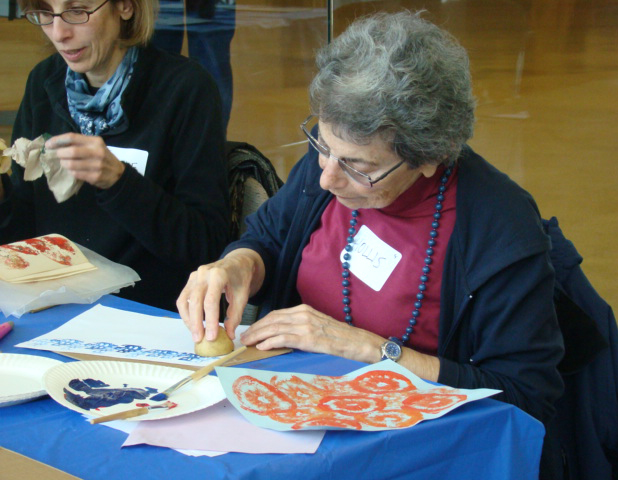 Updated:
You can now register for classes this fall! Workshops are on Saturday mornings, 10am-12:30pm and run October 19, 26, November 2, 9 and 16. Register in person, online at hplct.org or call 860-695-6298.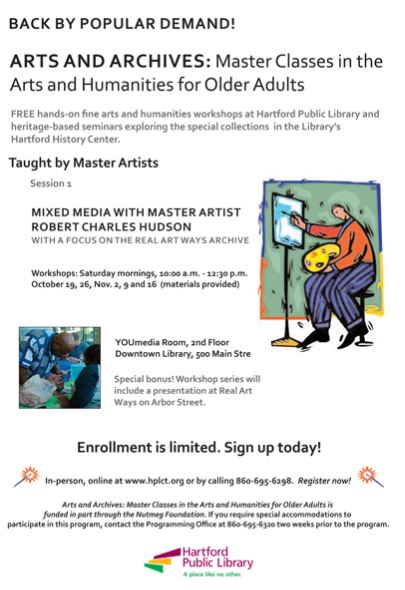 We're bringing music to your Wednesday lunchtime!
Print the flyer to hang in your office and help spread the word.
Summer in the City is part of HPL's World of Sounds series funded by The Evelyn W. Preston Memorial Fund.
Wednesday, July 24 – Dan Stevens
12pm-1pm
As a full-time professional musician since 1991, Dan continues to tour along the East Coast, US Virgin Islands, UK and Germany. He has appeared at Long Island's Riverhead Blues Festival, the Berlin Blues Festival in Albany, New York. Dan was a finalist at the International Blues Challenge '08 on Beale Street in Memphis, TN.
Wednesday, July 31 – Johnny Boots
12pm-1pm
Connecticut's Johnny Boots has a hard working, big sounding power trio that playing driving, blues-infused rock. Johnny has combined the intensity of SRV, with singer/songwriter ballads and electrified Delta blues to create his own "Bootsy-fied" sound. While influenced by so many of the blues greats of yesterday, Johnny adds his soul, feeling and imagination to create his unique sound today.
Wednesday, August 7 – Chris D'Amato
12-1pm
Chris D'Amato, aka Smokin' Opey, has been playing blues guitar professionally for the past 20 years. He is equally adept in acoustic or electric band settings, and is at home playing many styles of blues and slide guitar, from electric swing to Chicago blues, Piedmont and Delta blues with a mix of jazz, psychedelia and soul. Not one to rest on a single style, Chris is always searching for musical fluidity.
We're having salsa lessons at the library!
Come to the Downtown Library to learn, move, turn and be empowered by the influence of salsa music and dance!
Free and open to the public, but registration is required. You must register for each night separately. All you need is your library card!
Wednesday, July 24, 6-7:30pm
Wednesday, July 31, 6-7:30pm
Wednesday, August 7, 6-7:30pm
Click here to register for any or all of the sessions.
Presented in collaboration with the City of Hartford Health and Human Services Department and Puentes Project by students of Springfield College of Human Services.
For more information or if you have questions, call (860) 695-6300.
If you'd like to share these lessons, please print the flyer!