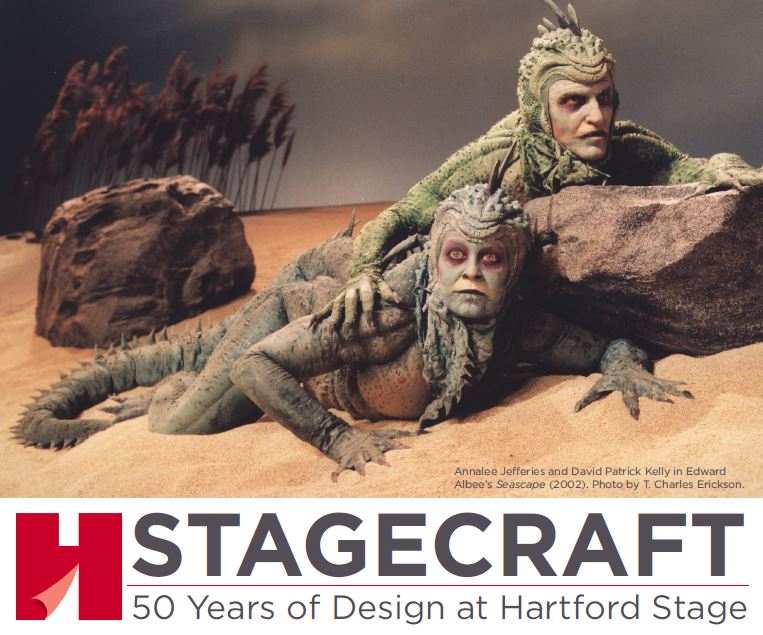 We are so excited to be working with Hartford Stage for our upcoming ArtWalk exhibit; Stagecraft: 50 Years of Design at Hartford Stage. The exhibit will open with a reception on Friday, September 6 at 6 p.m. at the Downtown Library (500 Main Street).  Event is free and open to the public.  The exhibit will run through Friday, September 27 and is available for viewing during the hours the Library is open. RSVP on Facebook!
Michael Stotts, Managing Director at Hartford Stage, said, "Hartford Stage designs, and the execution of those designs, have been highlighted and featured in national trade publications for decades.  We have 50 years of history that have been in storage, that we are now bringing out to show to the world.  It is especially important that our local audiences and constituencies know and recognize the unique contributions Hartford Stage has made to the American Theatre."
Jessica Palmer, the project curator from Hartford Stage is thrilled to be able to showcase some of Hartford Stage's history from the last 50 years in one place. She had this to say of the project:
Hartford Stage has been creating new worlds in more than 350 productions over fifty years. Every production is, by its very nature, ephemeral. It starts with a blank stage. By the time the show opens, live actors perform in a world that was entirely designed around them. When the show closes, that world ceases to exist, but sometimes, remnants of the physical world remain. Stagecraft: 50 Years of Design at Hartford Stage celebrates that physical world created by the costumes, scenery, props, and lighting by gathering these artifacts of storytelling together.
Our community has enjoyed the performances created by world-class artists and artisans right here in Hartford, but rarely does it have the opportunity to see up close the innovation and craftsmanship that went into each piece. Come and see the rich details, the behind-the-scenes stories, and the special effects that bring plays to life.
We hope to see you on September 6th for the opening, or sometime during the month of September before the exhibit closes on the 27th.