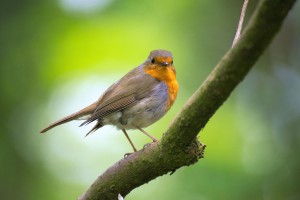 Hartford Public Library has organized the first-ever Hartford Bird Week to begin later this month, with events scheduled at library branches and parks across the city meant to inspire both the young and old to explore the growing hobby of birdwatching.
The events in Hartford will be held in conjunction with #BlackBirdersWeek2022 (May 29-June 4), a national effort from the organization @BlackAFinSTEM that began in 2020 to highlight Black nature enthusiasts, increase visibility of Black birders and inspire people to become involved in birding. Hartford Public Library received a $2,500 Celebrate Urban Birds Equity, Birds, and Culture grant from the Cornell Lab of Ornithology to support its efforts.
"I love city birds. There is so much we can learn from our winged neighbors, even pigeons, sparrows and geese have fascinating histories. It is hard not to be inspired, or at least smile, when watching the goslings at Keney Park. The adult geese perfectly model how it takes a caring community to raise children, and that we all need support to survive in this world," said Hartford Public Library Systemwide Teen Services Librarian Victoria Palmatier. "Connecticut has a rich history of birding. One of America's first formal birdwatching groups began in New Haven, and Roger Tory Peterson of the famed Peterson guidebooks is from Old Lyme! The Hartford Parks are exceptional and accessible and home to a wide array of native and migrant birds/wildlife.
In addition to organizing more than a dozen programs that will be held over the course of four days, Hartford Public Library has compiled a suggested reading list for Hartford Bird Week and has purchased numerous birding guides that will be available for borrowing. Customers can also visit any library location during regular hours to participate in a Connecticut bird scavenger hunt or create a "Vision Bird" art piece.
"Hartford's birds have a vibrant network of groups and enthusiasts supporting them," Palmatier said. "The park rangers from the Silvio O. Conte National Fish and Wildlife Refuge, Greater Hartford Area Audubon Society, Conte Urban Partnership/Park River Watershed and the folks from the Connecticut-based Facebook group Anti-Racist Collective of Avid Birders were invaluable resources during the learning and planning for this week. The library is a place where community can come to be curious and find connection, so it makes sense for us to throw open the library doors and connect our customers to our parks and wildlife neighbors."
The full lineup of events for Hartford Bird Week is as follows. For more information call 860-695-7439 or email vpalmatier@hplct.org.
May 31



Tweet Tweet! Sing Like A Bird
Albany Library, 10 a.m.
Join Selina at Albany for a bird story time and craft.
Birdémon Arceus! Nature Walk
Bushnell Park Performance Pavilion, 11 a.m.
Join Victoria and expert New England birder John Green on a nature walk, and hear John's bird sounds.
Birds in the Garden!
Albany Library and Barbour Library, 3 p.m.
Decorate a potted plant and learn how to attract birds to your home.
Birdémon GO!
YOUmedia, Downtown Library, 2 p.m.
Join Mr. Marc from YOUmedia for a bird-themed augmented reality scavenger hunt.
June 1
Beautiful Bushnell Birds
Bushnell Park Playground, 2 p.m.
Join Miss Katherine for birdwatching in Bushnell Park. Can you find New England's blue flamingo, the heron?
Birdémon Snap! Bird Photography and Lunch
Keney Park Pondhouse, 2 p.m.
Learn how to shoot nature photography with local photography expert Frederica Gray, and enjoy a lunch with librarians. RSVP at 860-695-7439.
Hummingbirds in Hartford
Barbour Library, 2 p.m.
Join Irene for a poem and craft! Take home a potted plant to attract hummingbirds. RSVP: 860-695-7401.
Birdémon GO!
Barbour Library, 2 p.m.
Join Mr. Marc from YOUmedia for a bird-themed augmented reality scavenger hunt.
June 2 
Blessed Nests
Albany Library, 3:30 p.m.
Learn about nests from Sydnee Foster from the Roaring Brook Nature Center, and make your own birdhouse for Albany's neighborhood nest!
June 3



Tweet Tweet! Sing Like A Bird
Albany Library, 10 a.m.
Join Selina at Albany for a bird story time and craft.
Baby Birds at the Library
Downtown Library, 3rd Floor, 11 a.m.
Tweet tweet baby birds! Join Miss Lina for a baby bird story time and craft.
Fowl Play: Pope Park Scavenger Hunt
Putnam Street Playground at Pope Park North, 11 a.m.
Join Miss Nancy and community nature leaders for a bilingual (Spanish) nature walk and native Connecticut bird scavenger hunt.
By Tricia Haggerty Wenz
Megyn Craine is an interdisciplinary artist who sees art making as a process of discovery. Her work is a reflection of how she interprets the world around her. It encourages us to look a little deeper, to question the way we understand our own world and its meanings for us.
Her exhibition, "Artifact," opens on the ArtWalk at Hartford Public Library with a reception on Friday, May 13th, from 5:30-7:30 p.m. The pieces will be on display through June 25th. Megyn will hold a conceptual collage workshop on May 21st from 11 a.m. to 1 p.m. To register, click here.
The following interview was edited for length and clarity.
Were you an artist since birth?
I was always creative as a kid. While at 17 I wasn't sure what I wanted for the rest of my life, I did decide to go to art school at the Hartford Art School.  I was a student of the Experimental Studio department. Without having to focus on any particular medium, we were encouraged to try anything. I learned welding, photography, painting, performance art and more. I wanted to learn every medium and push every boundary I could. I transferred to the San Francisco Art Institute New Genres department where I got my degree. 
After I graduated, I wasn't sure what I wanted to do but I knew what I like to do — which is be creative and help to inspire more creativity in others.
Perhaps because of that uncertainty you have done a million other things. And still do. Can you list a few? 
Horse wrangler, bakery owner, waitress, fine art auctioneer, pastry chef, nanny and now I am in grad school for marriage and family therapy. 
But at the same time, you were always an artist. 
 Always an artist. I was always making art. But I did not want to pursue making a living at it so it never occurred to me to show my work.  
And yet here you are. 
Yes, my husband Rafael Osés is also an artist. We actually met at Hartford Art School. He had an ArtWalk show a few years back and encouraged me to apply.
Is this your first exhibit? 
While I have shown pieces here and there this is my first solo show. 
Wow. 
Yes, it feels pretty good. 
What was the process like, getting this show together? 
Looking though my work. the word "artifact" kept coming back to me.  This exhibit is made up of things I've collected — the artifacts of my life.
I am fascinated by the title piece. 
My title piece was created during the early days of the pandemic. The piece began with a number of old family quilts that I transformed it into art work. Beginning April 1, 2020, and every single day for the next two months, I would collect an artifact from that day's experience and document it by writing something about it, stitching it into the quilt and sealing it in the moment, so I no longer know what was written on them. During the exhibit people are invited to take an artifact from the piece if they would like.  
That is so cool. 
Yes, I wanted my show to be an interactive experience for the viewer. During the entire length of the exhibit, I will have a bowl of tools available for anyone to add any artifacts they want to the piece. Artifacts are so interesting — things that we grow up with that we could have been easily tossed away now have value some other way.  How we or others determine the value of something is so fascinating to me. 
What a gift you are giving to the viewer. 
For me the viewer is just as important to the artwork as the maker. The idea of having something interactive in the show feels so important to me. This work has been packed up in my house for a while and now by sharing it with others my art will take on a whole new meaning. I am excited about this collaboration and the opportunity to experience my work while others are experiencing it as well. 
Hartford Public Library Youth and Family Services Manager Lina Osho-Williams has been selected as the 2022 recipient of the Connecticut Library Association's Faith Hektoen Award for her work serving children.
Osho-Williams, who received the award at the CLA's annual conference in Hartford last week, has worked at HPL for 17 years and can often be found leading story times and other activities in the children's room at the Downtown Library.
"My passion is with teaching the little ones," says Osho-Williams. "There is something just precious about working with the little ones. I love the continuum — working with them as small children and then seeing them grow and come back as adults, seeing their beautiful potential being realized."
Born in Sierra Leone, Osho-Williams left the country in 1997 in the midst of civil war and settled in Gambia for two years before arriving in the U.S. and eventually Hartford in 1999. Prior to working at Hartford Public Library Osho-Williams taught preschool in the early childhood education department with the Community Renewal Team.
The Faith Hekteon Award is presently annually to recognize the efforts of an individual or group that has made an impact on library services to children in Connecticut at the local, regional or state level. Developed in 1979, the award is named for Faith Hektoen, who served as a consultant for children's services at the Connecticut State Library for more than 20 years. Osho-Williams was nominated for the award by a fellow children's librarian at HPL.
Need to make an appointment for your COVID-19 booster shot? Are you a Hartford resident looking to pick up an at-home test kit or a high-quality mask? Hartford Public Library has got you covered.

Vaccines
First, second dose or booster
No appointment required
Bring ID and insurance information if available (not required)
Under 18 must be accompanied by a parent/guardian
Here's a list of upcoming vaccine clinics:
Albany Library
May 5
May 19
2-5 p.m.
Ages 5 and up
Camp Field Library
April 28
May 12
May 26
2-5 p.m.
Ages 12 and up
Downtown Library
April 30
May 7
May 14
May 21
1:30-4:30 p.m.
Ages 12 and up
Park Street Library @ the Lyric
April 27
May 4
May 11
11 a.m. – 5 p.m.
Ages 12 and up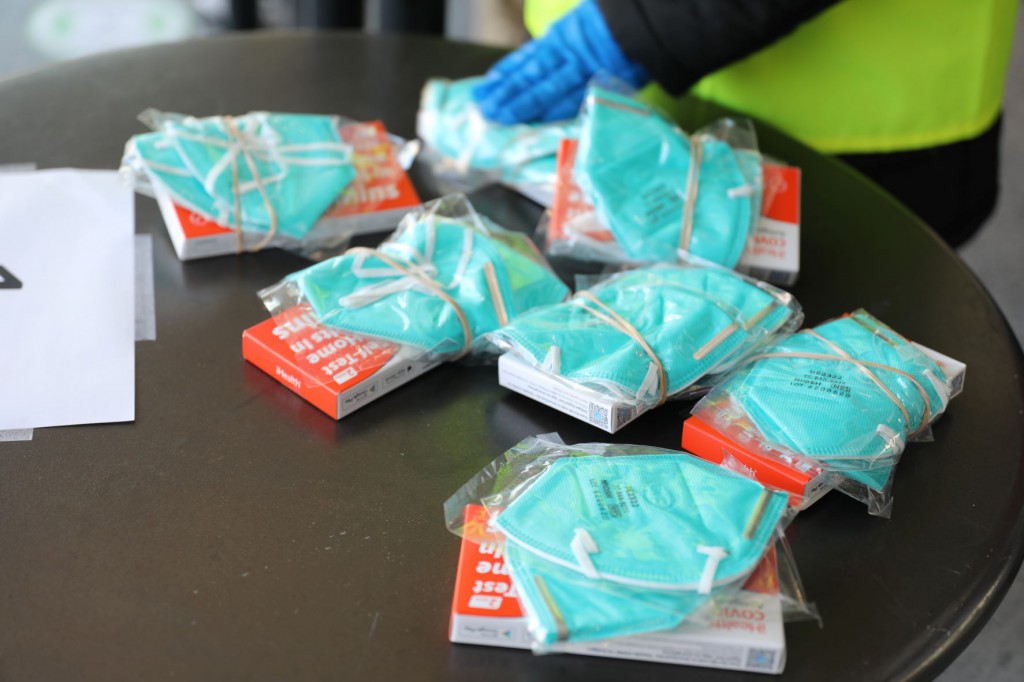 Test Kits and Masks
Tests available at all library locations (just ask at the library front desk during regular business hours)
Proof of Hartford residency required
Two kits, two N95 masks per adult
Tests and masks will be available while supplies last
Friends and supporters of Hartford Public Library gathered Tuesday in the Hartford History Center to celebrate the completion of a suffragist sculpture that honors the first women who registered to vote in Hartford after the passage of the Nineteenth Amendment.
The work by Canton artist Marilyn Parkinson Thrall is titled "The Art of Perseverance" and will become part of the center's permanent collection. It was funded by a Creation of New Work award from the Edward C. and Ann T. Roberts Foundation that Hartford Public Library received in 2020.
"The Art of Perseverance" gives voice to the thousands of Hartford women who, despite barriers, registered to vote in this city in October 1920," said Brenda Miller, Hartford Public Library's executive director of culture and communication and the head of the Hartford History Center. "Sculptor Marilyn Parkinson Thrall, through her research in our extensive archive, and by working with staff, became inspired by these women. Now her work, in turn, inspires us. Despite the declarations of Article 1 and the 14th, 15th, and 19th Amendments to the Constitution, keeping those rights has been a fight since 1865."
The sculpture highlights Hartford suffragists in numerous ways. The sash adorning the piece is in the purple and green colors used by Connecticut suffragists as opposed to the purple and yellow used by their national counterparts. It also includes a City of Hartford seal. And the dress is made from reproductions of voter registration cards from some of the first women to register to vote in Hartford that were digitized by the Hartford History Center as part of its award-winning October 1920 exhibit. The cards incorporated in the dress include those of Katharine Martha Houghton Hepburn, the mother of famed actress Katharine Hepburn, as well as Caroline Hewins, who served as Hartford Public Library's chief librarian from 1875-1926 and saw the library transform from a subscription service to a free public library.
"This sculpture is an inspiration for people of all backgrounds, races, creeds, countries of origin, gender identities and abilities," said Hartford Public Library President and CEO Bridget E. Quinn. "It's such a testament to what power we have when we come together to do something right."
Thrall spoke about her research and how she approached creating the piece during a talk at Tuesday's event. She said she learned suffragists' refined clothing choices — including high-collared blouses, long skirts, fancy heats and sashes — were intentional so that the movement would be taken seriously.
"They actually call it fashion activism," she said. "The women who were in charge decided 'Well, first off, let's dress as elegantly and as carefully as we can. We want to present ourselves as professionals, we want to be able to be taken seriously, so let's start there.' "
And wearing white, Thrall said, afforded the opportunity for a lot more people to participate in the movement because low-income women could more easily a white cotton dress than more expensive, colored clothing items. The dresses also showed up well in the black-and-white photography of the day.
The work is available for viewing in the Hartford History Center during the center's regular hours: Monday-Thursday from 10 a.m. to 2 p.m. It is accompanied by items from the October 1920 exhibit that will be on display throughout the remainder of the year.
Hartford Public Library Director of Public Services Marie Jarry has been selected to receive the 2022 Sullivan Award for Public Library Administrators Supporting Services to Children, the American Library Association announced this week.
The annual award recognizes individuals who show exceptional understanding and support of public library service to children while maintaining administrative responsibilities.
"Marie is always pivoting to the needs of the community, putting Hartford children and families first, particularly during COVID" said Hartford Public Library President and CEO Bridget E. Quinn. "She is committed to diversity, equity and inclusion, her management style allowing for organizational growth and continued development of a staff culture of engaged, creative service-minded professionals. Her vision continues to bring programs, initiatives and resources together for larger impact and social delivery."
The American Library Association said Jarry was selected for "her success in developing carefully planned initiatives to support community needs, managing systemwide collection development and taking a leading role in ensuring that library design principles are employed to create an environment welcoming to all patrons." Also highlighted was her work on Boundless, an educational partnership between Hartford Public Library and Hartford Public Schools.
Jarry, a member of Hartford Public Library's leadership team, has written and received more than $200,000 in grants for STEM programming and materials for Early Childhood Initiatives. She launched the 1,000 Books Before Kindergarten Program and created the Stem Lab on the Go Program for use in the library, in school and at home. She also worked to guarantee that Hartford students and teachers had access to resources using their student/teacher IDs, streamlining access to the library's physical and digital collections.
Before joining Hartford Public Library in 2016 as Director of Youth and Family Services, Jarry worked at New Haven Free Public Library as a youth services librarian and manager of the Young Minds Department. She received her master's degree in library science from Southern Connecticut State University and her bachelor's degree from Central Connecticut State University.
The 2022 Sullivan Award for Public Library Administrators Supporting Services to Children will be presented at the ALA President's Program, Sunday, June 26th, during the ALA Annual Conference in Washington, D.C.
The award is named for Peggy Sullivan, a past president and executive director of the American Library Association.
-30-
About Hartford Public Library
Now celebrating its 128th year, Hartford Public Library remains at the forefront of redefining the urban library experience in the 21st century. With seven locations throughout the city, the library provides education, intellectual enrichment and cultural development for thousands of children, youth and adults every year. Hartford Public Library has also gained local and national recognition for its wide range of new initiatives and partnerships designed to meet the needs of a diverse and dynamic city and region, including immigration services, employment assistance and youth leadership training. www.hplct.org.
About the American Library Association
The American Library Association (ALA) is the oldest and largest library association in the world. Founded on October 6, 1876 during the Centennial Exposition in Philadelphia, the mission of ALA is "to provide leadership for the development, promotion and improvement of library and information services and the profession of librarianship in order to enhance learning and ensure access to information for all." www.ala.org.
"Know what sparks the light in you so that you, in your own way, can illuminate the world." — Oprah Winfrey
By Tricia Haggerty Wenz
Hartford-grown and Manchester-based artist Sonyetta Strickland is no stranger to Hartford Public Library, and we're thrilled to have her exhibit "Illuminating Sunshine" on display on the third floor of the Downtown Library through April 3. If you'd like to meet Sonyetta, please stop by the library (500 Main St.) on Saturday, March 19th, between 2-4 p.m.
Illuminating Sunshine, I love this title. How did you choose it?
"I've been called sunshine forever and my mom always says I look like there is a halo around my head. She would tell me there is something about you — I dress bright colors and I think my art is illuminating it draws attention.  I love to work with colors."
You work in mixed media.
"I like adding things with my works — if it seems impossible that it could be done, I'm like, lets just try and it and see — I am determined to show it can be done.
My themes and creative pieces developed due to attending several African events. Getting to see a true event within the African culture started me on a new path with my art. Weddings, death, birth, unity, family, history, beautiful costumes, wonderful foods are all represented in my art."
Favorite medium?
"I love printmaking and ceramics. I like painting but I feel I can really get deep in the work and come out what I want when I am sculpting."
Do you remember the moment when you knew you were an artist?
"I have twin brothers Bruce and Brian and we always had super hero comic books and we would tape the images on our walls. One day we asked our mom if we could draw them on our wall and she said yes. Together we drew the characters — Batman, Superman, Captain America — it looked like exactly like what we imagined them. My life as an artist began then."
Tell me about this exhibit at the library.
At first, I was overwhelmed by the amount of cases for the exhibit but then I realized I have a lot of work I can share. My pieces are powerful.  My art got me over many hurdles, trying times, such as getting me through breast cancer. My art represents woman and our style and technique — our struggles and our power.
You have had a long history with the library.
At one time in my life, I became fascinating with beehives and the library became an important resource for me. I found out all I could on beehives and that research inspired my artwork. And most recently meeting [HPL Education & Community Outreach Manager] Jasmin Agosto on Barbour Street has led to this exhibit.
What do you hope for everyone that experiences your art?
I hope the viewer feels as excited as I do when viewing this exhibit. Because no two people think alike, I want everyone to form their own opinions of my work.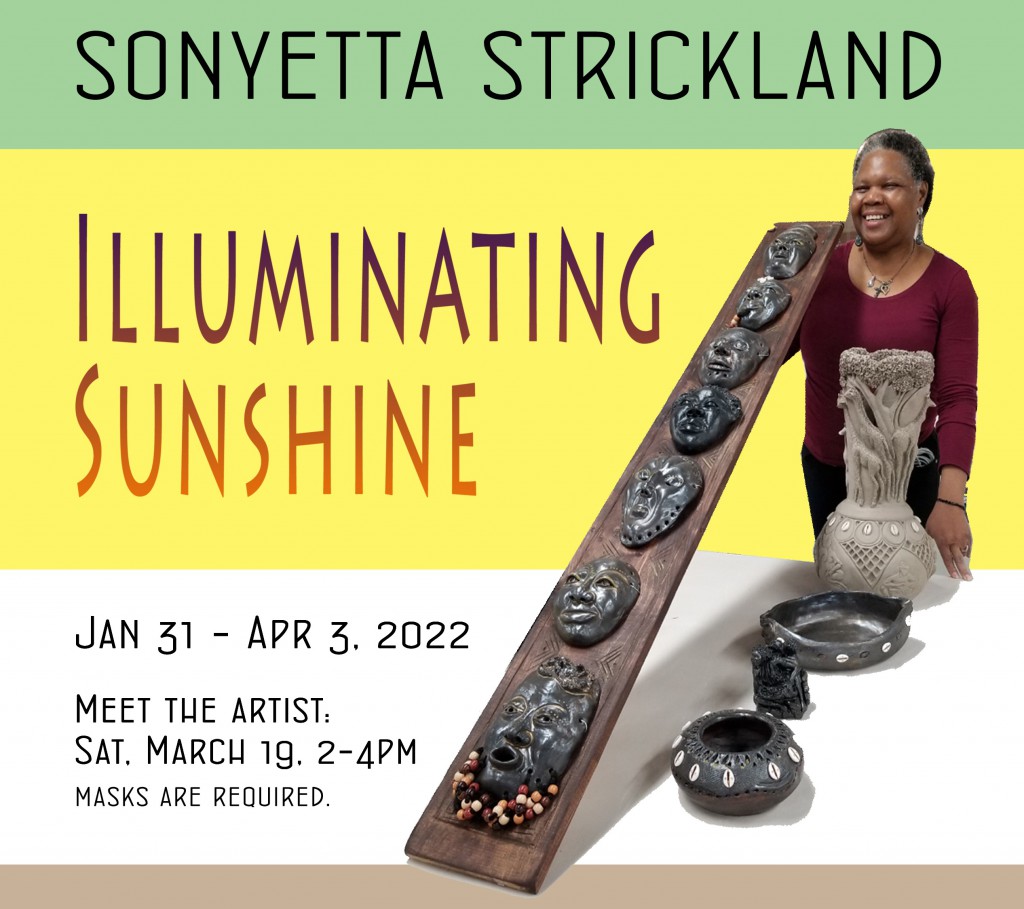 By Tricia Haggerty Wenz
Ahead of the opening of their ArtWalk exhibit Words in Clay, Words on Paper on Friday, March 11th, we were pleased to speak with poet Jim Finnegan and artist Michelle Cotugno to discuss their unique collaboration that will be featured at the Library.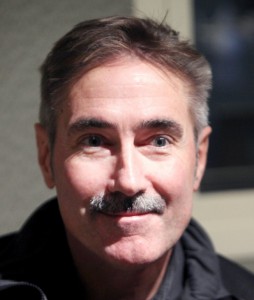 Jim Finnegan
You are an executive vice president of an insurance agency and you are a poet.
"I get my organization and planning skills from my left brain and my poetry and love of art feeds my right brain."
You went to school for business. How did you love of poetry begin?
"While in business school I needed to take additional credits outside my major and decided on a poetry class. It was there I discovered my love for contemporary poetry. I realized it was not an antiquated art form, rather poetry could also speak to the times we live in. I discovered the poetry of modern poets such as James Wright, Muriel Rukeyser and Carl Sandberg.
Since then, I have been able to forge a dual path and give equal footing to my business career and my art."
Tell me about broadsides.
"In broadsides each piece of type is laid out individually and run through a printing press. Invitations, poetry and fine book work are all done through this method."
And how did this exhibit come about?
"Every year I host a Wallace Stevens Birthday Bash. At one of these events, I met Michelle and saw images of her work in clay. I saw the connection between her work, poetry and broadsides and suggested we propose an exhibit for the Library. While we are sharing the work of poets and art together, this exhibit actually presents the triangulation of three parts – the poet, the printer and the artist."
You share the work of many poets in this exhibit.  I imagine there may be particular piece that really resonates with you.
"The late poet Linda Gregg's Whole and Without Blessing piece is very close to me."
Do you have a favorite word?
"Windowpane is a word that you will see come up in a fair amount of my work.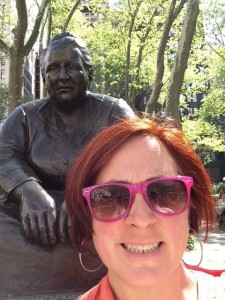 Michelle Cotugno
Tell me about your path to becoming an artist.
"While art was always a part of my life, really my life as an artist began with thwarted plans. I had one idea and the universe had another."
How so?
"I had planned on becoming a massage therapist, during a time when there was not many of them around. After a couple of years at community college I transferred to Smith College and it was there I began taking classes in book arts, and had an internship at the Center for the Book in San Francisco. It was during this time that I fell in love with the letterpress."
You meet Jim at the Wallace Stevens Birthday Bash.
"I really love modern poetry and took a poetry class. It was in that class that I discovered my love for Wallace Stevens. During my undergraduate years I began to attend the Wallace Stevens Birthday Bash and meeting Jim there in recent years has been a real joy for me."
And out of your mutual love for Wallace Stevens came this exhibit.
"This exhibit was Jim's idea. It was Jim that envisioned the possibility oy my work combining with his collection of broadsides. He saw how some of my work echoes broadsides. I use poetry in my art and most of my work I consider to be books."
Tell me what inspires you.
"Art museums to me are intellectual, emotional and spiritual cathedrals. I can also find inspiration through travelling, my yoga practice and listening to the stories of my clients.
The universe has been kind to me. I've been lucky."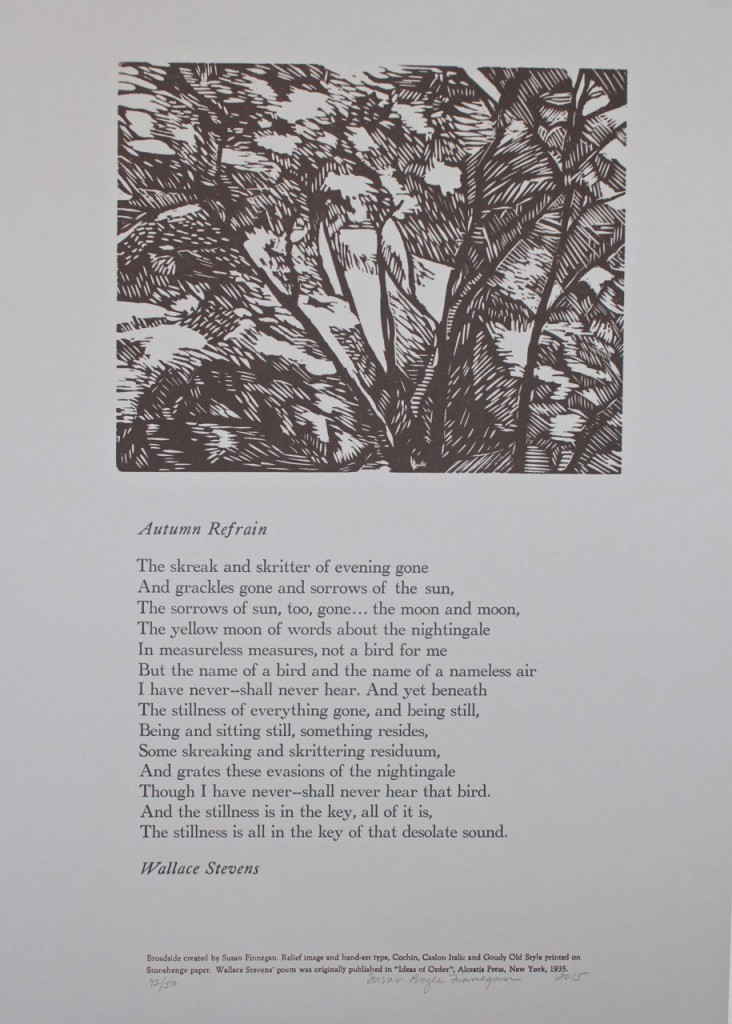 Growing up in West Hartford with an interest in architecture and city planning, Jim Krueger often wondered why engineers and city leaders decades ago designed a major interstate highway that cut right through the heart of Hartford, separating the city's downtown from surrounding neighborhoods and making it easy for drivers to zip right through the capital city without so much as a second thought.
In a new podcast, "The Road That Killed A City," Krueger examines how the construction of I-84 in the mid-20th century transformed and divided Hartford, creating challenges that the city still deals with to this day.
Krueger, who studied journalism at Penn State University, did much of his research for the podcast at the Hartford History Center at Hartford Public Library.  And one of his interviewees was Hartford Public Library board member Steve Harris, a lifelong resident of the city's North End who saw firsthand the transformation of the city.
"I did some general interviews but the Hartford History Center had lots of documents from people at that time that stated, pretty bluntly, what they were trying to do," Krueger said of his research. "These legal documents, state documents, they really show people's intention at the time."
The podcast project was a labor of love for Krueger, who began work on it in the fall of 2019 and completed the six-episode series in late 2021. He said he hopes it gives listeners an understanding of how some of the challenges Hartford faces were created by short-sighted urban planning and top-down decisions from city leaders who didn't consult with the residents whose lives they were upending.
"The highway really made it so that people living in the suburbs could literally drive over the poor neighborhoods in Hartford that have kind of been forgotten about," he said. "When you don't see something or deal with something head on, when you can just kind of drive past it, regardless of how close you live to it, it's not your problem anymore and I think that has created a really big lack of empathy for the city."
Krueger said he was surprised to discover frank discussions by planners in documents at the Hartford History Center about how the highway would not only help Hartford connect to its growing suburbs and stay competitive with other, larger cities, but also achieve the effect of separating downtown from neighborhoods seen as less desirable.
Robert Moses, an urban planner from New York who served as a consultant on highway and development projects in Hartford, wrote in a 1949 planning document that locating the highway through the "slum area north of the business section would be preferable." The change demolished much of the city's low-income housing and created a physical barrier between Downtown and the diverse, working-class North End that exists to this day.
"This is the opportunity to accomplish at once slum clearance, rehousing and business and industrious development," Moses wrote.
"I think I went out to make a podcast that was solely about bad city planning, a botched city planning job, I didn't know how much race would be tied into it," Krueger said.
For more information about the podcast, visit www.theroadthatkilledacity.com.
Throughout the month of February we've been highlighting books, music and movies to celebrate Black History month in our weekly newsletter.
As the month comes to a close, here's a list of what we featured. The books are available in our catalog, and the movies and music are available on Kanopy and Freegal — just input your library card!
Want to get great book suggestions like these weekly in your inbox? Subscribe to the Hartford Public Library enews.
Books
by Ta-Nehisi Coates
No. 1 New York Times Bestseller
National Book Award Winner
In a profound work that pivots from the biggest questions about American history and ideals to the most intimate concerns of a father for his son, Ta-Nehisi Coates offers a powerful new framework for understanding our nation's history and current crisis.
"Powerful and passionate … profoundly moving … a searing meditation on what it means to be black in America today." — New York Times
The language is visceral, eloquent, and beautifully redemptive. This is required reading." — Toni Morrison
by Saeed Jones
Winner of the Kirkus Prize
Stonewall Book Award
Haunted and haunting, How We Fight for Our Lives is a stunning coming-of-age memoir about a young, Black, gay man from the South as he fights to carve out a place for himself, within his family, within his country, within his own hopes, desires and fears.
"A moving, bracingly honest memoir that reads like fevered poetry." — New York Times
"Powerful. …. Jones is a remarkable, unflinching storyteller, and his book is a rewarding page-turner." — Publishers Weekly
by Randi Pink
A piercing, unforgettable love story set in Greenwood, Oklahoma, and against the Tulsa Race Massacre of 1921.
"I hope teachers assign this in schools and librarians turn it face-out on the shelves. American kids need to know this history to be good citizens." — NPR
"…this novel brilliantly juxtaposes a lighthearted story of young Black love with a deft reminder that such beauty has often been violently seized from Black people, and that these instances deserve remembrance." — Publishers Weekly, starred review
by Tayari Jones
New York Times Notable Book
2019 NAACP Image Award-Outstanding Literary Work
Oprah Book Club Selection
An American Marriage is a masterpiece of storytelling, an intimate look deep into the souls of people who must reckon with the past while moving forward —with hope and pain — into the future.
"A moving portrayal of the effects of a wrongful conviction on a young African-American couple." — Barack Obama
"Haunting. … Beautifully written." — New York Times Book Review
by Marlon James
Winner of the Man Booker Prize
This masterful and inventive novel is a fictional exploration of the murder attempt on the life of musician Bob Marley.
"Thrilling, ambitious. … Both intense and epic." — Los Angeles Times
"A tour de force. [An] audacious, demanding, inventive literary work." — Wall Street Journal
by Jesmyn Ward
New York Times 10 Best Books of the Year
This is a majestic, unforgettable novel about family past and present told from the voice of a young man trying to find his way.
"This book is so good that after you read it, you will want to read it again." — Sun Herald
"Very beautiful." — Vox
Ashley C. Ford
New York Times Bestseller
The 21 Most Anticipated Books of 2021 (Time)
An extraordinarily powerful memoir: the story of a childhood defined by the absence of her incarcerated father and the path we must take to both honor and overcome our origins.
"This is a book people will be talking about forever." — Glennon Doyle, No. 1 New York Times bestselling author
"The writing is so richly observed and so suffused with love and yearning that I kept forgetting to breathe while reading it." — John Green, No. 1 New York Times bestselling author
Nathan Harris
New York Times Bestseller
Winner of the Ernest J. Gaines Award for Literary Excellence
A beautifully written and compelling story about the unlikely bond between two freedmen who are brothers and the Georgia farmer whose alliance will alter their lives, and his, forever
"Beautiful… An instant classic… This book is profound." — Wall Street Journal
"The Sweetness of Water leaves a lasting and multifaceted impression: It's warm and absorbing, thought-provoking and humane." — NPR
Movies
"Not everything that is faced can be changed, but nothing can be changed until it is faced." — James Baldwin
Narrated by Samuel L. Jackson, this film explores the history of racism in the U.S. through Baldwin's recollections and own words. BAFTA Award for Best Documentary, 2018. Nominated for Best Documentary Oscar, 2016.
"One of the best movies you are likely to see this year." — New York Times
You can watch the trailer 
HERE
.
From award-winning filmmaker Ken Burns, The Central Park Five tells the story of the five black and Latino teenagers who were wrongly convicted of raping a white woman in New York City's Central Park in 1989.
"…a vivid, involving documentary. The story it tells is a wrenching one, but it never succumbs to hyperbole or sensationalism" — NPR
This is an epic and beautiful movie filled with music, romance, comedy and at the center is the celebration of female empowerment. Written and directed by award-winning director of Love & Basketball Gina Prince-Bythewood.
You can watch the trailer HERE.
"I haven't been able to shake this movie, or Gugu Mbatha-Raw's performance, since I saw it two months ago. This is a fantastic film. Drop what you're doing and see it." — RogerEbert.com
This musical coming-of-age tale about a young man exploring his true identity won the 2017 Audience Award at the Tribeca Film Festival.
"…It is a disarmingly and consistently sensitive movie that remains engaging." — New York Times
Music
All hail the queen of hip hop and soul.
We did not get enough of Mary J. Blige at the Super Bowl. Lucky for us all we can download her music free on Freegal.
"Believe in yourself when nobody else does." — Mary J. Blige
Etta James is an icon.
"Etta James' powerful, versatile and emotionally direct voice could enliven the raunchiest blues as well as the subtlest love songs" — New York Times
Why not experience the amazing artistry of Alicia Keys?
Revisit her second studio album Diary of Alicia Keys, the one that the New York Times says "confirmed her place in musical history."
"Everything's gonna be alright." ― Alicia Keys