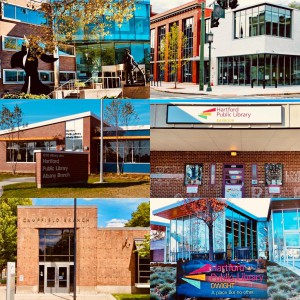 While the Downtown Library is temporarily closed, Hartford Public Library has redeployed staff to expand hours at our branch locations. Branches will operate on the schedule below beginning this week:
Albany Library
1250 Albany Ave.
Monday-Thursday: 9 am – 6 pm,
Friday: 9 am – 5 pm
Saturday: 9 am – 5 pm
Barbour Library
261 Barbour St.
Monday-Thursday: 9 am – 6 pm
Friday: 9 am – 5 pm
(On the second and fourth Thursday of each month Barbour will only be open from 3-6 pm to accommodate our Connecticut Foodshare distribution)
Camp Field Library
30 Campfield Ave.
Monday-Thursday: 9 am – 6 pm
Friday: 9 am – 5 pm
Dwight Library
7 New Park Ave.
Monday-Thursday: 9 am – 6 pm
Friday: 9 am – 5 pm
Park Street Library @ the Lyric
603 Park St.
Monday-Thursday: 9 am – 6 pm
Friday: 9 am – 5 pm
Saturday: 9 am – 5 pm
Sands / Ropkins
1750 Main St.
Monday-Thursday: 10 am – 5 pm
The Boundless Library @ Rawson (260 Holcomb St.) will reopen for public service from 3:30-5 p.m. on Tuesdays and Thursdays beginning the week of January 16th.
Once again Hartford Public Library is a designated venue for First Night Hartford and we've got plenty of activities planned to help you ring in 2023.
Here's the full lineup of events at the Downtown Library (500 Main St.)
2-6 p.m.: Mask decorating, New Year's wand craft, 2023 Happy New Year community coloring poster
2-7 p.m.: School choice information available
6-6:50 p.m.: Magic show with Ed Popielarczyk's comedy magic, balloon twister and flea circus ring master
8-11:30 p.m.: biblioDISCOteque, a disco-themed New Year's Eve party DJ-ed by Sonia Sol and Ym of Nimbus with a cash bar
Find the entire First Night Hartford lineup of activities at firstnighthartford.org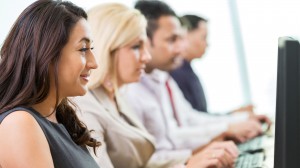 Do you or someone in your life want to brush up on basic computer skills? Hartford Public Library is offering this important training at all of its branches. Registration is recommended but walk-ins are welcome.
Learn:
Computer first steps
Internet basics
Using email
Creating a resume
Google
Microsoft Office
And more!
Classes will be held at regularly schedules times beginning this winter. Please see the complete schedule below.
Albany Library
2nd and 4th Tuesday of the month, 11 a.m., beginning Dec. 13th
Barbour Library
3rd Thursday of the month, 2 p.m., beginning Jan. 19th
Camp Field Library
1st Thursday of the month, 11 a.m., beginning Dec. 1st
Dwight Library
2nd and 4th Wednesday of the month, 11 a.m., beginning Dec. 14th
Park Street Library at the Lyric
Wednesday, Dec. 7th — English
Wednesday, Dec. 14th — Spanish
Beginning in January classes will be held the 2nd Wednesday of the month in Spanish, and the 3rd Wednesday of the month in English
Classes will use a combination of NorthStar and DigitalLearn.org to teach computer basics.
By Tricia Haggerty-Wenz
"There would be no life without water. It is the essence of everything" — Barbara A. Hocker
Trained as a fiber artist, Hocker weaves and layers photos, prints and paintings together, creating works on paper, panels and books. These are her visual expression of skies, waterfalls, streams, rivers, lakes, and the sea. Her exhibition, "Ebb & Flow," opens on the Hartford Public Library ArtWalk with a reception Friday, Dec. 2, from 5:30-7:30 pm at the Downtown Library, 500 Main St. It will remain installed through Jan. 22.
The following interview had been edited for length and clarity.
I love this exhibit. I am excited to learn more about you and your process.
Thank you.
You went to school for fiber arts your current work is photography and painting, Tell me about that transition.
In college I concentrated on tapestry weaving, printmaking and handmaking paper. After college I went in the direction of sculpture and now I've pretty much come back to paper and printmaking in a different way, working with monotypes – where you don't need a press to print.
How so?
My use of digital photography has me thinking more like a printmaker than a photographer. Cutting the paper in strips and weaving it together has actually brought me back to my roots and education around weaving.
The colors of the work are beautiful. Being in the presence of this exhibit you can't help but feel calm and centered.
I like the subtle colors of the blues and the greens combined. I spent my childhood near the ocean. These colors remind me of the ocean and of water in all of its forms — salt water marshes, waterfalls, lakes.  I create monotype prints inspired by the photographs, I cut the prints/photos into strips and weave them together and mount them on a panel. The final part of the process is the encaustic wax. The magic of the encaustic wax is that it causes the rice paper to disappear so the images meld together, which creates a dreamlike experience. The layers of my work, combining photography, painting and printmaking, connecting abstract and realism — highlights the complexities of nature.
You practice Tai chi. How does your practice inform you art?
I studied yoga and my practice led me to Tai chi which I've been practicing for the past 12 years. Both combine energy and breath, gathering energy into your body and moving it around for balance and health. Through my Tai chi I've learned to take my internal energy and express it into the world through my art. So, when I am taking photographs, I try to connect with the energy of nature and the place on that day.
What do you hope for the viewers experiencing this exhibit?
I hope they are inspired to notice nature in their daily lives, to stop and appreciate the beauty around them, as well as think about the importance of water in our lives. There would be no life without water. It is the essence of everything
Along with the ocean, libraries also played a vital role in your childhood.
I spent a great deal of time in my public library growing up. My older sisters both worked at the library and the oldest even became a librarian.
I love exhibiting my work in the ArtWalk gallery at the Hartford Public Library.  With the big windows it provides a greater connection with the outside world than there would be with four white walls. It's cool to see how the time of day and amount of light play a part in how the viewer experiences the art.  Also, the gallery is a part of this unique ecosystem which allows my work to reach a wider audience and be a part of people's everyday living.
So, what does this ArtWalk exhibit mean to you?
I am taking my childhood — spending my time by the ocean and in libraries — and I am weaving them together to make books. It all lines up.
Barbara will be leading a Zen yoga and Qi Gong workshop for health and energy on the ArtWalk on Jan. 14. Register HERE.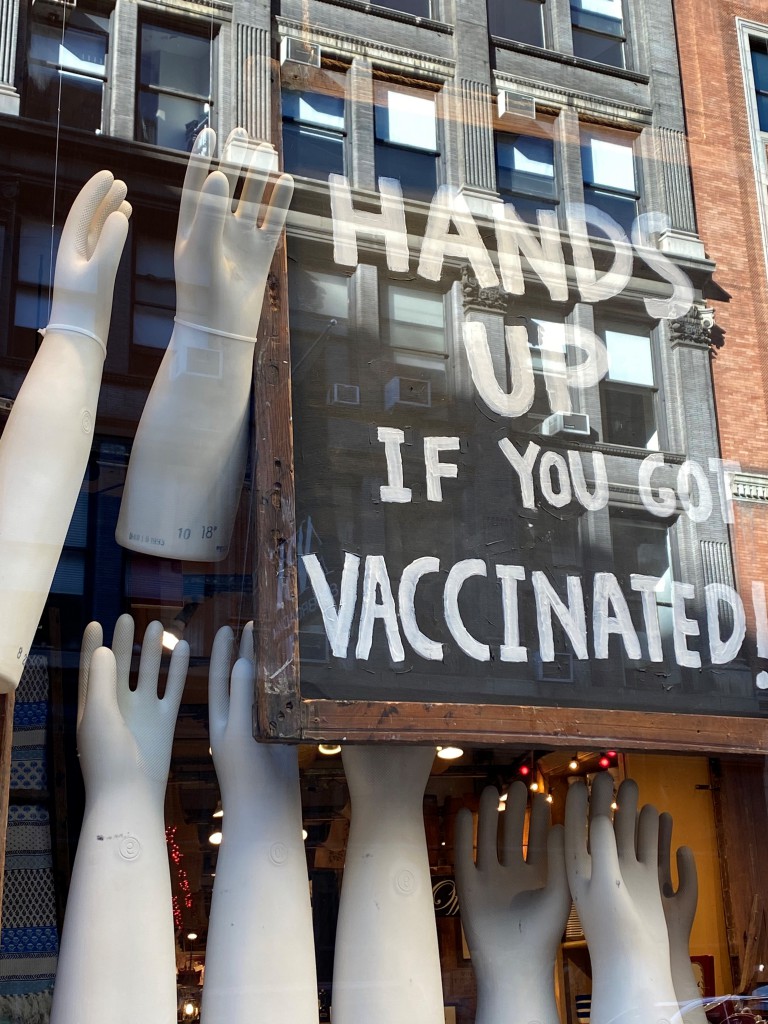 (Hartford, CT) – From 5-7 p.m. on Thursday, October 27th at the Downtown Library in Hartford, Hartford Public Library and UConn will host an opening reception for "Picturing the Pandemic," the first public exhibition of photos and journal entries collected by the team at the Pandemic Journaling Project detailing the experience of ordinary people during COVID-19.
Since its launch in May 2020, the Pandemic Journaling Project has given ordinary people a place to chronicle and preserve their pandemic experiences. Over the following two years, more than 1,800 people in 55 countries created nearly 27,000 individual journal entries – for themselves, and for the history books.
"After collecting photographs, audio recordings and written journal entries from people around the world for two and a half years, we're honored and thrilled to be partnering with the Hartford Public Library in launching what we think is a quite unusual exhibition," said Sarah S. Willen, co-founder of PJP and co-curator, together with fellow UConn Professor Alexis Boylan, of the exhibition. "Our PJP team often describes PJP as a form of grassroots, collaborative research and history-making. In this exhibition, we're expanding that mission to show how all of us, no matter our age, background or life stage, can find strength, solidarity and maybe even healing in creative expression and in recording, and sharing, our stories."
Select submissions from the project will be displayed at Hartford Public Library through December alongside a selection of images from the library's Hartford 2020 collection, a collection of photographs by Hartford-based photographers Andy Hart, Jasmine Jones, and Ray Shaw that capture Hartford's public sphere in 2020: protests, parks, buses, testing clinics and outdoor performances.
In addition to journal entries collected digitally, the project hosted a series of in-person programs this summer at Hartford Public Library locations across the city where children were encouraged to create art that captured their thoughts and feelings about how the COVID-19 pandemic has affected their daily lives. Selections from those programs will be displayed in the Children's Department at the Downtown Library as well as at Hartford Public Library branches across the city.
"A core part of Hartford Public Library's mission is providing resources to encourage individual exploration, as well as preserving and recording Hartford's history," said Hartford Public Library President and CEO Bridget E. Quinn. "We are proud to partner with the team at the Pandemic Journaling Project on this exhibition that not only chronicles a tumultuous time in our collective history, but hopefully sparks conversation about claiming our voices, learning from others and creating meaningful change in the world, as well as inspiring others to share their stories."
The opening reception at the Downtown Library will include remarks from the exhibition curators, as well as from project participants. Refreshments will be served and guests will be invited to view the exhibition that has been installed throughout the library.
Future public exhibitions of Pandemic Journaling Project materials are planned at Providence Public Library in Rhode Island; the Mark Twain Center for Transatlantic Relations in Heidelberg, Germany; and the Centro de Estudios de Género, el Colegio de México in Mexico City, Mexico.
For more information about the Pandemic Journaling Project visit www.pandemicjournalingproject.org. To register for the event on October 27th visit www.bit.ly/PJPatHPL.
WHO
Hartford Mayor Luke Bronin
UConn President Radenka Maric
Jasmin Agosto, education and community outreach manager, Hartford Public Library
Michael Lynch, director of UConn's Humanities Institute
Kathryn Libal, director of UConn's Human Rights Institute
Ty Hughey, executive director of Haddam-Killingworth Youth and Family Services
Melina Das, 10th grader, Wethersfield High School
UConn faculty and Picturing the Pandemic Co-Curators Alexis Boylan & Sarah Willen 
WHERE
Hartford Public Library
Atrium, Ground Floor
500 Main St.
Hartford, CT
WHEN
5-7 p.m.
Thursday, October 27th
Hartford Public Library is pleased to announce that Amanda Rodarte of Los Angeles, California, is the 2022 recipient of the Caroline M. Hewins Scholarship, given annually to promising library school students who intend to become children's librarians.
Amanda began serving as a volunteer reader at Los Angeles Public Library in 2014 and later joined the library staff as a messenger clerk while completing her undergraduate degree.
It wasn't until several years ago that Amanda came to the realization she wanted to go back to school and pursue a career as a children's librarian. As a person of color from a working-class background, Amanda says she has seen firsthand the many effects impoverished neighborhoods experience when it comes to literacy and resources. She is studying for her Master of Library and Information Science degree at the University of Southern California and expects to graduate in December.
"It wasn't until the pandemic that I started really thinking 'I wish I could work in an organization where I can help people, empower them, share resources,'" Amanda says. "I had that lightbulb moment. It's unfortunate it took me many years to realize. Nonetheless I realized it and I'm going for it. This is what I want to do."
Tell us a little bit about your experience volunteering and working in libraries.
I never went to the library as a child. When I was about 16 years old I desperately wanted to exit ESL (English as a second language) classes and forced myself to start reading. I met a librarian who didn't make me feel welcome … and so I would only pick up books but not come inside the library or really spend time there. A couple years later I found out about a program where you can read to children and because I never went to the library, and struggled with literacy as a child, I wanted to encourage children in my community to read. What started off as a volunteering position turned into a job and has evolved into my passion.
What are your goals for your library career?
I want to improve the library experience for immigrants. My mother was an immigrant, she didn't go to the public library, she didn't know about the resources or programs that were available. … I think a lot of people fail to realize that libraries are exclusive in other countries or they don't exist. People may not know and they need to be guided toward our resources.
Another thing I'd like to work on is more programs that promote social awareness and inclusivity. As a child my world was very small, I lived predominantly in a Mexican community. I'd love to show children at a young age about different ethnicities, cultures and customs. … Libraries are no judgment zones. We have a space where everyone is welcome no matter what background you have.
I really like the modern-day librarian because it's just totally different from the old concept of librarianship. It's a lot more active, community-oriented and hopefully once I become a librarian I'm able to change other people's minds as to what librarianship is like.
What do you enjoy about working with children?
I've always loved working with children. After working at the library for a couple years and learning a lot from the children's librarian I knew I wanted to be in a field where it didn't feel like I was working, where I was enjoying every moment of it. Children's librarians have such an impact on children and families. You're not just working with the children but the family as a whole and providing resources to all of them. 
Have any book suggestions?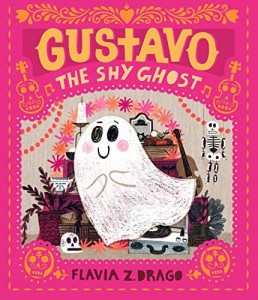 Gustavo the Shy Ghost
by Flavia Z. Drago
This is a cute story about a shy ghost who wants to make friends but he's quiet, and that's OK. It teaches children to appreciate who they are and that people are going to like you no matter what. You  just need to be confident in yourself.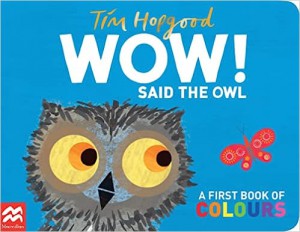 Wow! Said The Owl
by Tim Hopgood
This is perfect for read aloud. Children love it because they get to be expressive and loud whenever the owl says "Wow!"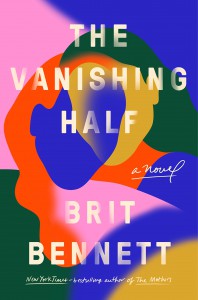 The Vanishing Half
by Brit Bennett
I like anything that's historical fiction and I really like this book because it has a lot of themes: race, gender identity, education. It really exposes another person's experience. … I make an effort to try to read books from people of color, that's a big way you can incorporate DEI (diversity, equity and inclusion) concepts in your own life.
About the Caroline M. Hewins Scholarship
The Caroline M. Hewins Scholarship Fund was established in 1926 as a tribute to one of the great pioneers in American librarianship in special recognition of her creative work for children throughout the country.
The fund originated by the Hartford Librarian's Club as a personal gift to Miss Hewins on the occasion of her fiftieth anniversary as Librarian of the Hartford Public Library.  When Miss Hewins chose to use this gift as a basis for a scholarship award, generous contributions were received from family and friends and professional associates throughout Connecticut and the United States, thus assuring to the Scholarship a national character in keeping with the memory of the Librarian it honors.
The fund is administered by the Hartford Public Library as trustee, and current income permits an annual scholarship award of $4,000.
The scholarship is open to those who plan to specialize in library work with children: who have received, or are about to receive a four year undergraduate degree; and who have applied for admission to a library school or are already attending a library school accredited by the American Library Association.  Preference will be given to applicants who plan to pursue a career in public library service.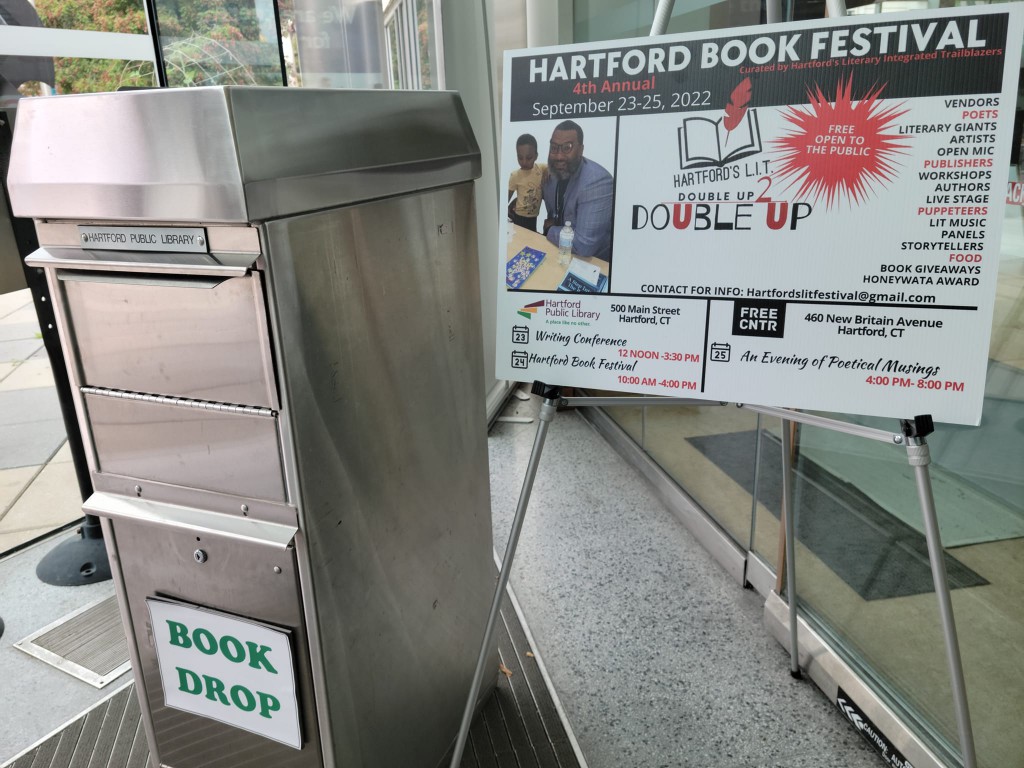 Hartford Public Library is partnering with Hartford's L.I.T. (Literary Integrated Trailblazers) to co-host the fourth annual Hartford Book Festival as a three-day event with workshops, poetry readings and more from Friday, Sept. 23, to Sunday, Sept. 25, at the Downtown Library at 500 Main St. and the Free Center at 460 New Britain Ave.
Hartford's L.I.T. is a group of local authors, artists and entrepreneurs. Their mission is to establish presence and awareness of Greater Hartford's local authors, diverse artists and entrepreneurs to revitalize literary arts and communication. H.L.I.T. focuses on literacy, literary productions, entrepreneurial building and networking within Hartford communities, including the underserved and nontraditional communities.
H.L.I.T., along with local artists, business owners and Hartford residents, came together for the last three years to host the first, second and third Hartford Book Festival at Hartford Public Library with the themes "How are the Children?," "2020 Visions & Reflections" and " 202One Love One Life," respectively. This year, the theme is "Double Up 2 Double Up," and this three-day event will be a celebration of reading and writing for children, teens and adults in the City of Hartford. The festival will feature local authors, book stores, workshops, panels, live stage, youth activities, open mic, literary highlights, publishers and a vibrant cultural live stage and more.
For more information about Hartford's L.I.T. visit www.hartfordslit.com or email hartfordslit@gmail.com.
Hartford's L.I.T. (Literary Integrated Trailblazers) Team
Nzima Sherylle Hutchings: Visionary, founder, curator and CEO
T'challa Williams: Executive co-founder
Lashawn Henderson Middleton: Founding member
Alphonso McGriff: Founding member
SCHEDULE OF EVENTS:
Day One: Writers Gotta Write! Writer's Workshops 
Friday, September 23rd, 11 a.m. – 3:30 p.m.
Hartford Public Library, 500 Main St., Hartford, CT
Center for Contemporary Culture
Writing does not always happen smoothly or immediately. There are times when writers find they need to learn a new way, method or approach that allows their imagination to be as free as they need to. A great place to begin the process is a conference. Nothing is more inspirational than being among other writers and finding you are not as alone as you think you are in this journey of creativity. This year Hartford's L.I.T. presents workshops to assist your approach to writing while also providing resources to help build out a writer's stories. Join us as we kick off our fourth annual Hartford Book Festival Weekend with an opportunity to expand our writing gifts while celebrating our love of the written word.
Café hour (doors open)
11 a.m.: Coffee and networking, HLIT merchandise for sale
11:30 a.m.: Morning pages and meditative writing
Welcome
Noon
Ekphrastic poetry and healing words with Nzima Sherylle Hutchings
12:15-1 p.m.
Workshop core objectives: Participants will receive an overview of ekphrastic poetry, write from inspired writing prompts and visual art and learn the power of healing and affirmative poetic writing. Ages 13 and up.
Descriptive writing: Space as a character with T'challa Williams
12:30-1:15 p.m.
Workshop core objectives: To demonstrate how space, location and even a world can be a character within a work of fiction. Writers will learn ways to use their five senses in order to describe space as a character.
Poetic Narratives in choreopoems: Whole body dramatics, music and tongue cadence with Nzima Sherylle Hutchings
1:30-2:15 p.m.
Workshop core objectives: To learn about choreopoems; which are a form of dramatic expression that combine poetry, dance, music and song, coined by Ntozake Shange in 1975. In this interactive workshop participants will write and share their drafts of choreopoems. Participants will learn the fundamentals of a choreopoem. Moreover, they will learn how full-body expressions, dance movements, sound and music recreate and maximize messages in a poem. Ages 16 and up.
One voice: Art as advocacy
1:45-2:30 p.m.
Workshop core objectives: Identifying three key elements to advocacy. Artists will determine if their art or administration will be their advocate as they give voice to the matters that concern them the most. Anything that we have passion about we can take a stand for, or shed light on. The most important thing is to take the first step to be heard. Advocacy is vital in community building. Participants will also look at the ways collaboration is part of advocacy. Ages 13 and up.
Writer's symposium: Writing wildly and risking comforts
2:45-3:30 p.m.
A discussion on unblocking boundaries to write authentic, fresh, and mind-bending stories for any genre. Participants will learn of literary giants who pushed the envelope.
Day Two: The Fourth Annual Hartford Book Festival
Saturday, September 24th, 10 a.m.-4 p.m.
Hartford Public Library, 500 Main St., Hartford, CT
Time
Room
Workshop Title
Workshop Leaders
10 am
Center for Contemporary Culture (CCC)
Opening introWelcome and mission
Welcome from founders Nzima Hutchings andT'challa Williams
10:10 am
CCC
Library offerings and partnership
HPL representative
10:15 am
CCC
2022 year theme: Double Up 2 Double up
Executive founding member and spokeswomen T'challa Williams
10:25 am
CCC
Highlight authors of the day
Founding Member Alphonso McGriff III
10:28 am
CCC
Vendor highlight and author spotlight
Mio and Lashawn
11:25 am
CCC
Community trailblazers
 Joe Young
11-11:45 am
Classroom 140
Advocacy and game changer
Laresse Harvey
11:40 am
Classroom 141
How to publish in 145 days
Rosa Bailey
11:40am-12:25 pm
Classroom 140
WORKSHOP: Journaling Our future stories vision board. Ages 5-13.
Barara McClane & Nzima Hutchings
2:15-3 pm
Classroom 141
WORKSHOP: Vision forward: Vision boards and the power of words and trusting the process to inspire goals, positive messages, as well as journey through truths, trials and triumphs. Ages 18 and up.
Barbara McClane
2:30-3:15 pm
Classroom 140
WORKSHOP: The plan: To offer you an opportunity to help yourself remove anger about a particular situation. The objective: To continue with life without anger for this particular situation. The result: A plan developed by you to help you eliminate the anger associated with a particular situation. Ages 17 and up.
Alphonso McGriff
3:15-4 pm
Classroom 141
WORKSHOP: Writing books on PTSD and healing without stigma. Intro of transformative writing: Helps take traumatic situations using coping skills to your narrative to a powerful positive, power-filled story. Ages 18 and up.
Laresse Harvey
3:30-4:10 pm
Classroom 140
ABC paper bag puppets and stories w/ parent or guardian. Ages 3-7.
T'challa Williams
11:50 am
CCC
Poet laureate roundtable discussion
Frederick-Douglass Knowles II – Hartford;Joshua "Urban Nerd" Brown – New London
12:45 pm
CCC
HoneyWata award
Nzima and HLIT team, and family member and owner of My Peoples Clinical Services Abdul-Rahmaan I. Muhammad
1:15pm
CCC
Ngoma Hill: Featured poet
Ngoma Hill
1:40pm
CCC
When Women Speak
Ameerah Bilal ShabazzMariah AyscueMwikali Words
2:05pm
CCC
Puppetry and storytime with Iyabo Mandingo
Iyabo Mandingo
2:35pm
CCC
Gallery of Treasures
Rosa Bailey and The Youth
2:55pm
CCC
HLIT YA Lit Mic
Amy, OSO, The Trifecta
3:20pm
CCC or Atrium
WRITING COMMUNITIES:What is a writing community?What happens in writing?Unique experiences, retreats, partnerships and benefits?
Why is it necessary?Every Kinda Lady Writer's Cafe LAWR Nzima Hutchings, Ameerah and Guest of EKLT'challa New York Writers CoalitionLaashawn Journey WritersGabriella Rubin – Haus Expression3:55pmCCC & AtriumHLIT spiel goal 1-minute announcementHLIT Team3:57pmCCC or AtriumLIT mic open4:25pmHLIT outro, vending closing
Day Three: An Evening of Poetical Musings
Sunday, September 26th, 3-8 p.m.
Free Center, 460 New Britain Ave., Hartford, CT
Open mic, poetic activities, homage to great poets dramatic reading, Love Jones poetry, special guest poets of New England.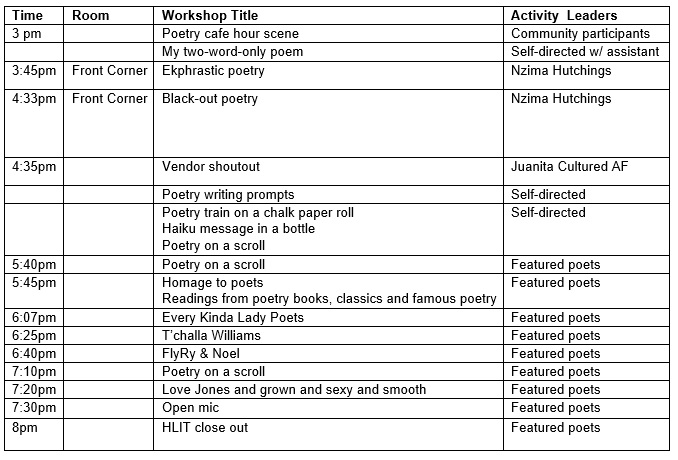 Hartford Public Library has received a $487,853 grant from the federal Institute of Museum and Library Services (IMLS) to launch a new program to expand banking access among immigrant communities, combating financial exclusion and helping build wealth among this growing population.
Building Social Capital: An Inclusive Approach to Immigrant Financial Integration was awarded a National Leadership Grant from the IMLS, the federal agency that is the main financial supporter of libraries and museums. Hartford Public Library will partner with Liberty Bank, the Connecticut Association for Human Services and the Cities for Financial Empowerment Fund Bank On on the project, which is expected to launch in the Spring.
"This innovative program will support unbanked and underbanked immigrant communities by linking individuals with trusted experts in the banking field, demystifying financial products and services and saving program participants tens of thousands of dollars over their lifetimes in fees and interest," said Hartford Public Library President and CEO Bridget E. Quinn. "Raising the financial health of local immigrant, refugee and migrant communities makes our city, our region and our state stronger. We are grateful to our partners at Liberty Bank, the Connecticut Association for Human Services and the Cities for Financial Empowerment Fund for joining us in this effort and to the Institute of Museum and Library Services for funding this important work."
Despite immigrants' crucial role in growing the U.S. economy, the record-breaking size and diversity of this segment has created a critical demographic that remains marginalized from the American financial mainstream.
This initiative offers a unique learner-centered, project-based approach, utilizing a Learning Circle framework. The practice of Learning Circles has become increasingly popular in education; not only do they foster community and mutual trust, but also enrich the academic as well as the social and emotional dimensions of education. The social aspect of Learning Circles is also embedded in a familiar grassroots practice among many immigrants for managing their finances, and is popular among many cultures across the globe known as Rotating Savings and Credit Associations (ROSCA) or Lending Circles. This project expands the social capital that organically develops in Circles to fostering a responsive and ongoing partnership directly between the participant and their local bank.
In Building Social Capital: An Inclusive Approach to Immigrant Financial Integration participants will sign an agreement to deposit $50 per month for five months into a savings account with Liberty Bank that will be administered by the library. When the participant reaches their goal of $250, the money is transferred to an individual account under their name and they will receive an additional $250 and can decide to close the account or maintain it. Those who maintain an account balance of at least $250 for five more months will receive an additional $250 from Hartford Public Library donor funds.
Participants will meet for three hours every other week during the five-month period for financial education as well as networking opportunities and facilitated dialogues led by community leaders on topics related to quality of life issues of concern raised by the participants. Those who complete the program will have the opportunity to enroll in Liberty Bank's Credit Builder Loan & Saver Program that offers interest-free loans to help establish a good payment history, an important step to building a better credit score.
The program is being overseen by The American Place at Hartford Public Library, which has a successful track record over more than 20 years of providing services and programs for immigrants and refugees.
"This significant federal grant will increase financial literacy and build stability in Hartford immigrant communities," said U.S. Sen. Richard Blumenthal. "Public libraries are a cornerstone of our communities. The Hartford Public Library's Building Social Capital program is innovative, important and inspiring. I am so pleased to see the Hartford Public Library receive this grant and I will keep fighting to bring these critical funds back to Connecticut."
Establishing a checking or savings account and maintaining a positive credit score will allow individuals access to financial products and services so they don't have to regularly rely on money orders, check-cashing services, payday loans, rent-to-own agreements or pawn shops, all of which come with added costs and fees. According to a Brookings report, a full-time worker with a checking account can save as much as $40,000 over his or her career by relying on a lower-cost checking account instead of check-cashing services.
"As a strong corporate citizen and community partner, our goal is to help create more equity and assist families on the road to financial security by providing better access to opportunities for all," said Liberty Bank Vice President of Community Development and CRA Officer Glenn Davis. "This program will not only provide expert advice, literacy resources and support for local immigrants, refugees and migrants, it will also improve their financial health and long-term wellbeing as valued members of our community."
By Tricia Haggerty-Wenz
The 2022-23 season of the ArtWalk at Hartford Public Library kicks off with an exhibition by Wethersfield artist Brigid Kennedy entitled "Visual Narratives" that explores the impact of COVID-19 and rising global social/political turmoil.
"I felt compelled to develop a new, innovative body of work for my artistic practice and for my viewers: healing and narrative paintings that chronicle the social issues of our time," she says.
"Visual Narratives" will open with a reception on Friday, Sept. 16, from 5:30-7:30 p.m. on the ArtWalk at the Downtown Library. The following interview with Brigid Kennedy has been edited for length and clarity.
Share with me your thoughts about how this exhibit came together.
"This is a body of work that I've been developing since 2020 and deeply influenced by COVID and the current social/political landscape. Before 2020 I had been focusing primarily on creating sculpture but the challenges of the current moment took me on a new path with my art.
"It began with a small series of handwashing paintings, showing we can try to avoid spreading the virus. During the pandemic handwashing became almost iconic as it came into the forefront of our shared consciousness as a simple way to represent the COVID experience. The work grew to include five themes: work and class, COVID and family, consequences of war, voting rights and landscapes."
How did landscapes become a part of the series where the other pieces feel so interwoven with the moment?
Working with social/political issues can be a very heavy subject matter. War, racism, refugees, it all can become pretty dark. Working on my landscapes was a way of finding some relief. In the most recent paintings, I've enjoyed the process of combining the view inside and outside to create something more surreal. I'm focusing on my immediate surroundings in these paintings, taking something ordinary and making it more abstract and engaging. The viewer has to work a little harder to see what is truly going on in the painting.
Tell me about the path that has led you to this moment in your life.
"I got a BA in philosophy from the University of Toronto and then went on to get a bachelor's of fine arts from SUNY Buffalo. After that I did my graduate work at Yale School of Art where I received my MFA. The next step was New York City where I worked mainly on large-scale, outdoor installations. I came up to Connecticut to teach and have been here ever since."
So your art practice has taken my different paths.
"Sculpture and drawing, watercolor, large and small works … and currently I am enjoying the pace of what I am working on now in the form of small paintings. I enjoy pushing the limits and developing my craft."
This body of work is really eye catching.
"The color and composition in this work is really important. After many years of working in monochromatic neutrals and earth tones in sculptural pieces, I now really enjoy the attention I give to color in this series as it lends the work an expressive quality. I also like that the work is small. This invites the viewer to have a more intimate experience with each painting."
You recently retired from working as a high school art school teacher. What are you plans for this time in your life?
"I hope to continue to work in my studio full time, to have more time for my art, to create more and to show more. I've enjoyed volunteering in my community. I hope to travel more because travel changes one's perspective; it's a great resource and inspiration for artists. "
We are so happy you sharing your work with our audience and patrons through your Artwalk exhibit.
"It is a beautiful open space, with lots of natural light. While I was installing the show it was so cool to look out the big windows and see Bushnell Park and the City of Hartford! This new vantage point on the city made everything look beautiful and fresh. This has been a wonderful and unexpected part of my journey."
The 2022-2023 season of Hartford Public Library's ArtWalk will open next month with an exhibition of paintings created by Wethersfield artist Brigid Kennedy focusing on issues of social justice during the ongoing COVID-19 pandemic. Paintings explore the pandemic's impact on issues such as immigration, education, mental health, race and class.
Originally a sculptor, Kennedy transitioned to painting for this exhibition, titled "Visual Narratives." She utilized acrylic paint, oil paint and pen. With regard to how the medium of her art influences the subject matter, Kennedy explains, "The painting surfaces I use illuminate color and allow me to create images that engage visually while shining a light on these societal challenges. My work chronicles the human condition, making connections through memory, lived experience and creative vision."
Brigid Kennedy has worked in both New York City and Central Connecticut as an artist, and she has also created site-specific exhibits in Europe and South America. Most of her earlier work is abstract sculpture, but she has recently changed her focus to painting. Her work is displayed in the  collections of The Burchfield Penney Art Center; The New Britain Museum of American Art; Pratt Institute; and Trinity College.
This exhibition marks the start of a season featuring a diverse group of artists who each examine unique themes through their work.
ArtWalk at Hartford Public Library is open to visitors from 9 a.m. to 6 p.m. Monday through Thursday and 9 a.m. to 5 p.m. Friday and Saturday. The gallery is located on the third floor of the  Downtown Library at 500 Main St., Hartford, CT 06103. This season is funded by the Edward C. and Ann T. Roberts Foundation and Suzanne Hopgood in memory of Frank Lord.
The 2022-2023 ArtWalk Season Lineup
Visual Narratives
Brigid Kennedy
Exhibit runs: September 16 – November 13, 2022
Reception: Friday, September 16, 2022, 5:30-7:30 p.m.
Brigid Kennedy's paintings represent the pandemic's effect on social justice and injustices.

Ebb & Flow
Barbara Hocker 
Exhibit runs: December 2, 2022 – January 22, 2023
Reception: Friday, December 2, 2022, 5:30-7:30 p.m.
Influenced by her practice of yoga, Tai Chi and Qi Gong, Hocker's "Ebb & Flow" exhibition depicts the importance of the many forms of water in nature –– waterfalls, oceans, skies and rivers. The exhibition is composed of digital photography, printmaking, water media and encaustic on paper. Hocker holds a degree in fibers from Syracuse University's College of Visual & Performing Arts and attended Cranbrook Academy of Arts. She maintains a studio in the  Arbor Arts Center in Hartford.
In Living Memory
Traé Brooks 
Exhibit runs: February 10 – April 2, 2023
Reception: Friday, February 10, 2023, 5:30-7:30 p.m.
"In Living Memory" is a tribute to Brooks' grandmother, Linna A. Brooks, whom he describes as his "foundation growing up." The exhibit consists of portraits, domestic installation, reading material, music and scent to commemorate her legacy and explore Brooks' own family history. Brooks holds a bachelor of fine arts degree from the University of Hartford and currently works as a gallery employee at WORK_SPACE in Manchester.
Art is Work; Work is Art
Joe Bun Keo, Rick Bogdan, David Borawski, Jon Eastman and Christopher Schoeder
Exhibit runs: April 21 – June 10, 2023
Reception: Friday, April 21, 2023, 5:30-7:30pm
Despite coming from different backgrounds and having different interests, each artist in this group works as a museum professional assembling exhibits or private collections. This mixed media exhibit examines the intersection of art and labor, and how labor is itself art.