Coconut-Marinated Pork Tenderloin with Green Onion-Peanut Relish
From "Bobby Flay's Barbeque Addiction"
By Bobby Flay
TX840 .B3 F5194 2013
By Julie Styles, Manager of Public Services, Central Branch
It's still freezing outside. But it's late April, so I'm ignoring that small detail. I refuse to wear socks anymore, and I stopped wearing a coat 3 weeks ago.
So when my husband asked what we should make for dinner, I shouted, "let's grill!" He looked at me like I was crazy, but only for a second. Then his eyes lit up and looked outside. It wasn't raining, and it was still light out. "We can do that!" I consulted one of my favorite warm-weather cookbooks–"Bobby Flay's Barbecue Addiction," ignoring the fact that it was 40 degrees outside.
Bobby Flay has produced a LOT of cookbooks, maybe too many, and we have our fair share of too many in our house, including a similar-sounding one called "Bobby Flay's Grill It". Like "Grill It," this one talks about the right equipment (gas or charcoal grill?),  the right technique (direct or indirect heat?), and the right ingredients (unsalted butter, please), but "Barbecue Addiction" takes us beyond simple grilling and to a world full of smoky flavors, sauces, sides–and cocktails!
After choosing our cocktail for the evening (because, priorities), we decided to make the "Coconut-Marinated Pork Tenderloin with Green Onion-Peanut Relish." Mainly because it sounded delicious, but really because we pretty much had all the ingredients in our kitchen already and could skip a depressing mask-and-gloves trip to the grocery store.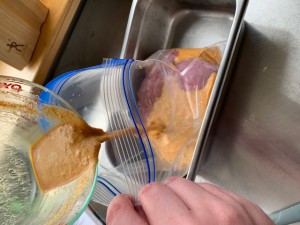 The pork is first marinated in a combination of coconut milk, lime juice, and some spices, including fiery hot Scotch Bonnet chilies. (And yes, we had those on hand. We're weirdos, okay?) An easy way to deal with marinade is to use a large zip-top bag to hold everything instead of a bowl–it ensures the meat is fully immersed in the liquid, and takes up less room in the fridge. Once it's tucked into the marinade, the pork chills in the fridge for at least 2 hours. Might as well have another cocktail!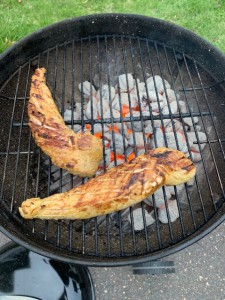 After soaking up a ton of flavor and turning a gorgeous golden-yellow color, the pork is grilled — we have a simple Weber charcoal grill — so Eric put on his toastiest sweatshirt and headed out to the yard while I stayed inside and made the relish.
When I say "relish", I don't mean that vinegar-y pickle condiment you put on hot dogs. This is simply some chopped green onion, cilantro, and peanuts. And chopped peanuts make anything extra yummy. Crunch and salt? Why, yes, please. Bobby says you can pulse it all in a food processor to make it more of a chunky puree, but we stuck to the chopped version. Gotta have that crunch!
The pork grilled up beautifully tender and had a rich, slightly spicy flavor. The coconut milk and bit of curry powder gave it great depth that subtly suggested far-away lands. The relish balanced it nicely with oniony, salty, and herbaceous flavors.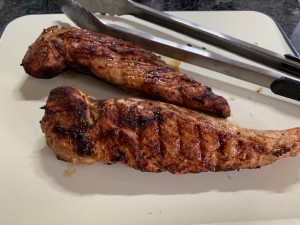 While this dish would probably be served best on a backyard patio table in 80-degree weather, the Jamaican flavors and charry grilled bits were just enough to let us pretend it was summer while we ate indoors, radiators hissing, heat cranked up just enough that I didn't miss my socks.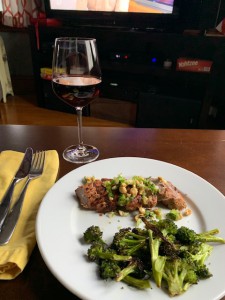 When the library re-opens, you can find this cookbook in the non-fiction shelves under call number TX840 .B3 F5194 2013. Until then, you'll find the recipe here: http://bobbyflay.com/recipes/recipes/72/coconut-marinated-pork-tenderloin-with-green-onion-peanut-relish
-30-