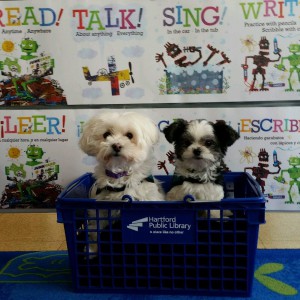 One of Hartford Public Library's more popular children's programs is Paws to Read, an opportunity for kids to practice reading to a therapy dog.
We are sad to say that Sara Jane (pictured on the left), one of our first Paws to Read dogs, passed away recently. Although she had a rough start to her life, she was rescued and soon her healing transformed her into an amazing therapy dog. She spent many Saturdays encouraging young readers in our Children's Department and supporting our teens' creative work in the YouMedia Lab over her years of service. Sara Jane will be missed by many children, staff, and community members at Hartford Public Library. We are grateful to Sara Jane for her service to the HPL community.
Often times with sadness comes an opportunity for growth and learning. HPL children's librarians often assemble Caring Libraries, collections of books to help parents and children wrestle with big issues.
Lina Osho-Williams, youth and family services manager, has assembled a virtual Caring Library of children's books about loss. All books are available with an HPL library card on Axis 360.
Here are her recommendations: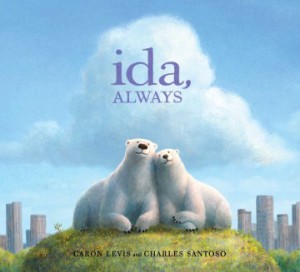 Ida Always by Caron Levis
Ida Always is a beautiful story about the power of friendship and hope. After losing Ida, Gus overcame the loss of his beloved friend, finding the strength to move on through his memory of the beautiful times they shared together and holding on to hope that Ida will be with him always.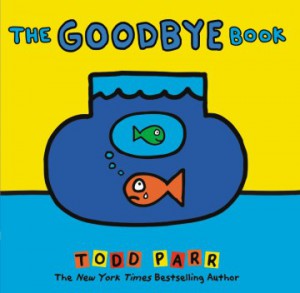 The Goodbye Book by Todd Parr
A comforting and uplifting book validating a child's feeling of confusion and hopelessness after losing a loved one. Todd Parr's simple diction and colorful illustrations help children identify these painful feelings and offer hopes of consolation and reassurance at the end.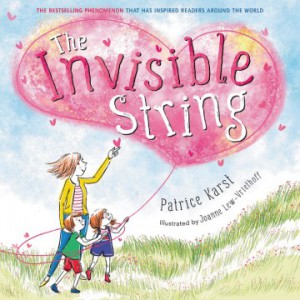 The Invisible String by Patrice Karst
The perfect book to help children cope with separation, anxiety, grief, and loss. Even though apart, there will always be an invisible string of love that connects families and friends together no matter how far they are. No one is ever alone.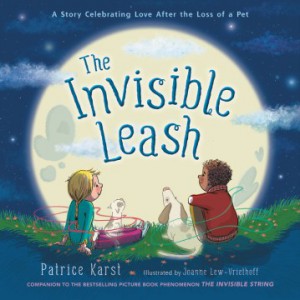 The Invisible Leash by Patrice Karst
A heartfelt story of unbreakable bond, giving hope and assurance in difficult times of loss. Karst provides comfort to young readers while capturing the invisible leash of love that binds pets to their owners even after they die.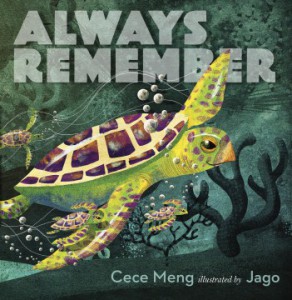 Always Remember by Cece Meng
Always Remember is a heroic and celebratory tale of life, loss, and legacy! Old turtle will fondly be remembered by his friends for his bravery, resilience, and kindness to all those that he touched in his lifetime.
– 30-
One of the hardest things for everyone at Hartford Public Library to deal with during the Covid-19 crisis is the lack of contact with customers.
Despite the difficulties, staff members are finding ways to be responsive and to continue providing service.
Here are just two stories (of many) showing HPL staff members who extend the library beyond its walls into the community.
**
A man who had recently been released from prison was could not access his W2 form online because he didn't have access to a computer and had limited technical ability.
Under ordinary circumstances with the library open, Central Library Assistant Jose Santiago was his first point of contact. But with the library closed as a result of the virus, the man was at a loss. He called the library's main phone line and Elizabeth Davis, the head of circulation and access services, forwarded the call to Park Library Manager Graciela Rivera.
"I think librarians have a very humanistic approach to helping others. At times it requires a team of us to put our efforts together to help someone," Rivera said.
After contacting Santiago to get a sense of the man's needs, and Rivera called the man's former employer and retrieved his information for him. "I e-mailed and texted him a copy," she said.
This was not a small thing. Not having this documentation could be catastrophic for the man – he needed the paperwork in order to have the financial means necessary to survive.
"I'm glad myself, Jose, and Elizabeth were all able to help," Rivera said.
**
When the state started to close in March, Hartford's Green World Day Care stayed open. Many of the parents who sent their children there were essential workers.
Those children needed activities. Hartford Public Library stepped in.
When the daycare expressed a wish for additional story times, Katherine Trouern-Trend, youth services librarian at the Camp Field Library committed to help. "I think it is important to continue to make connections to our community," Trouern-Trend said.
She took stock of what children's books she had at home. Most were in English, so she contacted Marie Jarry, director of public services, who picked up a bunch of Spanish language titles.
With a bit of planning, Trouern-Trend was now doing storytimes in Spanish for the children twice a month. The storytimes are more than entertainment. Many of the children in the program are learning English and contact with library is essential for helping that process along.
"We want to create a message that there is joy in learning," Trouern-Trend said.
– By Steven Scarpa, Manager, Communications and Public Relations
– 30 -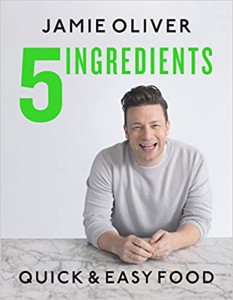 Quick Asian Fishcakes
From 5 Ingredients: Quick & Easy Food
by Jaime Oliver
TX714 .O4458 2019
By Julie Styles
Some of the cookbooks I read are purely for inspiration. The recipes are so ambitious, so involved, and so gorgeous-looking I am far too intimidated to actually attempt them. Luckily for me, my husband loves a challenge. Over the years he has made me (and our friends, back when we could have friends over) some incredible dinners based on recipes from some of the most famous and revered restaurants in the world. Even something simple, like French Onion Soup, can be an event, when you first make homemade beef stock and simmer the onions for five hours. Or the shrimp and grits recipe that called for homemade barbeque sauce, which called for homemade Worchester sauce. I took on one myself for a New Year's Eve dinner party: Frank Stitt's Aurora Tart, which in addition to a "basic" tart shell, included a caramel custard, chocolate glaze, and praline cream—all homemade—and took almost a week to make.
So when a cookbook like this comes along, I am grateful, and a little excited. While I have mastered the 3-ingredient staples (BLT, PB&J), 5-ingredient recipes are just a bit more involved—enough that I can claim to have made a proper dinner—while still being wonderfully easy. This book is full of such recipes. We've made many of them, and this week it was the Quick Asian Fishcakes.
The five ingredients are common enough to be easy to find but a bit more interesting than what most of us have in our pantry: salmon, ginger, cilantro, lemongrass, and something I had never had before: chili jam. It's exactly what it sounds like; jam made with chili peppers. It's a bit spicy, and a bit sweet, with a jelly-like texture. We found a jar at Whole Foods, but I'm sure any well-stocked grocery store will have it.
Lemongrass can be tricky if you're not familiar with it. The first step of the recipe is to "whack the lemongrass against your work surface" – this is how all of Mr. Oliver's recipes are written – and remove the tough outer layer. The inner layers of my stalk were a bit tough too, but to be honest I wasn't sure if that was because it was dry and old or because I hadn't peeled enough layers off. The next step was to peel the ginger. I've worked with ginger a lot, and usually I just cut the outside off with a knife, losing the skin but also a bit of the ginger itself. This time, though, I went with a method I see on all the cooking shows. I scraped the skin, which is actually quite soft and thin, off with the edge of spoon. I was always a bit skeptical of this method, but it worked like a dream. What do you know…the professional cooks on TV actually do know more than me!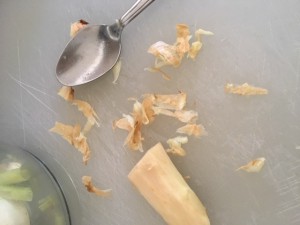 The recipe said to "very finely chop" the ginger with the lemongrass and cilantro. In my brain, this translates to "get the food processor out." I'm not a fan of chopping, let alone doing it finely. The food processor has saved me loads of time and patience many times over, and I love it dearly. And while I don't know if it is lemongrass in general or my lemongrass in particular, but my beloved machine did not do as fine a job as I would have liked. The bits of lemongrass were more like chards – a bit long and a bit fibrous. And they didn't soften much when they were cooked, as I had hoped. This was definitely a case where I should have put in the work and done what I was told. Chopping by hand would have ensured smaller, diced bits instead of the woody strips I ended up with.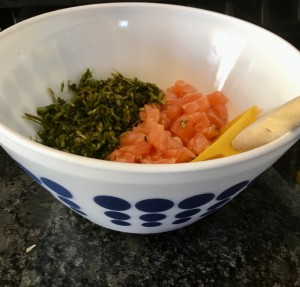 The vegetables get mixed with some fresh salmon, half of which is chopped up finely (this time the food processor did a great job) and half in to larger chunks. This helps bind the cakes together without needed bread or eggs, while still having some nice salmon-y bits still intact. Form it into patties, and fry them up with a bit of oil in a hot pan. For the last step, Jaime says to "spoon the chili jam over the fishcakes, add a splash of water to the pan…and jiggle to coat." This seemed weird and overly complicated to me, so instead I mixed the chili jam with a touch of water and brushed it all over the tops of the fishcakes before serving. I think I got the right idea.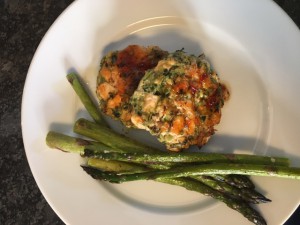 Despite the texture of the lemongrass, the cakes came out great. Flavorful, a bit zingy with the ginger and the spicy, jammy glaze, and very tender. We served it alongside some roasted asparagus. Beware: The Barefoot Contessa roasts hers for 25 minutes; ours was perfect after about 15. And no offense to the Garden State, but if your vegetables come from New Jersey, be sure to wash them—a lot. They can be very sandy.
All in all, a great weeknight dinner. And if you're feeling like pushing the envelope a little, there's always this other salmon recipe. You'll just a need a few more ingredients.
– 30 –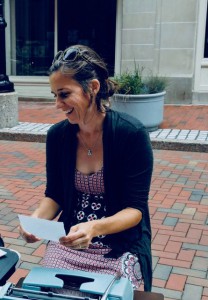 Melanie Faranello is the recipient of a 2018 Individual Artist Fellowship Award in Fiction from the Connecticut Office of the Arts. She is also the creator of Poetry on the Streets, LLC, which received a grant from The Pollination Project awarded to global leaders in support of social change. She currently lives with her family in West Hartford, CT where she runs Poetry on the Streets, works as a teaching artist, and writes fiction.
Melanie has also recently launched a new program called "Essential Voices from the Pandemic," a collection of people's thoughts and feelings about the pandemic. "Sharing your experience and feelings for others to hear can help people understand this time we are going through right now on a personal level. It can help us feel connected. It can help be an outlet for what is difficult to fully take in. It can also help unite us," Faranello wrote on her site.
She recently answered of few of HPL's questions about her work.
HPL: What made you decide to become a writer?
I've always loved to write and ever since I was a child I knew I wanted to be a writer. I pursued creative writing in college and then went to graduate school for an MFA. I write mostly fiction (short stories, novels), but as a teaching artist, I love working with poetry. I feel like poetry offers the most direct route for people to express their deepest thoughts and feelings.
HPL:  How did Poetry on the Streets come about?
I had the idea for Poetry on the Streets in 2017 and created it at Art on the Streets festival, sponsored by Greater Hartford Arts Council and Aetna in support of the connection between wellness and the arts. I decided to expand POTS because the public response was so positive—people were engaging, creating, expressing, connecting with others, and asking for more. When I was chosen as a Creative Community Fellow by National Arts Strategies, I received tremendous support and mentorship for this project, as well as connected with other artists and cultural entrepreneurs around New England doing creative and impactful work in their communities, and it helped me dig deeper into the mission of community engagement and the potential of Poetry on the Streets to benefit people.
HPL: From reading about Poetry on the Streets on the website, it feels like so many different things – community connection, performance art, writing workshops – did you anticipate when you set out the typewriter the first time what it would become?
I quickly realized it was more than just setting up a typewriter. It became a way for strangers to connect with one another, a space to express themselves spontaneously in a creative way, and a way to share their voices with others. When people reported feeling better both mentally and emotionally after writing a poem and asked for their words to be shared with others, I felt a responsibility to hold a space for this to happen. Along with workshops and other outreach programs, earlier this year, I held POTS' first gallery show. For two years, I collected poems from people around the city and showcased them alongside their photographs at Charter Oak Cultural Center. It was a moving show because it brought together voices of people from so many different walks of life, all expressing a human emotion or experience.
Now, during this global pandemic and social distancing, I think it is a potent time for people to express themselves. For the past two years, Poetry on the Streets has existed as an interactive exhibit designed to engage passersby in writing spontaneous poetry, and it has been dependent upon human interaction and connection with strangers. We can still create these connections and break down barriers, but maybe this can be done virtually for now, or by some other measures, such as public installations, or engagement with public spaces while maintaining distancing. I believe now more than ever is an important time for Poetry on the Streets to work towards its mission of connecting people through creative self-expression and recognizing our humanity.
HPL: What do you believe the act of writing does for people?
In my work as a teaching artist in Chicago, New York City, Hartford, and Cuenca, Ecuador, I've seen the impact that writing can have on people of all ages and in many different circumstances: teens struggling with gang violence and bullying have felt empowered by finding their voices and expressing their struggles; youth dealing with changing families and unexpected deaths have experienced the transformative nature of writing through trauma; seniors dealing with declining health and loneliness have found revitalization through writing with others and sharing their stories; families have discovered new connections through collaborative writing and storytelling; And as a fiction writer, one also has the opportunity to identify with one's characters and crawl inside their experiences and points of view, and I think this process, if done well, can increase our empathy and understanding.
HPL: What advice would you give someone who wants to write?
I think I would say just start writing, and most importantly, try to write from a place where you can let your guard down. The more you practice, play around with ideas, experiment, read, and write some more, the more you will find your own voice. I think that if it comes from inside you, and if it is authentic, it will, most likely, resonate with others. That's what I've found through Poetry on the Streets anyway, there's always someone out there who might identify with your experience and what you're feeling.
Learn more about Melanie's work at
Social Media Links to Follow:
https://www.instagram.com/poetryonthestreets//
https://www.facebook.com/poetryonthestreetsPOTS/
-30-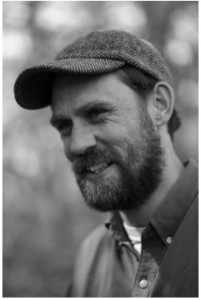 Colin McMullan has a simple description of what his art entails, even though it encompasses many forms of expression.
"I make art in public spaces, and I do work that considers the moment in time and the world that I live in," McMullan said.
He recently contributed a video to HPL's virtual programming about urban maple syrup collection, an indigenous practice that settlers to New England absorbed. As is the case with most of his art, McMullan uses the everyday to talk about bigger issues.
"I wanted to think of some way to show how indigenous people are a really important presence in this place," McMullan said. "They persist in our society and should be given their due."
McMullan's art often begins with collaborative social and public actions. He then reflects on those experiences in print, film and installations, according to his artistic statement. "I try to do stuff that serves a function in society," he said.
His reflections manifest themselves in fascinating ways. For example, he gathered 100 people to construct a wooden boat, which then led to a discussion of the misuse of local waterways. He has ridden through Manhattan on a bike, projecting Chaplin films on his back, inspiring a spontaneous parade of viewers.
He has shot darkly comedic films for a series called Experimental Research on the Nonexistence of Borders, where he plays a field research scientist bent on showing that political borders don't exist. This effort has taken him to the borders of Armenia and Turkey, and the borders the United States shares with Canada and Mexico.
Reading fuels McMullan's artistic expression. For a long while, he tended towards experimental fiction (David Foster-Wallace is a favorite.) Now he's finding that philosophy and cultural theory occupy his time.
His efforts often have a humorous underpinning, something he feels is intrinsic to the human experience. McMullan believes that finding a thread of levity in his work is a way of showing how we survive and thrive.
"It's one of the things I've always loved about art, the ambiguity of it. It doesn't always have to make sense or have to have a purpose that is clearly state and obvious," McMullan said. "It's about helping people see connections across differences and to see each other more."
– By Steven Scarpa, Manager, Communications and Public Relations
-30-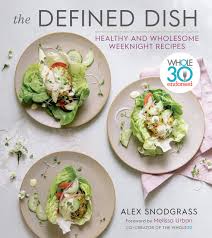 Lemony Greek Potatoes with Crispy Greek Chicken Thighs
From The Defined Dish: Healthy and Wholesome Weeknight Recipes
by Alex Snodgrass
TX737 .S647 2019 (Barbour Branch)
By Julie Styles
My colleague Irene, who manages the Barbour branch, recommended this recipe. It's from a cookbook called The Defined Dish: Healthy and Wholesome Weeknight Recipes by Alex Snodgrass, which is available at the library, but unfortunately, for now, the library is not available to us. Fortunately, though, the recipe, Lemony Greek Potatoes with Crispy Greek Chicken Thighs, can be found on the Whole 30 website. For the uninitiated, Whole 30 is a healthy-eating plan that has you cut out certain yummy bad-for-you foods for 30 days so you can focus on healthy eating and following their "life-changing" rules.
While the website is informative and full of recipes, advice, and places to send your money, I wasn't feeling the urge to change my life this week, and was much more inspired by The Defined Dish. So much so that I decided to buy an e-book copy. My motivation was not the restriction of some of my favorite indulgences, but by the incredible recipes it contains. There's a whole chapter on tacos! There are also recipes for take-out favorites (Thai Basil Beef, Sichuan Chicken), Southern cuisine, Italian classics, soups, salads, kid food, a chapter called "Date-Night Dinners," and so much more. Tons of healthy recipes and no rules? Yes, please! Maybe I'll change my life when life gets back to normal.
The recipe is found in the chapter "A Taste of the Mediterranean" and looked tasty and easy. Chicken thighs are a wonderful thing. They're affordable, easy to work with, and always come out juicy and flavorful. Unlike the overrated boneless, skinless chicken breast, thighs are much more forgiving when you cook them. You don't have to yank them out of the oven the second they are done; you've got a bit of a time window before they become dry and overcooked. There's not much you need to do with them, so they make the perfect protein for one of those sheet-pan dinners we keep hearing about. (This cookbook has at least six of them). I have my own favorite sheet-pan dinner: Sheet-Pan Chicken With Potatoes, Arugula and Garlic Yogurt, found on the NY Times Cooking website, which is truly incredible, but I was ready to try something new.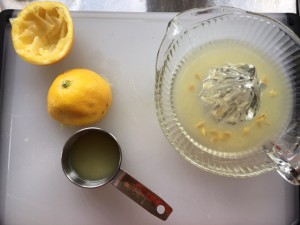 The recipe Irene suggested is similar, and a bit simpler (no marinating, no yogurt sauce to make, no leeks to clean and chop). The thighs are patted dry, drizzled with oil, and sprinkled with a paprika-based spice rub. Then they go in the oven. Easy-peasy. Alongside the chicken in the oven are some potato wedges that have been tossed with oregano, lemon, and chicken broth. This method was new to me, and I was a bit skeptical. I usually roast my potatoes with a bit of oil, salt, and pepper, so the extra liquids in this one concerned me. Would the potatoes truly roast or will they just stew in the juices? Will there be any crispy, charred bits? Bits are my favorite!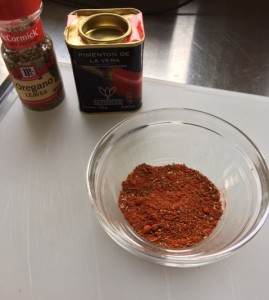 While this recipe couldn't be any simpler, do pay attention to the timing. If you put the chicken in the oven too early, as I did, the potatoes won't have the full hour to cook. Our potatoes came out with a wonderful lemony flavor and some crispy corners, but they were a bit firm; I think the last 20 minutes the recipe called for would have guaranteed softer, creamier potatoes with more brown, cripsy edges.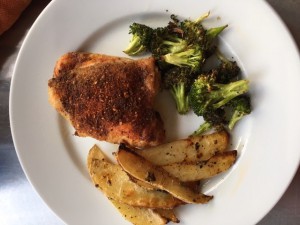 The chicken was perfect. Paprika can often seem like dark orange baby powder, especially if your jar has been sitting untouched in the pantry for the past year and a half. But our little tin of smoked paprika (don't wuss out and use regular paprika, go get the smoky stuff—it's worth it) had a perfectly respectable expiration date, and gave the chicken a deep, almost spicy layer of rich smoky flavor. The chicken was tender and juicy with crispy skin. With a bit of simple roasted broccoli, it became an ideal weeknight meal: do some minimal prep, stick it all in the oven, go enjoy a cocktail on the porch, and when the timer dings, you're all set! And while I will never forsake my favorite harissa-and-leek covered sheet pan chicken, this new recipe will be a new regular in our rotation. I can't wait to explore the rest of the book! I think I'll start with tacos.
-30-
Hartford Public Library will increase its programs and services to teens this summer through a generous grant from Imagineers LLC, a Connecticut-based housing services company that manages condominiums, rental property, and housing programs.
The $50,000 gift will specifically help the library's Teen Services team's effort to build a comprehensive creative arts, digital literacy and gaming program that will be implemented at the Downtown Library and then through YOUmedia at the Albany Library.
"The support from Imagineers will ensure that young people will have access to state of the art technology and software tools as well as expert guidance and mentoring to help them develop practical skills and foster their creativity. Budding artists and designers will be encouraged to pursue their dreams, enhance their portfolios and contribute to the community and the world. Thank you to Imagineers for investing in Hartford's future," said Bridget Quinn-Carey, HPL president and CEO.
"I want to thank our friends at Imagineers for their commitment and contribution to the Library. They are investing in the young people of our city, when we need it the most," said Gregory C. Davis, president of the HPL Board of Directors.
"Imagineers is excited to support the Hartford Public Library and all the good work they do but especially during these times.  We are proud to be able to lend support to the valuable technology initiatives they have identified," said Ken Schultz, president of Imagineers, LLC.
The $50,000 grant will fund two youth technology programs:
The Library will purchase 12 laptops and load them with special creative, learning, and gaming software. The Library will also provide internet connectivity through Wi-Fi devices enabling students to use the laptops to complement our new Twitch channel and Discord App, as well as used to access educational resources and complete school assignments. The teen program is modeled on the Library's successful Crossroads to Connectivity program geared for adult learners.
There is great interest among young people in the use of digital photography equipment and access instruction on how to use the Adobe Creative Suite. The Library will purchase 10 Nikon D3500 digital camera and two D850s for instructional use. In addition, the Library will build a prime lens catalog for lending, use, and instruction, and have the ability to create Adobe accounts for anyone who takes a camera out on loan.
"This aligns with our goal of building a talent pool and potential career pipeline for the Digital Library Lab," said Quinn-Carey, talking about one of the library's new initiative, a one-stop imaging, digital archiving and photography service with a team that specializes in digitizing 2D materials and 3D artifacts.
For more information about Imagineers LLC, visit www.imagineersllc.com. For more information about Hartford Public Library, visit www.hplct.org.
– By Steven Scarpa, Manager, Communications and Public Relations
– 30 -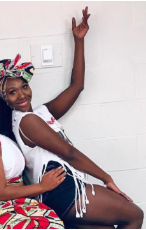 It took Lael Marie Williams a trip to the morgue to find her way back to dance.
Williams, a 33-year-old Hartford resident, recently brought her enthusiasm for Afro-Caribbean dance to HPL's virtual programming. "African dance is natural. When I say natural, it is the movement of everyday. Things that we all can do, that natural movements of the body," Williams said. "There is so much structure in modern, ballet, and hip-hop."
Lael's mother, Anne Marie Williams, was one of the founders of K La Rue Arts-in Motion and because of that she grew up in classrooms and dance studios.
"She wanted to have a job where she could bring me with her," Williams said. "My mom danced with me in her body. Basically its genetic."
But like a lot of kids, Williams resisted what she grew up with. After the loss of friends to suicide and cancer, Williams decided to go in a completely different direction, studying mortuary science.
"It's not as morbid as people think," she said. "It was quite an adventure."
What's funny was, she had a knack for it. Williams studied the subject in college and actually had the opportunity to do some reconstruction, helping to give physical shape and distinction to the deceased.
"It gave me an appreciation for life," Williams said.
It was a needed two-year detour to lead her back to her first love – the stage.
Williams started teaching at Downtown FootLights and Performing Arts Education Program. She seemed to be having an impact with students and her own artistic practice was growing in the fertile Hartford dance scene.
It is ultimately on stage, doing Afro-Caribbean and African dance, where Williams comes alive.
"When I am performing, that's my element. God gave me a gift to engage the audience with me on the stage," Williams said. "I am giving back everything they are giving me. It's a circle."
– By Steven Scarpa, Manager, Communications and Public Relations
– 30 -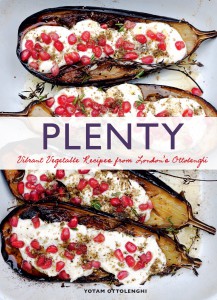 Parsnip Dumplings in Broth
From Plenty
by Yotam Ottolenghi
TX801 .O88 2011
by Julie Styles,
Have you been to the grocery store lately? Of course you have—there's nowhere else to go. Pickings are slim. We've all seen the empty toilet paper shelves, but there's a shortage on meat too. Rather than trying to get creative with the weird scary cuts, the Husband and I decided to consult one of our cookbooks: Plenty, by Yotam Ottolenghi. We were led to this cookbook after falling in love with another one: Jerusalem, written by Ottolenghi and his friend Sami Tamimi. The two chefs grew up in the city, but on opposite sides; Tamimi in the Arab east side, Ottolenghi in the Jewish west side. While different cultures don't always mix politically, in this case, the recipes they create together make some of the best food I've ever had. Plenty is no exception. The recipes here are taken from the menu at Ottolenghi's namesake restaurant in London, and are all vegetable-based. However, this is not a vegetarian cookbook. It celebrates vegetables, but not as an alternative to animal foods. It highlights vegetables because, when prepared by Ottolenghi, they shine in a world with or without meat.
The introduction of the book describes this philosophy much more eloquently than I can, but briefly, and it dives into the recipes quickly, which I appreciate. The chapters are divided into the different plants themselves: roots, onions, mushrooms, zucchini, and so on. In addition to vegetables, it tackles beans, grains, pasta, and fruit in an assortment of over 120 recipes. There is definitely something for everyone. Some of these will make excellent side dishes, but so many of them stand on their own.
We selected something simple and light for our weeknight meal: Parsnip Dumplings in Broth. I adore parsnips, and have ever since I first tried them in my mid-thirties. My mom was a great cook, but dad was not adventurous, and so we stuck to the foods he knew as a kid. Fortunately for me, I don't share his desire to avoid ingredients I wasn't comfortable with. This has led me to discover a great number of comfort foods, ironically. One of those is parsnips. They look like pale carrots, and while they, too, are roots, their flavor is quite different. Not quite as sweet, their earthy, starchy flavor balances rich meaty roasts and clean, crisp salads wonderfully.
In this dish, they are the main event. They are cooked with potatoes until they are soft enough to mash, then elevated with some flour and egg to create light, airy dumplings. Served with a flavorful broth, they make a great meat-free meal.
This is definitely homemade food. You won't find these dumplings in the store, although you can buy premade broth. I strongly recommend you don't, though. While you can find some high-quality, truly delicious chicken or beef broth, vegetable broth in a can or carton is about as exciting as ramen noodles without the salt-bomb flavor packet. And homemade vegetable broth couldn't be easier. For this recipe, we cut up some carrot, celery, and onion along with garlic and celeriac. For the unfamiliar, celeriac is also known as celery root. Yep, the root of the celery plant, and it definitely looks like it should stay underground. It's probably the ugliest thing in your produce department any time of year. It looks like the head of the Crypt Keeper. But seriously, get over it; it's delicious. It, too, is starchy and earthy, with a hint of celery flavor. You just need to trim off the hairy tentacles and it looks a lot like a potato. The vegetables go into a big pot with some water and fresh herbs, then it all simmers for about 90 minutes, and voila! You have vegetable broth.
Wait…I forgot to mention the prunes! (I swear, I want you to make this dish, despite all the creepy and borderline gross-sounding items that go in it.) Along with the vegetables, you toss in a handful of prunes. It sounded weird to me, but I went for it.
As it turns out, the prunes do lend a great level of flavor. Not overly fruity, there's just a tiny bit of sweetness and depth, almost like honey. It rounds out the vegetable flavor and makes the broth more interesting. For an extra boost, you could add a few dashes of soy sauce or some tomato paste.
The dumplings are a bit more complicated, but not much. After mashing the parsnip mixture, you press it through a ricer (which looks like a giant garlic press and is not used to make rice, go figure), which makes it incredibly smooth. It rests for a bit in the fridge, then gets scooped out into simmering water in little dumpling shapes. I used a small ice cream scoop for this, but a small spoon will work just fine. These don't need to be perfect – rustic is the way to go here. They only cook for a few minutes, and they bounce to the surface just before they are done; it couldn't be easier. Just make sure your water is at a true simmer. Mine was just below (hot water, no bubbles), and the dumplings, while fully cooked and quite yummy, had a slight raw-flour flavor to them.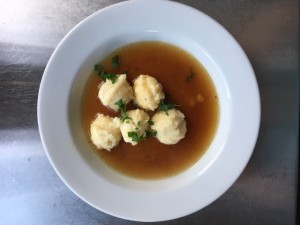 Overall, it was a fantastic meal, and neither I nor my fellow carnivore husband longed for a steak afterwards. Plenty isn't about just cooking vegetables. It's about creating clever and unexpected combinations of ingredients that are too-often pushed to the side of the plate.
Plenty by Yotam Ottolenghi can be found in the library stacks using the call number TX801 .O88 2011. This recipe can also be found at https://www.theguardian.com/lifeandstyle/2007/jan/06/foodanddrink.recipes2
– 30-
Hartford Public Library is taking its efforts at connectivity on the road with initiatives designed to increase Wi-Fi connectivity throughout Hartford.
"Our Library on Wheels is one of the resources that allows us the opportunity to creatively deliver service during crucial times like these," said Leticia Cotto, HPL's Customer Experience Officer.
The library has prioritized delivering Wi-FI hotspots to spaces where people are homebound and transitional living spaces without Wi-Fi access to provide connectivity for entertainment, to stay informed, and support distance learning.
HPL Wi-Fi spots have been delivered to
Immanuel House (15 Woodlawn Street), an assisted living space for people 62 years old and older.
Warming Center at Milner School (104 Vine Street). A City of Hartford-run refuge for people experiencing homelessness.
Other locations are being identified.
HPL's Library on Wheels also functions as a mobile Wi-Fi hotspot.  Plans to use it as a Mobile Wi-Fi Hub strategically throughout the city are underway.
The deployment of the Library on Wheels to spread Wi-Fi access is just one of the innovative methods HPL is using to expand its outreach during the Covid-19 quarantine.
"If people can't come to us, how do we go to them in a safe way and still meet needs?' We see the importance of doing this kind of outreach because we recognize the need for Wi-Fi city wide and when we were open to the public, experienced a continued increase in our Wi-Fi usage systemwide," Cotto said.
– 30 -