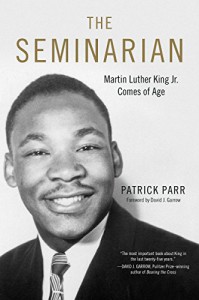 The seminarian : Martin Luther King, Jr. comes of age,  By Patrick Parr
Martin Luther King Jr. was a cautious nineteen-year-old rookie preacher when he left Atlanta, Georgia, to attend divinity school up north. These experiences shaped him into a man ready to take on even greater challenges. Based on dozens of revealing interviews with the men and women who knew him then, The Seminarian is the first definitive, full-length account of King's years as a divinity student at Crozer Theological Seminary. Long passed over by biographers and historians, this period in King's life is vital to understanding the historical figure he soon became.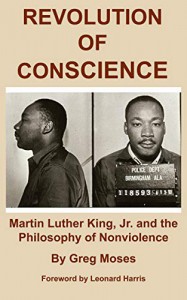 Revolution of conscience : Martin Luther King, Jr., and the philosophy of nonviolence - Moses, Greg
Martin Luther King, Jr. developed a philosophical logic of nonviolence in terms of equality, structure, nonviolent direct action, and love. Here we look at the way King's analysis makes use of each concept with a special view to the context of other Black activist intellectuals.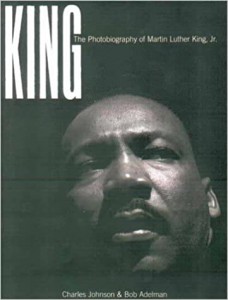 King : the photobiography of Martin Luther King, Jr – Johnson, Charles
A photographic tour of Martin Luther King, Jr.'s life, public and private, covers a wide range of scenes, from King standing before his congregation to the bus boycott in Montgomery and his incarceration in a Birmingham jail to his assassination and its aftermath.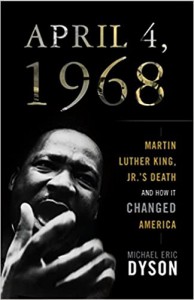 April 4, 1968 : Martin Luther King, Jr.'s death and how it changed America – Dyson, Michael Eric
On April 4, 1968, at 6:01 PM, while he was standing on a balcony at a Memphis hotel, Martin Luther King, Jr. was shot and fatally wounded. Only hours earlier King — the prophet for racial and economic justice in America — ended his final speech with the words, "I may not get there with you, but I want you to know tonight, that we as a people will get to the Promised Land."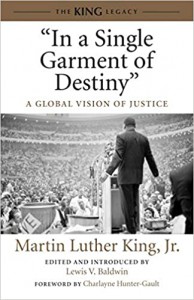 "In a single garment of destiny" : a global vision of justice – King, Martin Luther, Jr.
An unprecedented and timely collection that captures the global vision of Dr. King—in his own words
 Too many people continue to think of Martin Luther King, Jr., only as "a Southern civil rights leader" or "an American Gandhi," thus ignoring his impact on poor and oppressed people around the world. "In a Single Garment of Destiny" is the first book to treat King's positions on global liberation struggles through the prism of his own words and activities.
From the pages of this extraordinary collection, Dr. King emerges not only as an advocate for global human rights but also as a towering figure who collaborated with Eleanor Roosevelt, Albert J. Luthuli, Thich Nhat Hanh, and other national and international figures in addressing a multitude of issues we still struggle with today: from racism, poverty, and war to religious bigotry and intolerance. Introduced and edited by distinguished King scholar Lewis Baldwin, this volume breaks new ground in our understanding of King.
-30-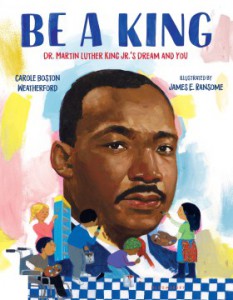 Be a King:  Dr. Martin Luther King Jr.'s Dream and You, by Carole Boston Weatherford and illustrated by James E. Ransome
Featuring a dual narrative of the key moments of Dr. King's life alongside a modern class as the students learn about him, Carole Weatherford's poetic text encapsulates the moments that readers today can reenact in their own lives. See a class of young students as they begin a school project inspired by Dr. Martin Luther King Jr. and learn to follow his example, as he dealt with adversity and never lost hope that a future of equality and justice would soon be a reality. As times change, Dr. King's example remains, encouraging a new generation of children to take charge and change the world.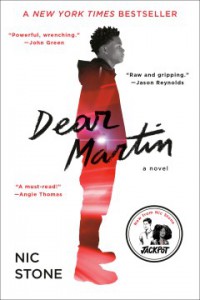 Dear Martin by Nic Stone
Justyce McAllister is a good kid, an honor student, and always there to help a friend – but none of that matters to the police officer who just put him in handcuffs. Despite leaving his rough neighborhood behind, he can't escape the scorn of his former peers or the ridicule of his new classmates. Justyce looks to the teachings of Dr. Martin Luther King Jr. for answers. But do they hold up anymore? He starts a journal to Dr. King to find out. "A visceral portrait of a young man reckoning with the ugly, persistent violence of social injustice." -Publishers Weekly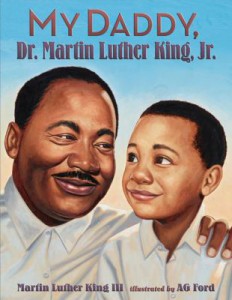 My Daddy, Dr. Martin Luther King, Jr. by Martin Luther King III
What was it like growing up as a son of Dr. Martin Luther King, Jr.? This picture book memoir, My Daddy, Dr. Martin Luther King, Jr. by Martin Luther King III, provides insight into one of history's most fascinating families and into a special bond between father and son.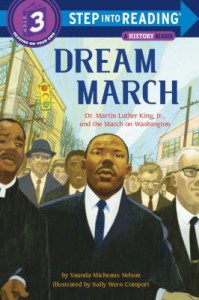 Dream March: Martin Luther King, Jr. and the March on Washington by Vaunda Micheaux Nelson
An inspiring biography introducing children to the civil rights movement, Dr. Martin Luther King, Jr., and the historic march on Washington. Young readers can now learn about one of the greatest civil rights leaders of all time, Dr. Martin Luther King, Jr., in this Level 3 Step into Reading Biography Reader. Set against Dr. King's historic march on Washington in the summer of 1963, a moving story and powerful illustrations combine to illuminate not only one of America's most celebrated leaders, but also one of America's most celebrated moments.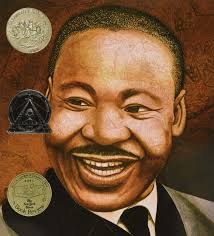 Martin's Big Words:  The Life of Dr. Martin Luther King, Jr., by Doreen Rappaport, illustrated by Bryan Collier
This picture book biography of Dr. Martin Luther King, Jr. brings his life and the profound nature of his message to young children through his own words. Martin Luther King, Jr., was one of the most influential and gifted speakers of all time. Doreen Rappaport uses quotes from some of his most beloved speeches to tell the story of his life and his work in a simple, direct way. Bryan Collier's stunning collage art combines remarkable watercolor paintings with vibrant patterns and textures. A timeline and a list of additional books and web sites help make this a standout biography of Dr. King.
-30-
As people gathered to received free winter coats and bags of food at Barbour Library, Michelle Lipar, an intern at the University of Connecticut School of Social Work, worked the line.
"Hello, remember me, I haven't seen you in a while," she called out to a customer.
She handed out flyers with her contact information and a list of the services the library offers. "If you need any other help, I'm the social work intern at the library," she said.
Lipar, Barbour Library manager Irene Blean, and children's library Victoria Palmatier set up on the sidewalk outside the library branch. Liz Castle, HPL's programming manager, pulled up with the Library on Wheels and started handing out free books. The team was set to make a small, but tangible impact that day – they were going to help people get warm.
Lipar hatched the idea a couple of weeks back and started looking for donations. Button Up Connecticut, a non-profit organization whose mission is to collect clean, new and gently used coats and distribute them to residents in need all across Connecticut, donated 60 coats. She sought other donations to fund the bags of food. "People gave me stuff," Lipar said.
A lot of social work involves working through processes that can often be daunting for someone seeking help. What Lipar liked about this particular project is that there was no barrier to entry – if someone was cold and needed a coat, they got one, no questions asked.
"It was a way to directly access people," she said.
The men's coats went quickly. Some people came with their children. The HPL team worked through the line, urging people to make sure they took socks and food.
The North End is Hartford's poorest neighborhood, Blean said. "The pandemic makes it even worse," she said. "You can't be successful with regular library programming until you address basic needs."
When Blean has an event like this she works the phone, calling neighborhood groups and local non-profits to find people who might benefit. She e-mails customers personally. She, like her counterparts across the Hartford Public Library system, are tireless in trying to help.
"This is my way of saying we are still here for you," she said.
For Lipar, Thursday's event was part of an ongoing learning experience. "I learned that I have a lot to learn. The things I think they want or need might not be the thing they want or need. I have to listen and to pay attention and be where they are," Lipar said.
By Steven Scarpa, manager of public relations and communications
-30-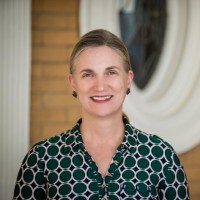 Happy New Year!
2021 offers us a fresh start, and many reasons for hope. Over the next few months, as it is safe to do so, we will restore services and welcome more people back inside our buildings. We have missed seeing you, but are thankful we can serve you virtually and create new ways to connect.
At long last, the new Park Street Library will open in the summer of 2021. Decades of planning and advocacy led to the construction of a beautiful and welcoming new center for literacy, education, community, culture, history and civics.
We are also planning for a new library in North Hartford to replace our well-loved but much too small Barbour Branch Library. One opportunity that appears especially attractive is a new partnership with the Swift Factory that would enable us to more than triple the size of the current location and bring many more services and collections to the community.
In 2021 you will continue to see us offering online and in-person training and programming as well as enhanced digital and print collections.
Our mobile outreach has been so well received we are looking to add another vehicle and expand community-based services provided by the outreach team including programming, access to technology, materials and training services.
Thank you for your support of HPL through this most challenging year– here's to a healthy and happy 2021 for us all.
Bridget Quinn-Carey
President and CEO
-30-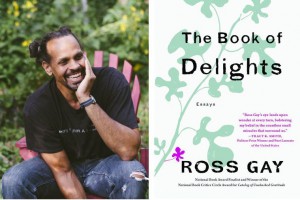 Barbour Branch Library Manager Irene Blean was listening to an interview on the NPR show "On Being" with the writer Ross Gay that prompted her to have an idea for a program.
Gay had written a book of essays called "Book of Delights." Each day for a year, starting from his 42nd birthday, Gay wrote about the joys he experienced every day – his garden, coffee and donuts, the simple things that make up a rich life.
"It is joy by which the labor that will make the life that I want, possible. It's not at all puzzling to me that joy is possible in the midst of difficulty," Gay told On Being host Krista Tippett in a 2019 interview.
Gay's words struck a chord with Blean, and she decided to do something about it.
"I thought the topic was relevant to people struggling with the pandemic," Blean said.
Using Gay's book as a jumping off point for discussion, Blean has put together an event where people can share the things that make them happy. "Come ready to share a gleeful moment you may have witnessed or beloved quote, song, poem or book," Blean said.
The event will take place on Zoom, Thursday, January 14 at 7 pm. To register please call 860-695-7401 or email iblean@hplct.org for a Zoom invite.
Blean hopes that by spending just a little while thinking about the good things in the their lives, they might be able to have a moment of respite from the stresses of the world around them. "I want people to realize that delight/joy is a choice for anyone to exercise and express in their lives, even when there is difficulty," Blean said.
– By Steven Scarpa, Manager, Public Relations and Communications
In a year when truth was routinely stranger than fiction, Hartford Public Library customers sought a wide array of stories, often seeking escape, but also looking for inspiration and a way to understand the world around them.
We are excited to share with you the titles that were most popular in Hartford in 2020.
Most Checked Out Adult Books of 2020: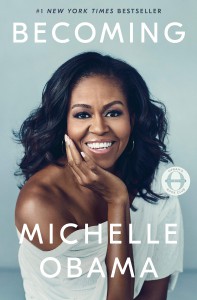 HPL customers reveled in Michelle Obama's life story, chronicling her personal quest to be the best person she can be.
Most Checked Out Teen Books in 2020: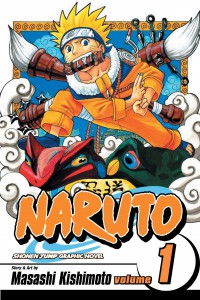 Naruto by Masashi Kishimoto
The international phenomenon about the best ninja in the world was a hit with teens in Hartford.
Other popular titles include:
Black Bird
by Kanoko Sakurakoji
Most Checked Out Children's Books in 2020: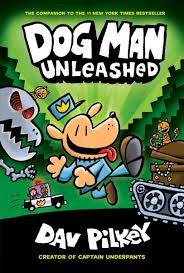 Pilkey's charming series about the importance of being true to one self resonated with kids in 2020.
Other popular titles include Pug by Ethan Long and Don't Let The Pigeon Drive The Bus by Mo Willems.
-30-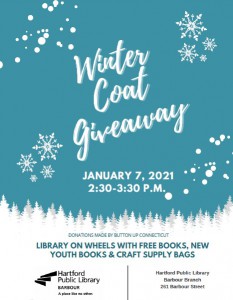 Hartford Public Library will be holding a winter coat giveaway on Thursday, January 7.
The giveaway will take place at Barbour Library, 261 Barbour Street, from 2:30 to 3:30 pm.
Coats will be distributed on a first-come, first served basis. Limit one coat per individual. The coats were donated by Button Up Connecticut, a non-profit organization whose mission is to collect gently used winter coats and distribute them to residents in need all throughout Connecticut.
The Library on Wheels will also be on hand to distribute free books, new youth books, and craft supply bags.
"We are always looking for ways to meet people where they are," said Bridget Quinn-Carey, HPL's president and CEO. "Sometimes that means giving people access to books. Sometimes it means helping people keep warm. At this event, we excited to be able to offer both to our community."
Irene Blean, manager of Barbour Library, believes that is hard for people who are struggling with basic needs to be open to what the library has to offer. A person can't focus on the possible joy that books and movies can provide if they are hungry and cold. The winter coat giveaway is an opportunity for Hartford Public Library to attempt to care for the whole person.
"Now more than ever, we need to creatively address the basic needs of our customers to be able to continue to provide library services. Our customers need ways to hold beauty in their minds, especially during this troubling time. The arts, whether a good story through a book or movie, music, poetry, and creative art, provide our customers with opportunities to experience something positive," Blean said.
Michelle Lipar, an intern from the University of Connecticut School of Social Work, was inspired to organize the event by witnessing the dedication of HPL's branch managers to their communities. She had been invited to participate in events across the city and wanted to make her own contribution.
"I can see how they are working hard to meet the needs of their customers, even when the buildings are closed," Lipar said.
She thought providing coats could meet some of the needs of the library's customers, especially as the weather turns colder.
"I am looking forward to the event because it provides opportunities to meet and talk with our customers in person, and to see if there are ways we can help beyond providing coats.  In-person contact has been very limited during the pandemic, so I appreciate the opportunity to safely interact with the community.  I'm hopeful that we can host additional coat distribution events at other branches in the future," Lipar said.
For more information about Hartford Public Library, visit hplct.org or call 860-695-6300. For more information about Button Up Connecticut, visit buttonupconnecticut.org.
-30-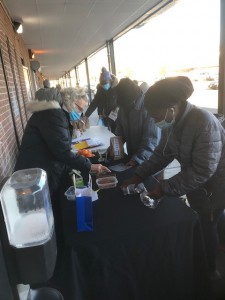 The spirit of giving was alive Tuesday afternoon at the Barbour Library's Winterfest event.
HPL handed about 40 bags of food, donated by Foodshare, in just a 20 minutes.
"Food scarcity is a regular thing in this neighborhood, even more so with the pandemic," Blean said.
The hour long event was a microcosm of a lot of what HPL has to offer. Programming Manager Liz Castle distributed free books. Children's librarian Victoria Palmatier shared program opportunities and crafts for kids. Michelle Lipar, a social work intern from the University of Connecticut, handed out her contact information and a list of library resources.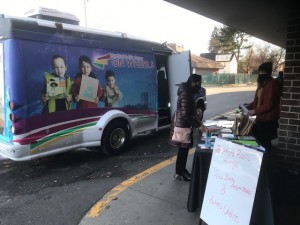 Irene Blean, manager of the Barbour Library, showed her customers how to make an easy potpourri recipe that would warm up a home nicely. Barbour Library customers would love to have their library fully open, Blean said, and while the pandemic makes that impossible right now, events like these can still provide quality library services.
Blean has held four outdoor events this fall, including a health fair and voter registration and Census drives. She plans to offer Zoom events in January. "We are always looking for ways to connect with the community," Blean said.
Palmatier plans to hold a virtual children's event later in the month, helping kids put together their Covid-19 time capsule. By allowing children a place to thinking about how much their lives have changed, they also have an opportunity to wrestle with the emotional issues brought up by the pandemic, Palmatier said.
"I think they are surviving the pandemic with astounding resiliency," Palmatier said.
The needs are palpable, Blean said, and HPL is poised to help in any way it can. "More than one person has said to me, thank you for not forgetting about us," Blean said.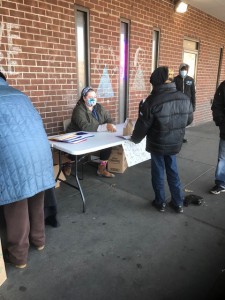 by Steven Scarpa, Manager of Communications and Public Relations
-30-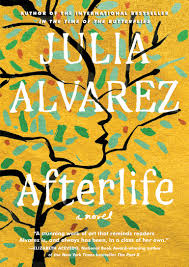 "A stunning work of art that reminds readers Alvarez is, and always has been, in a class of her own." —Elizabeth Acevedo, National Book Award-winning author of the New York Times bestseller The Poet X
Antonia Vega, the immigrant writer at the center of Afterlife, has had the rug pulled out from under her. She has just retired from the college where she taught English when her beloved husband, Sam, suddenly dies.  Antonia has always sought direction in the literature she loves—lines from her favorite authors play in her head like a soundtrack—but now she finds that the world demands more of her than words.
Afterlife is a compact, nimble, and sharply droll novel. Set in this political moment of tribalism and distrust, it asks: What do we owe those in crisis in our families, including—maybe especially—members of our human family? How do we live in a broken world without losing faith in one another or ourselves? And how do we stay true to those glorious souls we have lost?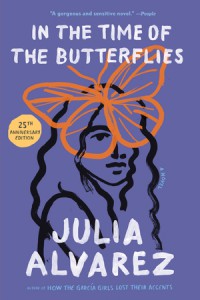 "A magnificent treasure for all cultures and all time." –St. Petersburg Times
In this extraordinary novel, the voices of all four sisters–Minerva, Patria, María Teresa, and the survivor, Dedé–speak across the decades to tell their own stories, from secret crushes to gunrunning, and to describe the everyday horrors of life under Trujillo's rule. Through the art and magic of Julia Alvarez's imagination, the martyred Butterflies live again in this novel of courage and love, and the human costs of political oppression.
"Poignant . . . Powerful . . . Beautifully captures the threshold experience of the new immigrant, where the past is not yet a memory." —The New York Times Book Review
Acclaimed writer Julia Alvarez's beloved first novel gives voice to four sisters as they grow up in two cultures. The García sisters—Carla, Sandra, Yolanda, and Sofía—and their family must flee their home in the Dominican Republic after their father's role in an attempt to overthrow brutal dictator Rafael Trujillo is discovered. They arrive in New York City in 1960 to a life far removed from their existence in the Caribbean. In the wondrous but not always welcoming U.S.A., their parents try to hold on to their old ways as the girls try find new lives: by straightening their hair and wearing American fashions, and by forgetting their Spanish. For them, it is at once liberating and excruciating to be caught between the old world and the new. Here they tell their stories about being at home—and not at home—in America.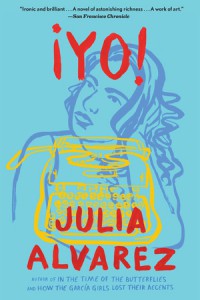 "Charming and funny . . . Mesmerizing . . . Wonderful." —USA Today
Yolanda García–Yo, for short–is the literary one in the family. Her first published novel, in which uses as characters practically everyone she knows, was a big success. Now she's basking in the spotlight while those "characters" find their very recognizable selves dangling in that same blinding light. But turnabout is fair play, and so here, Yolanda García's family and friends tell the truth about Yo. Her three sisters, her Mami and Papi, her grandparents, tías, tíos, cousins, housemaids, her third husband: they take turns telling their side of the story, ripping into Yo and in the process creating their own endearing self-portraits.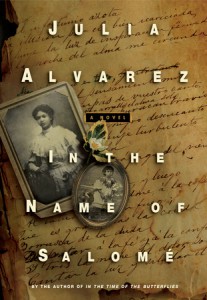 "Original and illuminating."—The New York Times Book Review
In her most ambitious work since In the Time of Butterflies, Julia Alvarez tells the story of a woman whose poetry inspired one Caribbean revolution and of her daughter whose dedication to teaching strengthened another.
Julia Alvarez has won a large and devoted audience by brilliantly illuminating the history of modern Caribbean America through the personal stories of its people. As a Latina, as a poet and novelist, and as a university professor, Julia Alvarez brings her own experience to this exquisite story.
-30-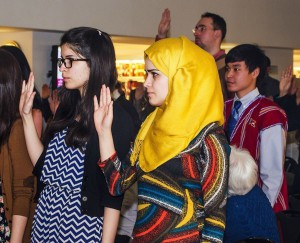 HPL lead immigration counselor Laurie Housman spent a recent morning trying to figure out how to be in two places at once.
The stakes were high in each of these particular cases.
Two of her clients, both with sensitive immigration cases, are scheduled for their naturalization interviews at the same time. One of the clients protested the Cuban government until violence impacted her family and forced her to leave for Hartford. Her other client is an Iraqi native who was forced to joined the Baath Party under Saddam Hussein's murderous regime and subsequently fled the country.
Housman was determined to make it work (she did, in the end) because she and other members of The American Place team are committed to helping people find their places in America. "Together we forge a welcoming space for immigrants and refugees as they seek educational opportunities, economic self-sufficiency and the promise of freedom," said Homa Naficy, executive director of The American Place.
HPL's The American Place assists over 400 people negotiate the labyrinth of United States citizenship regulations. Housman advises people on the risks and probability of their naturalization. She also helps prepare clients' defenses when they run into any kind of issue.
Housman and her team have a great track record. She estimates about 95 percent of her clients successfully become citizens, quite a feat considering the federal government has made the process of becoming a citizen more difficult over the past several years.
Because of the nature of her work and the relationship Hartford Public Library has with its customers, Housman finds ways to help that go beyond legal services. She might point people to food opportunities or help them sign up for bus passes. The work is deep and meaningful. "We are more engaged. That's why the clients come back and send me pictures of their babies," she said.
The immigration team meets clients before their interviews to practice. "You always prepare witnesses before they testify," Housman said.
This is an important part of citizenship preparation. The interviewing process can be intimidating for people who have recently arrived in America or do not yet have a strong command of the English language. A slip up or a misunderstanding can put people back where they started.
For immigrants aspiring to citizenship, the American Dream is not just words – it is a tangible thing, they key towards safety, success, and a better life for themselves and their families.
"The immigrant journey is not an easy one. But for many of them the library can offer a glimmer of hope and a community connected to their needs as they embrace our shared civic values while never losing their identities," Naficy said.
Citizenship celebrations are, in many ways, the reward for Housman and other members of The American Place team. Covid-19 has rendered the ceremonies modest affairs, held a couple of times a week at USCIS.
Pre-COVID days, ceremonies were held at the library a couple of times a year, Housman said, with speeches, music, performances – all of the pomp and circumstances due to people who believe so strongly in the American democracy that they've committed their lives to it.
"One of the reasons I am doing this work at this stage in my career is because I am fulfilling my clients' bucket list," Housman said. "It's really uplifting to do this work."
– By Steven Scarpa, Manager of Communications and Public Relations
-30-