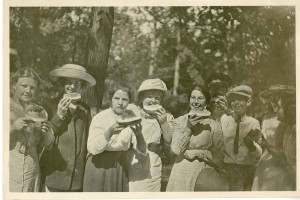 Hartford Public Library's Hartford History Center will presenting a new online exhibit called "Hartford Springs Into Summer," a photographic history of the city's park system.
The exhibit will go live on May 17 with an online presentation taking place on Zoom and Facebook Live at 7 pm.
The exhibit can be found here: https://hartfordparks.omeka.net/exhibits/show/springintosummer/title
HHC Historical Research Specialist Maureen Heher will share information about how the photographs were selected. Archivist Jennifer Sharp will discuss newly available archival material from the Parks Collection, and how it is a starting point for research about the city, both in and out of the parks.
Sharp has been working with the collection, which is comprised of thousands of images and documents, creating finding aids and cataloging what's there. "There is another half of the collection, that has pretty much never been touched," Sharp said.
The photos are a time capsule of life in Hartford around the turn of the century. Parks Department photographers chronicled a wide array of events in the city's parks and which people felt comfortable attending them.
The collection sat in storage at City Hall until a city councilor discovered them in the 1980s. Later on, the collection was given to the Hartford History Center.
"We don't know the names of the photographers. We don't know the names of the people in the photos. If we are lucky we have an inscription and a date," Heher said.
By the 1920s, most of Hartford's park network was well established and popular with the public. With workers receiving more time off on the weekends and prosperity rising, park usage skyrocketed. City officials believed that the parks could provide the healthy access to nature that people in rural communities already had. "It is a microcosm of the city's history," Sharp said.
In 1912, the Parks Department announced that 660,000 people frequented a park. At that time, Hartford's population was approximately 127,000 people. A year late the department expected that close to a million people was spend time in a city park.
The photo exhibit shows that the parks took on their own identities. There are pictures of scrappy kids playing. Adults buy and sell refreshments. People played cricket. People who strolled Elizabeth Park's rose gardens did so in their Sunday finest. "There was still this sense that Sundays were a day for family. You know, your church and family," Heher said.
There is a sense of innocence and charm in many of the photos – you are watching a city working hard to amuse itself. "Celebrations were a big deal. While, yes, the Fourth of July, Memorial Day, and Labor Day were big things in the city back then. But Flag Day was also huge. And May Day and Arbor Day. These were big celebrations that we don't even really recognize these days anymore," Heher said.
For Sharp and Heher, the photo collection is just one more example of how much the Hartford History Center has to offer. "I want people to know how much information they have access to," Sharp said.
– By Steven Scarpa, manager of public relations and communications
The Park Library branch will cease operations at its current location on Friday, May 21 after 46 years of service to the Frog Hollow neighborhood, paving the way for the opening of a gleaming new library just down the street.
The new building, currently under construction at the corner of Park and Broad streets, will be open to the public mid to late summer. The new library, now known as the Park Street Library @ the Lyric, will be approximately 13,000 square-feet and two-stories high. It will be the largest of Hartford Public Library's six community libraries.
"This library has a long and rich history in Hartford. It has served several generations of neighborhood residents. While this is the end of a chapter in our cozy current home, the new Park Street Library @ the Lyric will allow us to help the community in ways they could've only dreamed of in the late 1920s," said HPL President and CEO Bridget Quinn.
The Park Branch was established in May 1928 in a small rented store at 876 Park Street. In September 1939, it moved to 815 Broad Street. In August 1975, it was moved again to its present location at 744 Park Street, which is a rented facility. The lease on the location ends on May 31. Until the new location opens, Frog Hollow residents are encouraged to use the services at the Downtown or Dwight libraries.
"Since 1975, the Park Street branch has served the community of Frog Hollow out of a 2,000 sq. ft. leased space. We are excited to soon start a new chapter with the Park St. Library @ the Lyric and provide a library space this community has waited so long for," said Marie Jarry, director of public services.
Graciela Rivera, Park Library manager, is working alongside her team to pack up the small library, removing outdated books from the collection. Not much of the furniture will be packed up because the new location is outfitted with brand new furnishings. The materials will be transported to the Downtown Library and stored in the library's subbasement in the short term. Rivera is working to help develop a larger collection to fill the new Park Library.
"As a kid who grew up in the Frog Hollow neighborhood, I spent a lot of hours at the Park Library, doing homework, reading, and hanging out. Because of this experience, I want to give back by helping to create a new space that is welcoming and warm, where people can feel comfortable learning and exploring," Rivera said. "We want to partner with the community – the businesses and the people – so they always know that the Park Street Library is theirs."
The Park Street Library has been known for having the largest collection of Spanish language materials in the system. In an effort to serve the diverse Frog Hollow neighborhood, HPL's librarians are working to curate a special selection of books, creating an almost entirely new collection. The library will also preserve books that are relevant to the history of the neighborhood. The new Park St. Library @ the Lyric will feature a brand new opening day collection of approximately 1,500 books and 150 Dvds for all ages too.
"Frog Hollow has families from Mexico, Guatemala, Honduras, the Dominican Republic, El Salvador, and Puerto Rico, just to name a few. We plan to create a collection that reflects that diversity," Quinn said.
For decades activists and neighborhood groups have advocated for an expanded library in the neighborhood. The first floor will have a 3,000 square foot reading room, a separate 1,200 square foot children's room, a small café, and an enclosed outdoor patio area for performances and events. The second floor will feature a learning lab, conference room, and a nearly 2,000 square foot community room able to accommodate up to 100 people for meetings, lectures, performances, and other events.
Exposed wood will give the interior of the new library a warm, welcoming feel. And in a tip-of-the-hat to the history of the site, large photographs of the hand-painted murals adorning the front of the Lyric Theater will hang inside.
It's a fitting touch for a branch library whose history is intertwined with that of the neighborhood. In the 91 years since the community library opened, Frog Hollow has evolved from an enclave of immigrant factory workers to the epicenter of Hartford's vibrant Spanish-speaking community.
For more information about the new Park Library, visit parklibrary.hplct.org.
– 30 -
In a time when the essential human activity of gathering together to listen to music has all been snuffed out because of the global pandemic, Hartford Public Library's 2021 Baby Grand Jazz series has found a way to keep going.
"It was extremely important to us as organization to make sure Baby Grand Jazz continued. People were stuck in their homes, with an uncertain future. We wanted to, if only for a couple of hours, offer people a respite in the lively and exciting music of the jazz series. We've gone beyond that, offering a polished and professional looking online production. We are really pleased at the outcome and hope that fans of the series are too," said Bridget Quinn, HPL president and CEO.
The long time concert series reinvented itself this year, offering all of its performances on Facebook and YouTube. In ordinary times, the series is one of the library's most popular live offerings, drawing over 3,000 people to the Center for Contemporary Culture on Sunday afternoons.
Liz Castle, HPL's programming manager, wasn't sure how an all online series would work. The programming department had some success offering short, self-made videos of people offering classes in gardening or yoga. Mounting a jazz concert is a much more difficult proposition.
Thanks to the careful work of Tre Davis (video) and Doug Fay (sound), the performances had a polished quality. It was a big step for the series and one that will be carried into the future.
"Our tech team was able to find a way to offer an intimate performance to give viewers the sense that they were up close with the musicians. Although we couldn't be with our audience in person, we wanted them to feel like they were in the room with us experiencing the same Baby Grand Jazz energy," Castle said.
The concert series had 14,957 views from viewers in 97 countries around the world. Each week a stalwart group of audience members commented on the concerts on social media. Some offered unqualified praise for all of the performers. Others made sure that the sound engineer knew in real time how he could improve. Still others spoke of how grateful they were for the music and cheered on performers they knew personally.
In short, a little community sprouted up online surrounding the concert.
"One of the most special elements of the Baby Grand Jazz series is the strong sense of community in the audience each Sunday. This year, our viewers were able to develop that sense of togetherness on the livestream chat and through social media.  The virtual performances provided another venue for our audience to react and respond to the music, and connect with each other and the musicians," Castle said.
By the end of the four-month long series, Castle was able to offer limited in-person tickets to a lucky few. The audience, masked and social distanced in the huge Center for Contemporary Culture, brought the final element to the series – a lively crowd. About 45 people attended in person, something no one expected back in January when the series started.
"It felt uplifting and healing to sustain a creative community during a pandemic. Musicians responded to the times by composing and performing songs about the grief, despair, and hope they have experienced this past year, and viewers responded with their own stories of loss. In an unprecedented time of struggle, this series provided a space of feeling together through music," Castle said.
The performing arts have struggled during pandemic. Performances were cancelled. Artists' livelihoods were in jeopardy and a big question loomed – would the audience return at all when it was all over? The 2021 Baby Grand Jazz series didn't just offer great music. It offered hope in a time when it was in short supply.
——
In celebration of the end of the 2021 Baby Grand Jazz series, we've put together a list of books and movies on all things jazz. From novels to biographies, we've got a ton of information on what historian Gerald Early calls "(one of the most) beautiful things this culture ever created."
Books
DVDs
– By Steve Scarpa, Manager of Public Relations and Communications
– 30 -
In celebration of the end of the 2021 Baby Grand Jazz series, we've put together a list of books and movies on all things jazz. From novels to biographies, we've got a ton of information on what historian Gerald Early calls "(one of the most) beautiful things this culture ever created."
Books
DVDs
-30-

Hartford Public Library's Hartford History Center has been named to the Internet Archive's first class of its Community Webs Program, a program to help public libraries create online community history archives.
The Internet Archive's Community Webs Program provides training and education, infrastructure and services, and professional community cultivation for public librarians across the country to document their local history and the lives of their patrons.
"We believe the work of collecting and sharing our community's history is vital to understanding who we are and who we hope to become. Being part of the Community Webs program allows us to access from all across the nation the best thinking and practices for creating online archives. This is an exciting development and we are pleased to take part in it," said Brenda Miller, director of the Hartford History Center.
"The Community Webs program allows us access to coaching from the Internet Archive staff, free use of the Archive-It software, and connects us with other communities – both local and across the country – who are doing the same work. It gives us a jump start into the world of web archives, and provides us with resources that otherwise might have been out of reach," said Jennifer Sharp, an archivist at the Hartford History Center.
In December 2020 the Internet Archive received a $1.13 million grant from the Andrew W. Mellon Foundation to fund a nationwide expansion of the program, which began 2017. This brings the current number of new and returning Community Webs participants to 90+ libraries from 33 states and three US territories.
This diverse group of organizations includes multiple state libraries representing their regions, as well as a mix of large metropolitan library systems, like Hartford Public Library, and small libraries in rural areas. All will be working to document their communities, with a particular focus on archiving materials from traditionally underrepresented groups.
"We need to document our community's web presence because that is where history is being created today. Much of what used to be done on paper, is now online. The days of finding a treasure in your grandparents' attic are diminishing. We hope to capture NRZ pages, local non-profits, and pages that complement our physical collections, such as the Hartford parks, and the City of Hartford," Sharp said.
The program's goal is to include a minimum of two public libraries in each of the 50 United States, plus additional local history organizations in U.S territories, for a total of 150-200 participating public libraries and heritage organizations.
For more information about the Internet Archive, visit here: archive.org.
For more information about the Hartford History Center, visit here: https://hplct.ent.sirsi.net/client/en_US/history/?
For more information about Hartford Public Library, visit here: www.hplct.org.
– 30 -
Hartford Public Library's Hartford History Center online exhibit about the centennial of women's suffrage in Hartford has been recognized by the Connecticut League of History Organizations (CLHO) with a 2021 Award of Merit.
The award was announced on Tuesday, April 20 at CLHO's annual meeting.
"We are delighted to receive the Award of Merit from the CLHO. The story of women's suffrage in Connecticut is such an important one. The Hartford History Center's voter registration records gave us the opportunity to bring to life the women who fought for this essential American right. We are grateful for the recognition and for the chance to share this piece of history," said Brenda Miller, the Library's Executive Director, Culture and Communications.
In October 1920, with the passage of the 19th Amendment, thousands of Hartford women queued up to register for the newly acquired right to vote in the upcoming presidential election. Hartford Public Library's Hartford History Center (HHC) sought to commemorate that important moment in state history with an online exhibit called October 1920.
The spine of the project comes from a collection of voter registration cards preserved in the HHC. The cards from that landmark year offered a trove of demographic and biographic information about who came to the polls in that historic election. HHC History Research Specialist Maureen Heher and Archivist Jennifer Sharp were leads on the project.
"The committee uniformly agreed that voter registration cards offered a unique and revealing window on the experiences of the women who gained the franchise in 1920. By examining, analyzing, and contextualizing these seemingly mundane primary sources, the project opened up a new lens on the voter experience, placing it in historical perspective while also connecting it to current debates," wrote Amrys O. Williams, executive director of the Connecticut League of Historical Organizations, based at Central Connecticut State University.
The exhibit went live September 14, 2020, the 100th anniversary of the day when the state of Connecticut ratified the 19th Amendment to the Constitution, giving women the right to vote. Through the historical records, we are introduced to a diverse contingent of civic-minded women – whether single, married, or widowed; black or white; Jewish or Christian; housewives, stenographers, undertakers; native born or foreign born – who took advantage of this long-sought opportunity to register to vote.
The digitization of the Hartford Voter Registration Collection held in the Library's Hartford History Center, and the subsequent transcription of the cards and making the cards' digital images accessible online through the Connecticut Digital Archive was made possible through the generous support of Abraham Ford Jr., Hartford Foundation for Public Giving, Michael Howser, Janice Mathews, Anne E. McAloon, B. Miller and Pradeep Bajaj, Pomeroy-Brace Fund, Brenda Roggeveen, Gilda and David Roncari, and Stephen and Amy Saunders. 
To see the exhibit, visit hplct.libguides.com/October1920.
Additional resources and a curriculum appropriate for 10th grade can be found here: hplct.libguides.com/October1920/resources
For more information about the Hartford History Center, visit its webpage.
– 30 -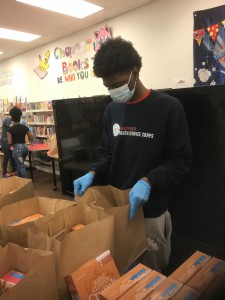 Part of what has made the distribution of food go so smoothly at Barbour Library over the past several months has been the help of a committed group of teens from Our Piece of the Pie, a local nonprofit youth empowerment organization.
Rachel Loughran, a workforce development specialist for OPP, and her team of students worked quickly this past Thursday, bagging groceries provided by Foodshare, a local organization devoted to combating hunger. They made sure that each bag had an even distribution of everything – cereal, canned fruits and vegetables, shelf stable milk, and other staples.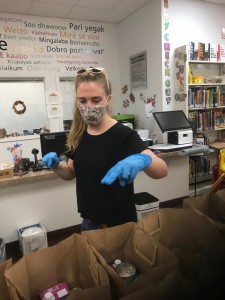 Over the past several months the teens from OPP, aged 16 to 22, have helped to set up for Barbour Library's monthly Foodshare program. The program has been a success, feeding hundreds of North End families. Last week alone, about 100 bags of much needed food was distributed.
Part of OPP's long term goal is to help city teenagers get work and educational experience. To that end, seven OPP teens will be doing internships this summer with HPL's YouMedia department. "This has been an awesome partnership," said Loughran. "They really get to see their impact in the community."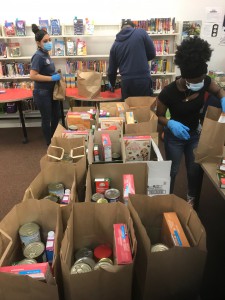 For Barbour Library manager Irene Blean, every bit of help is appreciated. Blean has seen the need for basic services in the community, including food, and has been excited to help. The food distribution days have been an excellent way for local civic organizations to partner with each other – the library's relationship with OPP is a great example. The library gets much needed assistance and students get real life work experience.
"Any time the community steps up to help each other and OPP can play a role, we are excited to participate," Loughran said.
Loughran and Blean caught up for a bit as the teens waited for their next task. "Anything we can do to help set up before we go?" Loughran said. "We've got a big team here and we are efficient."
A few tables needed to be moved onto the sidewalk outside the branch. No problem. Five minutes after the request was made, everything was set up outside, ready to distribute the groceries to the community.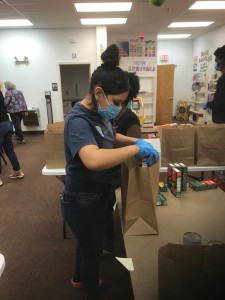 Loughran said OPP participated in a variety of projects, but working with the library has offered the students a new perspective. One of the assignments she gave the students was to go to hplct.org and find 10 things they didn't know the library did. "They were really surprised," Loughran said.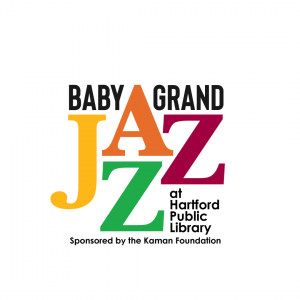 Hartford Public Library is looking for jazz musicians to play in our 2022 Kaman Foundation Baby Grand Jazz series.
The library is seeking submissions from local and regional musical artists to be part of our dynamic concert series, which set attendance records in 2021 and played to thousands of viewers online during 2021. These popular free concerts have been a staple of Hartford Public Library since 2004.
The Baby Grand Jazz series runs 16 Sundays from January through April. Ensembles must include a pianist who will play the Library's grand piano. The 2022 series will be in person, CDC guidelines permitting, and the concerts will be livestreamed on HPL's Facebook and YouTube channel. Rolling submissions; deadline for the 2022 series is June 30, 2021.
Submit here: https://hplct.submittable.com/submit/185929/baby-grand-jazz-series-2022
Hartford Public Library supports artistic excellence by engaging local communities in new and exciting ways through an array of inspiring artistic programs. As an anchor institution, the Library plays an important role in the region's cultural, social and economic development while contributing to the stability, safety and quality of life in Hartford.
For information about the Baby Grand Jazz series, visit https://www.hplct.org/classes-seminars-exhibits/baby-grand-jazz
-30-
Over 500 Hartford residents were vaccinated during a clinic held at Dwight Library April 7-9.
When Liz Matias, Dwight Library manager, arrived shortly before 8:30 am on Thursday, the second day of the clinic, people were already at the door waiting for the 10 am start time.
"There was a line, a long line," Matias said. "The word spread like wildfire."
Matias said that vaccination appointments can be a lot harder for Dwight neighborhood residents to obtain. There are often issues with internet connectivity, language difficulties, and limited access to transportation.
"There are a lot of barriers," she said.
Open clinics like the one held at Dwight make it easy for the most vulnerable to have ready access to the vaccine.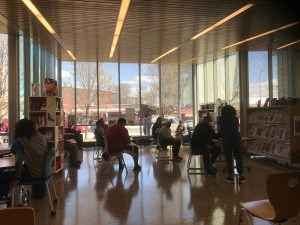 People who showed up walked into a smoothly running machine. Members of National Guard helped people fill out registration paperwork outside.  Those desiring vaccination checked in with a member of the Griffin Health team, and then moved into a socially distanced waiting area before their shot. Once they had their vaccination, there was a sunny spot reserved by the library's large windows for their observation period.
Matias and her team had thought through the process carefully. "Everything is set up so it flows," she said.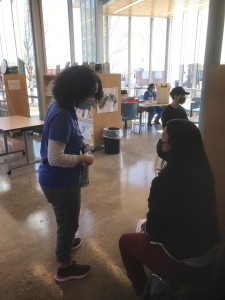 Matias, who speaks Spanish, acted as an interpreter for many of the people who came in for their shots. She moved around the room, guiding people to their next step in the process, making sure that people were comfortable and had what they needed.
An elderly gentleman who was a bit unsteady on his feet stood up. Matias walked over: "Can I take your other arm?" she said, leading the man to the door. He went off into a bright day, fully vaccinated courtesy of HPL and Griffin Health.
"It's just such a great opportunity for the community to have this available to them," said Matias.
By Steve Scarpa, manager of communications and public relations
– 30-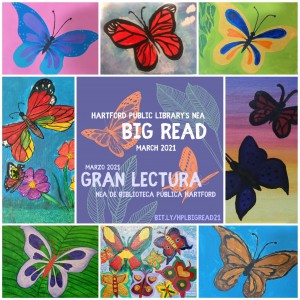 Over the past month Hartford Public Library's 2021 NEA Big Read celebrated acclaimed novelist Julia Alvarez's books "In the Time of the Butterflies" and youth selection "How Tia Lola Came to (Visit) Stay."
We hope you enjoyed exploring how the books' themes of Dominican pride, free-thinking, resilience, and women's rights take root right here in our own backyard.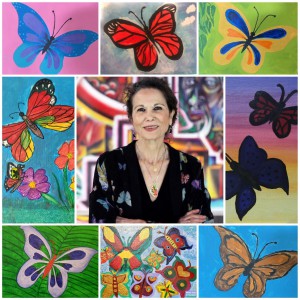 Putting on the 2021 NEA Big Read was a huge community effort.
Thank you to Hartford's vibrant Dominican community for teaching us more about the history of the Mirabal Sisters and the legacy of Julia Alvarez.
Thank you also to Ray Gonzalez Latin Jazz Quintet, Baila Con Gusto CT, Surcari and Rey Kellys Band for their lively performances, and to our partners Caribe Restaurant, Bodega Blush, Hispanic Health Council, and UConn Hartford for offering their expertise and sharing the Big Read with their communities.
Much gratitude to CT's own revolutionary Latinas who graced us with their power and artistry:  Edna Negron, Glaisma Perez-Silva, Addys Castillo, Cin Martinez, I-SHEA, Zulynette, Luzy Rivera, Jocelyn Cerda, Jennifer Perez Caraballo, Diana Aldrete, and Lindaluz Carrillo. We are so grateful to the literary matriarch herself, Julia Alvarez, for visiting Hartford (virtually), and to poet Sarahí Almonte Caraballo, who hosted Alvarez with an open heart.
And lastly, thank you to everyone who read Julia Alvarez's books along with us, attended Big Read programs, and shared your own stories, takeaways, lessons, and manifestos.
"A novel is not, after all, a historical document, but a way to travel through the human heart" – Julia Alvarez