Lifelong city resident Gerri Sullivan was first approached to join the Hartford Public Library Board of Trustees in the late 1990s but decided to hold off. She had served on the City Council and her services were much in demand.
"My brother was the mayor at the time (Mayor Mike Peters). He said, 'no way, you aren't going on the board when I am serving as mayor,'" Sullivan said with a chuckle.
Peters, a great supporter of the library himself, knew that his sister would be fight for the library. Looking back on her two-decade career on the board, it turns out he was absolutely right.
Hartford Public Library takes a moment to thank and celebrate Sullivan, who retired from the board in early October. Sullivan joined the board in 2002. She served until 2013, including terms as president of the board and as the chair of the strategic planning committee. Sullivan returned to the board in 2015.
"Gerri has a quick smile and laugh, but can be serious and tough when there is a challenge or problem to solve. She is a  staunch advocate for the staff and HPL in general," said Bridget Quinn-Carey, HPL president and CEO.
Sullivan was an integral member of the Board during key times – renovating the Downtown Library, advocating for a new Park Street Library and for a branch in the North End neighborhood. She and her husband Tim have also left a legacy gift and support the Library not only financially, but with their presence – they regularly attend public programming events and staff celebrations. Sullivan has helped with the Corporators, Beyond Words events, Caroline Hewins Award and many other projects.
"She is always ready to offer assistance, advice or connect us with someone in her almost limitless network of friends and colleagues," Quinn-Carey said.
Her first big assignment for the library came before she ever joined the board. Then-library director Louise Blalock asked Sullivan to lead the library's get out the vote efforts for a renovation. The project passed the referendum by a large margin.
"What I could bring to it was my relationships in city government," she said.
It wasn't just her work in city government that drew Sullivan to the library. Sullivan comes by her library cred legitimately. She was a member of the Book Worm Club as a little girl going to the Camp Field Library. Her grandmother lived near the library, at the intersection of Maple and Campfield avenues. "I had easy access so I was there all the time," Sullivan said.
Sullivan was present for quite a bit of change during her tenure – leadership changes, new building projects, branch closures, and shifts in mission. She said the organization moved towards increased outreach and engagement with the city's neighborhoods. The programming became more diversified.
"The library is a trusted community resource and a life line for many, and after nearly two decades of outstanding service to HPL, Gerri should take pride in helping us reach this positive place in Hartford's heart," said board president Gregory C. Davis.
Sullivan credits the HPL staff and the board with being open to change and always mindful of inclusivity. She also spoke of library directors Louise Blalock and Bridget Quinn-Carey as visionary leaders.
"This particular board is one of the strongest, one of the best I've ever served with in my time. They are people who really understand the mission and are supportive of it," Sullivan said.
Sullivan believes that one of the most important things the library does is take the jumble of different people from across the city and helps them interact with one another. "It's full of people of different backgrounds and different cultures – a gathering place for all them with no judgement," Sullivan said. "It continually brings our city together. (At the library) there aren't boundaries. There are few things that people can agree about in this city, but one of them is the library."
Sullivan doesn't plan to walk away from the civic arena entirely ("You never quite get over it," she said.) She is working very hard on national politics, phone banking on behalf of Democratic candidates.
"Gerri has been a key contributor to the success of HPL and, although she is leaving the board, there is no doubt that she will remain engaged and supportive of HPL," Davis said.
by Steven Scarpa, Manager of Communications and Public Relations
-30-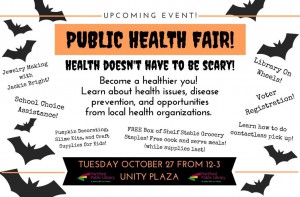 In an effort to provide information about health issues, health and wellness, and opportunities offered by local health organizations, Hartford Public Library's Barbour branch will be convening a public health fair.
The event will take place on Tuesday, October 27 from 12 to 3 on at Unity Plaza, 261 Barbour Street.
In addition, the library will be distributing boxes of shelf-stable food donated by Cigna.
"This is part of Hartford Public Library's effort to care for the whole person," said Bridget Quinn-Carey, HPL's president and CEO. "We hope that by providing people with trusted and verified information, and connecting them to other community service providers, we can help people have healthier lives."
The neighborhood surrounding the Barbour Library wrestles with serious health concerns, including food scarcity, diabetes, obesity, and mental health issues.
"In the North End and Northeastern parts of Hartford health is a big issue," said Irene Blean, Barbour Library manager. "It's my goal to help people become more educated in terms of their health."
In the past, Barbour Library has offered nutrition classes and Blean helped facilitate a farmer's market across the street from the Albany Library.
Blean believes that libraries cannot approach their traditional mission – access to literature and learning opportunities – without acknowledging the vulnerabilities that many patrons experience. For example, the neighborhood around Barbour Library is considered a food desert. Helping people find fresh food and providing information on how to prepare it becomes the first step towards everything else Hartford Public Library offers.
"We can't even approach enriching things with customers without addressing their basic life needs," Blean said.
The following local health organizations will participate in the Barbour Branch health fair:
Trinity Health of New England
University of Connecticut, Department of Nutrition Science
Urban League of Greater Hartford
Connecticare
University of Connecticut, School of Social Work
In addition, the Library on Wheels will be there to distribute free books, HPL's school choice coordinator to provide parents with school sign up information, and a representative from Hartford Next handling voter registration. Artist Jacqueline Bright will provide jewelry kits for men and women that can be done at home.
– By Steven Scarpa, Manager of Communications and Public Relations
-30-
Thanks to Cigna's donation of 500 boxes of unperishable food, Hartford Public Library is able nourish the body as well as the mind.
The first big distribution of food took place this week. Park Library manager Graciela Rivera coordinated the donation of 150 boxes of prepackaged food to La Bodeguita de la Gente, which was delivered on Tuesday, October 13. It took two trips with a full pickup truck to bring the food to the organization's storefront, located almost directly between the current and the future Park Libraries.
La Bodeguita de la Gente ("The Little Store of the People") takes care of some of the most vulnerable people in Hartford – undocumented immigrants, many of whom come from broken homes or were the victims of domestic violence. The pandemic, coupled with a hostile federal government, made it so that almost impossible for these families to seek help.
"As a result of the pandemic, one of the issues that we became aware of was the exclusion of many immigrant families from government aid and programs such as WIC. Many of those families were fired from their jobs and didn't qualify for unemployment. Other families got the virus but didn't have access to affordable health care," said founders Xiomy A. de la Cruz and Ingmar I. Riveros Torres in a letter to supporters.
Cigna's food boxes – filled with staples like pasta, beans, oatmeal, and much more – helped address some issues of food insecurity.  "When we heard that Cigna had donated boxes of food and was looking for us to partner with different organizations to distribute the boxes, I knew (La Bodeguita) was perfect," Rivera said.
The partnership with La Bodeguita is just one way HPL is getting the food to people who need it the most. "The need continues to grow," Rivera said.
Irene Blean, manager of the Barbour Library, will be distributing over 100 boxes of food at a health literacy fair held on October 27 from noon to 3 pm. "I was so excited. Right away I asked, could I have 100 please?" Blean said.
Food boxes will also be distributed at the Arch Street entrance of the Downtown Library on Tuesday 10/20 and 10/27 from 2-4 pm and Thursday 10/22 and 10/29 10 am-12 pm.
Rivera, like many of HPL's librarians, is a believer in partnership. By seeking out and working with trusted community organizations, both large ones like Cigna, and smaller ones like La Bodeguita, Hartford Public Library is in a position to amplify everyone's work. Because of efforts like this, more people get help.
"Libraries are a place for everything," Rivera said.
– By Steven Scarpa, Manager of Communications and Public Relations
-30-
HPL staff members Michelle McFarland and Julie Carroll set up shop with the Library on Wheels Friday morning on Gillett Street in conjunction with Foodshare's food distribution efforts.
As people received colorful bags of fruits and vegetables, Carroll and McFarland offered books, voting information, and overall good cheer on October 9th's warm Fall morning. "At an event like this my goal is to show how HPL is still providing service throughout the city even the buildings have limited access," McFarland said.
There is nothing passive about McFarland's efforts. As people walked past a table covered in books, McFarland asked what they liked, teasing out specifics with a question or two ("What kind of history do you like? History is huge."). If it wasn't on the table, she bounced back in the truck and looked to see what was in there. More often than not, she found just what the person was interested in.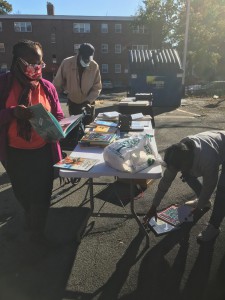 McFarland gave bags of kids' books to grandparents looking for something for their grandkids. She suggested to people a book on the Harlem Renaissance and Barack Obama's book "The Audacity of Hope." She passed on Spanish language books. The books all went fairly quickly. "You can take whatever you like," she said.
While McFarland distributed books Julie Carroll, a longtime HPL library assistant, began to canvas people in line. "Did you get a chance to register to vote? Would you like to register?" she said.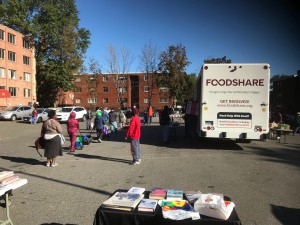 When someone said that they had signed up to vote, Carroll gave them a couple of fliers with a list of websites that told them how to exercise their right and information on who was on the ballot.
In the build up to the 2020 presidential election, Carroll has embraced the library's continued efforts at voter registration. "It's very important so people have a say in choosing their leaders. It's such an important election," Carroll said.
Carroll said that her canvassing efforts are well-received. On Friday morning, she approached about 60 people. The vast majority had already registered, Carroll said, but people pledged to pass along her fliers to their loved ones who haven't yet signed up to vote. She's handed out about 500 fliers at various events thus far. When a young woman did register to vote, McFarland and Carroll gave her a round of applause.
"This is at the very heart of the library's mission, to promote democracy and civic engagement. We want to get people involved and get them knowledgeable about what the issues are," Carroll said.
Friday's effort got to right to heart of HPL's efforts over the past several months to address prominent issues, like voter registration and the 2020 Census, and to offer people service where they need it. The coronavirus may have limited people's access to the library, but the staff continued to find innovative ways to extend service.
"People are still hurting. This has been hard," McFarland said.
Mae Drayton, a lifelong city resident, picked up some books for her grandkids. "Every time I go I pick up a book," Drayton said.
Like many people who love and believe in libraries, Drayton got her first taste as a child. It was her favorite thing to do. She remembered working her way through the "blue biographies" of famous people, like Abraham Lincoln. For Drayton, the library was a safe and happy place. "I went every morning," Drayton said.
Audrey Hewitt picked a book about William Shakespeare. She's not a fan. But after a quick chat with McFarland, she grabbed a bunch of titles she was happy with.
"I read some of the greatest books since I came to this country," said Hewitt, who was originally from Jamaica.
McFarland is out with the LOW all over the city, both at their own stops and at Foodshare events. She sees first-hand the needs the library addresses. "The library really is a trusted spot in the community," McFarland said.
By Steven Scarpa, Communications and Public Relations Manager
-30-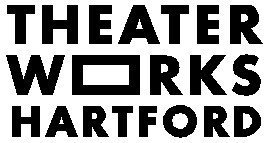 Hartford Public Library will now offer free access to streaming video of TheaterWorks Hartford's productions to all Hartford residents with an HPL library card, starting with its upcoming production of Russian Troll Farm: A Workplace Comedy by Sarah Gancher.
"We are so excited to offer TheaterWorks' productions to our customers. Hartford is a place of immense artistic vitality and as a cultural conduit, Hartford Public Library is in a unique position to help share the city's good work. We are excited to count TheaterWorks among our offerings," said Bridget Quinn-Carey, HPL's president and CEO.
Producing Artistic Director, Rob Ruggiero added "We've been interested in partnering with Hartford Public Library for some time. In a year filled with challenges, we're thankful that one of the outcomes is we can offer Hartford residents access to more great storytelling. TheaterWorks is firmly rooted in this community and grateful to call Hartford home."
Access to the performances can be checked out through the library's museum pass system, found here, starting the first day of each play's livestream dates. Each stream is good for 24 hours after checkout.
Working with Hartford Public Library is part of TheaterWorks' effort to create greater access to the arts.  TheaterWorks believes that theater and storytelling play an essential role in building strong communities and creating important social discourse.
Russian Troll Farm: A Workplace Comedy by Sarah Gancher will be live streamed October 20th – 24th. The play will be presented as recorded streaming October 25 – November 2.
Zoom into the office of a Russian troll farm bent on impacting the 2016 U.S. election. If the provocative play proves too appalling, the absurd laughs will keep you glued to your screen. This play was created for streaming.
For more information about TheaterWorks', visit twhartford.org. For help with streaming, call 860-527-7838 between 10 am and 4 pm Monday through Friday.
About TheaterWorks Hartford
Celebrating its 35th season, TheaterWorks Hartford (TWH) produces high quality, contemporary theater that is relevant to our audiences, engages a diverse community, and provides insight into the human experience. TWH is committed to the power of storytelling in creating community. Founded in 1985, TWH has produced over 170 plays and presents approximately 225 performances per season. TWH also owns and manages the historic property at 233 Pearl Street, known as City Arts on Pearl. City Arts provides an affordable home and services to a diverse family of non-profit arts organizations.
-30-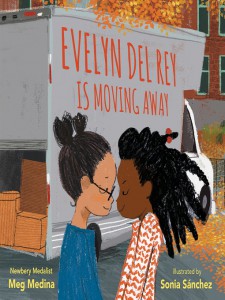 Hartford Public Library and United Way of Central and Northeastern Connecticut are teaming up to send volunteers virtually into Hartford Public Schools first grade classrooms to read to students.
Jumpstart's "Read for the Record," taking place October 29, is a global campaign which generates public support for high-quality early learning by mobilizing millions of children and adults to take part in the world's largest shared reading experience. Jumpstart is a national early education organization that works toward the day every child in America enters kindergarten prepared to succeed.
"Hartford Public Library welcomes every opportunity to work with our Boundless partner, Hartford Public Schools, and United Way of Central and Northeastern Connecticut to support early literacy. To be involved with Jumpstart Read for the Record program, which invites the community to read to the students of HPS in English and Spanish, reinforces our efforts to celebrate the importance of reading across all ages. We are excited to be invited to support this program through participating as readers, as well as providing the technological support to make this program a success," said Bridget Quinn-Carey, HPL president and CEO.
"United Way is committed to early literacy and children reading at grade-level.  Jumpstart's Read for the Record is just one way we act on that commitment. Our virtual read-alouds provide volunteers with an opportunity to stay engaged and for children to benefit, whether they're in-school or at home," said Paula S. Gilberto, President and CEO, United Way of Central and Northeastern Connecticut. "Through our partnership with Hartford Public Library, Hartford Public Schools, and Jumpstart's Read for the Record, we're working to bridge the digital divide."
"Evelyn Del Rey is Moving Away," written by Meg Medina and illustrated by Sonia Sanchez, is this year's book. "Evelyn Del Rey Is Moving Away" is a celebration of lasting friendship, the power of connection, and encountering change.
Hartford Public Library will give a copy of the book to each first grade classroom in Hartford participating in the program. Copies will be made available in English and Spanish. In addition, HPL staff members will participate in virtual readings of Medina's book.
"This opportunity for the community to read to the children of Hartford not only provides an enriching literacy experience for students, it demonstrates the importance and enjoyment of reading across all ages.  Instead of telling children about the importance and joy of reading the community is showing them. This is the most powerful lesson," said Denise Martens, HPL's youth and family services manager.
For more information about Jumpstart, visit jstart.org.
For more information about Hartford Public Library, visit hplct.org.
For more information about United Way of Central and Northeastern CT, visit unitedwayinc.org
-30-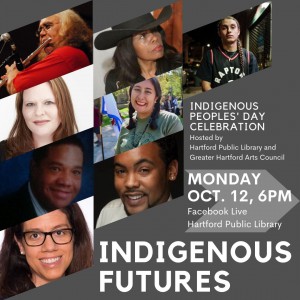 The final lineup of panelists and performers has been set for HPL's Indigenous Peoples' Day Celebration, taking place on Monday, October 12 at 6 pm.
The program, called "Indigenous Futures," will be shown live on HPL's Facebook Page.
This Indigenous Peoples' day join HPL and the Greater Hartford Arts Council to hear local Indigenous peoples' visions for tomorrow. Over the summer we saw Indigenous artists and organizers shifting culture and society in conjunction with the Black Lives Matter movement: taking down statues of Christopher Columbus and other colonizers around the world, continuing to fight for and win legal victories in land treaties, and changing the name of the Washington Football Team are just a few examples. How do we continue decolonizing the land, our communities, as well as our minds and hearts? What does a pro-Indigenous future look like? Hear perspectives from Indigenous artists, academics, and community leaders.
Featuring panelists Meghanlata Gupta, Melissa Wesaw, Kaleb Garrett, Leslie Caromile, Mark Allen, and moderated by Patricia Kelley.
Featuring performances from Lee Mixashawn Rozie and Bobby Sanchez.
Panelist and Artist Bios: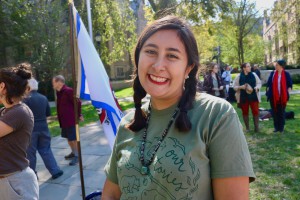 Meghanlata Gupta (Bahweting Anishinaabe, Mikinaak Doodem) is a current senior at Yale University and president of the Association of Native Americans at Yale. Her research and organizing work focuses on Indigenous education, history, and advocacy. She is the founder of Indigenizing the News, a digital magazine dedicated to Indigenous contemporary news.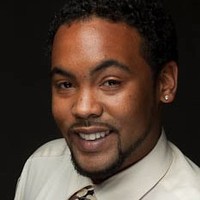 Kaleb J Garrett is a Hartford resident of mixed heritage. He is African American and Native American of Nansemond, Haliwa Saponi and Tuscarora tribes.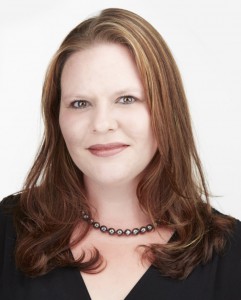 Melissa Wesaw is a member of the Schaghticoke Tribal Nation located in Kent, Connecticut. Wesaw graduated from Rivier College with my B.A., then attended PLSI in Albuquerque, New Mexico and obtained a law degree at Michigan State University College of Law. After law school Wesaw worked as an attorney on the Wind River Reservation as a public defender and a prosecutor for child support. Wesaw now lives in Connecticut with her husband and children.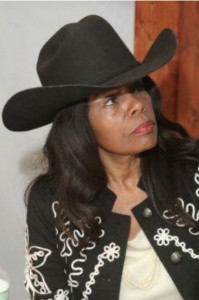 Patricia Kelley is a former U.S. marine, award-winning community leader and equestrian trailblazer with a storied history as a Black cowgirl, Patricia E. Kelly has been at the helm of the Hartford, CT-based non-profit youth organization Ebony Horsewomen, Inc. Equestrian & Agricultural Center for the past 30+ years.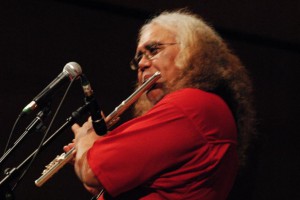 Lee Mixashawn Rozie is an internationally known jazz performer, educator, grandfather and longtime resident of Hartford. From the community known as the Windsor Indians.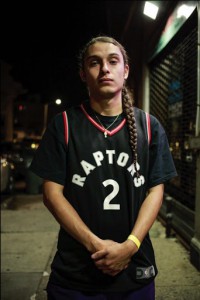 Bobby Sanchez is Peruvian American born and raised in New York.  Sanchez is a full time performing artist, performing mostly poetry and hip hop music, teaching music & poetry workshops at New York Schools, and curating local shows in the NY area.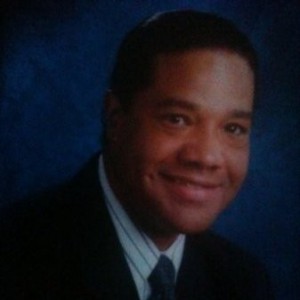 Mark Allen
-30-
There were two things artist George Sweetland was sure about when he was growing up – that he wanted to work with kids and that drawing was a huge part of his life.
Sweetland is sharing his artistic gifts with the Hartford Public Library community. He has created a set of cuddly monsters, called the Mammoth Monster Squad, which have taken up residence in the children's room. The monsters made their first appearance last year as part of a HPL/Boundless science curriculum, serving as the amusing sidekicks to the lessons.
As a kid growing up in Portland, Sweetland watched Teenage Mutant Ninja Turtles, Thundercats, and He-Man. He liked the old stop-action Sinbad movies. He loved comic books. "With that and the action figures, my imagination was going all the time," said Sweetland, a 37-year-old third grade teacher at Buckley Elementary School in Manchester.
It was the joyful anarchy of Maurice Sendak's drawings in "Where The Wild Things Are" that made Sweetland believe that his hobby of drawing fantastical images of monsters could become something more.
He grew up, went to Eastern Connecticut State University, majored in theatre, decided to become an elementary school teacher. Throughout all of it, he never left drawing behind. It was just a matter of how this love was going to manifest itself. "For a long time, I kept my art to myself," he said.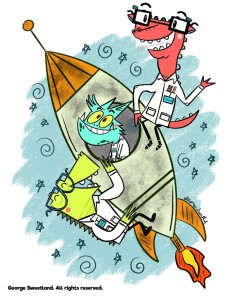 Sweetland sketched with colored pencils, finding that there were limits to what he could accomplish in that medium. It was only a few years ago, with the development of the Procreate app for IPad that he was able to truly make the art he imagined.
Rest assured, Sweetland's monsters are far from scary. The line drawings are whimsical and inventive, the personalities of each character leaping off the page. The colors are bright and the overall sensibility is playful.
"I like to play with shapes," he said. Sweetland's monsters are often squares or cylindrical with large round eyes. "I want them to look like something that a kid would never be scared to go near, a monster that would be their friend … I hope that (a kid who sees his work) will want to pick up a pencil and draw too."
Sweetland likes to ground his work in something realistic and introduce the fantastical element as a twist. He grabs the ideas for his work everywhere. The list of mock book covers on his website show the breadth of his imagination – "The Neighborhood Dragon," "Got Ducks," and "The Everyday Life of a Superhero." They might just be covers and ideas now, but Sweetland fully intends to write those stories.
"They come from my head and places I don't know," Sweetland said.
Sweetland loves being a third grade teacher – and said that his students are often his best focus group. His long term dream is to be a full time children's book author and illustrator, yet one more way he believes he can have a positive impact on the lives of children. The path is a difficult one. He has certainly experienced his share of rejection. But he believes that thanks to his immersion in the world of picture books at schools and his own fortitude, the future is bright.
"Things are starting to pick up a bit more for me," he said. "You have to stay true to yourself and you can't give up. I took (the rejection) as motivation to keep pushing myself. If I can keep working on this, I'll find an agent who will believe in my work. If you keep working hard, things will happen."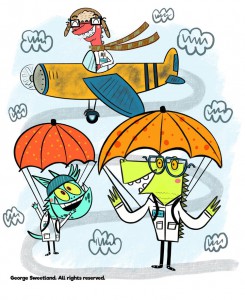 There are some nights Sweetland's wife will call him to bed. It will be about 10:30 or so. He'll be working, immersed in his drawing, the pen and pencils capturing the visions in his mind, and he'll assure her he'll be up in a few minutes. Before he knows it, it's 1:30 am, the monsters are dancing across the page and Sweetland is happy. "It brings me to a place like nothing else does," Sweetland said.
For more information about George's work, visit georgesweetland.org.
By Steve Scarpa, Manager of Communications and Public Relations
-30-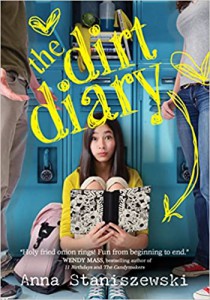 The Dirt Diary by Anna Staniszewski
A hilarious tale about the weight of responsibility that comes from a secret-filled diary…
Rachel can't believe she has to give up her Saturdays to scrubbing other people's toilets. So. Gross. But she kinda, sorta stole $287.22 from her college fund that she's got to pay back ASAP or her mom will ground her for life. But Rachel picks up more than smelly socks on the job. As maid to some of the most popular kids in school, Rachel suddenly has all the dirt on the 8th grade in-crowd. Her formerly boring diary is now filled with juicy secrets. And when her crush offers to pay her to spy on his girlfriend, Rachel has to decide if she's willing to get her hands dirty…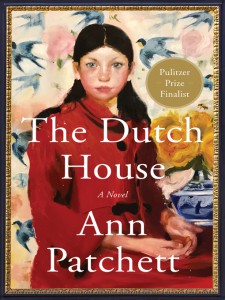 The Dutch House by Ann Patchett
Finalist for the Pulitzer Prize
Ann Patchett, the #1 New York Times bestselling author of Commonwealth, delivers her most powerful novel to date: a richly moving story that explores the indelible bond between two siblings, the house of their childhood, and a past that will not let them go. The Dutch House is the story of a paradise lost, a tour de force that digs deeply into questions of inheritance, love and forgiveness, of how we want to see ourselves and of who we really are.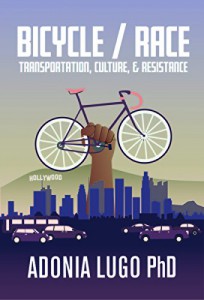 Bicycle/Race: Transportation, Culture, & Resistance by Adonia E. Lugo
Bicycle/Race paints an unforgettable picture of Los Angeles—and the United States—from the perspective of two wheels. This is a book of borderlands and intersections, a cautionary tale about the dangers of putting infrastructure before culture, and a coming-of-age story about power and identity. In the tradition of City of Quartz, this book will forever change the way you see Los Angeles, race and class in the United States, and the streets and people around you wherever you live.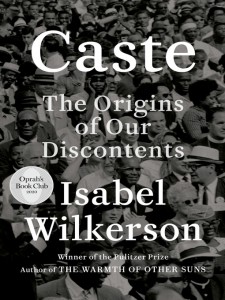 Caste: The Origins of Our Discontents by Isabel Wilkerson
In this brilliant book, Isabel Wilkerson gives us a masterful portrait of an unseen phenomenon in America as she explores, through an immersive, deeply researched narrative and stories about real people, how America today and throughout its history has been shaped by a hidden caste system, a rigid hierarchy of human rankings. Beautifully written, original, and revealing, Caste: The Origins of Our Discontents is an eye-opening story of people and history, and a reexamination of what lies under the surface of ordinary lives and of American life today.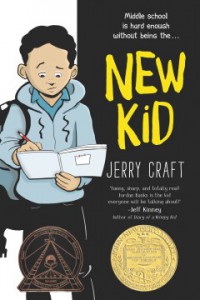 Winner of the Newbery Medal, Coretta Scott King Author Award, and Kirkus Prize for Young Readers' Literature! 
Seventh grader Jordan Banks loves nothing more than drawing cartoons about his life. But instead of sending him to the art school of his dreams, his parents enroll him in a prestigious private school known for its academics, where Jordan is one of the few kids of color in his entire grade.
As he makes the daily trip from his Washington Heights apartment to the upscale Riverdale Academy Day School, Jordan soon finds himself torn between two worlds—and not really fitting into either one. Can Jordan learn to navigate his new school culture while keeping his neighborhood friends and staying true to himself?
This middle grade graphic novel is an excellent choice for tween readers, including for summer reading.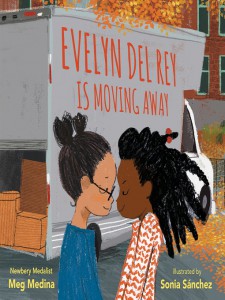 Evelyn Del Rey Is Moving Away by Meg Medina, illustrated by Sonia Sánchez
From Newbery Medalist Meg Medina comes the bittersweet story of two girls who will always be each other's número uno, even though one is moving away.
Evelyn Del Rey is Daniela's best friend. They do everything together and even live in twin apartments across the street from each other: Daniela with her mami and hamster, and Evelyn with her mami, papi, and cat. But not after today—not after Evelyn moves away. Until then, the girls play amid the moving boxes until it's time to say goodbye, making promises to keep in touch, because they know that their friendship will always be special. The tenderness of Meg Medina's beautifully written story about friendship and change is balanced by Sonia Sánchez's colorful and vibrant depictions of the girls' urban neighborhood.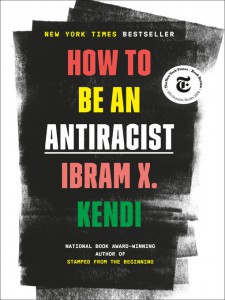 How To Be An Antiracist by Ibram X. Kendi
In How to Be an Antiracist, Kendi takes readers through a widening circle of antiracist ideas—from the most basic concepts to visionary possibilities—that will help readers see all forms of racism clearly, understand their poisonous consequences, and work to oppose them in our systems and in ourselves. Kendi weaves an electrifying combination of ethics, history, law, and science with his own personal story of awakening to antiracism. This is an essential work for anyone who wants to go beyond the awareness of racism to the next step: contributing to the formation of a just and equitable society.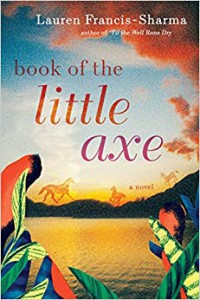 Book of the Little Axe by Lauren Francis-Sharma
Ambitious and masterfully-wrought, Lauren Francis-Sharma's Book of the Little Axe is an incredible journey, spanning decades and oceans from Trinidad to the American West during the tumultuous days of warring colonial powers and westward expansion.
In 1796 Trinidad, young Rosa Rendón quietly but purposefully rebels against the life others expect her to lead. Bright, competitive, and opinionated, Rosa sees no reason she should learn to cook and keep house, for it is obvious her talents lie in running the farm she, alone, views as her birthright. But when her homeland changes from Spanish to British rule, it becomes increasingly unclear whether its free black property owners―Rosa's family among them―will be allowed to keep their assets, their land, and ultimately, their freedom.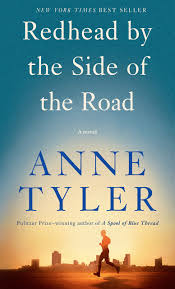 Redhead by the Side of the Road by Anne Tyler
INSTANT NEW YORK TIMES BEST SELLER
LONGLISTED FOR THE BOOKER PRIZE
From the beloved Anne Tyler, a sparkling new novel about misperception, second chances, and the sometimes elusive power of human connection.
Micah Mortimer is a creature of habit. A self-employed tech expert, superintendent of his Baltimore apartment building, cautious to a fault behind the steering wheel, he seems content leading a steady, circumscribed life. But one day his routines are blown apart when his woman friend (he refuses to call anyone in her late thirties a "girlfriend") tells him she's facing eviction, and a teenager shows up at Micah's door claiming to be his son. These surprises, and the ways they throw Micah's meticulously organized life off-kilter, risk changing him forever. An intimate look into the heart and mind of a man who finds those around him just out of reach, and a funny, joyful, deeply compassionate story about seeing the world through new eyes, Redhead by the Side of the Road is a triumph, filled with Anne Tyler's signature wit and gimlet-eyed observation.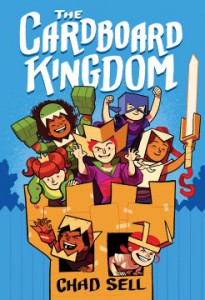 The Cardboard Kingdom by Chad Sell
Welcome to a neighborhood of kids who transform ordinary boxes into colorful costumes, and their ordinary block into cardboard kingdom. This is the summer when sixteen kids encounter knights and rogues, robots and monsters–and their own inner demons–on one last quest before school starts again.
In the Cardboard Kingdom, you can be anything you want to be–imagine that!
The Cardboard Kingdom affirms the power of imagination and play during the most important years of adolescent identity-searching and emotional growth.
NAMED ONE OF THE BEST BOOKS OF THE YEAR BY KIRKUS REVIEWS * THE NEW YORK PUBLIC LIBRARY * SCHOOL LIBRARY JOURNAL * A TEXAS BLUEBONNET 2019-20 MASTER LIST SELECTION
-30-
Hartford Public Library received a $211,194 grant from The Institute of Museum and Library Services to fund a new digital literacy training program.
"This was a very competitive process, and our success in securing federal grants is a testament to the reputation, proven results, grant writing skills and experience of our This American Place staff, under the leadership of Homa Naficy," said Bridget Quinn-Carey, Hartford Public Library's president and CEO.
The funded projects were selected from 1,701 applications. The grants will support only 68 museum and library service projects that will take place over the next two years.
The funding will enable HPL to provide critical digital literacy skills training for Hartford residents.
In Hartford, a city with a poverty rate of 31%, the Digital Divide continues to be a pervasive issue and contributes to the persistent opportunity gap facing large segments of our community. The share of Hartford households with Internet access is 57.7% and at least 20,000 households are without Internet access.
"Unsurprisingly, those areas with the least connectivity are also the most economically disadvantaged," Quinn-Carey said.
In addition, the pandemic has exposed the fact that U.S. industries are lacking in employing adequate numbers of skilled workers able to respond to the high demand for services and goods related to keeping healthcare workers, patients and the general public, healthy and secure. HPL's training program will join the effort to create and advance programs that expand economic opportunities for workers and their families while boosting local businesses' capacity.
The training will utilize a flexible Blended Learning approach, combining online educational coursework with remote live daily tutoring, including weekends and evenings. "We believe, individualized attention provides our learners not only with academic and technical support, but more importantly, it offers ongoing encouragement during these difficult times," said Homa Naficy, executive director of The American Place.
This project will deliver integrated digital and industry-certificate trainings. It will target low income adults enrolled/enrolling in a high school diploma or certificate training program. It will prioritize those individuals residing in Hartford's federally designated Promise Zone, which encompasses one of the highest rates of poverty and digital exclusion in the region and nation.
The online coursework provides lessons in computer basic literacies and productivity skills as well as industry certificate trainings. The coursework may be completed at the Library or any place with Internet access. Once enrolled, progress is monitored by staff from The American Place. Students will be contacted regularly to make sure they are on track to finish the program in a timely manner.
"Digital literacy is more than just an educational concern. The pervasiveness of the digital divide is a social justice issue, preventing the vulnerable in our communities from improving their lives and providing for their families. The fallout from this problem is wide-reaching. This program will allow HPL to address the problem directly. By helping to increase people's skills, we hope to make a large impact on the quality of life in all of Hartford," Quinn-Carey said.
-30-