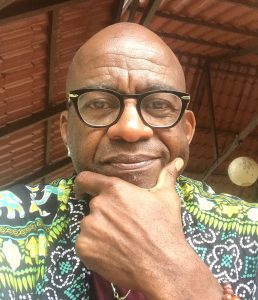 "Do you know any good yoga jokes?" Mike Riley said.
No, can't say I do. Do you?, his interviewer responded.
"What is the pirate's favorite yoga position? The plank pose," he said and chuckled.
Riley says he's normally quite serious during his yoga sessions. The laugh comes after class. He wants to guide people within their own bodies towards a place of calm, a task he has devoted his life to over the past decade while teaching throughout the Greater Hartford area, including at Hartford Public Library.
Riley will be part of HPL's Wellness Wednesday series, airing on Facebook.
Breathing is the most important part of yoga practice – it's called pranayama, or controlling the breath. "When you laugh it is a way of controlling breath unconsciously," he said.
For a long time in his life, Riley was angry. He felt unsettled. It impacted him as a father and as a husband. "I couldn't sit. I couldn't be quiet. I reacted to every thought I had in my head," he said.
Ten years ago Riley saw an advertisement for a yoga class at a local church on Thursday evening at 6 pm. He decided to give it a try. "I don't know how the seed got planted but I wanted to do it," he said.
After three classes, Riley began to pay attention to what was happening inside. He was unearthing things from his past, wrestling with his dissatisfaction and sadness. He came out on the other side with insight and more peace than before.
"I went deeper and deeper. I became a teacher," he said.
Thanks to constant yoga practice, Riley feels he is better able to manage his life and hopes that he can share his tools and techniques with others.
"Yoga has allowed me the space to let go of that which doesn't make sense to me, which can be challenging," Riley said.
Riley believes that yoga is an answer to the anxiousness and anxiety that pervades the modern world. "The answers are there and the need is there," he said. "What yoga does is connect your mind, body and breath … the minute you are focused on your breathing, you really don't do anything else. The mind really just begins to calm."
The stakes are more than just a vague sense of peace. Riley believes that yoga helps us become a witness to our own lives, and leads us to our truest self.
"We are more than our names. We are more than the color of our skins. We more than who we ever believed ourselves to be," Riley said.
– By Steven Scarpa, Manager, Communications and Public Relations
-30-
Hartford Public Library is launching two book clubs wrestling with the topics of anti-racism and social justice.
The first, called The Awakening Book Club, will start on August 13 at 6 pm. The club is targeted for young adults ages 13 to 25. Click here to sign up: bit.ly/TheAwakeningBookClub
"Connecting around a good book is one of the most meaningful ways to learn more about ourselves, each other and the world we live in. We want to inspire, engage and empower our young people to be thought leaders and decision makers. The future of our society is in their hands – and sharing ideas from great works of literature and non-fiction paves the way for them to form their own ideas about the world and form relationships with others that will last a lifetime," said Bridget Quinn-Carey, HPL's president and CEO.
The club hopes to create a safe and open space for young adults to connect around a good book. The biweekly discussion series will center on a book of the month that prompts much needed conversation about past and present racial injustices. Not an avid reader? Come and hear what others have to say about this important dialogue.
Liz Castle, programming manager for the library, said that the book club was a result of a meeting with young local organizers in early June. "We basically asked them how we can support them as a library. They told us the most useful thing we could do is to help them connect with other young people, reading books, discussing books and how literature can help inform how they move forward with their social justice work," Castle said.
Club meeting dates and the books are below: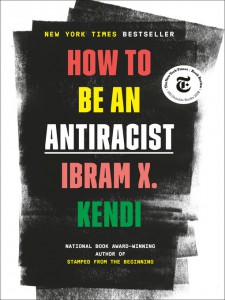 August: How to be an Antiracist by Ibram X. Kendi
Session 1:  August 13
Session 2: August 27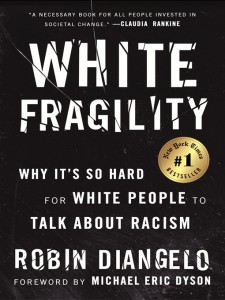 September: White Fragility by Robin DiAngelo
Session 1: September 10th
Session 2: September 24th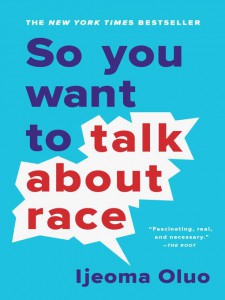 October: So you Want to Talk About Race by Ijeoma Olou
Session 1: October 15th
Session 2: October 29th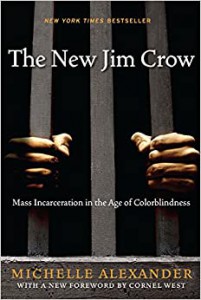 November: The New Jim Crow : Mass Incarceration in the Age of Colorblindness by Michelle Alexander
Session 1: November 12th
Session 2: November 27th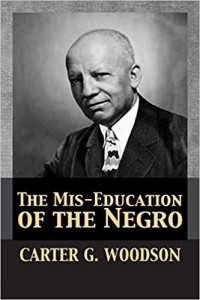 December: The Mis-Education of the Negro by Carter Woodson
Session 1: December 10th
Session 2: December 13th

Hartford Public Library has also been named a chapter of Noname's Book Club, an online/irl community dedicated to uplifting the voices of people of color. They do this by highlighting two books each month written by authors of color. From cult classics to the words of emergent authors, Noname's Book Club highlights books that speak on human conditions in critical and original ways. In addition to social media presence have free virtual meet ups to discuss the monthly picks in a safe and supportive environment. The book club was founded by the rapper Noname in 2019 and has partnerships with libraries in Oakland, Chicago, New York, and Los Angeles.
Click here for more information on Noname's Book Club.
Noname's August Picks: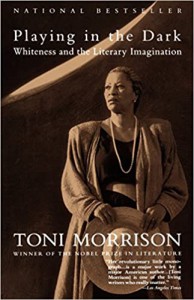 Playing in the Dark: Whiteness and the Literary Imagination, by Toni Morrison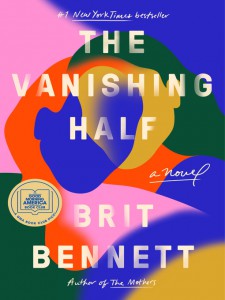 The Vanishing Half, by Brit Bennett
For a list of all of Noname's book picks, click here.
– 30-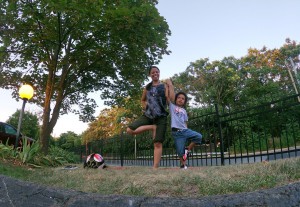 The combination of the stress of being a social worker and the challenge of being a single mom forced Krystal Failey to come up with new ideas for relief.
"I like to say that yoga kind of found me," she said.
Failey started practicing yoga after college about a decade ago but became more serious this past year.  This past March Failey began a new business, Klear Greatness, named for herself (Klear as in Krystal) and her four-year-old son Grayson, who she calls Grayson the Great. She will also offer free virtual classes on Facebook as part of HPL's Wellness Wednesdays series.
"People don't have the coping mechanisms needed to get through stressful situations," Failey said.
Failey said there is a stereotype in the Black community surrounding yoga practice, that it is only for white people. There can be barriers to entry. Classes can be expensive and often times there is no way for a parent to do yoga with their child, something of tremendous importance to her. Through her practice, she hopes to address these issues, offering positive affirmations and a place for everyone to find centeredness in their own lives.
"I like to tailor my services to my own people," she said. "I want people of color to realize that they can do this no matter what."
Our minds are cluttered. We don't breathe properly. We carry our stresses and our troubles where ever we go. Under ideal circumstances, there is a lot of pressure, Failey believes. Virtually everyone would agree that today is far from ideal.
"People in general, we over exert ourselves," she said. "You want to make sure that the mind clears. A huge component of what I am practicing is clearing the mind. We let go of what is not serving us," she said.
Yoga strengthens the body, but in Failey's estimation, the greatest clarity can be found by releasing stress. "It makes for a better sense of self," Failey said.
For more information about Klear Greatness, visit www.kleargreatness.com.
By Steven Scarpa, manager of communications and media relations
-30-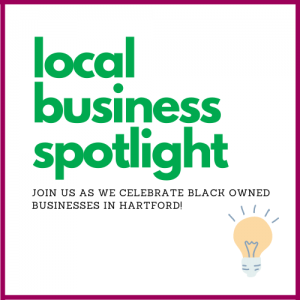 Hartford Public Library celebrates Black owned businesses in Hartford with a new video series called Local Business Spotlight, released each Friday on Facebook starting July 31. Business owners will talk about their establishments and the role Black literature has played in their journey. A wide range of businesses are represented from bookstores and restaurants to career consulting and therapy.
Here are links to the businesses joining us in the series and the books that helped them on their way.
Stanley Williams
The mission of Supreme Being Inc. is to elevate the quality of life for disadvantaged families
and to refine the minds of disadvantaged youth.
Inspiration: The Autobiography of Malcolm X as told to Alex Haley
Khmani Harrison
The Key Bookstore is a fully interactive bookstore experience. The Key engages readers through curation, activities, subscriptions, events, events, and community engagement. The focus is to lead readers on a path to self-mastery and the cultivation of connection on and offline with respect to the mission, "Divine liberation one page at a time". This store is curated on for the pillars Afrocentricity, Spirituality Environmentalism, and Entrepreneurship.
Career Consulting with Christina
Christina Edwards, HR Career Consultant
Inspiration: Relationship Goals by Michael Todd
Kay Dropping Gems specializes in intuitive guidance on self, relationships, love, careers, dream interpretations, aura cleanses, healing rituals, all channeled thru spirit
Quote: "If you are always trying to be normal you will never know how amazing you can be" – Maya Angelou
Davina Ismail
We are a veteran and family-owned company based in New Britain, Connecticut. We sell premium organic, direct trade coffee and flavorful blends of loose leaf tea.
Inspirations:
Onyeka Obiocha
Breakfast Lunch & Dinner (BL&D) creates collective culture by building unique, diverse ventures that bring people together authentically. We leverage the assets of the Connecticut region to bring the best of the community forward to offer to our in-house ventures and the projects of our partners and clients. Hartford, like many cities, is receiving revived interest from Government investors that will change the city. Breakfast Lunch & Dinner positions our work to make sure everyone is a part of that revival.
Inspiration:
Poem "Secrets"- Black experiences in America
Black Marxism by Cedric Robinson
Rita and Marc
B&B Wings and Things is a husband and wife team running the kitchen together with a lot of love.
Owners Marc and Rita share a love for creative food, their award-winning sauces and making people laugh.
Black Privilege: Opportunity Comes to Those Who Create It by Charlamagne tha God
Thieves' Paradise by Eric Jerome Dickey
Monique West
Awaken The Power Therapy offers coaching & mental health therapy services. We offer coaching for parents on how to effectively parent amidst the "chaos" and balance career goals, parenting and personal growth. We also offer action coaching for people who experience procrastination and indecisiveness in the areas of relationship, career, vocation and personal growth. With couples we work to have each person communicate more effectively, create emotional intimacy and meaningful bonding.
Inspiration: The Gentleman In The Grey Suit: A Black Man's Tale To Save Black Boys In America by Eldorado Anderson
-30-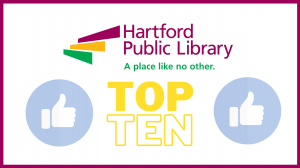 What have people been reading around Hartford this past month? Here's HPL's top ten e-books checked out this past month:
1. How to Be an Antiracist by Ibram X. Kendi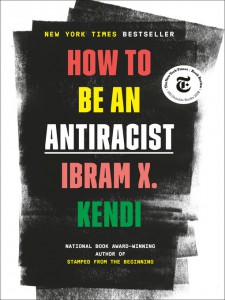 From the National Book Award–winning author of Stamped from the Beginning comes a groundbreaking approach to understanding and uprooting racism and inequality in our society—and in ourselves.
Named one of the best books of the year by  The New York Times Book Review • Time • NPR • The Washington Post • Shelf Awareness • Library Journal • Publishers Weekly
2. The Vanishing Half by Brit Bennett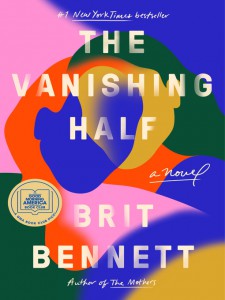 From The New York Times-bestselling author of The Mothers, a stunning new novel about twin sisters, inseparable as children, who ultimately choose to live in two very different worlds, one black and one white. "A story of absolute, universal timelessness …For any era, it's an accomplished, affecting novel. For this moment, it's piercing, subtly wending its way toward questions about who we are and who we want to be…." – Entertainment Weekly
3. The Glass Hotel by Emily St. John Mandel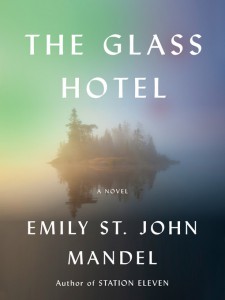 From the award-winning author of Station Eleven, an exhilarating novel set at the glittering intersection of two seemingly disparate events-a massive Ponzi scheme collapse and the mysterious disappearance of a woman from a ship at sea.
A New York Times, Entertainment Weekly, Newsweek, Bustle, Buzzfeed, GoodReads, Houston Chronicle, Writer's Digest, Medium, Washington Independent Review of Books, The Millions, Boston Globe, USA Today, and Women's Day Most Anticipated Book of 2020
4. White Fragility: Why It Is So Hard for White People to Talk About Racism by Robin DiAngelo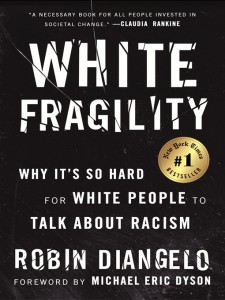 The New York Times best-selling book exploring the counterproductive reactions white people have when their assumptions about race are challenged, and how these reactions maintain racial inequality.
5. The Nickel Boys by Colson Whitehead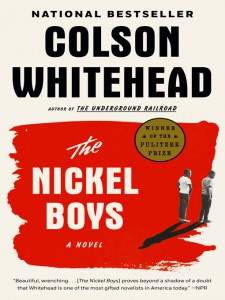 Winner of the 2020 Pulitzer Prize
In this bravura follow-up to the Pulitzer Prize and National Book Award-winning #1 New York Times bestseller The Underground Railroad, Colson Whitehead brilliantly dramatizes another strand of American history through the story of two boys sentenced to a hellish reform school in Jim Crow-era Florida.
6. The Dutch House by Ann Patchett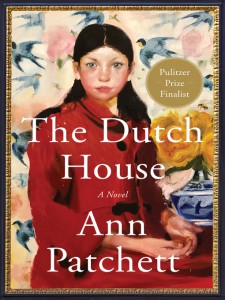 Finalist for the Pulitzer Prize
Ann Patchett, the #1 New York Times bestselling author of Commonwealth, delivers her most powerful novel to date: a richly moving story that explores the indelible bond between two siblings, the house of their childhood, and a past that will not let them go. The Dutch House is the story of a paradise lost, a tour de force that digs deeply into questions of inheritance, love and forgiveness, of how we want to see ourselves and of who we really are.
Named one of the Best Books of the Year by NPR, The Washington Post; O: The Oprah Magazine, Real Simple, Good Housekeeping, Vogue, Refinery29, and Buzzfeed.
7. Where the Crawdads Sing by Delia Owens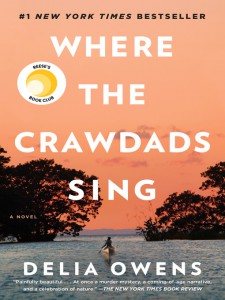 Where the Crawdads Sing is at once an exquisite ode to the natural world, a heartbreaking coming-of-age story, and a surprising tale of possible murder. Owens reminds us that we are forever shaped by the children we once were, and that we are all subject to the beautiful and violent secrets that nature keeps.
8. White Rage: The Unspoken Truth of Our Racial Divide by Carol Anderson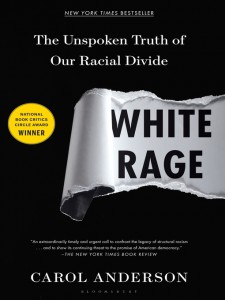 From the Civil War to our combustible present, acclaimed historian Carol Anderson reframes our continuing conversation about race, chronicling the powerful forces opposed to black progress in America.
9. So You Want To Talk About Race by Ijeoma Oluo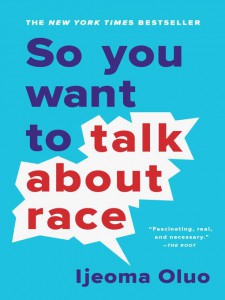 In So You Want to Talk About Race, Ijeoma Oluo guides readers of all races through subjects ranging from intersectionality and affirmative action to "model minorities" in an attempt to make the seemingly impossible possible: honest conversations about race and racism, and how they infect almost every aspect of American life.
10. Why I Am No Longer Talking To White People About Race by Reni Eddo-Lodge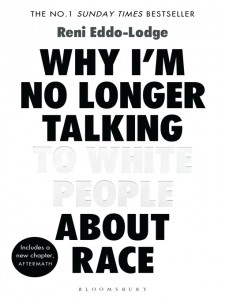 Exploring everything from eradicated black history to the inextricable link between class and race, Why I'm No Longer Talking to White People About Race is the essential handbook for anyone who wants to understand race relations in Britain today.
__
Some great titles just fell outside of this month's top ten:
-30-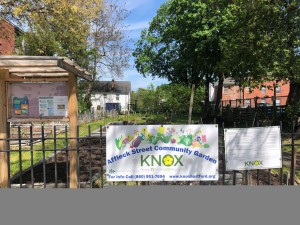 The area around the Park Library is fiercely and unapologetically urban. People are close together. The buildings are on top of each other. It's makes for a vibrant neighborhood but sometimes people can long for a patch of green.
That's where the KNOX Affleck Street Community Garden, located at 158 Affleck Street, comes in.
Thanks to a City of Hartford "Love Your Block" community grant, Graciela Rivera, manager of the Park Library, will be holding a series of three events in August in the garden. Specific dates for the programs have yet to be set. "The idea is to raise pride in our city and beautify our neighborhoods," she said.
Rivera plans to work alongside members of the community to rehabilitate some of the garden beds, plant new flowers, and put down a pollinator garden. The women's empowerment group that meets at Park will paint new benches. To help increase access, raised beds will be installed as well, giving senior citizens and people with physical challenges the opportunity to enjoy the garden.
In addition, Rivera will use grant funds to purchase garbage pickers for the garden that can then be checked out to anyone interesting in doing a neighborhood cleanup project.
"The garden is now in decent shape. I feel like once we complete a few of these projects it will look so much better," Rivera said.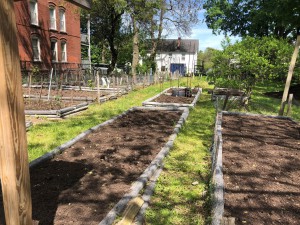 Garden beds are available for check out through HPL's Library of Things. Right now, all 38 beds at the garden have been taken for the season.
The Park Library has had a long relationship with KNOX, a local non-profit organization that uses horticulture to improve the city. KNOX owns the garden itself and the Park Library runs its day-to-day affairs.
Rivera said that you see families from the neighborhood out together, a mix of generations in the garden. It's a diverse community as well. The gardeners on Affleck Street come from places like Guatemala, Honduras, Puerto Rico, and the Dominican Republic. For many of the families, passing along their harvesting traditions to their children is almost as important as the food they grow.
"The Mexican papalo is an herb used in many dishes. You can see papalo growing throughout the garden," Rivera said.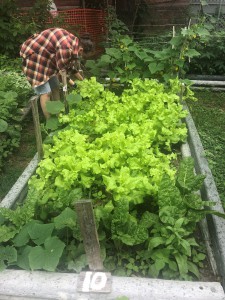 Community gardens across the city provide more than just nourishment. They are small oasis of health, peace, and for many people, inspiration. To see your neighbors excited to grow vegetables for their families, is very inspiring," Rivera said.
Rivera plans to have the Affleck Garden be a focal point of Park Library programming in the future. "This is something that hopefully going to have a long-term impact," she said.
– By Steve Scarpa, manager of communications and public relations
-30-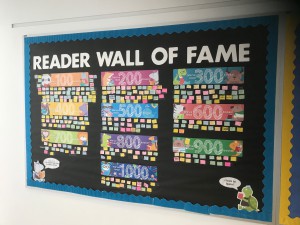 A child's exposure to books up to the age of 5 is crucial to determining their future success in school. With parts of Hartford having the potential to be classified as a "book desert," meaning there is no easy access to reading materials, some children are behind before they even get started.
One of the remedies is a simple one. Reading to a child is one of the best ways to develop vocabulary and instill in them a life-long love of reading & learning.
HPL's children's department is taking active steps to help encourage a steady reading practice by participating in the "1,000 Books Before Kindergarten" program. The program offers prizes and incentives for every 100 books a child reads.
"1000 Books before Kindergarten" is one part of HPLs Leap into Learning Program that serves children birth to 5, their parents and adult caregivers, child care providers and youth & family community organizations with services and resources to ensure all children in Hartford are prepared to enter Kindergarten ready to learn.
"It shows them that reading is important, that it is something they can do regularly," said Denise Martens, HPL's manager of youth and family services.
While everything about the program is rooted in a sense of fun, the stakes are high.
"Having children read or have read to them a thousand books will increase their chance for success when they get to kindergarten," Martens said.
She knows that 1,000 books sounds daunting to the average parent – who has the time to read that much or has access to that number of books?
"I break it down for parents in small pieces," Martens said. "Two books a day, for five days a week, take the weekends off. That's 250 books in a year right there."
Reading the same book over and over counts as well, Martens said. The repetition helps a child with letter recognition, tracking the lines of text, and learning about the parts of the book, all important pre-literacy skills.
Quite a few children have made the 1,000 book goal and it's always cause for joy. HPL's librarians throw a huge party for the kids who've finished to recognize their achievement.
"It's a true celebration," Martens said.
– by Steven Scarpa, manager of communications and public relations
-30-

Hartford Public Library will roll out its next level of service – welcoming customers back to the Downtown Library – starting Monday, July 13.
"We look forward to welcoming the community back to the Downtown Library and extending pick up services at the branches. We will continue to assess service restoration and make adjustments as we go to provide the best service while responsibly observing health and safety protocols," Quinn-Carey said.
The Downtown Library will be open beginning July 13 Monday through Thursday 9 am to 6 pm, and Friday from 9 am to 5 pm. Saturday service will be added from 9 am to 5 pm beginning August 3.
Services that will be available:
One hour computer sessions
Fax, copy and scanning
Passports, notary public services and municipal IDs by appointment.
The American Place and the Hartford History Center by appointment.
All customers will be required to wear masks while in the building and must observe other safety protocols including social distancing and limited occupancy in elevators.
All customers will enter from Main Street and exit on Arch Street.
Only the first floor will be accessible for use.
Contact-free pick up service for materials will continue, along with the extensive offerings of online services and virtual programming.
More details, including how to request appointments, will be available on our website soon.
-30-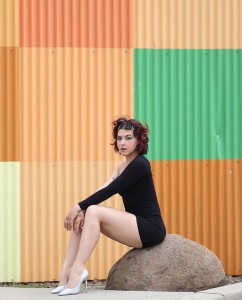 It's hard for Rosanna Karabetsos to talk about the Hartford artistic community without getting emotional.
Karabetsos grew up in Hartford and attended the Greater Hartford Academy of the Arts. It was a disappointment when she couldn't go away to school to major in dance, so much so she gave it up for a while. "I was distanced from myself and distanced from my art," said Karabetsos, who recently offered a virtual hip-hop dance class for HPL.
The message she'd internalized as a student was clear – in order to make her art, she had to leave Hartford and now she was not going to be able to. "I thought 'I have to go somewhere' instead of being taught to look to my left and to my right and see who shares my goals, who has my dreams, who is in my lane," Karabetsos said.
That is what she did, throwing herself into the Hartford dance scene. What she found, yet again, was her home. She choreographed West Hartford's Nightfall. She danced in Nutcracker Sweet and Spicy. She was part of the Hartford Dance Collective. "So many beautiful things have happen in this city because artists have stayed in Hartford," she said.
Karabetsos was able to find a group of artists that allowed her to take risks, to grow, and to find the kind of dancer, choreographer and performance artist she wanted to be.
"I found my community. I found that everything I needed was there for me," she said. "What's special about Hartford and what I miss so much about Hartford is the family aspect … Everything you do makes you so tight knit … You have all this vibrancy and energy."
The community led her to dancing with the Connecticut Sun, the WNBA franchise located at the Mohegan Sun Arena, where the performing work led to opportunities behind the scenes, learning how a large entertainment venue is run.
Karabetsos is now located in Brooklyn, where she dances for the NBA's Brooklyn Nets, but she said she owes it all to Hartford. "Hartford was like my dollhouse. It was the perfect place for me to do everything I needed to do," she said.
By Steven Scarpa, manager of communications and public relations
-30-