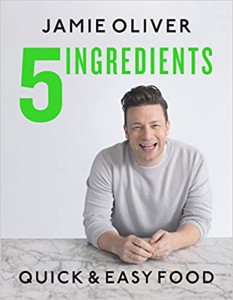 Quick Asian Fishcakes
From 5 Ingredients: Quick & Easy Food
by Jaime Oliver
TX714 .O4458 2019
By Julie Styles
Some of the cookbooks I read are purely for inspiration. The recipes are so ambitious, so involved, and so gorgeous-looking I am far too intimidated to actually attempt them. Luckily for me, my husband loves a challenge. Over the years he has made me (and our friends, back when we could have friends over) some incredible dinners based on recipes from some of the most famous and revered restaurants in the world. Even something simple, like French Onion Soup, can be an event, when you first make homemade beef stock and simmer the onions for five hours. Or the shrimp and grits recipe that called for homemade barbeque sauce, which called for homemade Worchester sauce. I took on one myself for a New Year's Eve dinner party: Frank Stitt's Aurora Tart, which in addition to a "basic" tart shell, included a caramel custard, chocolate glaze, and praline cream—all homemade—and took almost a week to make.
So when a cookbook like this comes along, I am grateful, and a little excited. While I have mastered the 3-ingredient staples (BLT, PB&J), 5-ingredient recipes are just a bit more involved—enough that I can claim to have made a proper dinner—while still being wonderfully easy. This book is full of such recipes. We've made many of them, and this week it was the Quick Asian Fishcakes.
The five ingredients are common enough to be easy to find but a bit more interesting than what most of us have in our pantry: salmon, ginger, cilantro, lemongrass, and something I had never had before: chili jam. It's exactly what it sounds like; jam made with chili peppers. It's a bit spicy, and a bit sweet, with a jelly-like texture. We found a jar at Whole Foods, but I'm sure any well-stocked grocery store will have it.
Lemongrass can be tricky if you're not familiar with it. The first step of the recipe is to "whack the lemongrass against your work surface" – this is how all of Mr. Oliver's recipes are written – and remove the tough outer layer. The inner layers of my stalk were a bit tough too, but to be honest I wasn't sure if that was because it was dry and old or because I hadn't peeled enough layers off. The next step was to peel the ginger. I've worked with ginger a lot, and usually I just cut the outside off with a knife, losing the skin but also a bit of the ginger itself. This time, though, I went with a method I see on all the cooking shows. I scraped the skin, which is actually quite soft and thin, off with the edge of spoon. I was always a bit skeptical of this method, but it worked like a dream. What do you know…the professional cooks on TV actually do know more than me!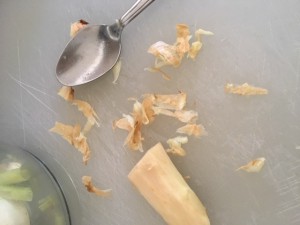 The recipe said to "very finely chop" the ginger with the lemongrass and cilantro. In my brain, this translates to "get the food processor out." I'm not a fan of chopping, let alone doing it finely. The food processor has saved me loads of time and patience many times over, and I love it dearly. And while I don't know if it is lemongrass in general or my lemongrass in particular, but my beloved machine did not do as fine a job as I would have liked. The bits of lemongrass were more like chards – a bit long and a bit fibrous. And they didn't soften much when they were cooked, as I had hoped. This was definitely a case where I should have put in the work and done what I was told. Chopping by hand would have ensured smaller, diced bits instead of the woody strips I ended up with.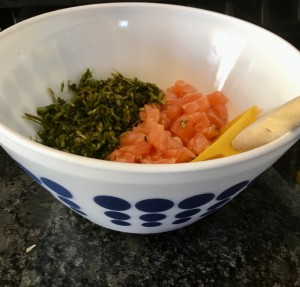 The vegetables get mixed with some fresh salmon, half of which is chopped up finely (this time the food processor did a great job) and half in to larger chunks. This helps bind the cakes together without needed bread or eggs, while still having some nice salmon-y bits still intact. Form it into patties, and fry them up with a bit of oil in a hot pan. For the last step, Jaime says to "spoon the chili jam over the fishcakes, add a splash of water to the pan…and jiggle to coat." This seemed weird and overly complicated to me, so instead I mixed the chili jam with a touch of water and brushed it all over the tops of the fishcakes before serving. I think I got the right idea.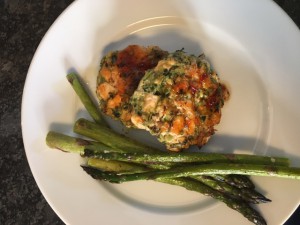 Despite the texture of the lemongrass, the cakes came out great. Flavorful, a bit zingy with the ginger and the spicy, jammy glaze, and very tender. We served it alongside some roasted asparagus. Beware: The Barefoot Contessa roasts hers for 25 minutes; ours was perfect after about 15. And no offense to the Garden State, but if your vegetables come from New Jersey, be sure to wash them—a lot. They can be very sandy.
All in all, a great weeknight dinner. And if you're feeling like pushing the envelope a little, there's always this other salmon recipe. You'll just a need a few more ingredients.
– 30 –