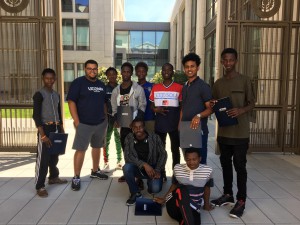 On June 20, we recognize World Refugee Day. It's a day to remember the hardships refugees face and their resilience and strength in their pursuit of a better life.
According to information released by the United Nations, every minute 20 people flee their homes because of war, persecution or terror.
The American Place at HPL helps refugees and immigrants find a welcoming place in America.
__
There were days back at home in Congo that Jean Kabeya and his family just wouldn't eat.
"We were going to eat tomorrow," said Kabeya, an 18-year-old Bulkeley High School 2020 graduate.
Jobs were scarce, but living expenses didn't go away. Kabeya's family applied to a government program in Congo that would help them resettle to a place where there were more opportunities. Kabeya and his family came to Hartford three years ago.
"We didn't have a choice where we wanted to go. We just wanted to have a good life, you know what I mean?" he said, in a recent phone interview. "I am really proud to be here."
Every day people like Kabeya arrive in Hartford, looking to start anew. "America is the land of opportunity," said Sirak Hadgu, a Bulkeley High School 2020 graduate from Eritrea.
Hartford Public Library's The American Place strives to help.
When Kabeya first arrived in the United States, he was lost. He spoke four languages – none of them English. He sat in the back of his classroom, everything a blur. Jean was confused and alone, a common experience for people new to the United States who have not yet learned the language. A sympathetic guidance counselor pointed him to the library as a place where he might get help with English.
"It was really very hard in the beginning. It was one of the toughest things I've ever went through," he said.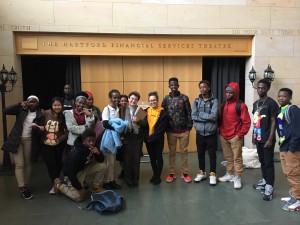 Kabeya and Hadgu were part of HPL's "Linking Learning, Belonging, and Community" program, which provides high school students who are immigrants and refugees the chance to work on their English language skills.
"What attracts them to the library is that we are creating a safe and very welcoming space for them with other students who are going through the same thing that they are," said Michele Maccarone Brophy, an instructional specialist at Hartford Public Library.
The "English Club" is comprised of 30 students, predominantly hailing from Latin American countries. They meet on Tuesdays and Thursdays after school for direct English language instruction. The more advanced group, called "Next Steps," meets on Mondays and Wednesdays for homework assistance and college and career preparation. Like Kabeya, these 20 students are primarily refugees from African nations.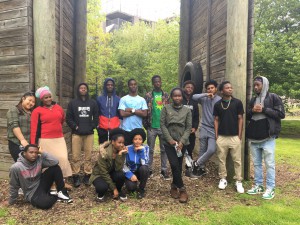 Over the past year, students in the program had the opportunity to tour local colleges and meet with recent graduates about the fields of medicine, business, law, psychology, and education. They learned about the college admissions and financial aid processes and participated in youth leadership conferences.
"I have worked with high school and college students for over 30 years.  I can honestly say that this group of students is very special!  I admire their persistence, motivation, and desire to learn and achieve. It has been an honor and a privilege to part of their journey to success," Brophy said.
In the beginning, Kabeya would serve as a translator for his fellow students. One student spoke French, the other Swahili and Kabeya would be a liaison between the two. He and his fellow classmates began bonding. Learning English was a daunting task, but they had each other to fall back on for support.
"I forced myself to practice," Kabeya said. He checked out movies in English to get a grasp on how the language worked. Even when he could read very little, with the help of HPL staff's encouragement, he kept at it. "I said, 'I don't know how I am going to try, but I am going to do my best," he said.
Participation in the program is voluntary. Schools might suggest someone to attend, but the decision to be there comes down to what the individual student and their families need.
Georges Annan-Kingsley, a parent liaison in the program who came from Ivory Coast seven years ago, feels an important part of his role is to create a bond with the students' parents. He helps them negotiate what can be daunting amount of bureaucracy. "I facilitate talks with (parents) about what we are doing at the library and what their children are doing," said Annan-Kingsley, who is also an artist.
"Parents will have confidence and trust in him because they know he has gone through what they've gone through," Brophy said.
Kabeya, like the other students in the program, has big plans for his future. His English is now excellent and he has a support network in place. Thanks to his own hard work and the help of the American Place team, Kabeya plans to go to Manchester Community College in the fall to study computer science. "I will make it. I know who I am and I know where I am from. I have had hard things in the past … I don't think about the negative stuff. That is not me," he said.
By Steve Scarpa, manager of communications and public relations
-30-