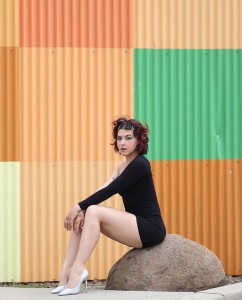 It's hard for Rosanna Karabetsos to talk about the Hartford artistic community without getting emotional.
Karabetsos grew up in Hartford and attended the Greater Hartford Academy of the Arts. It was a disappointment when she couldn't go away to school to major in dance, so much so she gave it up for a while. "I was distanced from myself and distanced from my art," said Karabetsos, who recently offered a virtual hip-hop dance class for HPL.
The message she'd internalized as a student was clear – in order to make her art, she had to leave Hartford and now she was not going to be able to. "I thought 'I have to go somewhere' instead of being taught to look to my left and to my right and see who shares my goals, who has my dreams, who is in my lane," Karabetsos said.
That is what she did, throwing herself into the Hartford dance scene. What she found, yet again, was her home. She choreographed West Hartford's Nightfall. She danced in Nutcracker Sweet and Spicy. She was part of the Hartford Dance Collective. "So many beautiful things have happen in this city because artists have stayed in Hartford," she said.
Karabetsos was able to find a group of artists that allowed her to take risks, to grow, and to find the kind of dancer, choreographer and performance artist she wanted to be.
"I found my community. I found that everything I needed was there for me," she said. "What's special about Hartford and what I miss so much about Hartford is the family aspect … Everything you do makes you so tight knit … You have all this vibrancy and energy."
The community led her to dancing with the Connecticut Sun, the WNBA franchise located at the Mohegan Sun Arena, where the performing work led to opportunities behind the scenes, learning how a large entertainment venue is run.
Karabetsos is now located in Brooklyn, where she dances for the NBA's Brooklyn Nets, but she said she owes it all to Hartford. "Hartford was like my dollhouse. It was the perfect place for me to do everything I needed to do," she said.
By Steven Scarpa, manager of communications and public relations
-30-