HPL staff members Michelle McFarland and Julie Carroll set up shop with the Library on Wheels Friday morning on Gillett Street in conjunction with Foodshare's food distribution efforts.
As people received colorful bags of fruits and vegetables, Carroll and McFarland offered books, voting information, and overall good cheer on October 9th's warm Fall morning. "At an event like this my goal is to show how HPL is still providing service throughout the city even the buildings have limited access," McFarland said.
There is nothing passive about McFarland's efforts. As people walked past a table covered in books, McFarland asked what they liked, teasing out specifics with a question or two ("What kind of history do you like? History is huge."). If it wasn't on the table, she bounced back in the truck and looked to see what was in there. More often than not, she found just what the person was interested in.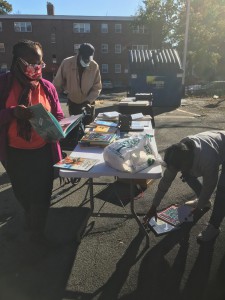 McFarland gave bags of kids' books to grandparents looking for something for their grandkids. She suggested to people a book on the Harlem Renaissance and Barack Obama's book "The Audacity of Hope." She passed on Spanish language books. The books all went fairly quickly. "You can take whatever you like," she said.
While McFarland distributed books Julie Carroll, a longtime HPL library assistant, began to canvas people in line. "Did you get a chance to register to vote? Would you like to register?" she said.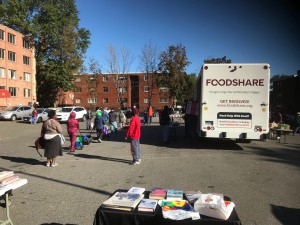 When someone said that they had signed up to vote, Carroll gave them a couple of fliers with a list of websites that told them how to exercise their right and information on who was on the ballot.
In the build up to the 2020 presidential election, Carroll has embraced the library's continued efforts at voter registration. "It's very important so people have a say in choosing their leaders. It's such an important election," Carroll said.
Carroll said that her canvassing efforts are well-received. On Friday morning, she approached about 60 people. The vast majority had already registered, Carroll said, but people pledged to pass along her fliers to their loved ones who haven't yet signed up to vote. She's handed out about 500 fliers at various events thus far. When a young woman did register to vote, McFarland and Carroll gave her a round of applause.
"This is at the very heart of the library's mission, to promote democracy and civic engagement. We want to get people involved and get them knowledgeable about what the issues are," Carroll said.
Friday's effort got to right to heart of HPL's efforts over the past several months to address prominent issues, like voter registration and the 2020 Census, and to offer people service where they need it. The coronavirus may have limited people's access to the library, but the staff continued to find innovative ways to extend service.
"People are still hurting. This has been hard," McFarland said.
Mae Drayton, a lifelong city resident, picked up some books for her grandkids. "Every time I go I pick up a book," Drayton said.
Like many people who love and believe in libraries, Drayton got her first taste as a child. It was her favorite thing to do. She remembered working her way through the "blue biographies" of famous people, like Abraham Lincoln. For Drayton, the library was a safe and happy place. "I went every morning," Drayton said.
Audrey Hewitt picked a book about William Shakespeare. She's not a fan. But after a quick chat with McFarland, she grabbed a bunch of titles she was happy with.
"I read some of the greatest books since I came to this country," said Hewitt, who was originally from Jamaica.
McFarland is out with the LOW all over the city, both at their own stops and at Foodshare events. She sees first-hand the needs the library addresses. "The library really is a trusted spot in the community," McFarland said.
By Steven Scarpa, Communications and Public Relations Manager
-30-