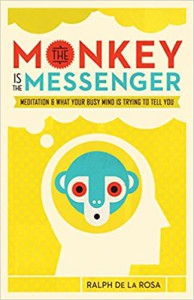 The Monkey is the Messenger : Meditation and What Your Busy Mind is Trying To Tell You
by Ralph De la Rosa
Offers a range of evidence-based, somatic, and trauma-informed insights and practices drawn from De La Rosa's study of neuroscience and psychology and his long practice of meditation and yoga, and a remedy for all those who want to meditate but suppose they can't because they think too much.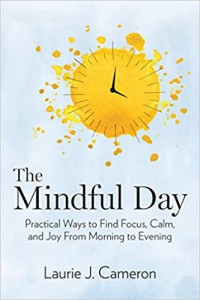 The Mindful Day : Practical Ways to Find Focus, Calm, and Joy from Morning to Evening
by Laurie Cameron
For overscheduled professionals looking to incorporate mindfulness into their daily lives, this step-by-step guide draws on contemplative traditions, modern neuroscience, and leading psychology to bring peace and focus to the home, in the workplace, and beyond. At the pinnacle of the digital age, it's hard to imagine packing one more thing into our overwhelmed lives. But new research shows that simple daily exercises can change the way our brains work, improve focus, boost productivity, lift our mood, and help us develop greater resilience. In this enriching book, noted teacher and mindfulness expert Laurie Cameron – a veteran of Google's Search Inside Yourself Leadership Institute – shows how to seamlessly integrate mindfulness practice into your life. Timeless teachings and straightforward exercises designed for busy schedules — from the morning commute to back-to-back meetings to family dinners – show how mindfulness practice can help you navigate any situation with control and clarity. Cameron's practical wisdom and concrete how-to steps will help you make the most of the present moment, creating a roadmap for inner peace – and a life of deeper purpose and joy"– Provided by publisher.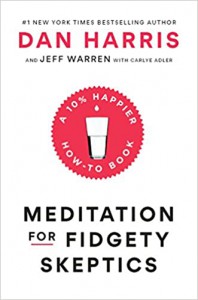 Meditation for Fidgety Skeptics : a 10% Happier How-To Book
by Dan Harris
Harris and Warren present a practical guide to meditation that debunks the myths, misconceptions, and self-deceptions that make many people reluctant to try it. They suggest a range of meditation practices that may lower your blood pressure, mitigate depression and anxiety, and literally rewire key parts of your brain.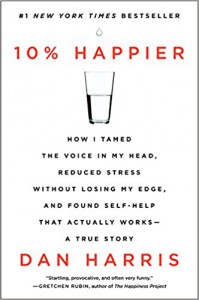 by Dan Harris
"I wrote a memoir about a fidgety, skeptical newsman who reluctantly becomes a meditator to deal with his issues – and in the process of publishing it, I occasionally, to my embarrassment, found myself failing to practice what I preach. I was kind of like a dog that soils the rug, and the universe kept shoving my face into it." In 2014, Dan Harris published his memoir 10% Happier. The book—which describes his reluctant embrace of meditation after a drug problem, an on-air freak-out, and an unplanned "spiritual" journey—became an instant bestseller and Dan, to his own surprise, became a public evangelist for mindfulness. Hoist on My Own Petard is the story of what happens to Dan Harris after the runaway success of his memoir and the lessons he had to (re)learn in the process.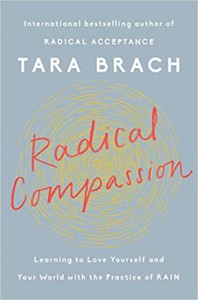 Radical Compassion : Learning to Love Yourself and Your World With the Practice of RAIN
by Tara Brach
Recognize. Allow. Investigate. Nurture. RAIN meditation is a easy-to-learn program that can help practitioners loosen the grip of difficult emotions and limiting beliefs. Brach shares reflections and practices that, over time, can help you feel feeling of unworthiness and teach you to trust your own innate strength and goodness.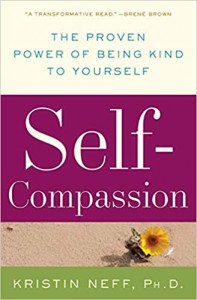 By Kristin Neff
Kristin Neff, Ph.D., says that it's time to "stop beating yourself up and leave insecurity behind." Self-Compassion: Stop Beating Yourself Up and Leave Insecurity Behind offers expert advice on how to limit self-criticism and offset its negative effects, enabling you to achieve your highest potential and a more contented, fulfilled life.More and more, psychologists are turning away from an emphasis on self-esteem and moving toward self-compassion in the treatment of their patients—and Dr. Neff's extraordinary book offers exercises and action plans for dealing with every emotionally debilitating struggle, be it parenting, weight loss, or any of the numerous trials of everyday living.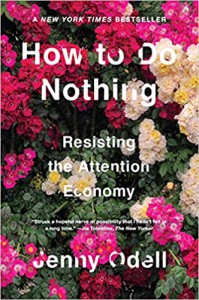 How to Do Nothing : Resisting the Attention Economy
by Jenny Odell
A galvanizing critique of the forces vying for our attention–and our personal information–that redefines what we think of as productivity, reconnects us with the environment, and reveals all that we've been too distracted to see about ourselves and our world. Nothing is harder to do these days than nothing. But in a world where our value is determined by our 24/7 data productivity … doing nothing may be our most important form of resistance. So argues artist and critic Jenny Odell, who sees our attention as the most precious–and overdrawn–resource we have. Once we can start paying a new kind of attention, she writes, we can undertake bolder forms of political action, reimagine our role in the environment, and arrive at more meaningful understandings of happiness and progress. Far from a simple anti-technology screed or back-to-nature meditation, How to Do Nothing is an action plan for thinking outside of the narratives of efficiency and techno-determinism. Provocative, timely, and utterly persuasive, this book is a four-course meal in the age of Soylent.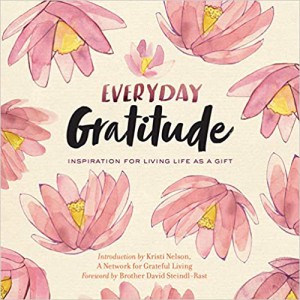 by Network for Grateful Living (COR), Nelson, Kristi (INT), Steindl-Rast, Brother David (FRW)
A Network for Grateful Living curates this collection of quotes and reflections aiming to help you discover that the roots of happiness lie in gratefulness. Inspiration from well-known minds such as Maya Angelou, Confucius, and Anne Frank is combined with original reflections and practices that will help you recognize the abundance of everyday opportunities for gratitude and joy. Hand-lettered art makes this beautifully designed collection a gift to treasure, regardless of whether you keep it for yourself or give it to a loved one.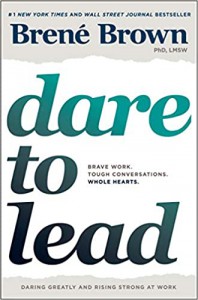 Dare to Lead : Brave Work, Tough Conversations, Whole Hearts
by  Brene Brown
Leadership is not about titles, status, and wielding power. A leader is anyone who takes responsibility for recognizing the potential in people and ideas, and has the courage to develop that potential. When we dare to lead, we don't pretend to have the right answers. We stay curious and ask the right questions. We don't see power as finite and hoard it. We know that power becomes infinite when we share it with others. We don't avoid difficult conversations and situations. We lean into vulnerability when it's necessary to do good work. But daring leadership in a culture defined by scarcity, fear, and uncertainty requires skill-building around traits that are deeply and uniquely human. The irony is that we're choosing not to invest in developing the hearts and minds of leaders at the exact same time as we're scrambling to figure out what we have to offer that machines and artificial intelligence can't do better and faster. What can we do better? Empathy, connection, and courage, to start. Brené Brown has spent the past two decades studying the emotions and experiences that give meaning to our lives, and the past seven years working with transformative leaders and teams spanning the globe. She found that leaders in organizations ranging from small entrepreneurial startups and family-owned businesses to nonprofits, civic organizations, and Fortune 50 companies all ask the same question: How do you cultivate braver, more daring leaders, and how do you embed the value of courage in your culture?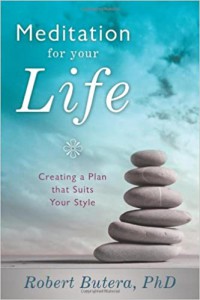 by Robert Butera
A step toward peace of mind is a step in the right direction The benefits of meditation are boundless: reduced stress and pain, peace of mind, and an improved sense of resilience. But which style of meditation is right for you? Meditation for Your Life explains the six basic forms of meditation and helps you identify which ones suit you best. Robert Butera, PhD, guides you in establishing a meditation practice based on your person-ality type, life experience, and personal preferences. The six types of meditation are: Breath Visualization Mantra Devotion, prayer, or intentionality Mindfulness Contemplative inquiry Prepare your mind with relaxation exercises, conscious breathing, and positive thinking. Discover the six basic forms of meditation, and identify the techniques that work best for you. Use guided questions, exercises, and journaling to personalize your practice. Learn what steps you can take to stay motivated and consistent over time, and let the benefits of meditation blossom for your entire life.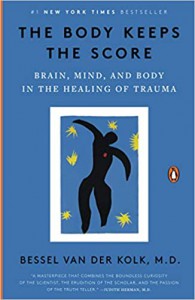 by Bessel Van Der Kolk
An expert on traumatic stress outlines an approach to healing, explaining how traumatic stress affects brain processes and how to use innovative treatments to reactivate the mind's abilities to trust, engage others, and experience pleasure.
-30-