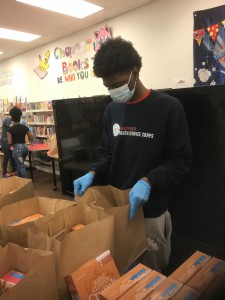 Part of what has made the distribution of food go so smoothly at Barbour Library over the past several months has been the help of a committed group of teens from Our Piece of the Pie, a local nonprofit youth empowerment organization.
Rachel Loughran, a workforce development specialist for OPP, and her team of students worked quickly this past Thursday, bagging groceries provided by Foodshare, a local organization devoted to combating hunger. They made sure that each bag had an even distribution of everything – cereal, canned fruits and vegetables, shelf stable milk, and other staples.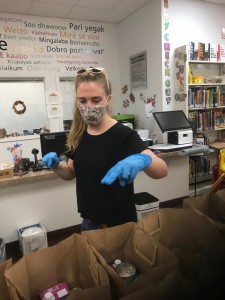 Over the past several months the teens from OPP, aged 16 to 22, have helped to set up for Barbour Library's monthly Foodshare program. The program has been a success, feeding hundreds of North End families. Last week alone, about 100 bags of much needed food was distributed.
Part of OPP's long term goal is to help city teenagers get work and educational experience. To that end, seven OPP teens will be doing internships this summer with HPL's YouMedia department. "This has been an awesome partnership," said Loughran. "They really get to see their impact in the community."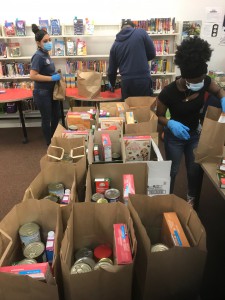 For Barbour Library manager Irene Blean, every bit of help is appreciated. Blean has seen the need for basic services in the community, including food, and has been excited to help. The food distribution days have been an excellent way for local civic organizations to partner with each other – the library's relationship with OPP is a great example. The library gets much needed assistance and students get real life work experience.
"Any time the community steps up to help each other and OPP can play a role, we are excited to participate," Loughran said.
Loughran and Blean caught up for a bit as the teens waited for their next task. "Anything we can do to help set up before we go?" Loughran said. "We've got a big team here and we are efficient."
A few tables needed to be moved onto the sidewalk outside the branch. No problem. Five minutes after the request was made, everything was set up outside, ready to distribute the groceries to the community.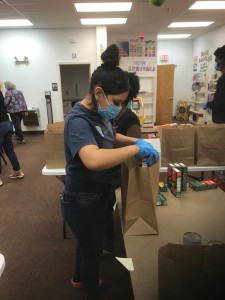 Loughran said OPP participated in a variety of projects, but working with the library has offered the students a new perspective. One of the assignments she gave the students was to go to hplct.org and find 10 things they didn't know the library did. "They were really surprised," Loughran said.