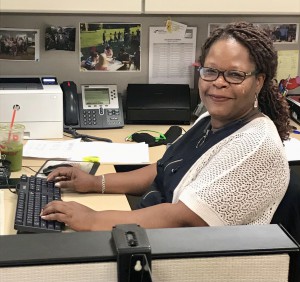 We Congratulate HPL Math Wiz Tiffany Cooper for Receiving Her Bachelor's Degree in Accounting from Albertus Magnus College!
You are a Weaver Beaver, can you say that five times fast?
I played basketball my freshman year! I graduated in 1986, and I've gone to all my class reunions. Go Beavers!
Did young Tiffany always want to be an accountant?
When I was little, all I had for toys were calculators and cash registers. I've always loved numbers. I love math, I love analytics. I'll analyze anything. I was quiet in school, I grew up fast and was more mature than others.
Your path to getting this degree was not a straight one.
It took me 12 years to earn this degree. I started by attending Southern Connecticut State University but left after one year. While working, at Cigna, I decided to go back to school and earn a college degree. While raising my two kids I would take a couple of credits whenever I could.
That was some accomplishment- you are strong to persevere for so long.
I grew up surrounded by strong women that were examples for me. My mother was 16 when she had me and my grandmother raised me and took care of me. I had such a strong support system supporting me. I felt their love and encouragement with me always. My mom went back to school as an adult worked hard and not only graduated college but went on to earn two masters – one in education and one in counseling.
Your children are now grown up.
My son Justin works with numbers and my daughter Taylor is an artist. I have one left brain and one right brain- both supportive!
After 12 years- what does this degree mean to you?
My degree doesn't define me. Society puts you in a place where you need to prove yourself, and a degree is that proof.
I am a life-long-learner. I realize I know little about Black history. I didn't learn about Emmett Till until I was in college. Now that I've come into a place where I understand myself, who I am, I'd like to know more about the struggle of my people. I volunteer at my church, Phillips Metropolitan C.M.E. Church, and help at the local shelters. Together with my children and our families I deliver supplies to local shelters regularly and it's now a tradition in our family. We pool our money and do Blessing Bags.
Thank you Tiffany, for your critical behind the scenes work at the Library and for being one heck of an example of what hard work and tenacity can bring you. Well done!