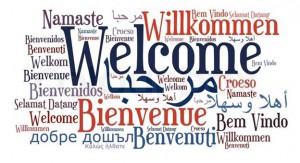 The American Place at the Hartford Public Library — which helps immigrants and refugees resettling in the Hartford area — has been awarded the 2021 Partners in International Education Award from the Council on Social Work Education's Commission on Global Social Work Education for its innovations in education for international social work.
Rebecca Thomas, a social work professor at UConn and director of the school's Center for International Social Work Studies, nominated The American Place for the honor, saying it has served as a "rich environment for field placements" for students seeking degrees in social work.
"Their one stop shop which is not stigmatizing has been a rich experience for students learning about global issues at a local space," Thomas, who is chair of the commission, wrote in her nomination letter to the CSWE. "One does not have to travel far to be international social work. "Students develop case management skills as they work with clients, learn about regions of the world where immigrants and refugees come from, learn to connect services to these individuals and also learn policies and advocacy."
The American Place was established in 2000 and is run by Homa Naficy. It offers immigration information and resources for learning English and preparing for U.S. citizenship. In 2019 Naficy was selected as the winner of the American Library Association's I Love My Librarian Award.
"Her efforts in Hartford are legendary; she has touched the lives of thousands of people and barely takes a breath before embarking on the next project or program that will undoubtedly help thousands more," HPL President and CEO Bridget Quinn said.
During the COVID-19 pandemic many services were shifted online and The American Place provided homebound seniors with tablets and Wi-Fi hot spots to avoid isolation through its Surfing Seniors program.
The award from the Virginia-based council will be presented at the CSWE's annual meeting in Orlando, Florida, in November.