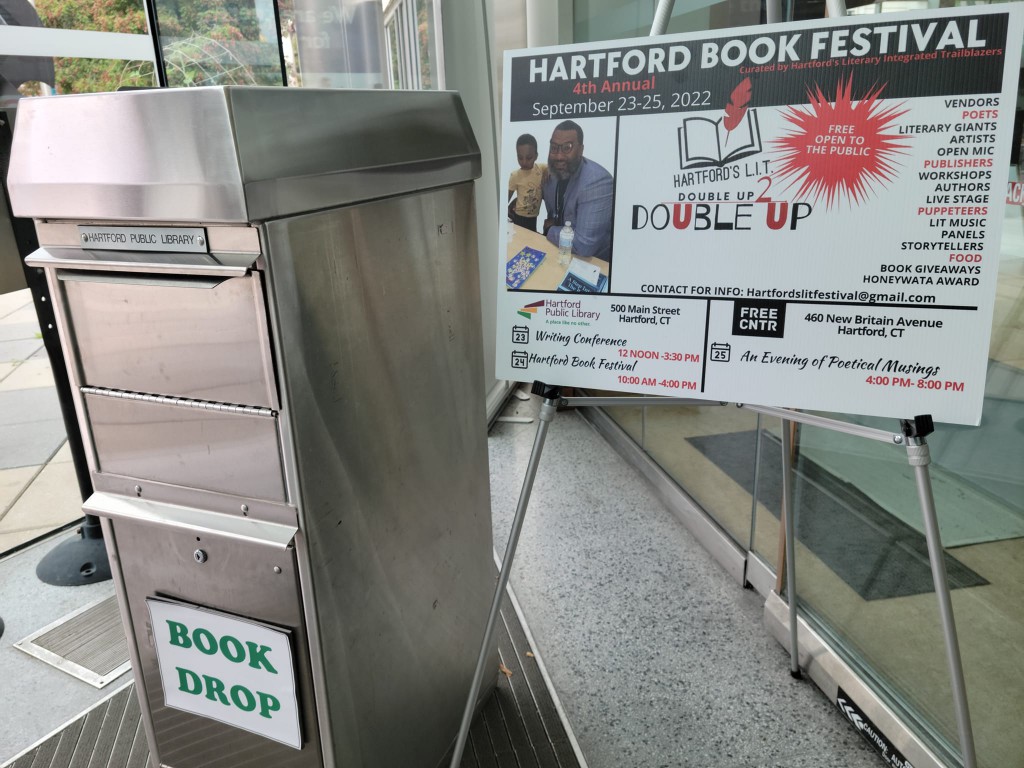 Hartford Public Library is partnering with Hartford's L.I.T. (Literary Integrated Trailblazers) to co-host the fourth annual Hartford Book Festival as a three-day event with workshops, poetry readings and more from Friday, Sept. 23, to Sunday, Sept. 25, at the Downtown Library at 500 Main St. and the Free Center at 460 New Britain Ave.
Hartford's L.I.T. is a group of local authors, artists and entrepreneurs. Their mission is to establish presence and awareness of Greater Hartford's local authors, diverse artists and entrepreneurs to revitalize literary arts and communication. H.L.I.T. focuses on literacy, literary productions, entrepreneurial building and networking within Hartford communities, including the underserved and nontraditional communities.
H.L.I.T., along with local artists, business owners and Hartford residents, came together for the last three years to host the first, second and third Hartford Book Festival at Hartford Public Library with the themes "How are the Children?," "2020 Visions & Reflections" and " 202One Love One Life," respectively. This year, the theme is "Double Up 2 Double Up," and this three-day event will be a celebration of reading and writing for children, teens and adults in the City of Hartford. The festival will feature local authors, book stores, workshops, panels, live stage, youth activities, open mic, literary highlights, publishers and a vibrant cultural live stage and more.
For more information about Hartford's L.I.T. visit www.hartfordslit.com or email hartfordslit@gmail.com.
Hartford's L.I.T. (Literary Integrated Trailblazers) Team
Nzima Sherylle Hutchings: Visionary, founder, curator and CEO
T'challa Williams: Executive co-founder
Lashawn Henderson Middleton: Founding member
Alphonso McGriff: Founding member
SCHEDULE OF EVENTS:
Day One: Writers Gotta Write! Writer's Workshops 
Friday, September 23rd, 11 a.m. – 3:30 p.m.
Hartford Public Library, 500 Main St., Hartford, CT
Center for Contemporary Culture
Writing does not always happen smoothly or immediately. There are times when writers find they need to learn a new way, method or approach that allows their imagination to be as free as they need to. A great place to begin the process is a conference. Nothing is more inspirational than being among other writers and finding you are not as alone as you think you are in this journey of creativity. This year Hartford's L.I.T. presents workshops to assist your approach to writing while also providing resources to help build out a writer's stories. Join us as we kick off our fourth annual Hartford Book Festival Weekend with an opportunity to expand our writing gifts while celebrating our love of the written word.
Café hour (doors open)
11 a.m.: Coffee and networking, HLIT merchandise for sale
11:30 a.m.: Morning pages and meditative writing
Welcome
Noon
Ekphrastic poetry and healing words with Nzima Sherylle Hutchings
12:15-1 p.m.
Workshop core objectives: Participants will receive an overview of ekphrastic poetry, write from inspired writing prompts and visual art and learn the power of healing and affirmative poetic writing. Ages 13 and up.
Descriptive writing: Space as a character with T'challa Williams
12:30-1:15 p.m.
Workshop core objectives: To demonstrate how space, location and even a world can be a character within a work of fiction. Writers will learn ways to use their five senses in order to describe space as a character.
Poetic Narratives in choreopoems: Whole body dramatics, music and tongue cadence with Nzima Sherylle Hutchings
1:30-2:15 p.m.
Workshop core objectives: To learn about choreopoems; which are a form of dramatic expression that combine poetry, dance, music and song, coined by Ntozake Shange in 1975. In this interactive workshop participants will write and share their drafts of choreopoems. Participants will learn the fundamentals of a choreopoem. Moreover, they will learn how full-body expressions, dance movements, sound and music recreate and maximize messages in a poem. Ages 16 and up.
One voice: Art as advocacy
1:45-2:30 p.m.
Workshop core objectives: Identifying three key elements to advocacy. Artists will determine if their art or administration will be their advocate as they give voice to the matters that concern them the most. Anything that we have passion about we can take a stand for, or shed light on. The most important thing is to take the first step to be heard. Advocacy is vital in community building. Participants will also look at the ways collaboration is part of advocacy. Ages 13 and up.
Writer's symposium: Writing wildly and risking comforts
2:45-3:30 p.m.
A discussion on unblocking boundaries to write authentic, fresh, and mind-bending stories for any genre. Participants will learn of literary giants who pushed the envelope.
Day Two: The Fourth Annual Hartford Book Festival
Saturday, September 24th, 10 a.m.-4 p.m.
Hartford Public Library, 500 Main St., Hartford, CT
Time
Room
Workshop Title
Workshop Leaders
10 am
Center for Contemporary Culture (CCC)
Opening introWelcome and mission
Welcome from founders Nzima Hutchings andT'challa Williams
10:10 am
CCC
Library offerings and partnership
HPL representative
10:15 am
CCC
2022 year theme: Double Up 2 Double up
Executive founding member and spokeswomen T'challa Williams
10:25 am
CCC
Highlight authors of the day
Founding Member Alphonso McGriff III
10:28 am
CCC
Vendor highlight and author spotlight
Mio and Lashawn
11:25 am
CCC
Community trailblazers
 Joe Young
11-11:45 am
Classroom 140
Advocacy and game changer
Laresse Harvey
11:40 am
Classroom 141
How to publish in 145 days
Rosa Bailey
11:40am-12:25 pm
Classroom 140
WORKSHOP: Journaling Our future stories vision board. Ages 5-13.
Barara McClane & Nzima Hutchings
2:15-3 pm
Classroom 141
WORKSHOP: Vision forward: Vision boards and the power of words and trusting the process to inspire goals, positive messages, as well as journey through truths, trials and triumphs. Ages 18 and up.
Barbara McClane
2:30-3:15 pm
Classroom 140
WORKSHOP: The plan: To offer you an opportunity to help yourself remove anger about a particular situation. The objective: To continue with life without anger for this particular situation. The result: A plan developed by you to help you eliminate the anger associated with a particular situation. Ages 17 and up.
Alphonso McGriff
3:15-4 pm
Classroom 141
WORKSHOP: Writing books on PTSD and healing without stigma. Intro of transformative writing: Helps take traumatic situations using coping skills to your narrative to a powerful positive, power-filled story. Ages 18 and up.
Laresse Harvey
3:30-4:10 pm
Classroom 140
ABC paper bag puppets and stories w/ parent or guardian. Ages 3-7.
T'challa Williams
11:50 am
CCC
Poet laureate roundtable discussion
Frederick-Douglass Knowles II – Hartford;Joshua "Urban Nerd" Brown – New London
12:45 pm
CCC
HoneyWata award
Nzima and HLIT team, and family member and owner of My Peoples Clinical Services Abdul-Rahmaan I. Muhammad
1:15pm
CCC
Ngoma Hill: Featured poet
Ngoma Hill
1:40pm
CCC
When Women Speak
Ameerah Bilal ShabazzMariah AyscueMwikali Words
2:05pm
CCC
Puppetry and storytime with Iyabo Mandingo
Iyabo Mandingo
2:35pm
CCC
Gallery of Treasures
Rosa Bailey and The Youth
2:55pm
CCC
HLIT YA Lit Mic
Amy, OSO, The Trifecta
3:20pm
CCC or Atrium
WRITING COMMUNITIES:What is a writing community?What happens in writing?Unique experiences, retreats, partnerships and benefits?
Why is it necessary?Every Kinda Lady Writer's Cafe LAWR Nzima Hutchings, Ameerah and Guest of EKLT'challa New York Writers CoalitionLaashawn Journey WritersGabriella Rubin – Haus Expression3:55pmCCC & AtriumHLIT spiel goal 1-minute announcementHLIT Team3:57pmCCC or AtriumLIT mic open4:25pmHLIT outro, vending closing
Day Three: An Evening of Poetical Musings
Sunday, September 26th, 3-8 p.m.
Free Center, 460 New Britain Ave., Hartford, CT
Open mic, poetic activities, homage to great poets dramatic reading, Love Jones poetry, special guest poets of New England.