Hartford Public Library will be displaying the paintings of Ellen Sinclair Junger in an exhibition from September 1 to October 12, 2022, at the Downtown Library. The collection, entitled "Carousel Memories," showcases the hard-carved wooden ponies of the Bushnell Park Carousel. 
Ellen had a deep connection to the carousel throughout her entire life. The Bushnell Park Carousel's original home was Meyer's Lake Park, a popular amusement park in Canton, Ohio that was owned by Carl Sinclair, Ellen's father. Ellen always wanted to be a painter, and at age 18 she moved to Boston to study painting at Endicott College. She then worked with Expressionist painter Hyman Bloom after graduation. Ellen always carried fond memories of the carousel, which she called the Merry-Go-Round, and it was a major inspiration for much of her artwork. 
"Years later the Merry-Go-Round became the 'Carousel' of my first oil paintings," said Ellen. "I had been inspired to paint because I wanted to capture the wonder and magic that those prancing horses held for me. Then, after the Merry-Go-Round was sold to Bushnell Park, I again painted it, this time in pastel."
This collection of Ellen's paintings was originally exhibited at the Canton Art Institute in 1987 in a memorial tribute to her late brother George C. Sinclair. After Ellen's passing in 2021, her family donated the paintings to the City of Hartford and the Bushnell Park Foundation. Hartford Public Library will be hosting the exhibition of these paintings.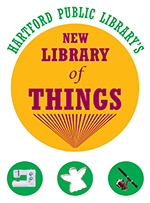 By Lily Sweeney
Libraries are not just for books anymore. Although Hartford Public Library possesses tens of thousands of books across its six branches, it also provides a variety of other items and services to the community. HPL's Library of Things, as well as its in-person programming and online resources, hold some of the library's most unique resources. From cake pans to knitting needles to fishing rods to blood pressure monitors, HPL has exactly what you need. Here is a list of just some of HPL's lesser-known offerings. 
Looking to make an upcoming birthday or celebration extra sweet? Hartford Public Library has two cake decorating kits available for checking out. These sets contain a wide array of tools like rotating turntables, piping bags, cake flower lifts and more, so your cake will look like it came straight from a professional bakery. HPL also has 13 different cake pan shapes to choose from. While you're here, check out a cookbook to ensure that your cake tastes as good as it looks. 
HPL's resources extend beyond media and recreation. The library has resources and services available for patrons' health as well; 17 blood pressure monitors are available at six HPL branches.
HPL not only has a Library of Things; it also has a special Children's Library of Things, home to many toys, book bundles and activity sets. HPL has 13 STEM Labs on the Go, which are crafts and activities for kids related to science, technology, engineering and math. Kids can check out the Code-a-Pillar, a motorized caterpillar composed of different segments programmed to control its movements; a nature explorer kit, a bundle of binoculars, nets, and flashlights perfect for exploring the outdoors; or a Spirograph kit, a drawing kit of wheels and rings that combines art with engineering and math principles. 
A library card at HPL not only grants you access to the resources at its six branches, it also gives you free access to dozens of local museums. HPL library cardholders can reserve museum passes for free or at reduced prices up to 60 days in advance at places like the Basketball Hall of Fame, the New Britain Museum of Art, the Children's Museum and Roaring Brook Nature Center, the Mark Twain House and Museum and others. If you're looking for children's activities for the final weeks of summer before the school year begins, the Connecticut Summer at the Museum program is running until Sept. 5. This program grants a child and an accompanying adult free admission to over 130 Connecticut museums during the summertime. 
HPL offers free devices and technology training so that everyone can stay up to date with the expectations of our technology reliant world. This summer, HPL is offering a Digital Inclusion program where participants can learn how to navigate social media, websites, online paperwork, email and more with the help of a Digital Navigator. This program will provide participants with a free laptop or device if needed. The library also has free Wi-Fi hotspots that patrons can borrow. Additionally, HPL can connect patrons with resources to access the Internet at a more affordable rate, including the FCC's Affordable Connectivity Program and Xfinity Internet Essentials. 
HPL has an assortment of online resources to access digital content including music, films and television shows. HPL library cardholders can watch thousands of critically acclaimed movies on the streaming platform Kanopy by typing in their card number and PIN or password. Cardholders can also access Kanopy Kids for animated shows to entertain and educate younger audiences. If you are passionate about music, check out Qwest TV for a collection of concerts and music documentaries.
Looking to learn a new skill, revisit an old hobby or maybe just mend a hole in your shirt? HPL has you covered. With a sewing machine, crochet kit and knitting set available in the Library of Things, patrons can get crafty with ease.
If you're looking for a more active pastime than sitting and reading, HPL has a collection of sports and recreation equipment available for checkout. As summer comes to an end and the weather slowly begins to cool off, now is the perfect time of year to get outside and try something new, like cricket, fishing, badminton or volleyball.
For children who are blind or have various print challenges, HPL has partnered with the Windsor nonprofit CRIS to make reading more accessible. CRIS, the Connecticut Radio Information System, is a radio station that provides services for people who are blind or print-challenged. The CRIS book bundles at HPL contain five books with an MP3 player preloaded with the books' corresponding narrations as well as stickers and reading incentives. HPL has 25 book bundles available for checkout.
10. Gaming consoles
Although not available for checkout, YOUMedia, HPL's teen center at the Downtown Library, has its own Nintendo Switch, Playstation 4, and XBOX One consoles for teens ages 13 to 19 who are interested in gaming. YOUMedia also has its own Twitch channel for streaming.