From a young age Erik Williams knew he had artistic tendencies. He liked to dance, rap, and draw.
However, purely out of necessity, Williams began shooting photos for local musicians. He and his friends had found that some photographers were expensive and unreliable. Once Williams' photos started showing up on social media, he started getting more attention and gigs shooting fashion and makeup.
"I did one fashion show and I was traumatized," Williams recalled.
For a little while he put his newfound passion aside. Williams didn't want to photograph that which didn't interest him.
"I was sitting around and my camera was starting to pick up dust. I have an urge to shoot but I'm growing. The things I was shooting before weren't appealing to me. I picked up my camera got in my car and started driving around listening to music," Williams recalled.
Hartford, the city he grew up in and spent all his time, spoke to him.
"All of these things just started glowing. It sounds crazy but things just start popping out that I might not have been paying attention to before, like certain conversations I saw, like people waiting at the bus stop, or someone sweeping trash. These started sticking out to me as beauty that we overlook, simple tasks, simple things in life we overlook. There's a lot of beauty if you just slow down and pay attention," Williams said. "I wanted to capture and showcase it through my lens."
HPL partner Real Art Ways took note of his work and amplified it by offering him his first solo exhibition in November 2017, which also led to the article in Take.
Now Williams' black and white street photography, a profound combination of empathy and grit, will be on display at Hartford Public Library's ArtWalk and online. Williams will give an artist talk on HPL's Instagram on Saturday, May 23 at 11:00 am.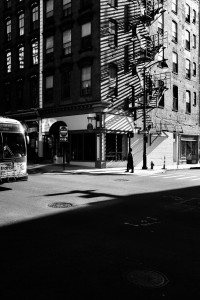 Williams' photography is more than a mode of personal expression and a way to chronicle his home. His work is a part of a worldview that values individual moments and the deeply personal. His camera, in no small sense, is just an excuse to hear people's stories and share his own.
"I have the image in my mind and I pursue it. I let people know what I am doing and why I am doing it. To share their story to show the world their beauty through my lens. My intentions are honest and pure, and I think people can sense that," Williams said.
Some people use a camera to be invisible. Williams, a 36-year-old Bloomfield resident and construction worker by trade, uses the camera specifically not to hide. A couple of times a week, when he feels like it, Williams walks around taking pictures of whatever catches his eye. "Every day I leave it is different. I am not really looking for anything in particular. When I see it, I know," Williams said.
The technical nature of Williams' artistic process makes deep personal engagement a necessity. He works with a fixed lens, meaning there is no way for him to zoom in on anyone. If Williams does a portrait, he is only a foot or two away from his subject.  "I want to get into your space because I am interested in getting to know you and hearing your story," Williams said. "You are beautiful as you are and I recognize it and I want to tell you personally."
Williams believes that his art – which includes at some level his personal interactions – help to create change. He's seen people's reaction, their smiles. He knows that people feel he is trying to represent Hartford as he sees it – a vibrant place.
"When I am able to talk to people I am changing people's perspectives, helping people to be less judgmental, more appreciative, more understanding, Williams said.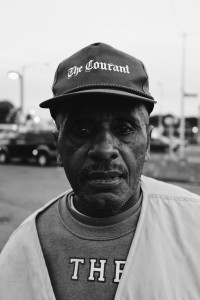 For example, one of William's portraits is of an older man wearing a dark colored Hartford Courant cap. The man is serious, but there is something gentle in his gaze.
"That's James. He sells the Courant off Albany Avenue. He has glaucoma. He's someone you would pass a thousand times driving past on Albany Avenue. But I see him out there in rain, sleet and snow selling that paper out there for years and I see beauty in that. I respect his commitment," Williams said.
Williams is a careful man. He's not caught up in the social media hustle. He takes his time and gives his full attention, whether it's something simple like washing his clothes or cooking dinner or, something really difficult, like looking at the world.
"Maybe that can fix something in you," said Williams, as he looked from the windows of the ArtWalk onto Main Street.
— by Steven Scarpa, Manager of Communications and Public Relations