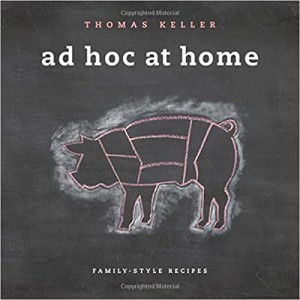 Buttermilk Fried Chicken
From Ad Hoc at Home
by Thomas Keller
TX715 .K29 2009
By Julie Styles, Manager of Public Services, Central Branch
The world is bonkers right now. Everything has been disrupted in one way or another, and we all have our different ways of coping. Some of us are writing our first novel, some are spending hours making masks for their communities, some are relishing the extra time with their loved ones, some have started growing their own vegetables. I'm making fried chicken.
I don't think it's possible for any meat eater to not love fried chicken. I think the vegetarians love it to, they just might not realize it. The health nuts love it, too. They just won't admit it. They say it's "bad" for you. But how can pure joy and happiness ever be bad? Fried chicken is everything most of us have been told is unhealthy: it's on the bone, it's got skin, it's breaded, it's deep fried! The horror! But even if you believe all of that, it's still worth it. Hassle, extra calories, giant mess, and painstaking process included, it's still worth it. At least once in a while.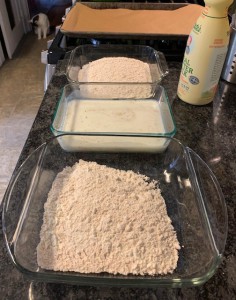 While the fast-food fried chicken sandwich debate rages out in the world, I am staying home a lot, so I decided to make homemade fried chicken. This pandemic has given me the time, the patience, and the right to do whatever I darn well please in my own kitchen. There's no one here to judge me, and no one to disappoint if I fail miserably. (Well, there's the husband, but he's stuck with me for a while.)
The way I see it, if you're going to make one of the most iconic and beloved staples of American food, you'd better find an expert to tell you how to do it. My pick is a controversial one: Thomas Keller. This choice isn't scandalous because he isn't a good enough cook. The issue is that he's the most highbrow of all the brows. He's King of uber-fancy restaurants, namely The French Laundry and Per Se, among others. His menus offer things topped with caviar and truffles, he gets his onions from Wales, and he spells it "boeuf." A meal at one of these spots lasts hours and costs more than a luxury car payment.
But he's got a down-home side too, which comes in handy in times like these, and he's even published a cookbook highlighting it: Ad Hoc at Home. It's named after a more casual restaurant he runs, and includes recipes like chocolate chip cookies, clam chowder, and yes, buttermilk fried chicken.
Don't worry, he doesn't try to jazz it up or use some goofy technique. It's straightforward: brine chicken, bread chicken, fry chicken. Every ingredient is a common pantry staple; the least accessible item in the recipe is probably the "splatter screen."
The first step in the recipe is to take a whole chicken and cut it up into 10 pieces. Let me stop you right there. Unless you are well-skilled in fowl butchery, leave this to the experts at the meat counter. You can even buy pre-cut packaged chicken, and if your favorite store has a butcher, by all means use them, and ask to have a whole chicken broken down for you. If you do decide to take on the bird yourself, be sure your knives are truly sharp. This is not the time to risk a trip to the hospital.
The chicken hangs out in a brine for "12 hours…no longer," and the brine needs to be boiled, then chilled before you can use it, so be sure to do some planning before getting started. We made the brine first thing in the morning (which for us was around 9:30), then tucked the chicken pieces into it around noon. If you want to get the full 12 hours of brining, I suggest making the brine the night before, then getting up ridiculously early to get the chicken in. The next step freaked us out a bit, but we went for it: after taking the chicken out of the brine, you rinse it, pat it dry, and let it sit on the counter for an hour and a half. While this goes against everything we ever learned about food safety (and with almost 20 years of restaurant experience between us, we learned a lot), we trusted King Keller, and lived to tell the tale.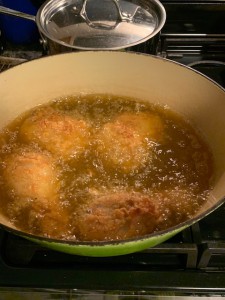 Alright already, let's fry. The process for frying the chicken is pretty standard: you set up a little station of shallow dishes, the first with a flour and seasoning mixture, buttermilk and seasoning in the second, and more of the flour mix in the third. The double-flour business is the key to super crispy, shatter-y fried chicken. And seasoning each step ensures that your chicken won't taste like it's covered in shredded cardboard and grease. Keller's recipe is well written; it outlines each step in the process, which takes a bit of coordination. Be sure to read through it all before you begin—you'll thank me later. If you've never fried your proteins before, invest in a meat thermometer. You really need to be aware of the oil temperature (which will fluctuate) throughout the process, and later you'll need to check the chicken's internal temperature. Overcooked chicken is dry and disappointing, undercooked chicken is gross and can be deadly.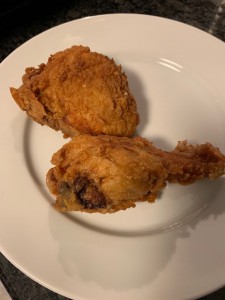 While a few of our pieces were slightly overdone, for the most part it came out heavenly. The chicken was juicy and flavorful, and so crispy and craggy it looked like it had been covered in corn flakes. The husband made some incredible slow-cooked green beans to go with it, but any sides will be great–the chicken will overshadow it all anyway. So, go forth, and make yourself some fried chicken. And make a lot. It's just as amazing the next day, reheated in a 400-degree oven for 15 minutes, or eaten cold straight out of the fridge.
Until you can get this amazing, and approachable, cookbook from the library, head over to the D'Artagnan website, where they provide the recipe, and will also try to sell you a fancy, really expensive chicken.
– 30 –