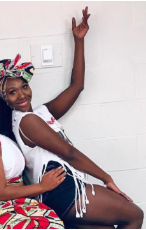 It took Lael Marie Williams a trip to the morgue to find her way back to dance.
Williams, a 33-year-old Hartford resident, recently brought her enthusiasm for Afro-Caribbean dance to HPL's virtual programming. "African dance is natural. When I say natural, it is the movement of everyday. Things that we all can do, that natural movements of the body," Williams said. "There is so much structure in modern, ballet, and hip-hop."
Lael's mother, Anne Marie Williams, was one of the founders of K La Rue Arts-in Motion and because of that she grew up in classrooms and dance studios.
"She wanted to have a job where she could bring me with her," Williams said. "My mom danced with me in her body. Basically its genetic."
But like a lot of kids, Williams resisted what she grew up with. After the loss of friends to suicide and cancer, Williams decided to go in a completely different direction, studying mortuary science.
"It's not as morbid as people think," she said. "It was quite an adventure."
What's funny was, she had a knack for it. Williams studied the subject in college and actually had the opportunity to do some reconstruction, helping to give physical shape and distinction to the deceased.
"It gave me an appreciation for life," Williams said.
It was a needed two-year detour to lead her back to her first love – the stage.
Williams started teaching at Downtown FootLights and Performing Arts Education Program. She seemed to be having an impact with students and her own artistic practice was growing in the fertile Hartford dance scene.
It is ultimately on stage, doing Afro-Caribbean and African dance, where Williams comes alive.
"When I am performing, that's my element. God gave me a gift to engage the audience with me on the stage," Williams said. "I am giving back everything they are giving me. It's a circle."
– By Steven Scarpa, Manager, Communications and Public Relations
– 30 -