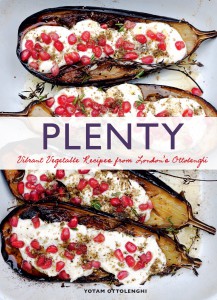 Parsnip Dumplings in Broth
From Plenty
by Yotam Ottolenghi
TX801 .O88 2011
by Julie Styles,
Have you been to the grocery store lately? Of course you have—there's nowhere else to go. Pickings are slim. We've all seen the empty toilet paper shelves, but there's a shortage on meat too. Rather than trying to get creative with the weird scary cuts, the Husband and I decided to consult one of our cookbooks: Plenty, by Yotam Ottolenghi. We were led to this cookbook after falling in love with another one: Jerusalem, written by Ottolenghi and his friend Sami Tamimi. The two chefs grew up in the city, but on opposite sides; Tamimi in the Arab east side, Ottolenghi in the Jewish west side. While different cultures don't always mix politically, in this case, the recipes they create together make some of the best food I've ever had. Plenty is no exception. The recipes here are taken from the menu at Ottolenghi's namesake restaurant in London, and are all vegetable-based. However, this is not a vegetarian cookbook. It celebrates vegetables, but not as an alternative to animal foods. It highlights vegetables because, when prepared by Ottolenghi, they shine in a world with or without meat.
The introduction of the book describes this philosophy much more eloquently than I can, but briefly, and it dives into the recipes quickly, which I appreciate. The chapters are divided into the different plants themselves: roots, onions, mushrooms, zucchini, and so on. In addition to vegetables, it tackles beans, grains, pasta, and fruit in an assortment of over 120 recipes. There is definitely something for everyone. Some of these will make excellent side dishes, but so many of them stand on their own.
We selected something simple and light for our weeknight meal: Parsnip Dumplings in Broth. I adore parsnips, and have ever since I first tried them in my mid-thirties. My mom was a great cook, but dad was not adventurous, and so we stuck to the foods he knew as a kid. Fortunately for me, I don't share his desire to avoid ingredients I wasn't comfortable with. This has led me to discover a great number of comfort foods, ironically. One of those is parsnips. They look like pale carrots, and while they, too, are roots, their flavor is quite different. Not quite as sweet, their earthy, starchy flavor balances rich meaty roasts and clean, crisp salads wonderfully.
In this dish, they are the main event. They are cooked with potatoes until they are soft enough to mash, then elevated with some flour and egg to create light, airy dumplings. Served with a flavorful broth, they make a great meat-free meal.
This is definitely homemade food. You won't find these dumplings in the store, although you can buy premade broth. I strongly recommend you don't, though. While you can find some high-quality, truly delicious chicken or beef broth, vegetable broth in a can or carton is about as exciting as ramen noodles without the salt-bomb flavor packet. And homemade vegetable broth couldn't be easier. For this recipe, we cut up some carrot, celery, and onion along with garlic and celeriac. For the unfamiliar, celeriac is also known as celery root. Yep, the root of the celery plant, and it definitely looks like it should stay underground. It's probably the ugliest thing in your produce department any time of year. It looks like the head of the Crypt Keeper. But seriously, get over it; it's delicious. It, too, is starchy and earthy, with a hint of celery flavor. You just need to trim off the hairy tentacles and it looks a lot like a potato. The vegetables go into a big pot with some water and fresh herbs, then it all simmers for about 90 minutes, and voila! You have vegetable broth.
Wait…I forgot to mention the prunes! (I swear, I want you to make this dish, despite all the creepy and borderline gross-sounding items that go in it.) Along with the vegetables, you toss in a handful of prunes. It sounded weird to me, but I went for it.
As it turns out, the prunes do lend a great level of flavor. Not overly fruity, there's just a tiny bit of sweetness and depth, almost like honey. It rounds out the vegetable flavor and makes the broth more interesting. For an extra boost, you could add a few dashes of soy sauce or some tomato paste.
The dumplings are a bit more complicated, but not much. After mashing the parsnip mixture, you press it through a ricer (which looks like a giant garlic press and is not used to make rice, go figure), which makes it incredibly smooth. It rests for a bit in the fridge, then gets scooped out into simmering water in little dumpling shapes. I used a small ice cream scoop for this, but a small spoon will work just fine. These don't need to be perfect – rustic is the way to go here. They only cook for a few minutes, and they bounce to the surface just before they are done; it couldn't be easier. Just make sure your water is at a true simmer. Mine was just below (hot water, no bubbles), and the dumplings, while fully cooked and quite yummy, had a slight raw-flour flavor to them.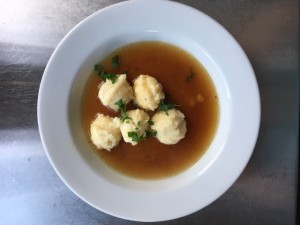 Overall, it was a fantastic meal, and neither I nor my fellow carnivore husband longed for a steak afterwards. Plenty isn't about just cooking vegetables. It's about creating clever and unexpected combinations of ingredients that are too-often pushed to the side of the plate.
Plenty by Yotam Ottolenghi can be found in the library stacks using the call number TX801 .O88 2011. This recipe can also be found at https://www.theguardian.com/lifeandstyle/2007/jan/06/foodanddrink.recipes2
– 30-
One Response to Recipes from the stacks: Parsnip Dumplings in Broth