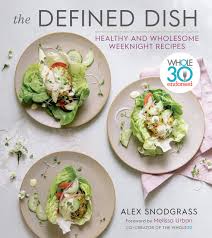 Lemony Greek Potatoes with Crispy Greek Chicken Thighs
From The Defined Dish: Healthy and Wholesome Weeknight Recipes
by Alex Snodgrass
TX737 .S647 2019 (Barbour Branch)
By Julie Styles
My colleague Irene, who manages the Barbour branch, recommended this recipe. It's from a cookbook called The Defined Dish: Healthy and Wholesome Weeknight Recipes by Alex Snodgrass, which is available at the library, but unfortunately, for now, the library is not available to us. Fortunately, though, the recipe, Lemony Greek Potatoes with Crispy Greek Chicken Thighs, can be found on the Whole 30 website. For the uninitiated, Whole 30 is a healthy-eating plan that has you cut out certain yummy bad-for-you foods for 30 days so you can focus on healthy eating and following their "life-changing" rules.
While the website is informative and full of recipes, advice, and places to send your money, I wasn't feeling the urge to change my life this week, and was much more inspired by The Defined Dish. So much so that I decided to buy an e-book copy. My motivation was not the restriction of some of my favorite indulgences, but by the incredible recipes it contains. There's a whole chapter on tacos! There are also recipes for take-out favorites (Thai Basil Beef, Sichuan Chicken), Southern cuisine, Italian classics, soups, salads, kid food, a chapter called "Date-Night Dinners," and so much more. Tons of healthy recipes and no rules? Yes, please! Maybe I'll change my life when life gets back to normal.
The recipe is found in the chapter "A Taste of the Mediterranean" and looked tasty and easy. Chicken thighs are a wonderful thing. They're affordable, easy to work with, and always come out juicy and flavorful. Unlike the overrated boneless, skinless chicken breast, thighs are much more forgiving when you cook them. You don't have to yank them out of the oven the second they are done; you've got a bit of a time window before they become dry and overcooked. There's not much you need to do with them, so they make the perfect protein for one of those sheet-pan dinners we keep hearing about. (This cookbook has at least six of them). I have my own favorite sheet-pan dinner: Sheet-Pan Chicken With Potatoes, Arugula and Garlic Yogurt, found on the NY Times Cooking website, which is truly incredible, but I was ready to try something new.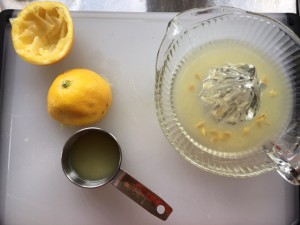 The recipe Irene suggested is similar, and a bit simpler (no marinating, no yogurt sauce to make, no leeks to clean and chop). The thighs are patted dry, drizzled with oil, and sprinkled with a paprika-based spice rub. Then they go in the oven. Easy-peasy. Alongside the chicken in the oven are some potato wedges that have been tossed with oregano, lemon, and chicken broth. This method was new to me, and I was a bit skeptical. I usually roast my potatoes with a bit of oil, salt, and pepper, so the extra liquids in this one concerned me. Would the potatoes truly roast or will they just stew in the juices? Will there be any crispy, charred bits? Bits are my favorite!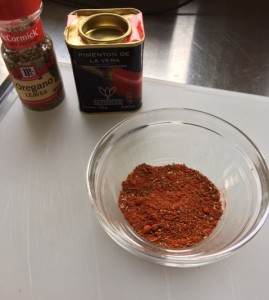 While this recipe couldn't be any simpler, do pay attention to the timing. If you put the chicken in the oven too early, as I did, the potatoes won't have the full hour to cook. Our potatoes came out with a wonderful lemony flavor and some crispy corners, but they were a bit firm; I think the last 20 minutes the recipe called for would have guaranteed softer, creamier potatoes with more brown, cripsy edges.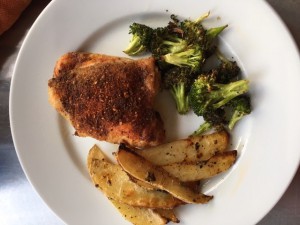 The chicken was perfect. Paprika can often seem like dark orange baby powder, especially if your jar has been sitting untouched in the pantry for the past year and a half. But our little tin of smoked paprika (don't wuss out and use regular paprika, go get the smoky stuff—it's worth it) had a perfectly respectable expiration date, and gave the chicken a deep, almost spicy layer of rich smoky flavor. The chicken was tender and juicy with crispy skin. With a bit of simple roasted broccoli, it became an ideal weeknight meal: do some minimal prep, stick it all in the oven, go enjoy a cocktail on the porch, and when the timer dings, you're all set! And while I will never forsake my favorite harissa-and-leek covered sheet pan chicken, this new recipe will be a new regular in our rotation. I can't wait to explore the rest of the book! I think I'll start with tacos.
-30-