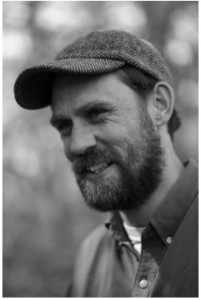 Colin McMullan has a simple description of what his art entails, even though it encompasses many forms of expression.
"I make art in public spaces, and I do work that considers the moment in time and the world that I live in," McMullan said.
He recently contributed a video to HPL's virtual programming about urban maple syrup collection, an indigenous practice that settlers to New England absorbed. As is the case with most of his art, McMullan uses the everyday to talk about bigger issues.
"I wanted to think of some way to show how indigenous people are a really important presence in this place," McMullan said. "They persist in our society and should be given their due."
McMullan's art often begins with collaborative social and public actions. He then reflects on those experiences in print, film and installations, according to his artistic statement. "I try to do stuff that serves a function in society," he said.
His reflections manifest themselves in fascinating ways. For example, he gathered 100 people to construct a wooden boat, which then led to a discussion of the misuse of local waterways. He has ridden through Manhattan on a bike, projecting Chaplin films on his back, inspiring a spontaneous parade of viewers.
He has shot darkly comedic films for a series called Experimental Research on the Nonexistence of Borders, where he plays a field research scientist bent on showing that political borders don't exist. This effort has taken him to the borders of Armenia and Turkey, and the borders the United States shares with Canada and Mexico.
Reading fuels McMullan's artistic expression. For a long while, he tended towards experimental fiction (David Foster-Wallace is a favorite.) Now he's finding that philosophy and cultural theory occupy his time.
His efforts often have a humorous underpinning, something he feels is intrinsic to the human experience. McMullan believes that finding a thread of levity in his work is a way of showing how we survive and thrive.
"It's one of the things I've always loved about art, the ambiguity of it. It doesn't always have to make sense or have to have a purpose that is clearly state and obvious," McMullan said. "It's about helping people see connections across differences and to see each other more."
– By Steven Scarpa, Manager, Communications and Public Relations
-30-