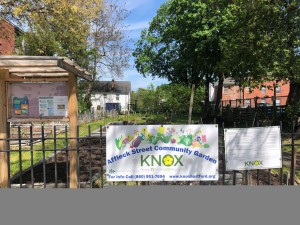 The area around the Park Library is fiercely and unapologetically urban. People are close together. The buildings are on top of each other. It's makes for a vibrant neighborhood but sometimes people can long for a patch of green.
That's where the KNOX Affleck Street Community Garden, located at 158 Affleck Street, comes in.
Thanks to a City of Hartford "Love Your Block" community grant, Graciela Rivera, manager of the Park Library, will be holding a series of three events in August in the garden. Specific dates for the programs have yet to be set. "The idea is to raise pride in our city and beautify our neighborhoods," she said.
Rivera plans to work alongside members of the community to rehabilitate some of the garden beds, plant new flowers, and put down a pollinator garden. The women's empowerment group that meets at Park will paint new benches. To help increase access, raised beds will be installed as well, giving senior citizens and people with physical challenges the opportunity to enjoy the garden.
In addition, Rivera will use grant funds to purchase garbage pickers for the garden that can then be checked out to anyone interesting in doing a neighborhood cleanup project.
"The garden is now in decent shape. I feel like once we complete a few of these projects it will look so much better," Rivera said.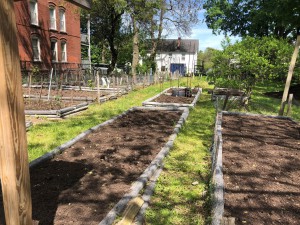 Garden beds are available for check out through HPL's Library of Things. Right now, all 38 beds at the garden have been taken for the season.
The Park Library has had a long relationship with KNOX, a local non-profit organization that uses horticulture to improve the city. KNOX owns the garden itself and the Park Library runs its day-to-day affairs.
Rivera said that you see families from the neighborhood out together, a mix of generations in the garden. It's a diverse community as well. The gardeners on Affleck Street come from places like Guatemala, Honduras, Puerto Rico, and the Dominican Republic. For many of the families, passing along their harvesting traditions to their children is almost as important as the food they grow.
"The Mexican papalo is an herb used in many dishes. You can see papalo growing throughout the garden," Rivera said.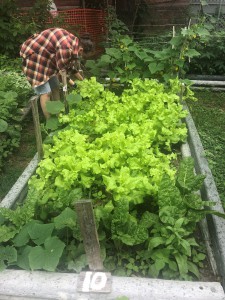 Community gardens across the city provide more than just nourishment. They are small oasis of health, peace, and for many people, inspiration. To see your neighbors excited to grow vegetables for their families, is very inspiring," Rivera said.
Rivera plans to have the Affleck Garden be a focal point of Park Library programming in the future. "This is something that hopefully going to have a long-term impact," she said.
– By Steve Scarpa, manager of communications and public relations
-30-