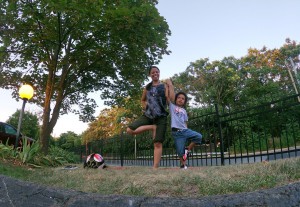 The combination of the stress of being a social worker and the challenge of being a single mom forced Krystal Failey to come up with new ideas for relief.
"I like to say that yoga kind of found me," she said.
Failey started practicing yoga after college about a decade ago but became more serious this past year.  This past March Failey began a new business, Klear Greatness, named for herself (Klear as in Krystal) and her four-year-old son Grayson, who she calls Grayson the Great. She will also offer free virtual classes on Facebook as part of HPL's Wellness Wednesdays series.
"People don't have the coping mechanisms needed to get through stressful situations," Failey said.
Failey said there is a stereotype in the Black community surrounding yoga practice, that it is only for white people. There can be barriers to entry. Classes can be expensive and often times there is no way for a parent to do yoga with their child, something of tremendous importance to her. Through her practice, she hopes to address these issues, offering positive affirmations and a place for everyone to find centeredness in their own lives.
"I like to tailor my services to my own people," she said. "I want people of color to realize that they can do this no matter what."
Our minds are cluttered. We don't breathe properly. We carry our stresses and our troubles where ever we go. Under ideal circumstances, there is a lot of pressure, Failey believes. Virtually everyone would agree that today is far from ideal.
"People in general, we over exert ourselves," she said. "You want to make sure that the mind clears. A huge component of what I am practicing is clearing the mind. We let go of what is not serving us," she said.
Yoga strengthens the body, but in Failey's estimation, the greatest clarity can be found by releasing stress. "It makes for a better sense of self," Failey said.
For more information about Klear Greatness, visit www.kleargreatness.com.
By Steven Scarpa, manager of communications and media relations
-30-