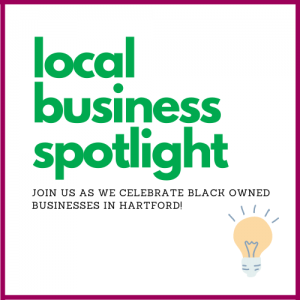 Hartford Public Library celebrates Black owned businesses in Hartford with a new video series called Local Business Spotlight, released each Friday on Facebook starting July 31. Business owners will talk about their establishments and the role Black literature has played in their journey. A wide range of businesses are represented from bookstores and restaurants to career consulting and therapy.
Here are links to the businesses joining us in the series and the books that helped them on their way.
Stanley Williams
The mission of Supreme Being Inc. is to elevate the quality of life for disadvantaged families
and to refine the minds of disadvantaged youth.
Inspiration: The Autobiography of Malcolm X as told to Alex Haley
Khmani Harrison
The Key Bookstore is a fully interactive bookstore experience. The Key engages readers through curation, activities, subscriptions, events, events, and community engagement. The focus is to lead readers on a path to self-mastery and the cultivation of connection on and offline with respect to the mission, "Divine liberation one page at a time". This store is curated on for the pillars Afrocentricity, Spirituality Environmentalism, and Entrepreneurship.
Career Consulting with Christina
Christina Edwards, HR Career Consultant
Inspiration: Relationship Goals by Michael Todd
Kay Dropping Gems specializes in intuitive guidance on self, relationships, love, careers, dream interpretations, aura cleanses, healing rituals, all channeled thru spirit
Quote: "If you are always trying to be normal you will never know how amazing you can be" – Maya Angelou
Davina Ismail
We are a veteran and family-owned company based in New Britain, Connecticut. We sell premium organic, direct trade coffee and flavorful blends of loose leaf tea.
Inspirations:
Onyeka Obiocha
Breakfast Lunch & Dinner (BL&D) creates collective culture by building unique, diverse ventures that bring people together authentically. We leverage the assets of the Connecticut region to bring the best of the community forward to offer to our in-house ventures and the projects of our partners and clients. Hartford, like many cities, is receiving revived interest from Government investors that will change the city. Breakfast Lunch & Dinner positions our work to make sure everyone is a part of that revival.
Inspiration:
Poem "Secrets"- Black experiences in America
Black Marxism by Cedric Robinson
Rita and Marc
B&B Wings and Things is a husband and wife team running the kitchen together with a lot of love.
Owners Marc and Rita share a love for creative food, their award-winning sauces and making people laugh.
Black Privilege: Opportunity Comes to Those Who Create It by Charlamagne tha God
Thieves' Paradise by Eric Jerome Dickey
Monique West
Awaken The Power Therapy offers coaching & mental health therapy services. We offer coaching for parents on how to effectively parent amidst the "chaos" and balance career goals, parenting and personal growth. We also offer action coaching for people who experience procrastination and indecisiveness in the areas of relationship, career, vocation and personal growth. With couples we work to have each person communicate more effectively, create emotional intimacy and meaningful bonding.
Inspiration: The Gentleman In The Grey Suit: A Black Man's Tale To Save Black Boys In America by Eldorado Anderson
-30-
One Response to Local Business Spotlight to Launch July 31