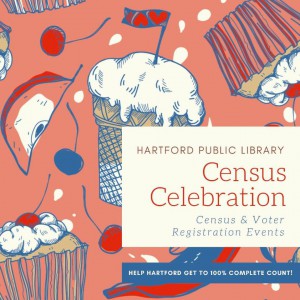 Hartford Public Library will be holding a series of events at each of our community locations to help anyone seeking to fill out the 2020 Census or register to vote.
Librarians will be on hand to offer assistance filling out the 2020 Census mobile questionnaire and voter registration forms. There will be free books and ice cream available at each event.
"Voting and completing the Census are two of the most fundamental – and easy – things a citizen can do to help their communities. It is our goal at HPL to encourage as many people as we can to participate in the civic process," said Bridget Quinn-Carey, HPL's president and CEO.
Currently, Hartford's Census self-response rate is 46.2%, a number that doesn't include response collected by Census enumerators. The deadline to get a full count for Hartford is September 30.
"We want to help Hartford get to a 100 percent count," Quinn-Carey said.
The events will take place the following dates:
September 3, Albany Library,
September 8, Camp Field Library, 3-5 pm, 30 Camp Field Avenue
September 14, Dwight Library, 3-5 pm. 7 New Park Avenue
September 15, Camp Field Library, 3-5 pm
September 16, Park Library, 10 am-12 pm 744 Park Street (Art Box across the Street from the branch)
September 18, Downtown Library, 12-2 pm, 500 Main Street
September 23, Park Library, 1:00-3:00 pm, 744 Park Street
For more information, visit hplct.org.
To learn more about the 2020 Census, visit census.gov.
-30-