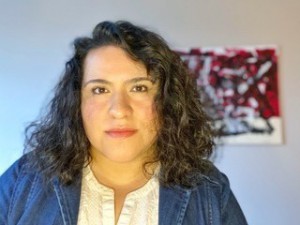 Poet Diana Aldrete thinks of her poetry as being like a Polaroid – a moment in time.
She then takes that moment and explores the imagery inside of it, teasing out the feelings. She puts pen to paper, and then tests her words out loud.
If she's done her job well, she draws the reader and the listener into her world.
Aldrete, a Hartford resident, will be performing an original work in Spanish and English at the opening event of the NEA Big Read on Sunday, February 28 at 3 pm. "Typically when I am writing a poem it only comes out in one language. This one is going to be very interesting," she said.
Aldrete, a visiting lecturer of language and culture studies at Trinity College, began writing poetry in high school. As first generation American whose parents were born in Mexico and El Salvador, language was a central part of Aldrete's formative experiences.
"Language is big. It's huge. And I think that's what connects my entire work, my entire identity. Spanish language is my first language. My parents spoke to us in Spanish," Aldrete said.
She was born in the United States, but moved back to Mexico for a time, where she and her family spoke only Spanish. Aldrete returned to the United States, returning to English as her primary language.
"When I took my first Latin American literature class I felt like I returned home. I was reading my language in these beautiful art forms – novels, poetry, and essays – I fell in love with it. It has informed the way I think and the way I write. Using Spanish in my art is an homage to that experience," she said.
Aldrete has always been a creative person, but it wasn't until she began teaching literature that she re-engaged with poetry and began thinking of herself as a performer. "I started to get inspired by the poets that I was teaching. Then I would start writing my own poetry and developing my own style," she said.
"I am a fan of hers. I have taught her for novel in my classes … not only am I a fan of the book, but also what it stands for as far as championing and advocating for women's rights, especially in times of oppression," Aldrete said.
The novel tells the story of three sisters, known at The Butterflies, who opposed the dictator Trujillo and paid with their lives. Aldrete believes that the novel has contemporary resonance. "We see this in terms of women's issues. We saw the Women's March, women joining together in solidarity to speak out against sexism and oppression in many forms. I think (the novel) really speak to where we are," she said.
It's about more than just the story for Aldrete. The way that Alvarez plays with language to evoke the beauty of the Dominican Republic is an inspiration. "It felt familiar to me. Some of the things I remember from living in Mexico. I felt connected to that because of her use of the language. I feel the sensory images. I am really connected to her work because of that," Aldrete said.
To learn more about Aldrete's work, visit her here: https://linktr.ee/aldreted
– by Steven Scarpa, manager of communications and public relations
-30-