Spencer G. Shaw knew from his sophomore year at Weaver High School that he wanted to work in a library.
"There was something about it—I just liked it," Shaw said in an oral history recorded in Hartford Public Library in 2006. A transcript of that recording is available today in the Library's third floor Hartford History Center.
"I always liked books, as did my sisters and so forth. We liked that, because we had books at home, and we were read to a lot, and so forth. When I used to come out of school, the Northwest Grammar School, on my way home after school I would sometimes dash into the Northwest Library to see what latest sports book was in the collection … if I found a sports book, but I didn't have my library card, I would run down and hide it behind the history collection! Then go home and get my card, and come back."
That book-smitten child would go on to become Hartford Public Library's – and possibly the state of Connecticut's – first African-American librarian.
In recognition of Shaw's groundbreaking role, The Black Caucus of the American Library Association – Connecticut Affiliate has announced a scholarship available to an African-American Connecticut resident accepted in an MLS degree program from an ALA accredited Master's Program in Library and Information Studies.
Interested applicants should visit https://sites.google.com/view/bcala-ct/scholarships/2021-application
Shaw's work led him well beyond the borders of beloved hometown of Hartford. He received national and international recognition in his field – library service to children – taking him on an exciting professional odyssey: Hartford, Brooklyn, Nassau County, to radio, television and films, to talks and lectures at universities across America and the globe.
"(Shaw is) a leader among librarians and educators, an authentic and forthright spokesperson for children and youth librarians in the State of Washington and the nation, (contributing) enormously in motivating and guiding the nation's youth," the American Library Association said about Shaw.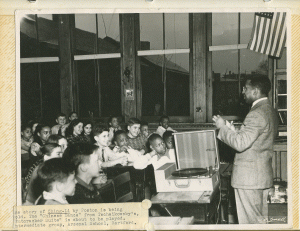 But it all began for Shaw at the Keney Branch Library in 1941. Shaw said it was an exciting time to start a career in librarianship in Hartford. The branch was located at the convergence of Albany Avenue and Main Street in an ethnically diverse neighborhood. It was a working class neighborhood, Shaw recalled, and not immune to racial prejudice. When he was hired, the assistant librarian resigned, something he said she later regretted.
An offhanded remark propelled Shaw into what would become the defining focus of his career – storytelling.
"I shall never forget preparing for that first program. Julia said (Moriarity, Shaw's assistant), "Spencer, do you want me to do the storytelling, or would you like to do it?" Not thinking very wisely, I said, "Julia, I'll do it." So I prepared. And on the day of the first storytelling session, I looked outside the door of the library, which was locked, and saw some children already lining up. This was before television; they had no other place to go!" Shaw said.
He read a version of "Snow White and the Seven Dwarves," leading him to embrace the universality of fairy tales. Over time, Shaw put together a kind of story hour ritual, with music, candles and beautiful stories from all over the world. He believed that the stories not only gave children a chance to exercise their imaginations, but also as a place to learn empathy.
"From the very beginning, I tried to use the literature, in terms of storytelling, to entertain, yes, but also to lead the listener, or guide the listener, from listening to the book. And also another thing we tried to do through this was to give them the best that there was in literature. And of course, one of my basic uses was to develop a sense of cultural understanding, by stories from different countries," Shaw said.
It was in Hartford that Shaw began to develop skills he would use the rest of his career. He not only learned the particulars of administrating a library, but he found that he was drawn to working with children. "You learn so much with the children! They can be reached; I don't care who they are from what background they come," Shaw said.
Shaw left Hartford Public Library in 1949 and spent the next half-century working throughout the country, honing his storytelling craft. He returned to the greater Hartford area after his retirement, and volunteered as a storyteller at the library well into his late 80s. He died in 2010 at the age of 93.
At the end of his 2006 oral history, Shaw shared a quote he concluded his book talks with. It's a celebration of what books can give:
"It goes like this, and I've always used it … This is by Abbie Farrell Brown. 'Here's an adventure. What awaits beyond these closed, mysterious gates? Whom shall I meet? Where shall I go beyond this lovely land I know? Above the sky? Across the sea? What shall I learn, and feel, and be? Open, strange doors, to good or ill! I hold my breath a moment still before the magic of your look. What will you do to me, oh book?'"
by Steven Scarpa, manager of communications and public relations
– 30 -