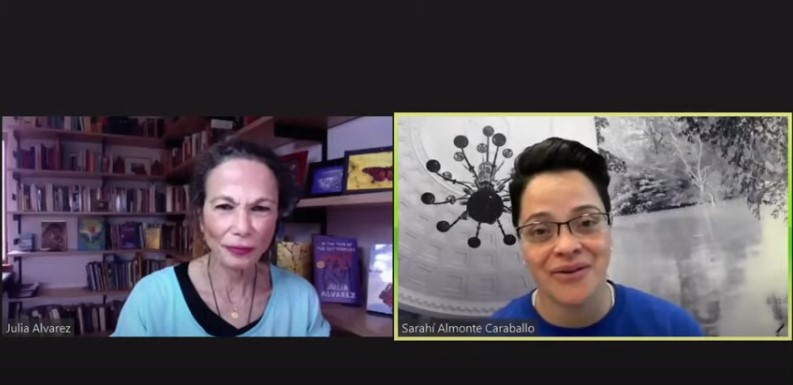 Julia Alvarez believes that stories can change the world.
She ought to know – her deeply empathetic characters and universal stories have resonated the world over, inspiring activists and writers alike to create.
Alvarez spoke to over 300 people from across the world live on Facebook and YouTube on Thursday, March 25 in the conclusion of Hartford Public Library's month long celebration of her iconic novel "In the Time of the Butterflies." "It's a virtual event, but it is as good or better than ever," said HPL president and CEO Bridget Quinn.
Alvarez and local poet Sarahi Almonte Caraballo had a wide ranging discussion about creativity, the power of stories, and how representation in those stories creates empathy.
First, however, Alvarez gave a brief presentation about her and her inspiration for the novel "In the Time of the Butterflies," this year's NEA "Big Read" novel.
Alvarez was born in the United States but her family became homesick and returned to the Dominican Republic when she was young. Her father was the youngest of 25 children, so Alvarez grew up in a happy family bubble, insulated from the realities of life under the dictator Trujillo.
"I had tios and tias and cousins all over the place. It was like a little village … the way I describe my childhood is that I always had a hand to hold," she said.
While Alvarez grew up in a storytelling culture, one that she believes taught her everything she needed to know, no one read books. An aunt gave Alvarez the single book she had growing up as a child – "One Thousand and One Nights."
The novel tells the story of Scheherazade, a young woman who staves off the murderous intentions of an evil sultan by telling him a story every night. The resourceful young woman's stories saved lives because they changed hearts, Alvarez said.
"I wanted to be someone like that. I didn't know how you did that. It was amazing that stories had that kind of power," she said.
When Alvarez heard the story of Las Mariposas, the Mirabal sisters who opposed Trujillo and were murdered because of it, she was captivated. "I always thought of them as my sisters who didn't make it," she said. "I felt like I owed them something, but I didn't know what."
The uprising against Trujillo was an important part of Alvarez's life story. Her family fled the Dominican Republic to New York because of his involvement in the uprising. She lost family members to the Trujillo regime. It was when Alvarez was introduced to a fourth Mirabal sister – the one her survived – that she realized she needed to tell the story.
"If this isn't the green light from the powers that be, I don't know what is," Alvarez said.
Thanks to Alvarez, the local story of The Butterflies became an international phenomenon. In 1999, the United Nations dedicated November 25 as International Day for the Elimination of Violence Against Women, marking the anniversary of the deaths of the Mirabal sisters.
"I didn't think the story that I told would help people to find their own Mariposas," Alvarez said.
Caraballo, a Connecticut resident, poet, nurse and performer, was one of those people. She described Alvarez as a "literary matriarch," leading the way for Latinx writers to step forward with their own stories and life experiences.
"I'd been trying to find myself in a book for years," Caraballo said.
Books like Alvarez's led Caraballo to find her voice as a poet. Caraballo grew up split between English and Spanish, moving between different cultures, different schools. She described herself as a "bridge person," someone who connected different groups to each other.
"I always say I grew up in transit," Caraballo said.
There is often an emphasis on books that take us other places. For Caraballo, it was important to find books that took her home. Alvarez's work, particularly her novel "Something to Declare," did that for her.
Alvarez said when she was starting out as a writer, there was no such thing as multicultural literature. "It just wasn't out there. We were trying to find ourselves. The books that we were missing were the ones we set out to write," Alvarez said.
Alvarez quoted writer Toni Morrison – the function of freedom is to free someone else. Stories are one way to offer freedom and hope.
"I was at home in the world of story. Everyone was welcome. You become the other and the other becomes you," Alvarez said.
The evening concluded with a tender moment between Caraballo and Alvarez. Julia would turn 71 over the weekend, and Caraballo had written a poem in her honor. It was a piece about a woman finding herself.
"If I didn't have my makeup, I'd cry," said Alvarez, visibly moved by Caraballo's words.
– By Steven Scarpa, manager of communications and public relations
-30-