Over 500 Hartford residents were vaccinated during a clinic held at Dwight Library April 7-9.
When Liz Matias, Dwight Library manager, arrived shortly before 8:30 am on Thursday, the second day of the clinic, people were already at the door waiting for the 10 am start time.
"There was a line, a long line," Matias said. "The word spread like wildfire."
Matias said that vaccination appointments can be a lot harder for Dwight neighborhood residents to obtain. There are often issues with internet connectivity, language difficulties, and limited access to transportation.
"There are a lot of barriers," she said.
Open clinics like the one held at Dwight make it easy for the most vulnerable to have ready access to the vaccine.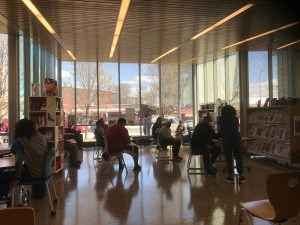 People who showed up walked into a smoothly running machine. Members of National Guard helped people fill out registration paperwork outside.  Those desiring vaccination checked in with a member of the Griffin Health team, and then moved into a socially distanced waiting area before their shot. Once they had their vaccination, there was a sunny spot reserved by the library's large windows for their observation period.
Matias and her team had thought through the process carefully. "Everything is set up so it flows," she said.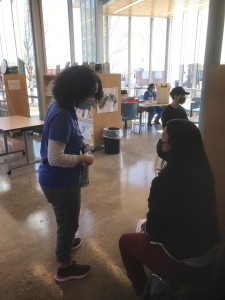 Matias, who speaks Spanish, acted as an interpreter for many of the people who came in for their shots. She moved around the room, guiding people to their next step in the process, making sure that people were comfortable and had what they needed.
An elderly gentleman who was a bit unsteady on his feet stood up. Matias walked over: "Can I take your other arm?" she said, leading the man to the door. He went off into a bright day, fully vaccinated courtesy of HPL and Griffin Health.
"It's just such a great opportunity for the community to have this available to them," said Matias.
By Steve Scarpa, manager of communications and public relations
– 30-