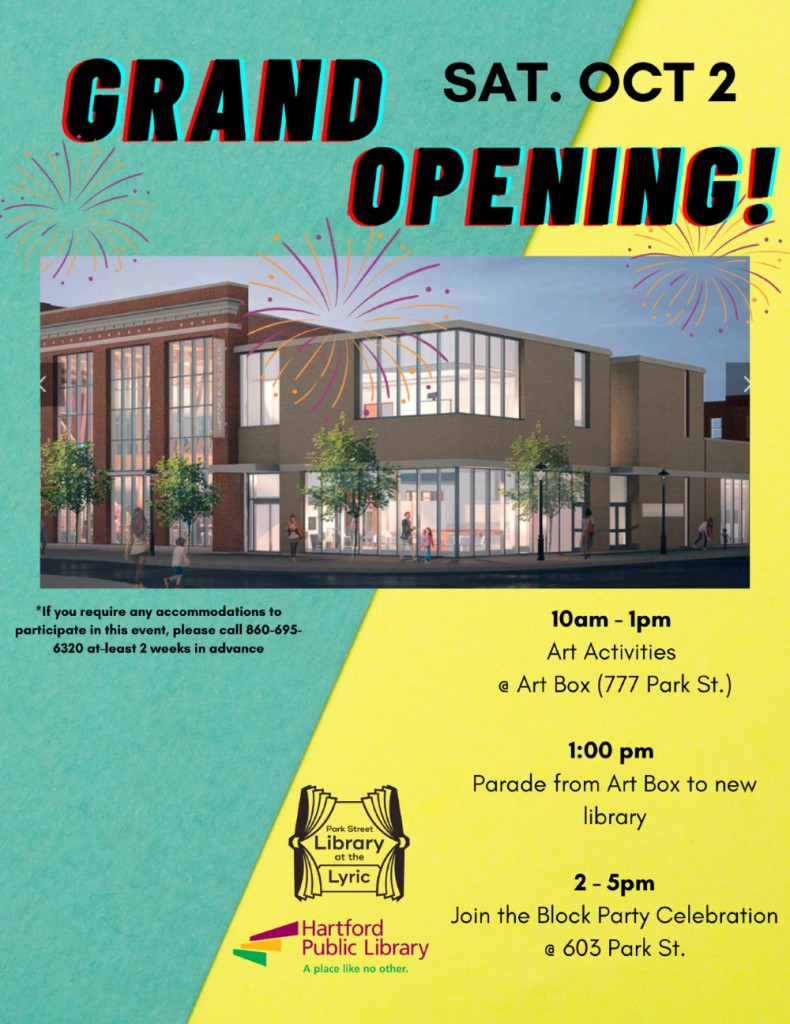 Hartford Public Library invites the community to a daylong celebration on Saturday, Oct. 2 to mark the grand opening of the new Park Street Library @ the Lyric!
The festivities will begin in the morning with art activities at the Art Box (777 Park St.) followed by a parade to the new library (603 Park St.). At the library there will be live music, food trucks, activities for kids and open access to come inside and tour the brand new space.
RSVP on Facebook HERE
DAY'S EVENTS:
10 a.m. to 1 p.m. – Art activities at the Art Box, including painting of Southside Institutions Neighborhood Alliance Frog Hollow heroes murals
11 a.m. – Puppet show, presented by Hispanic Health Council
1 p.m. – Colors of Frog Hollow Community Parade from Art Box to Park Street Library @ the Lyric (Wear a shirt representative of your culture)
2 p.m. to 5 p.m. – Block party celebration
FEATURED PERFORMERS:
De 4 Ahwee & Co. with friends from Trinity Steel, presented by the Trinity College Center for Caribbean Studies
DJ Connie Carmona featuring YOUMedia Hartford teens
Bomba Ashe
Latin Essence Jazz Group
Mariachi Academy of New England
OTHER PROGRAMS:
Voices of Frog Hollow multimedia presentation
Hartford History Center Hartford Public Library branch history exhibit
La Diferente Radio is sponsoring the event and host Jorge Laureano will be emceeing. It will be broadcast live on 1710 AM.