Brit Bennett's The Vanishing Half was a popular checkout during 2021 at libraries across the country, and Hartford Public Library was no exception. The novel was the most-borrowed adult title from HPL's catalog this year. Read on to see what else made the list, and if you see something you're interesting in borrowing, click the title to be redirected to our online catalog.

From The New York Times-bestselling author of The Mothers, a stunning new novel about twin sisters, inseparable as children, who ultimately choose to live in two very different worlds, one black and one white.
"Propulsive and compassionate, Bennett's follow-up to the mothers is not to be missed." — Harper's Bazaar
"[A] page-turner about once-inseparable twin girls now living radically different lives." — O: The Oprah Magazine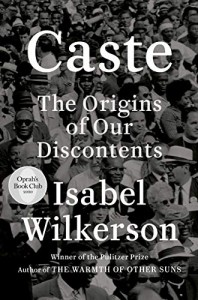 The Pulitzer Prize–winning, bestselling author of The Warmth of Other Suns examines the unspoken caste system that has shaped America and shows how our lives today are still defined by a hierarchy of human divisions.
"Magnificent . . . a trailblazing work on the birth of inequality . . . Caste offers a forward-facing vision. Bursting with insight and love, this book may well help save us."— O: The Oprah Magazine
"This book has the reverberating and patriotic slap of the best American prose writing. . . . Wilkerson has written a closely argued book that largely avoids the word 'racism,' yet stares it down with more humanity and rigor than nearly all but a few books in our literature. . . . It's a book that changes the weather inside a reader."— Dwight Garner, The New York Times

In September 1969, a fumbling, cranky old church deacon known as Sportcoat shuffles into the courtyard of the Cause Houses housing project in south Brooklyn, pulls a .38 from his pocket, and, in front of everybody, shoots the project's drug dealer at point-blank range. The reasons for this desperate burst of violence and the consequences that spring from it lie at the heart of Deacon King Kong.
"A mystery story, a crime novel, an urban farce, a sociological portrait of late-1960s Brooklyn: McBride's novel contains multitudes… He conducts his antic symphony with deep feeling, never losing sight of the suffering and inequity within the merriment." — The New York Times, Top 10 Books of 2020
"Shouldn't we just get it over with and declare McBride this decade's Great American Novelist?…McBride has a way of inflating reality to comical sizes, the better for us to see every tiny mechanism that holds unjust systems in place." — Los Angeles Times

Ghetto-born, Winter is the young, wealthy daughter of a prominent Brooklyn drug-dealing family. Quick-witted, sexy, and business-minded, she knows and loves the streets like the curves of her own body. But when a cold Winter wind blows her life in a direction she doesn't want to go, her street smarts and seductive skills are put to the test of a lifetime. Unwilling to lose, this ghetto girl will do anything to stay on top.
"Winter is nasty, spoiled, and almost unbelievably libidinous, and it's ample evidence of the author's talent that she is also deeply sympathetic." ― The New Yorker
"Winter is precious, babacious, and as tough as a hollow-point bullet." ― Salon.com

The long-anticipated sequel to Sister Souljah's million copy New York Times bestseller The Coldest Winter Ever. Winter Santiaga hit time served. Still stunning, still pretty, still bold, still loves her father more than any man in the world, still got her hustle and high fashion flow. She's eager to pay back her enemies, rebuild her father's empire, reset his crown, and ultimately to snatch Midnight back into her life
"The second novel follows Winter to a temptation-packed purgatory . . . LIFE AFTER DEATH . . . joins its predecessor — and the rest of Sister Souljah's work — in illuminating both the glamour and the danger of urban life." – The Atlantic
"An inventive sequel . . . . Souljah's fans will recognize familiar themes from her earlier realistic coming-of-age novel, while this raw and otherworldly tale conveys the terrible consequences of Winter's poor choices, which will haunt her until she begs for redemption." – Booklist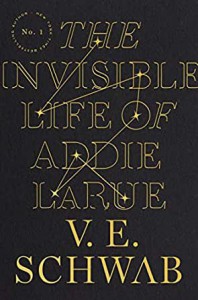 France, 1714: in a moment of desperation, a young woman makes a Faustian bargain to live forever and is cursed to be forgotten by everyone she meets. Thus begins the extraordinary life of Addie LaRue, and a dazzling adventure that will play out across centuries and continents, across history and art, as a young woman learns how far she will go to leave her mark on the world.
"One of the most propulsive, compulsive and captivating novels in recent memory."―Washington Post
"Schwab's page-turner is an achingly poignant romantic fantasy about the desperate desire to make one's mark on the world." ― Oprah.com, Best LGBTQ Books of 2020

Heather McGhee's specialty is the American economy — and the mystery of why it so often fails the American public. From the financial crisis of 2008 to rising student debt to collapsing public infrastructure, she found a root problem: racism in our politics and policymaking.
"Required reading to move the country forward . . . Every so often a book comes along that seems perfectly timed to the moment and has the potential to radically shift our cultural conversation. [The Sum of Us] is one of those books. . . . It is a sometimes angry or frustrated book, rooted in McGhee's long career at Demos trying and mostly failing to secure legislation that would benefit the public. But in the end, it's a hopeful book because McGhee's vision is so clear and so convincing." — Chicago Tribune
"If everyone in America read this book, we'd be, not only a more just country, but a more powerful, successful, and loving one. A vital, urgent, stirring, beautifully written book that offers a compassionate roadmap out of our present troubled moment." — George Saunders, New York Times bestselling and Booker Prize–winning author of Lincoln in the Bardo


On Earth We're Briefly Gorgeous is a letter from a son to a mother who cannot read. Written when the speaker, Little Dog, is in his late twenties, the letter unearths a family's history that began before he was born — a history whose epicenter is rooted in Vietnam — and serves as a doorway into parts of his life his mother has never known, all of it leading to an unforgettable revelation.
"A stunningly written journey that … explores how race, masculinity, addiction and poverty are seen in our country — all topics that feel especially significant today." — WSJ. Magazine
"Vuong is masterly at creating indelible, impressionistic images…Vuong beautifully evokes [Trevor's] seductive power over Little Dog: This is some of the most moving writing I've read about two boys experimenting together…The book is brilliant in the way it pays attention not to what our thoughts make us feel, but to what our feelings make us think. To what kinds of truth does feeling lead? Oscar Wilde famously quipped that sentimentalism is wanting to have an emotion without paying for it, but Little Dog has paid and paid, and the truths arrived at in this book are valuable precisely because they are steeped in feeling." — Justin Torres, The New York Times Book Review

Seventeen-year-old Samuel Sooleyman comes from a village in South Sudan, a war-torn country where one third of the population is a refugee. His great love is basketball: his prodigious leap and lightning speed make him an exceptional player. And it may also bring him his big chance: he has been noticed by a coach taking a youth team to the United States.
'Grisham's books are smart, imaginative, and funny, populated by complex interesting people' — The Washington Post
'A superb, instinctive storyteller' — The Times

Somewhere out beyond the edge of the universe there is a library that contains an infinite number of books, each one the story of another reality. One tells the story of your life as it is, along with another book for the other life you could have lived if you had made a different choice at any point in your life. While we all wonder how our lives might have been, what if you had the chance to go to the library and see for yourself? Would any of these other lives truly be better?
"A feel-good book guaranteed to lift your spirits."— The Washington Post
"An absorbing but comfortable read…a vision of limitless possibility, of new roads taken, of new lives lived, of a whole different world available to us somehow, somewhere, might be exactly what's wanted in these troubled and troubling times." — The New York Times