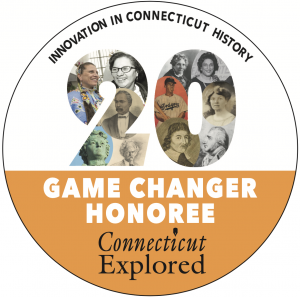 The Hartford History Center at Hartford Public Library has been selected as one of Connecticut Explored's 20 for 20 Game Changers. A nonprofit that publishes a magazine about Connecticut history under the same name, Connecticut Explored is celebrating its 20th anniversary by naming 20 "Game Changers," projects and people who represent the future of Connecticut history. 
Located at the Downtown Library, the Hartford History Center boasts an extensive digital and print historical archive of Hartford life from the 1630s to now. Connecticut Explored recognized the Hartford History Center for its devotion to Hartford's unique culture through various events and exhibits. These include the Hartford Changemakers summer program; Encounters partnerships with UConn, the Wadsworth Atheneum Museum of Art and Connecticut's Old State House; and recent displays that have focused on Hartford barber shops, Hartford's Hip Hop history and the Connecticut women's suffrage movement.
"We are proud to mark the milestone of our 20th year with this important, forward-looking project," said Kendall Wiggins, chair of the board of Connecticut Explored. "Though we as an organization are by definition focused on history, our team decided to look forward rather than back, highlighting a diverse array of people and programs across the state that are changing the game by exploring the future of Connecticut history. Thank you to the staff, Board members, volunteers, and other supporters for their invaluable contributions to this important project."
The Hartford History Center will host a public event featuring Game Changers Elena Rosario and Pablo Delano on Wednesday, September 21st at the Park Street Library @ the Lyric. Rosario is a Ph.D candidate and historian whose research focuses on Puerto Rican migration to Hartford, and Delano is an artist and educator who has created the conceptual art installation The Museum of the Old Colony. The two Game Changers will discuss the influence of Puerto Rico and its history on their work. The exhibit Puerto Ricans Making Hartford Home will be open for viewing from 6 to 7 p.m., and the Game Changers discussion will take place from 7 to 8 p.m.
The 20 for 20 Game Changers will be honored by Connecticut Explored at a celebration on October 6 at the Mark Twain House and Museum.