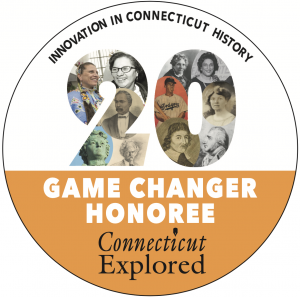 The Hartford History Center at Hartford Public Library has been selected as one of Connecticut Explored's 20 for 20 Game Changers. A nonprofit that publishes a magazine about Connecticut history under the same name, Connecticut Explored is celebrating its 20th anniversary by naming 20 "Game Changers," projects and people who represent the future of Connecticut history. 
Located at the Downtown Library, the Hartford History Center boasts an extensive digital and print historical archive of Hartford life from the 1630s to now. Connecticut Explored recognized the Hartford History Center for its devotion to Hartford's unique culture through various events and exhibits. These include the Hartford Changemakers summer program; Encounters partnerships with UConn, the Wadsworth Atheneum Museum of Art and Connecticut's Old State House; and recent displays that have focused on Hartford barber shops, Hartford's Hip Hop history and the Connecticut women's suffrage movement.
"We are proud to mark the milestone of our 20th year with this important, forward-looking project," said Kendall Wiggins, chair of the board of Connecticut Explored. "Though we as an organization are by definition focused on history, our team decided to look forward rather than back, highlighting a diverse array of people and programs across the state that are changing the game by exploring the future of Connecticut history. Thank you to the staff, Board members, volunteers, and other supporters for their invaluable contributions to this important project."
The Hartford History Center will host a public event featuring Game Changers Elena Rosario and Pablo Delano on Wednesday, September 21st at the Park Street Library @ the Lyric. Rosario is a Ph.D candidate and historian whose research focuses on Puerto Rican migration to Hartford, and Delano is an artist and educator who has created the conceptual art installation The Museum of the Old Colony. The two Game Changers will discuss the influence of Puerto Rico and its history on their work. The exhibit Puerto Ricans Making Hartford Home will be open for viewing from 6 to 7 p.m., and the Game Changers discussion will take place from 7 to 8 p.m.
The 20 for 20 Game Changers will be honored by Connecticut Explored at a celebration on October 6 at the Mark Twain House and Museum.
A handful of young Hartford students are now published authors thanks to a partnership between SINA (Southside Institutions Neighborhood Alliance) and Hartford Public Library.
The winners of the first-ever REACH Book Contest were announced at the Park Street Library @ the Lyric on Thursday, August 18th. Their books — which were written during the month of April and incorporated the theme of Earth Day — have been printed and are available for borrowing at Hartford Public Library.
The winning selections were: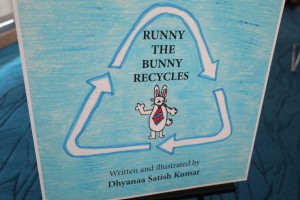 Runny the Bunny Recycles
Written and illustrated by Dhyanaa Satish Kumar (Glastonbury-East Hartford Magnet School)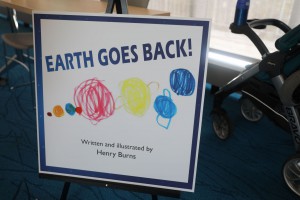 Earth Goes Back!
Written and illustrated by Henry Burns (Noah Webster School)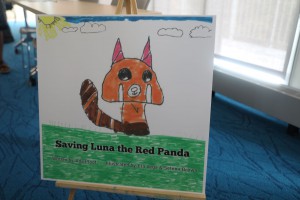 Saving Luna the Red Panda
Written by Ada Ploof and illustrated by Ela Vega and Selena Brown (Noah Webster School)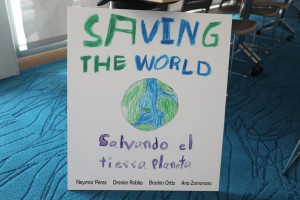 Saving the World (Salvando el Planeta Tierra)
Written and illustrated by Neymar Perez Ortiz, Drenier Robles Baez Broshin Ortiz and Ana Zamorano (Sanchez School)
Ryan Calhoun, vice president of strategy and care integration at Connecticut Children's hospital and the SINA REACH chair said the contest was inspired by the viral story of an 8-year-old boy in Idaho who snuck a handwritten book about what he did over his Christmas break onto the shelves of his local library. When librarians discovered the new addition on the shelves they asked the boy's permission to add it to their collection and "The Adventures of Dillon Helbig's Crismis" became a sensation, with hundreds joining a waitlist to borrow it.
"We said, 'Wouldn't it be great if we had a nice little contest for our students in the area and see what they come up with, let them use their imaginations.' And look at these four books we have today — so much creativity," Calhoun said. "It was really exciting for us, we were happy to be able to bring this idea to reality, we're so excited … to get a chance to read the amazing work that's been created here."
By Jennifer Sharp, Hartford History Center archivist
The Hartford History Center at Hartford Public Library was recently awarded a grant from the National Film Preservation Foundation for the restoration and digitization of a collection of films taken by radio pioneer and inventor Hiram Percy Maxim in the early 20th century.
The $18,830 grant will provide for ultrasonic cleaning, a 4K scan, scene to scene color/density correction, insertion of an NFPF logo, 16mm film-out intermediate negative and silent answer print, a 16mm 400' archival can, 16mm 400' reel and creation of a digital access file. Two reels also require redimensioning. The work will be performed by Colorlab of Rockville, Maryland.
Hiram Percy Maxim was an explorer. Whether inventing new technology such as the Maxim Silencer, pioneering the American Radio Relay League, creating airplane parts, yachting, or studying astronomy, Maxim was constantly seeking out new frontiers. His work has had lasting benefits, in Hartford and around the world.
Maxim was born in Brooklyn, New York. His father, Sir Hiram Stevens Maxim, was an inventor, as was his uncle, Hudson Maxim. Hiram Percy Maxim married Josephine Hamilton, the daughter of a former Maryland governor. They had two children, Hiram Hamilton and Percy.
Maxim first came to Hartford in 1895 to work for the Pope Manufacturing Company. His initial task, accomplished two years later, was the creation of the Columbia electric motor carriage. He continued working as an automobile designer and engineer until the formation of Maxim Silent Firearms Co. in 1908. The Maxim silencer, used to suppress the sound of firearm discharge, was eventually discontinued. Maxim found ways to use the technology to eliminate noise in other ways, such as through ventilating spaces.
Today, Maxim is studied as a result of his hobbies. A Hartford Courant article at the time of Maxim's death states that in the years preceding passage of the first U.S. radio law in 1912, "his amateur station was in communication over the limit of ranges possible in those early days of radio." In 1914 Maxim founded the American Radio Relay League, which remains in operation today. Internet searches indicate that Maxim is revered by amateur radio enthusiasts.
Relevant to this project, Maxim also enjoyed motion picture photography. In 1926 he was instrumental in the formation of the Amateur Cinema League, which also exists to this day. An award was named for him following his death.
Hiram Percy Maxim passed away in Colorado, while on a trip to California. The trip was to include astronomical research in Arizona, another of his many hobbies.
Maxim's wife, Josephine, has a place in Hartford and Connecticut's history, too. Her accomplishments included being the first Connecticut woman appointed to the Democratic National Convention, serving as a member of the Hartford Board of Education and an executive committee member of the Connecticut Woman Suffrage Association and founding the Connecticut League of Women Voters. She is featured in some of the films, including one about the meeting of her garden club. In addition to depicting engineering history, Maxim's films also provide a glimpse into the lives of Hartford's society women. This is an area our collection that is otherwise lacking.
The films feature both Maxim and his wife, along with their family and friends. Hartford is recorded in many ways, including footage of flooding in November 1927 and the view from the city's first air mail plane. Reels show young children at the orphan asylum, and ladies touring gardens. Maxim's humor often comes through, with a Friday the 13th reel that plays backward and a scene of Paul Butterworth's "house warming" (the building was on fire). Outside of Hartford, Maxim captured the Hepburn family diving at Fenwick and several trips to locations throughout the United States.
Calling all astronauts! Join educators from The Children's Museum at Hartford Public Library this month for an out of this world week exploring the moon, Mars and the stars. Meet live animals who helped pioneer space travel, discover the stories kept in the constellations and see if you have what it takes to be a rocket scientist. After attending the library programs your adventure will end with a field trip to The Children's Museum in West Hartford! We are offering this program in three separate sessions:
Dwight Library
Monday, August 8th, 10 a.m.
Wednesday, August 10th, 10 a.m.
Thursday, August 11th, 10 a.m. (field trip)
Albany Library
Tuesday, August 16th, 2 p.m.
Thursday, August 18th, 2 p.m.
Friday, August 19th, 2 p.m. (field trip)
Downtown Library
Tuesday, August 23rd, 2 p.m.
Wednesday, August 24th, 2 p.m.
Thursday, August 25th, 2 p.m.
Friday, August 26th, 2 p.m. (field trip)
Program is for children ages 6-12. Registration is required here.
Hartford Public Library is partnering with the nonprofit Vision to Learn to provide free eye exams and free eyeglasses to city youth this month at library locations across Hartford, just in time for the start of the school year.
The program is open to children ages 5 to 18. No insurance is necessary. Appointments are required and can be made by calling the library at 860-695-6300.
According to Vision to Learn, an estimated 40,000 children in Connecticut's Alliance School Districts, a group that includes Hartford Public Schools, go to school each day without glasses needed to see a whiteboard, read a book or participate in class.
Once an appointment is made, the child and an accompanying adult will visit the library during their allotted time for a free eye exam conducted on site by Vision to Learn's trained experts. Children who are in need of eyeglasses will be provided with a pair free of charge.
Vision to Learn visited two Hartford Public Library locations earlier this summer, providing dozens of children with eyeglasses.
The schedule for Vision to Learn's August visits is as follows:
August 15
Dwight Library
7 New Park Ave.
August 16
Barbour Library
261 Barbour St.
August 17
Albany Library
1250 Albany Ave.
August 22
Camp Field Library
30 Campfield Ave.
August 23
Park Street Library @ the Lyric
603 Park St.
August 24
Downtown Library
500 Main St.

Hartford Public Library has received a $14,000 grant from the Aurora Foundation for Women and Girls to fund a new program, Barriers Can't Stop Us: Building Immigrant Women's Success, that will help 30 female students who immigrated to the United States while in high school access the necessary resources to remain in school and complete their college degrees.
The program, which will begin this month, has three main goals: reduce the various obstacles –– academic, financial and social –– associated with obtaining a post-secondary degree, provide support to students as they transition into a new and unfamiliar academic environment, and foster connections between peers of similar backgrounds and identities to mitigate social isolation.
"Pursuing a college degree as a young immigrant woman presents unique challenges," said Hartford Public Library President and CEO Bridget E. Quinn. "We are so grateful that the Aurora Foundation has assisted us in funding a program that will prepare these students for great success in the future."
Although the transition to college can be difficult for all students, female immigrants face a unique set of hardships when it comes to post-secondary education. These students are learning English while they complete application and financial aid forms almost entirely in English. They also must navigate a new culture of American higher education while pursuing their degree. Finally, daughters in immigrant families often take on additional responsibilities at home while in school, such as caring for younger siblings or assisting parents with English translation. For these reasons, Barriers Can't Stop Us has been created to address the unique experience of female immigrants.
Students in the program will have the opportunity to meet individually with a College Access and Retention Specialist during the summer and the academic year, and they will meet with a peer support network run by a College Peer Mentor each semester.
Hartford Public Library's Michele Maccarone Brophy, who runs the library's after-school English language learning program for immigrant high school students and has more than 30 years of experience working in college access and retention for first-generation and low-income students, will serve as the College Retention Specialist. Students who recently graduated from the English Learner Success program will participate in Barriers Can't Stop Us.
"Having worked with the students while they were in high school, it is exciting to see them take this next important step in their academic journeys, and to be there to support them," Brophy said.
The College Peer Mentors, college upperclassmen who have also completed the English Learner Success program, will be matched with a group of incoming first-year students at their respective institutions and will provide them advice about their school and the transition to college. Mentors will be selected based on their demonstration of strong leadership skills.
Hartford Public Library was one of six organizations selected by the Aurora Foundation for a grant to fund a college completion program.

Throughout the month of August, the Pandemic Journaling Project (PJP) will visit Hartford Public Library branches to host "Picturing the Pandemic," journaling sessions with children ages 6-12 that will capture their thoughts and feelings about how the COVID-19 pandemic has affected their daily lives.
The program is an opportunity for children to express themselves through journaling and other art forms while discussing how to make the world a better place.
Participants will view and analyze artifacts such as photos and drawings from the PJP, listen to a read aloud of the picture book "Change Sings" by Amanda Gorman and create their own representations of their lives during the pandemic.
The PJP will visit each branch of Hartford Public Library. Participants will receive a free copy of "Change Sings" while supplies last.
In the fall, Hartford Public Library will display a collection of images submitted to the PJP by both adults and children. The exhibit will be accompanied by the Hartford History Center's Hartford 2020 collection: photographs of daily life in Hartford during 2020 –– COVID testing sites, protests, outdoor events and more –– shot by three local documentary photographers.
WHO:
The Pandemic Journaling Project, a partnership between UConn and Brown University.
WHERE/WHEN:
PJP will visit HPL branches for "Picturing the Pandemic" on the following dates:
Park Street Library @ the Lyric
Monday, August 1, 2 p.m.
603 Park St.
Dwight Library
Thursday, August 4, 2 p.m.
7 New Park Ave.
Albany Library
Wednesday, August 10, 2 p.m.
1250 Albany Ave.
Camp Field Library
Thursday, August 11, 2 p.m.
30 Campfield Ave.
Downtown Library
Monday, August 15, 2 p.m.
500 Main St.
Barbour Library
Thursday, August 18, 2 p.m.
261 Barbour St.
The PJP and Hartford 2020 exhibits will be on display:
October 17 – December 15, 2022
at the Downtown Library
500 Main St.
An opening reception for the exhibit will be held October 27 from 4-6 p.m. at the Downtown Library.
About the Pandemic Journaling Project
The Pandemic Journaling Project is a historical archive effort created in partnership between UConn and Brown University. It is a project dedicated to remembering the experiences and perspectives of a wide range of people living through the COVID-19 pandemic. The PJP recognizes that the narrative of history is usually dominated by the powerful, so the project aims to tell the stories of ordinary people when recounting this historical pandemic. Participants answer a set of survey questions and a few open-ended journaling questions; they are asked to follow up with answering a new set of questions every week until the pandemic is over. Participation is voluntary and anonymous. So far, the PJP has collected over 14,000 submissions from more than 45 countries.
About Hartford Public Library
With roots dating to 1774, Hartford Public Library remains at the forefront of redefining the urban library experience in the 21st century. With seven locations throughout the city, the library provides education, intellectual enrichment and cultural development for thousands of children, youth and adults every year. Hartford Public Library has also gained local and national recognition for its wide range of new initiatives and partnerships designed to meet the needs of a diverse and dynamic city and region, including immigration services, employment assistance and youth leadership training. www.hplct.org.
By Jennifer Sharp, Hartford History Center archivist
In July 1892 – 130 years ago – a committee of men representing both the Wadsworth Atheneum and the Hartford Library Association presented a petition to the Mayor of Hartford, requesting that the City support a free public library.
Library service had been available in Hartford on a subscription basis since 1774. A committee of Hartford Public Library employees is preparing to celebrate the 250th anniversary of that service in 2024.
The first large public library to open was the Boston Public Library. Established in 1848, its doors opened for the first time in 1854. Other cities soon followed, and Hartford wanted to be among them.
The City of Hartford's charter had been amended in 1883, authorizing an expenditure of up to "one-fifth (1/5) of one mill upon the grand list of said city last made and perfected, for the purpose of supporting a free public library and art gallery." In 1892 that would have been about $9350. The petitioners estimated the operating cost for the first year could be $10,000 (Springfield, MA was spending $17,000). The Library itself would have an annual income of $2240.
Hartford Library Association shared space in the Wadsworth Atheneum with the Connecticut Historical Society, the Watkinson Reference Library, and the art gallery with which we associate the Wadsworth Atheneum name.
The public library is the especial benefactor of those who may be unable to purchase the means for mental improvement, but who are eager and earnest to learn. It is a great public educator, and as such promotes the welfare of the entire community.
$125,000 had been raised for expansion of the Atheneum's building. According to an 1891 Hartford Courant article, the Hartford Library would occupy most of the first floor. There would also be a fund for care and maintenance of the building. "The especial object," wrote the petition's authors, "which the promoters and donors of the fund had at heart was to provide a free public library of circulation, which could be enjoyed by every citizen."
Francis Goodwin, J[ames] G. Batterson, Cha[rle]s Hopkins Clark, N[athaniel] Shipman, Henry C. Robinson, and Charles E. Gross signed the petition, addressed to the Mayor, Aldermen, and Common Council. Mayor William Waldo Hyde sent his recommendation to the Council. Acknowledging it is not best practice to alter the City's budget mid-year, the Mayor believed the public library was a worthy exception. "The public library is the especial benefactor of those who may be unable to purchase the means for mental improvement, but who are eager and earnest to learn," Hyde declared. "It is a great public educator, and as such promotes the welfare of the entire community." He believed the building would always be occupied once it opened.
The petition was successful. On August 15 the Council allocated $1500 (less than the requested $4500 for the remainder of the fiscal year), and the free public library opened its doors on September 15, 1892. Hartford Public Library was officially incorporated in 1893.
The petition and mayor's letter are part of the Hartford Town and City Clerk Archives (Box 285), held by HPL's Hartford History Center. The collection is open for research.
By Tricia Haggerty Wenz
Christa Whitten is the final artist whose work will be showcased on HPL's ArtWalk for the 2021-22 season. Her exhibition "Gateways to Places We're Told We Cannot Go" focuses on the partial or completely restricted access to powerful, spiritually charged locations around the globe. Although denial of access can be based on a variety of factors, this show addresses restrictions which involve gender. Some sites ban women (or, less frequently, men) outright, while others institute conditional limitations, such as nonaccess during menstruation.
"Gateways to Places We're Told We Cannot Go" will open with a reception on Friday, July 15th, from 5:30-7:30 p.m. at the Downtown Library, 500 Main St. The works will be on display through Saturday, August 27th. 
The following interview was edited for length and clarity.
Tell me about the origins of this intriguing exhibit.
The idea came in 2018 when I was working on a different series and was looking at changing up the style of my art.  I began exploring pushing the medium to whatever the next phase of my development was going to be and I came across an image of a pagoda (sacred temple or building, typically a many-tiered tower, in India and East Asia) that I never saw before. It was an aesthetically beautiful image that sparked a deep curiosity in me to learn more.  I discovered it was in Myanmar and consequently I discovered that women were not allow to interact with the pagoda. Only men had that privilege.
Wow.
Yes. I began seeking more and more information and discovered this was way more prevalent throughout the world than I had anticipated. There are many sacred spaces that women are denied access to.
How did this knowledge shape the work you created?
I wanted my work to feel ethereal with the abstract part creating a space that is not easily defined while at the same time highlighting the detailed image. I used lush colors while creating an intentional connection between the background and the image I created of the pagoda. It was my intentions to create a sense of place within my work.
What is your process like?
Producing my art is a meditative practice for me.  I tap into my energy and my own interior landscape to create my work. The paring of color choices, brush style, mood — it is all important and very intentional for me.
How has creating this body of work changed your art practice?
This experience has opened to going beyond two-dimensional work and to experiment more with objects and with sculpture in a nontraditional sense.  I discovered I can be more expressive and can create work that speaks for itself and can be interactive with the viewer. This discovery has been an absolute delight for me.
What would you like the viewer to experience when seeing Gateways to Places We're Told We Cannot Go.
It would be great if the viewer thinks about how patriarchy has influenced the way woman experience sacred spaces in our world. A long time ago women were once viewed as the receptacles of the divine and the embodiment of the spirit. It was understood that women had this deep connective power to the spiritual world.  And yet now there is this restrictive approach to important sacred spaces in our world.  Why have we allowed society to limit how women can live fully spiritual connected lives? I really hope that my exhibit can have the viewer think about these questions and open up these important conversations for the viewers.
What's next for you?
I am going to take a breath.  While there are already a few projects coming across my desk I am going to take a breath. That is what I am going to do next. Breathe.
Hartford Public Library will again expand hours of operation across the library system beginning in June, with a goal of fully restoring weekend and evening hours at its branch libraries by September.
"We hear the needs of our community loud and clear and that's why we are moving forward with a deliberate plan that balances the health and safety of our employees and customers with the needs for collaboration, information, programs, services and materials," said Hartford Public Library President and CEO Bridget E. Quinn. "This phased-in approach will allow us to provide more public access while maintaining appropriate staffing levels as we continue to assess how we provide services in light of an environment that has been forever changed by the COVID-19 pandemic."
The timeline for restoration of hours is as follows.
June 6: The Albany Library (1250 Albany Ave.) and Park Street Library @ the Lyric (603 Park St.) return to five-day-a-week service. Regular operating hours will be Monday through Thursday 10 a.m. to 6 p.m. and Fridays 10 a.m. to 5 p.m.
July 5: The Barbour (261 Barbour St.), Camp Field (30 Campfield Ave.) and Dwight (7 New Park Ave.) libraries will return to five-day-a-week service. Regular operating hours will be Monday through Thursday 10 a.m. to 6 p.m. and Fridays 10 a.m. to 5 p.m.
September: Evening hours will resume across the library system and the Albany Library and Park Street Library @ the Lyric will be open on weekends. An exact date for the changes has yet to be determined.
The Ropkins Library and the Boundless Library @ Rawson remain closed to the public at this time. Renovations are underway at the Ropkins Library and the goal is to reopen the building in the fall.
Hartford Public Library's Downtown location reopened to in-person visits in July 2020 after a four-month closure due to COVID-19. Branches first reopened in May 2021. Masks are optional in all Hartford Public Library locations.
A robust selection of online resources is available for Hartford Public Library cardholders 24/7 at www.hplct.org.