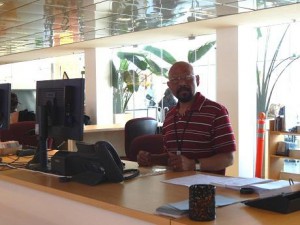 Jose Santiago had only been in Hartford for a couple of weeks when he made the connection that would change his life.
"I had lost my job as a social worker in Ohio and my mom had just moved from Brooklyn to Connecticut. She said that there was a lot of work in Connecticut. Why don't you come out this way? I said to my wife, OK, let's see what is out there," he said.
He quickly found work at the now defunct San Juan Center helping people find jobs. Two weeks into his work an opportunity crossed his desk that caught his attention – a position at Hartford Public Library's Ropkins branch.
"I thought that this was a nice thing," he said.
There had to have been a catch, he thought. The position had been open for a while and he knew that the neighborhood was rough. They were looking for someone with a library degree. Santiago wasn't sure. A colleague, Karen Krukas, encouraged him to move forward.
"She said, 'Jose at this point, go for it. You never know,'" Santiago said.
She was right. Santiago was hired after a single meeting with then-library director John Burgen, where they hit it off over their shared military service.
"It was meant to be. That was the beginning of a new career at a wonderful place," he said.
Thirty-six years later, Santiago has decided to retire August 28.
"Everyone is very sad he is leaving" said Julie Styles, manager of public services at the Downtown Library and Santiago's supervisor. "I think for a lot of people it is hard to imagine the library without him. He's beloved by his teammates and coworkers."
"Jose Santiago was one of the first people I had the pleasure of meeting when I first arrived at HPL in 2016. He made a point of greeting me, welcoming me and engaging me in conversation. It was such a pleasure to learn more about him, his work at HPL, and his family," said Bridget Quinn-Carey, HPL's president and CEO.
Chatting with Santiago is a walk through library history. He drops the names of long retired or deceased staff members. He talks about the youth he supervised and the customers he helped. He points around the Atrium – there used to be a print shop over here and stacks over there. There was no air-conditioning and it used to get so hot during the summers they'd have to send everyone home at 11 am.
He remembers the really big shift for HPL (and for libraries in general.)
"We got a memo that said 'The zebras are coming,' I'm picturing all kinds of animals. But Zebra was the library's first computer. You know what? I didn't like it … Technology was taking away what I was dealing with my whole life since I was a kid. It took me a lot to accept that," he said.
After a year at Ropkins, Santiago was placed in charge of the page and messengers department, a group of high school and college aged workers charged with caring for the collection. It was hot, hard work.
"You had the freedom to laugh, but you had to get the job done. That is what we were there for," said Nelson Lora, a longtime HPL staffer who Santiago hired 32 years ago.
Lora said Santiago's work ethic was always readily apparent and an example to young people like himself just coming up in the library. "You always, no matter what the task is, you have to attack and you have to finish it. You have to get it done," Lora said.
By the early 1990s, it was clear that things needed to change around the library. Under library director Louise Blalock, the library went through a much needed renovation and organizational restructuring. For Santiago, that meant the end of the pages and messengers department and a new position in as caretaker of the collection itself, a role he has held to this day.
"I love it. I love helping people … I wish I could go longer because I love what I am doing," he said. "It is about the customer. They are everything. I am going to stick with you until you get everything that you need."
The word everything is not a bit of hyperbole. If there is a customer who doesn't speak English and needs to navigate the complex bureaucracies of unemployment or other assistance, Santiago steps in, Styles said. "He goes out of his way to help people at a personal level, well beyond what is expected of him. He really relates to our patrons. He knows it can be frustrating when you hit a roadblock and it is important to him to remove these obstacles," she said.
"His kindness and thoughtfulness show through in all he does – for other coworkers and especially with our customers. He is patient, attentive and makes sure everyone gets the help they need. He is an amazing model of exemplary service, even when faced with challenging people and situations," Quinn-Carey said.
Santiago came by his love of libraries early. Starting at the age of six, he would go to a library in his hometown of Brooklyn and help the librarians put the books back on the shelves.
"The library was my home growing up," he said. "It was something I really wanted to do."
He served in the Marines for six years, advancing to the rank of sergeant and participating in Operation Eagle Pull, the mission at the end of the Vietnam War evacuating American personnel from Phnom Penh.
Library work was, in many ways, his destiny. Like most HPL staff members, Santiago believes in the altruistic aspects of the job. "The satisfaction you get when a person comes in who needs a job, or just a good book to read and you provide them what they need," he said.
"Jose goes out of his way to help the people of Hartford. I've seen it with my own eyes. The people who come here from somewhere else, the library is the first stop because they need help and they don't have anyone to help them," said Lora.
Santiago plans to be busy in his retirement. He and his wife of 40 years Maricella will be moving to Ohio in the fall. He also plans to volunteer helping veterans. He hopes that when the pandemic passes they can take a long awaited trip to Rome.
Santiago is a spiritual man and reads his Bible every day. There is a verse he felt was apropos to his retirement, but he didn't quite remember where from. "There is a time for that, there is a time for this … there is a time for everything," he said.
The verse is from Ecclesiastes. "To every thing there is a season, and a time to every purpose under the heaven …"
By Steven Scarpa, Manager, Communications and Public Relations
-30-
One Response to Staff profile: Jose Santiago