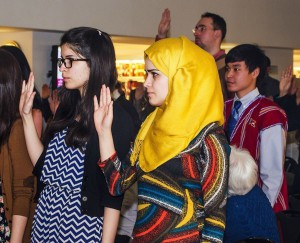 HPL lead immigration counselor Laurie Housman spent a recent morning trying to figure out how to be in two places at once.
The stakes were high in each of these particular cases.
Two of her clients, both with sensitive immigration cases, are scheduled for their naturalization interviews at the same time. One of the clients protested the Cuban government until violence impacted her family and forced her to leave for Hartford. Her other client is an Iraqi native who was forced to joined the Baath Party under Saddam Hussein's murderous regime and subsequently fled the country.
Housman was determined to make it work (she did, in the end) because she and other members of The American Place team are committed to helping people find their places in America. "Together we forge a welcoming space for immigrants and refugees as they seek educational opportunities, economic self-sufficiency and the promise of freedom," said Homa Naficy, executive director of The American Place.
HPL's The American Place assists over 400 people negotiate the labyrinth of United States citizenship regulations. Housman advises people on the risks and probability of their naturalization. She also helps prepare clients' defenses when they run into any kind of issue.
Housman and her team have a great track record. She estimates about 95 percent of her clients successfully become citizens, quite a feat considering the federal government has made the process of becoming a citizen more difficult over the past several years.
Because of the nature of her work and the relationship Hartford Public Library has with its customers, Housman finds ways to help that go beyond legal services. She might point people to food opportunities or help them sign up for bus passes. The work is deep and meaningful. "We are more engaged. That's why the clients come back and send me pictures of their babies," she said.
The immigration team meets clients before their interviews to practice. "You always prepare witnesses before they testify," Housman said.
This is an important part of citizenship preparation. The interviewing process can be intimidating for people who have recently arrived in America or do not yet have a strong command of the English language. A slip up or a misunderstanding can put people back where they started.
For immigrants aspiring to citizenship, the American Dream is not just words – it is a tangible thing, they key towards safety, success, and a better life for themselves and their families.
"The immigrant journey is not an easy one. But for many of them the library can offer a glimmer of hope and a community connected to their needs as they embrace our shared civic values while never losing their identities," Naficy said.
Citizenship celebrations are, in many ways, the reward for Housman and other members of The American Place team. Covid-19 has rendered the ceremonies modest affairs, held a couple of times a week at USCIS.
Pre-COVID days, ceremonies were held at the library a couple of times a year, Housman said, with speeches, music, performances – all of the pomp and circumstances due to people who believe so strongly in the American democracy that they've committed their lives to it.
"One of the reasons I am doing this work at this stage in my career is because I am fulfilling my clients' bucket list," Housman said. "It's really uplifting to do this work."
– By Steven Scarpa, Manager of Communications and Public Relations
-30-