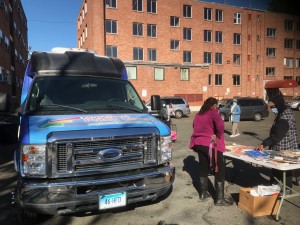 Hartford Public Library is always looking for different ways to serve its city and an important tool in its arsenal is the Library on Wheels.
During the summer, HPL's Library on Wheels distributed free books, Census information and voter registration. Library staff members Liz Castle and Michelle McFarland have come up with a plan to shift the LOW's emphasis this winter. In the warmth of summer, customers can go to the LOW – with winter coming, the LOW is going to endeavor to come to the customers.
"This winter we are trying to provide the city with increased access to our collection," Castle said.
The Library on Wheels will be making multiple stops a week. It will continue its partnership with Foodshare, setting up at their meal distribution sites. But thanks to Castle and McFarland's hard work, the LOW will be distributing curated collections of books for local community partners.
McFarland believes this adjustment allows the library to provide a deeper level of service with people who need it the most. "People love that the library is visible and has a presence," McFarland said. "It's almost reassuring to them. There is a connection, as crazy as it is. We are out there trying to make a difference."
For example, the Library on Wheels will lend sets of books to each of their day care center partners based on what is being taught at the centers that week. The LOW will also go to senior centers and apartment complexes to drop off borrowed books as well.
"We are thinking about all of the places where people are still homebound and might not be able to get to branch and pick up a book on hold," Castle said. "We are trying to reach the most vulnerable populations."
Castle said one of the library's long term goals is to partner with city correctional facilities to lend materials there as well. "We are looking to expand our partnerships," Castle said.
In addition to making sure that HPL's collection is available to a wider slide of the city's populace, McFarland will still be handing out free books.
"It's the small things that people appreciate," McFarland said. "I am glad that we are figuring out how to do all of this together."
– By Steven Scarpa, Manager of Communications and Public Relations
-30-
One Response to Library on Wheels Adjusts For Winter