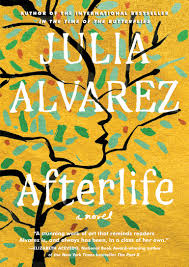 "A stunning work of art that reminds readers Alvarez is, and always has been, in a class of her own." —Elizabeth Acevedo, National Book Award-winning author of the New York Times bestseller The Poet X
Antonia Vega, the immigrant writer at the center of Afterlife, has had the rug pulled out from under her. She has just retired from the college where she taught English when her beloved husband, Sam, suddenly dies.  Antonia has always sought direction in the literature she loves—lines from her favorite authors play in her head like a soundtrack—but now she finds that the world demands more of her than words.
Afterlife is a compact, nimble, and sharply droll novel. Set in this political moment of tribalism and distrust, it asks: What do we owe those in crisis in our families, including—maybe especially—members of our human family? How do we live in a broken world without losing faith in one another or ourselves? And how do we stay true to those glorious souls we have lost?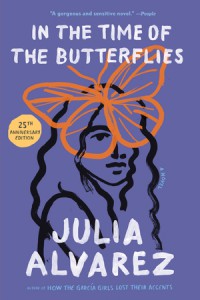 "A magnificent treasure for all cultures and all time." –St. Petersburg Times
In this extraordinary novel, the voices of all four sisters–Minerva, Patria, María Teresa, and the survivor, Dedé–speak across the decades to tell their own stories, from secret crushes to gunrunning, and to describe the everyday horrors of life under Trujillo's rule. Through the art and magic of Julia Alvarez's imagination, the martyred Butterflies live again in this novel of courage and love, and the human costs of political oppression.
"Poignant . . . Powerful . . . Beautifully captures the threshold experience of the new immigrant, where the past is not yet a memory." —The New York Times Book Review
Acclaimed writer Julia Alvarez's beloved first novel gives voice to four sisters as they grow up in two cultures. The García sisters—Carla, Sandra, Yolanda, and Sofía—and their family must flee their home in the Dominican Republic after their father's role in an attempt to overthrow brutal dictator Rafael Trujillo is discovered. They arrive in New York City in 1960 to a life far removed from their existence in the Caribbean. In the wondrous but not always welcoming U.S.A., their parents try to hold on to their old ways as the girls try find new lives: by straightening their hair and wearing American fashions, and by forgetting their Spanish. For them, it is at once liberating and excruciating to be caught between the old world and the new. Here they tell their stories about being at home—and not at home—in America.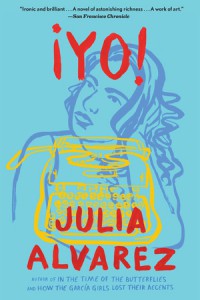 "Charming and funny . . . Mesmerizing . . . Wonderful." —USA Today
Yolanda García–Yo, for short–is the literary one in the family. Her first published novel, in which uses as characters practically everyone she knows, was a big success. Now she's basking in the spotlight while those "characters" find their very recognizable selves dangling in that same blinding light. But turnabout is fair play, and so here, Yolanda García's family and friends tell the truth about Yo. Her three sisters, her Mami and Papi, her grandparents, tías, tíos, cousins, housemaids, her third husband: they take turns telling their side of the story, ripping into Yo and in the process creating their own endearing self-portraits.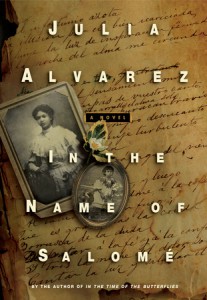 "Original and illuminating."—The New York Times Book Review
In her most ambitious work since In the Time of Butterflies, Julia Alvarez tells the story of a woman whose poetry inspired one Caribbean revolution and of her daughter whose dedication to teaching strengthened another.
Julia Alvarez has won a large and devoted audience by brilliantly illuminating the history of modern Caribbean America through the personal stories of its people. As a Latina, as a poet and novelist, and as a university professor, Julia Alvarez brings her own experience to this exquisite story.
-30-